Designed as a wink to classic American West with a fresh and modern twist, new Yonder Escalante in Southern Utah is quickly becoming the next stop for a road trip or escape for outdoor adventure. Comprised of 22 custom-designed cabins, vintage renovated Airstream trailers, and 67 RV sites, the oasis situated near Bryce Canyon National Park and Grand Staircase-Escalante National Monument, is dotted with amenities spanning an indoor/outdoor clubhouse with a vintage record player, WiFi, complimentary s'mores nights (on Saturdays), and pre-batched cocktail kits for purchase. "We hope to connect guests to the nostalgia of our past, an appreciation for the present-day, and a bright outlook toward the future of our country," says Hannah Collins, Yonder Hospitality CEO, and Founder and Principal Designer of San Francisco–based design studio, ROY. "We want them to come away from the stay with unforgettable memories and a feeling of true connection to nature and those around them." Here, Collins walks us through the property and her design concept.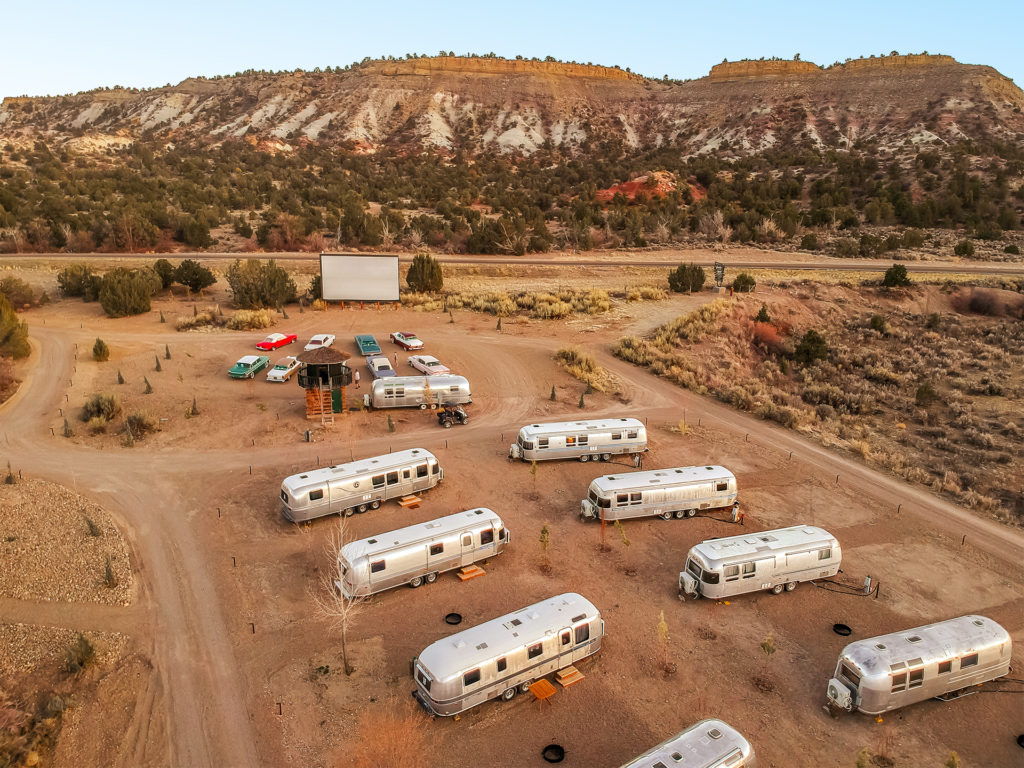 What was the vision for Yonder Escalante?
James Tate of Preserve Partners and his father Charles Tate wanted to get into the RV business and were looking for something new to add to the hospitality industry. There seemed to be a lot of people wanting to connect more with nature and expand their yearly travel itineraries to include RV and glamping. After finding this property, (which was an existing RV park and drive-in theater), they knew they had found the perfect place to launch Yonder the brand. Yonder is bringing hospitality to this sector of the industry that otherwise leaves something to be desired. By capturing all that is memorable and extraordinary about the camping experience and combining that with great design, impressive amenities, and a food and beverage offering, Yonder is a new concept unlike any others in the market.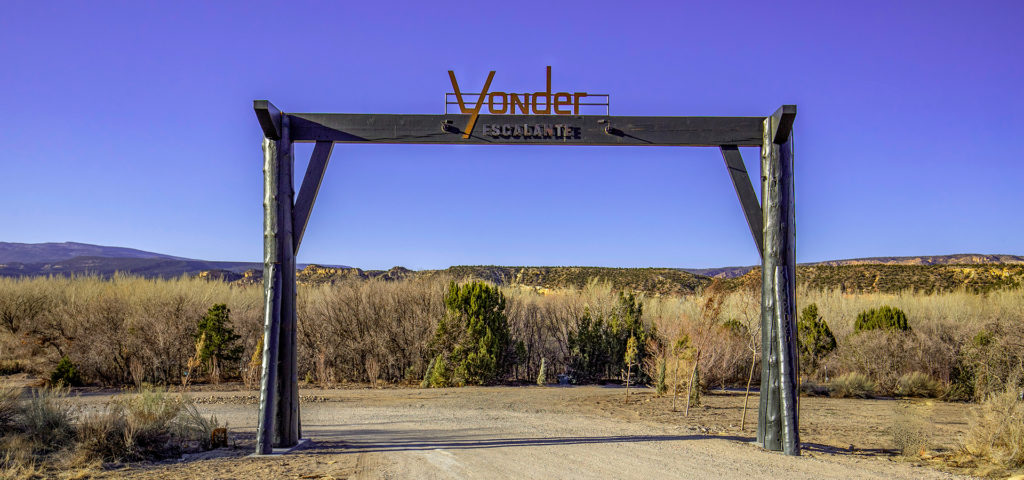 Design highlights?
A vintage American flag serves as a focal point behind the check-in desk, which we chose to add character and authentic Americana style. The flag was sourced locally and features just 48 stars, representing the pre-1960s additions of Hawaii and Alaska. Next, the low-slung, modern furniture is reminiscent of (and inspired by) the functional, simple lines of the surrounding architecture, taking cues from famed minimalist artist Donald Judd. And, finally pops of Western design details include camel hair-on-hide bolsters and rich layered leathers complemented by a mix of modern-inspired safari chairs for an air of elegance and sophistication.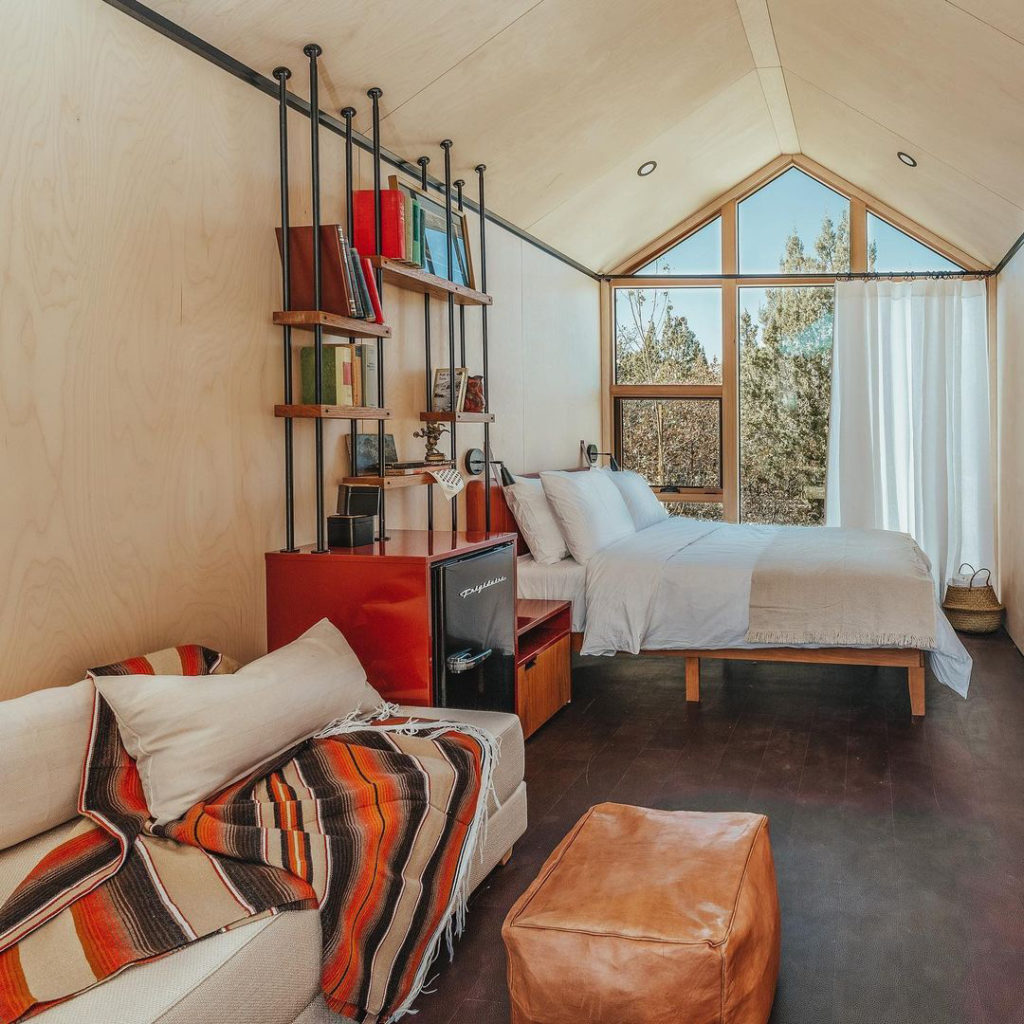 Describe the experience and amenities.
Yonder Escalante truly puts hospitality at the forefront to cultivate distinctive, memorable experiences. Not only are guests afforded an immersive connection to nature, but they have access to a variety of modern amenities, including an open-air Lodge, oversized lounge pool and hot tub, fire pits, an outdoor drive-in movie experience, resort-style bathhouses with heated indoor-outdoor private showers, and more. From Thursday through Sunday, guests can experience unique outdoor movie nights from the comfort of one of nine stationary restored classic cars, which pays homage to the property's past as a drive-in theater.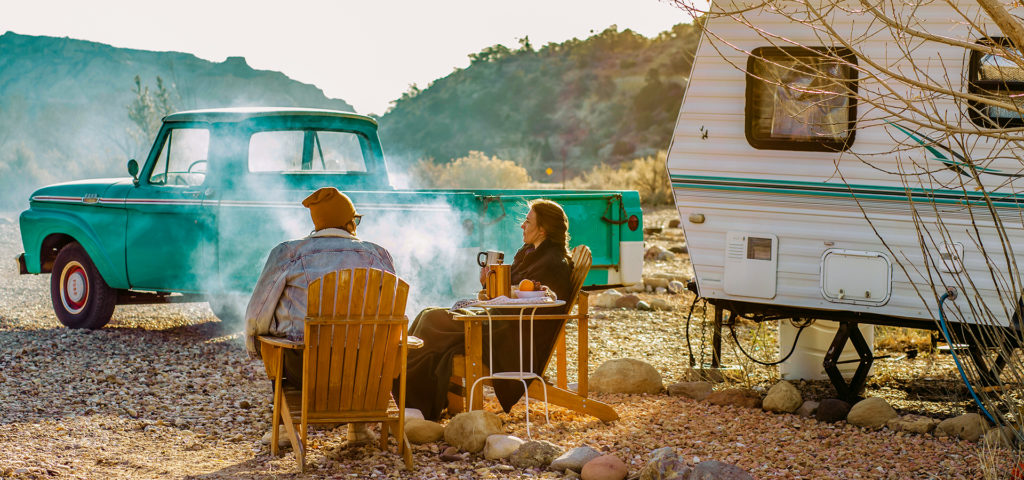 Tell us about the site and landscape.
Escalante is a very special place. The town itself is charming and full of hidden gems to visit. Its location and proximity to so many beautiful hikes, trails and monuments is unlike any other place I have ever been to. From waterfalls and slot canyons to more well-known destinations like Bryce Canyon, there is a little something for everyone. The park itself is also very special. I have never seen darker skies or more shooting stars in a night. And there is nothing better than enjoying a fire pit with old friends and new over some cocktails after a long day of hiking.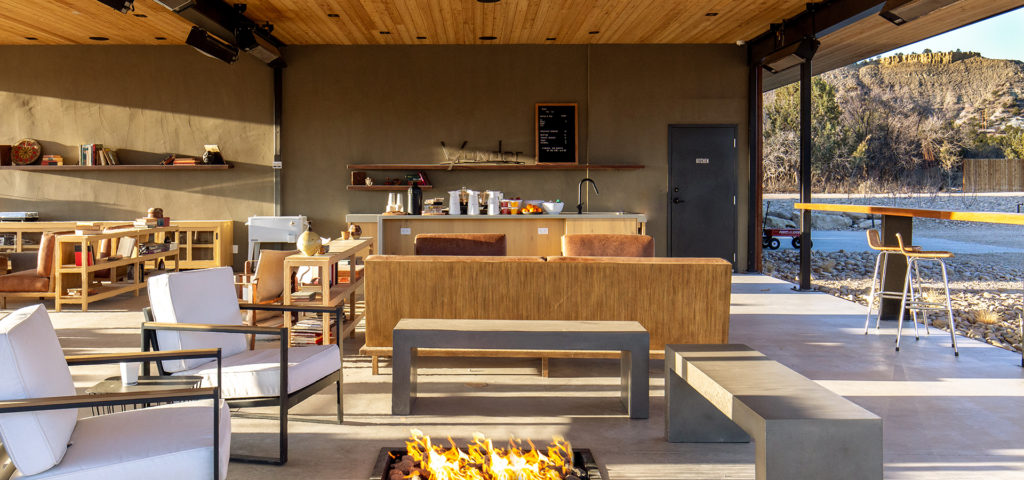 Design muse?
Since I design mostly urban hospitality projects, I had a more urban dweller in mind. That being said, I wanted the space to feel really rooted in nostalgia and authenticity. The goal was for it to be neither too campy nor too serious. By combining textural finishes, unique artifacts and a soft desert color palette, we were able to achieve something really special that almost anyone would feel comfortable in. I know we nailed it by the way people interact with the space. Seeing people really engage with one another, and with the physical design of the property is an extraordinary thing.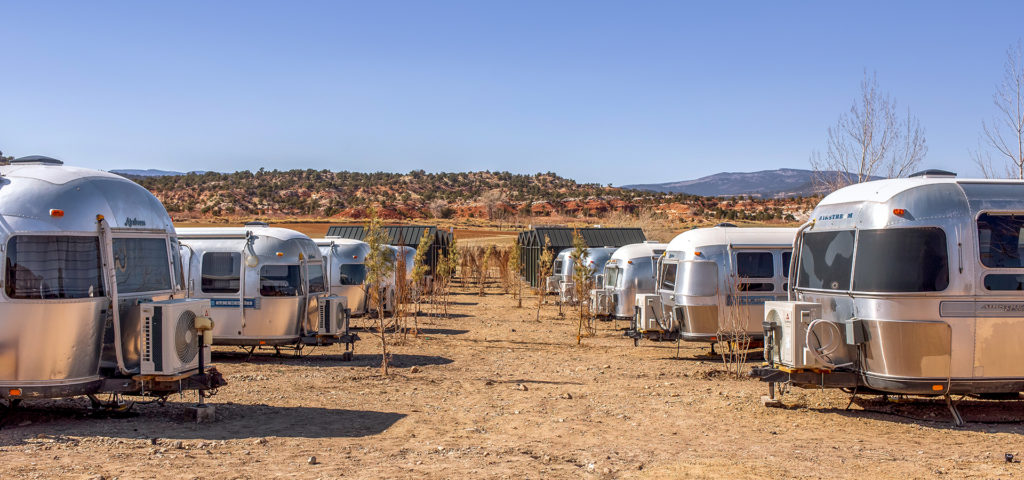 Any insider, pre-stay info?
Our pool and extra-large hot tub will be opening soon. The hot tub is meant to fit up to 20 people comfortably so you can easily enjoy it with a large group or a smaller party and never feel like you are cramping someone's space. The hot dogs at the Concession stand are classic New York-style street hot dogs and a delightful treat before or during a movie. There's also a wonderful general store which truly has almost anything you need and lots of great snacks and beverage options.
Your favorite spaces on-property?
The Lodge is very comfortable and a great place to meet and interact with like-minded travelers. I also love cabin 11. You can watch the drive-in from your room.