The iconic canary-yellow Fred Hayman building on the south end of Canon Drive in Beverly Hills—next to another legendary haunt, Wolfgang Puck's Spago—has a glamorous new tenant: Martin Katz. The celebrity jewelry designer has become synonymous over the past three decades with top-quality jewelry and trademark sparkling stones that his A-list clientele, from Cindy Crawford to Christina Ricci cannot get enough of.
Inspired by his love of old Hollywood glamour and vintage jewelry, Katz creates contemporary pieces with an 'old soul' including many one-of-a-kind or limited edition, signed and numbered works of art. In keeping with that aesthetic, his new Penthouse Suite was designed to evoke Katz's signature style that blends subtle Art Deco influences and refined simplicity. The luxe boutique was created in a collaboration with Dion Mial Design and features high-gloss sycamore lacquer finishes and granite, accented by charcoal and grey tones.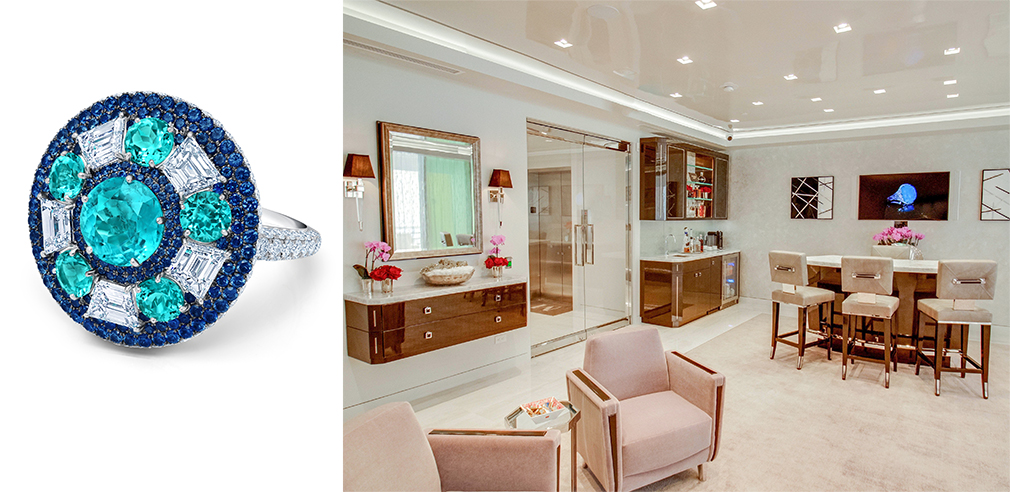 The chic yet relaxed ambiance invites guests to take their time and enjoy the environment and company. Elegant glass doors open out onto a private terrace with views of Beverly Hills, perfect for entertaining and capturing the natural light for an outdoor appointment. And, speaking of Spago, Katz has plans for doing events and serving a few signature dishes by Wolfgang Puck out on the terrace overlooking the city. This new space will also support the Martin Katz lifestyle brand that is being developed by global powerhouse Prominent Brand+Talent.
"Our new location with its beautiful terrace offers a less formal and uniquely comfortable setting to enjoy a special jewelry experience like no other," Katz says. "My hope is that our penthouse will not just be a place to shop, but also become a social destination in itself." That being said, the eye candy in this jewel box space is mind-blowing and one can see why Nicole Kidman, Zoe Kravitz, Gigi Hadid and Salma Hayek have been spotted wearing the signature jewels on the red carpet over the years.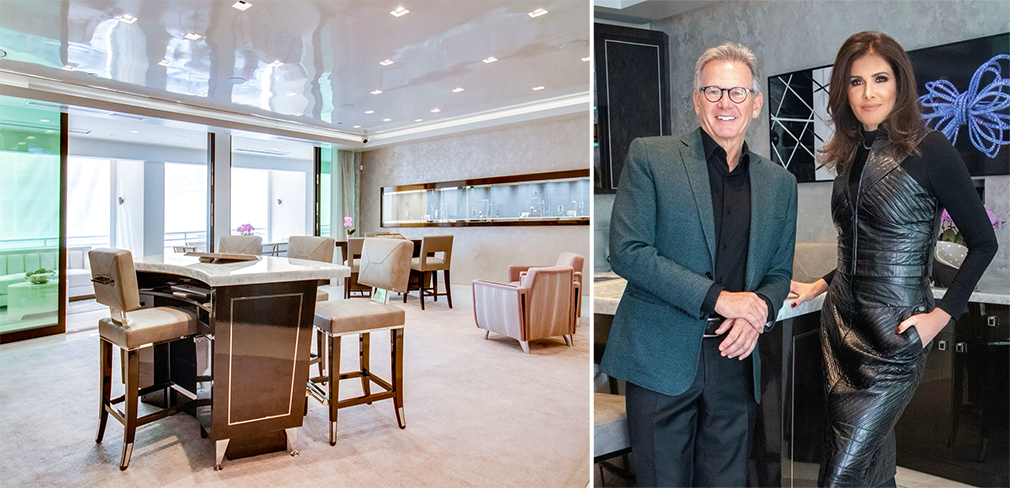 Award events aside, Katz also recreated the Victoria's Secret Fantasy Bra and Donna Karan's million-dollar fragrance bottle, and along with his wife Kelly Fisher Katz, have dedicated themselves in supporting major philanthropic organizations relating to education and women's issues.
After twenty years in the Brighton Way boutique, Katz was ready to develop a redefined shopping experience and spend more time focusing on designing jewelry exclusively for the new space while enjoying one-on-one time with clients. "I wanted to be in a more residential environment that was more about a lifestyle lounge," said Katz. "A place where people could come by have a drink, sit on the terrace. Yes, there is jewelry if you want it but you can be here to just hang out."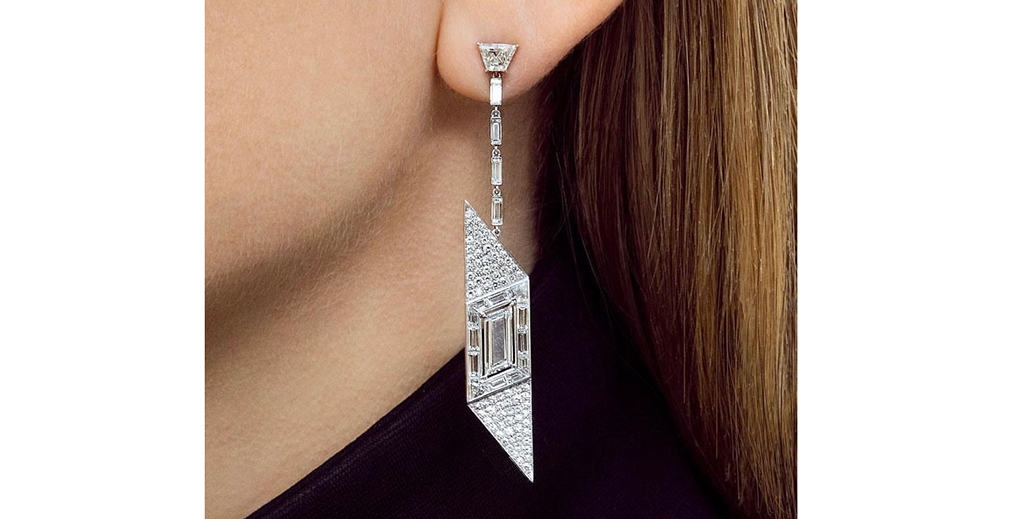 While the Penthouse Suite opened right around award-season, this has a been a full-circle moment for the couture jewelry designer. "It's been fun transitioning back to my roots and seeing people that I can spend more time with," said Katz as he gently pulled a rare tourmaline ring worth several hundred thousand dollars out of velvet lined case.  "When I first started my business I was in a penthouse on Wilshire Blvd.," he recalled. "We would sit at a bar with a beautiful view of Los Angeles and a writer from Australian Vogue coined it the jewel bar."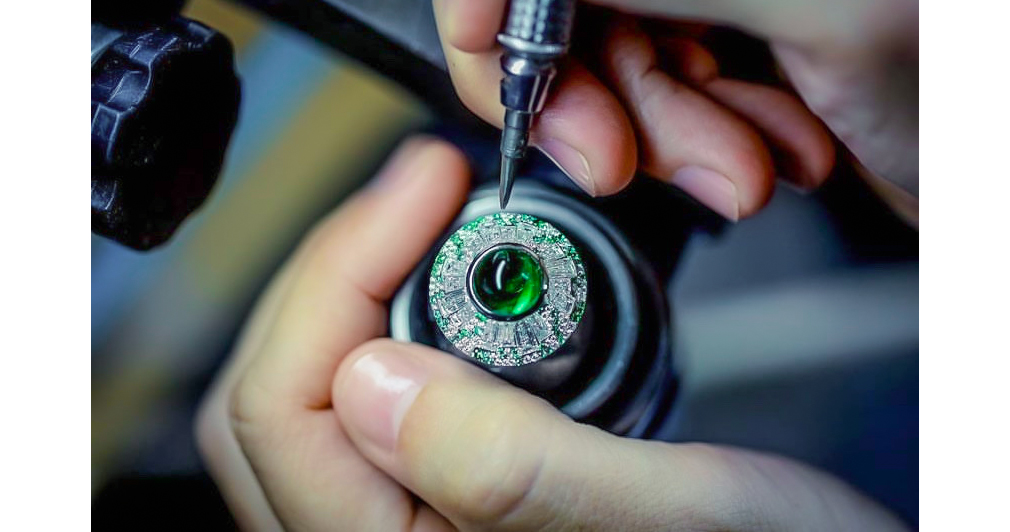 The former Brighton Way flagship store nearby welcomed walk-ins and all price-points but if you want an audience and private showing with Katz at the penthouse, you will need to make an appointment. The product is similar at his new location but Katz is honing in on precious gems that he really wants to work with such as Oscar-worthy creations that you can spot on red carpet, "I look for stones of rare beauty which inspire me to create unique designs with personality. I love to get into the artistry, beyond that, impeccable fabrication is paramount," said the designer.
Engagement rings are also popular from multi-generation clients and collections ranging from "Parasol" to "Champagne" that incorporate diamond and sapphire combinations to rare green emeralds from Brazil. Prices can range from $15,000 to 85,000 and up. "When you compare this with other fine, higher-end jewelry the prices are not that high."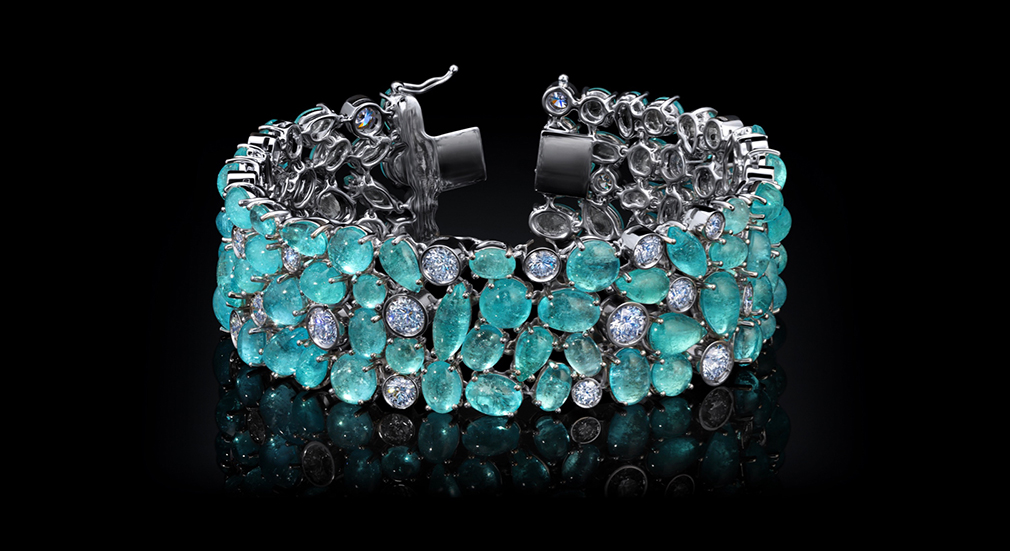 While pieces can range up to seven-figures, this is not to say that all the products are completely unaffordable. The thin, delicate, and stackable micro-diamond bands, which were created by Katz over 25 years ago, and remain his most copied piece of jewelry, start at $2,800 dollars each. One of the techniques that sets a Martin Katz Jewelry ring apart from the knock-offs is the absence of metal so you see more of the glistening stones.
"There is nothing wrong with being influenced from design and taking inspiration from it, he says. "What gets difficult at times is to distinguish between what is too expensive and what is where value does not exist. I can't help what an emerald costs," says the designer, "I can only control my mark-up.  From art to antiques to real estate to jewels, value is what a client needs to think about rather than costs. Provided you have the economic ability to invest in these things." Getting what you paid for and superb quality is the cornerstone of Katz' business. "If you want big show for no dough then I'm not the right place for you."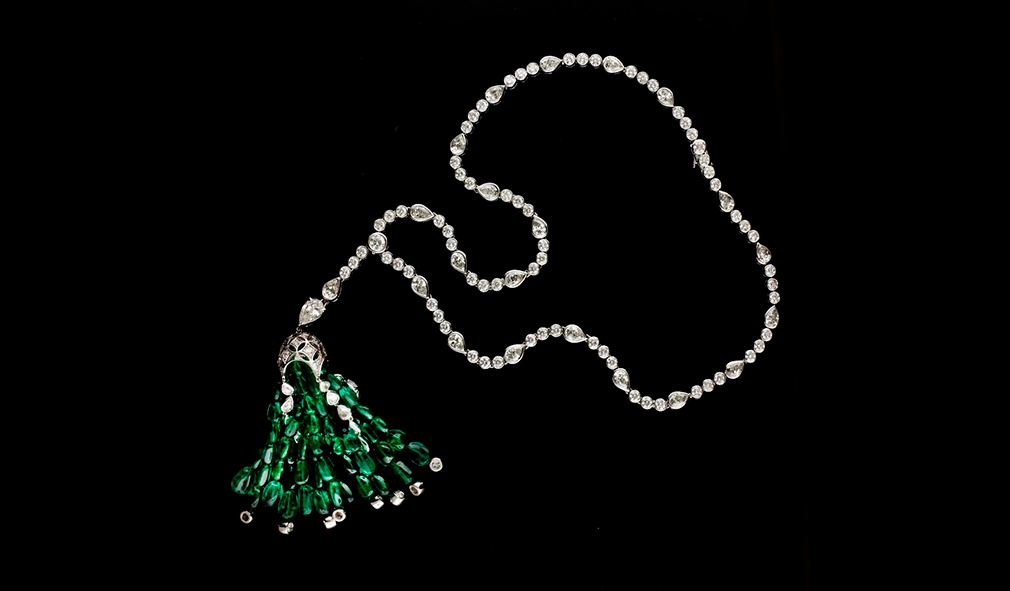 Outfitted with state-of-the art technology, Katz will also offer clients an opportunity to connect digitally for virtual appointments but you might just want to book an in-person viewing to see the dazzling display for yourself and enjoy a glass of bubbly on the terrace.