Ceramic artist Erin Hupp's penchant for clay can be traced back 22 years. The Oakland–based artist, and founder of eponymous ceramics studio, took the full-time art career plunge four years ago and never looked back. "I'm living my best life and I hope to inspire others to take a creative leap as well," the Milwaukee, Wisconsin native. "Clay has always been my passion. It has taught me patience and offered refuge through different stages of my life."
Today, the former lawyer who practiced land use and environmental law, is busy creating pieces such as tumblers, plates, chargers, and bowls, for the likes of Californios, Flour+Water, and Nightbird, and expanding into home wares including cake pedestals and vases.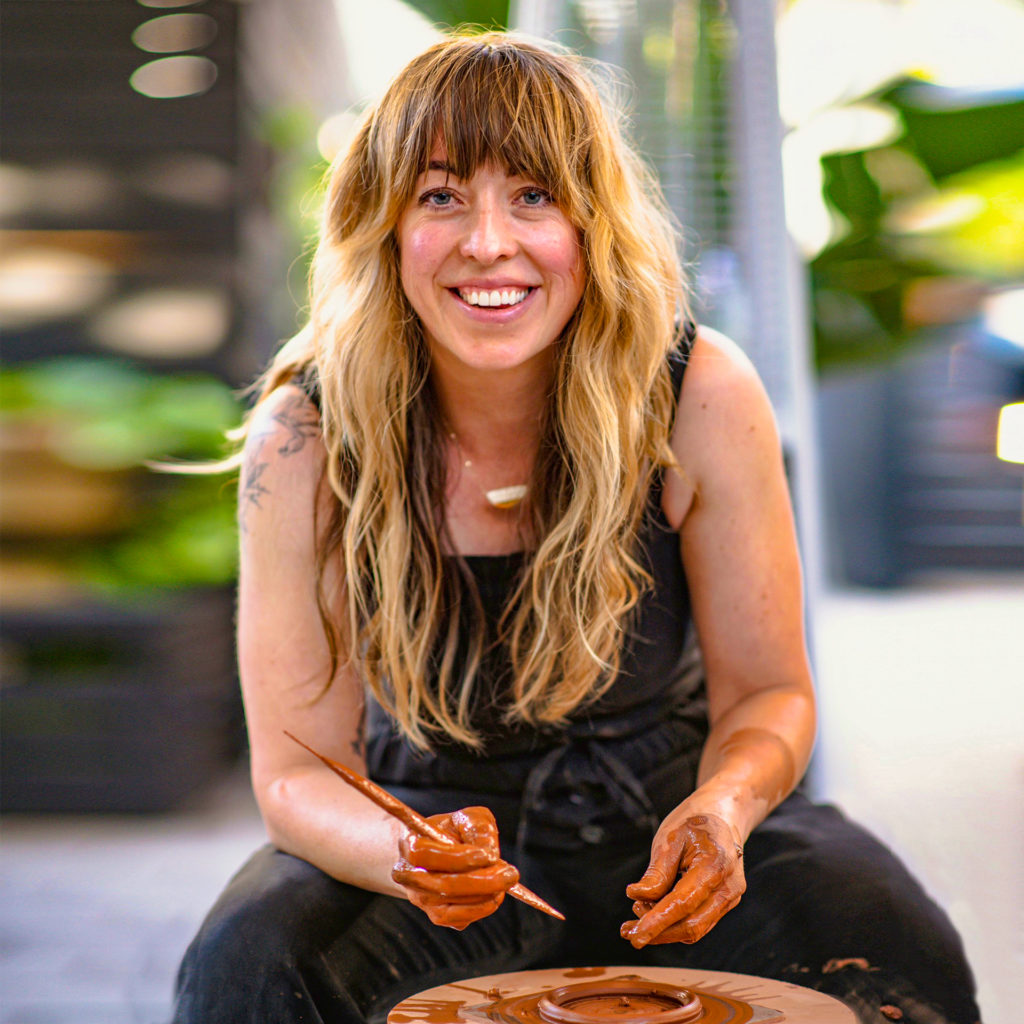 What is it about clay?
I've always loved the messy nature of clay, from mud pies as a child to wheel throwing as an adult. I spent most of my senior year in the art room. However, my passion for wheel-thrown ceramics really developed when I worked at a community production studio during college. It was at this production studio that my skill set grew. I taught classes, threw production pottery, mixed glazes, loaded kilns, and operated a ram press. I learned all angles of the craft and was immediately hooked. My fellow ceramicists and I spent weekends throwing together until our hands couldn't anymore. It was an incredibly supportive environment and a pivotal time of my life. I still keep in touch with friends from that studio.Looking back, it has always been clay that I've turned to. I would venture out in a new direction but then come back to clay. After I graduated from college I spent a gap year traveling. When I came home I immediately found a job teaching intro wheel courses and resumed my job at the production studio. In law school, I found a community clay studio and also spent a summer teaching clay classes at a Durham Summer Camp. Living in San Francisco, I joined the SF Clayworks community studio before creating a home studio. I was even throwing on the wheel the day I went into labor with my middle child.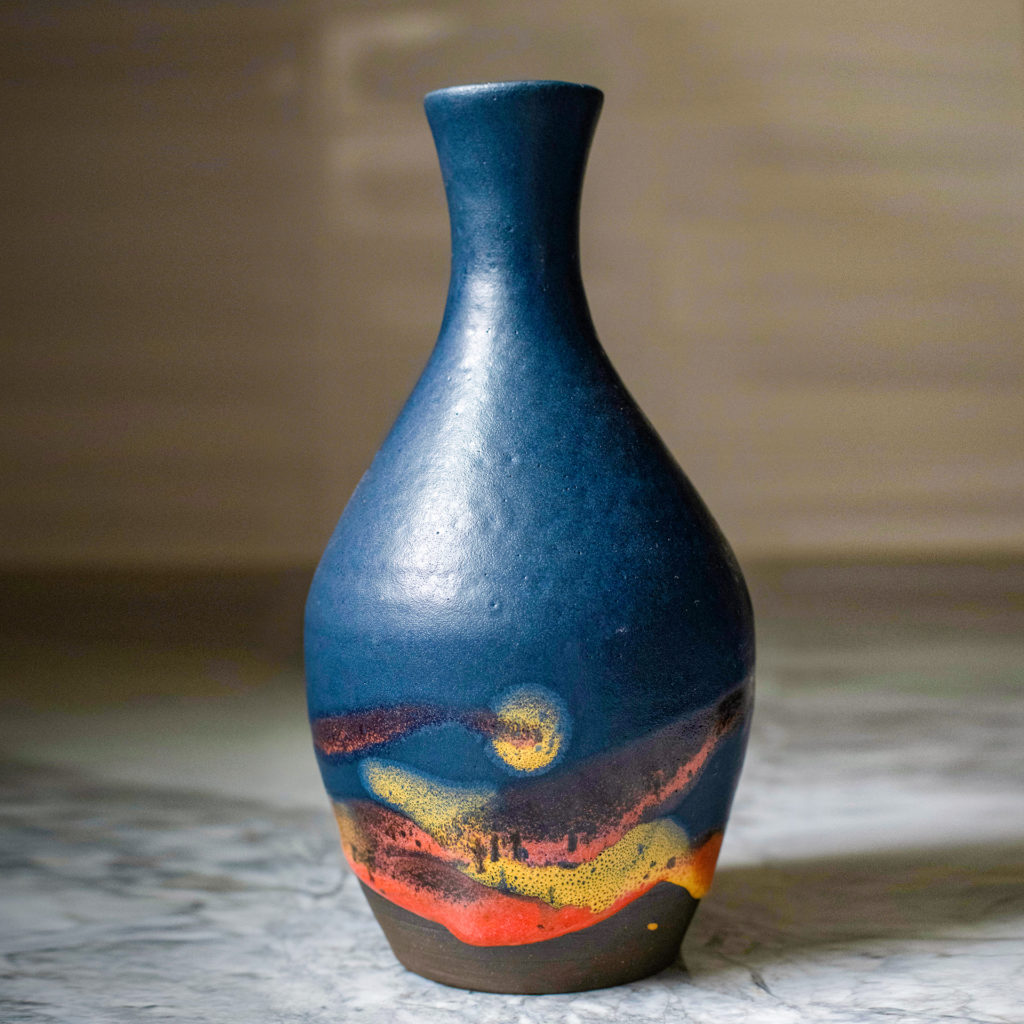 Your first big break?
In 2018, I cold-called one of my favorite restaurants, Californios. Chef Val Cantu's meticulous, flavorful and elevated Mexican cuisine has earned Californios two Michelin stars. I had been in business for one year and had a goal of collaborating with a chef I respected. Val was intrigued and we began working on a set of circular and triangular plates for his restaurant. Over the last few years, Val and I have built a wonderful rapport, inspiring and building off each other's ideas. I create my best art when collaborating with other artists and chefs.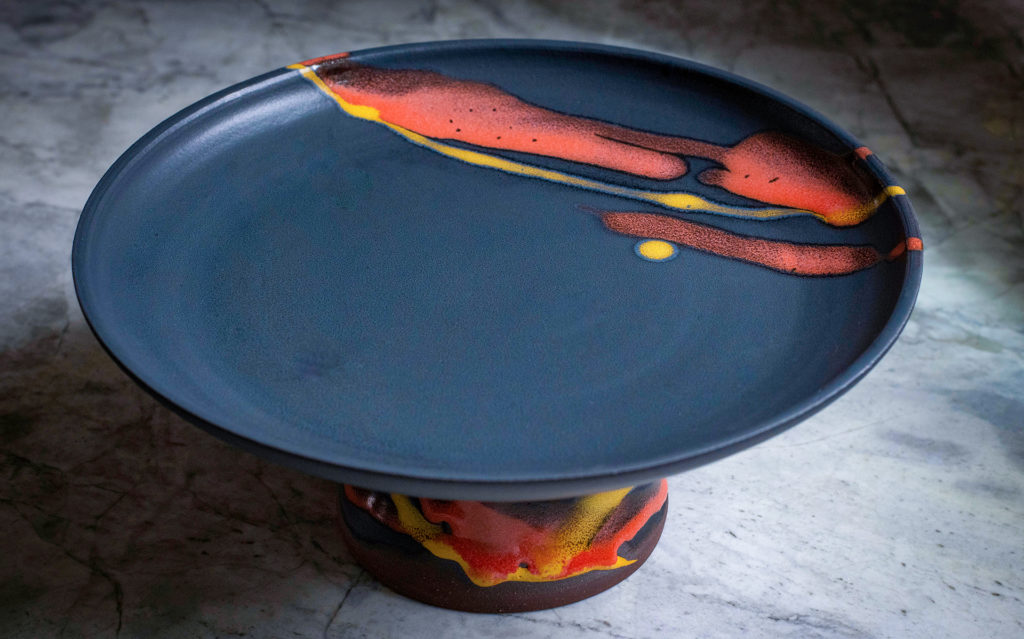 Biggest career joy?
"What I love most about what I do is collaborating on art. In a time when we are all a bit more distant, it feels particularly special to come together with an artist or chef and create something together. The design process in which I sit down with a chef or an interior designer to create pieces for a particular space, or dish, is inspiring. Together, we come up with ideas that take my art to new levels. We build off each other. The result is a piece that is unique and particularly suited for that space or specific dish. One of the joys of collaborating with someone out of my field is that they often make suggestions or ask questions that make me see my art in new ways. For example, Val once asked if I could combine my two black glazes and I almost said no. I don't think another ceramicist would have suggested mixing these two particular glazes. Instead, I thought, 'why not try it?'The resulting black glaze is now my signature ink glaze and I adore it. [Thanks, Val!] I also enjoy working on art for public spaces. To me, a restaurant is a live gallery with ever-evolving art installations because as the menu changes, so does the presentation of my plates."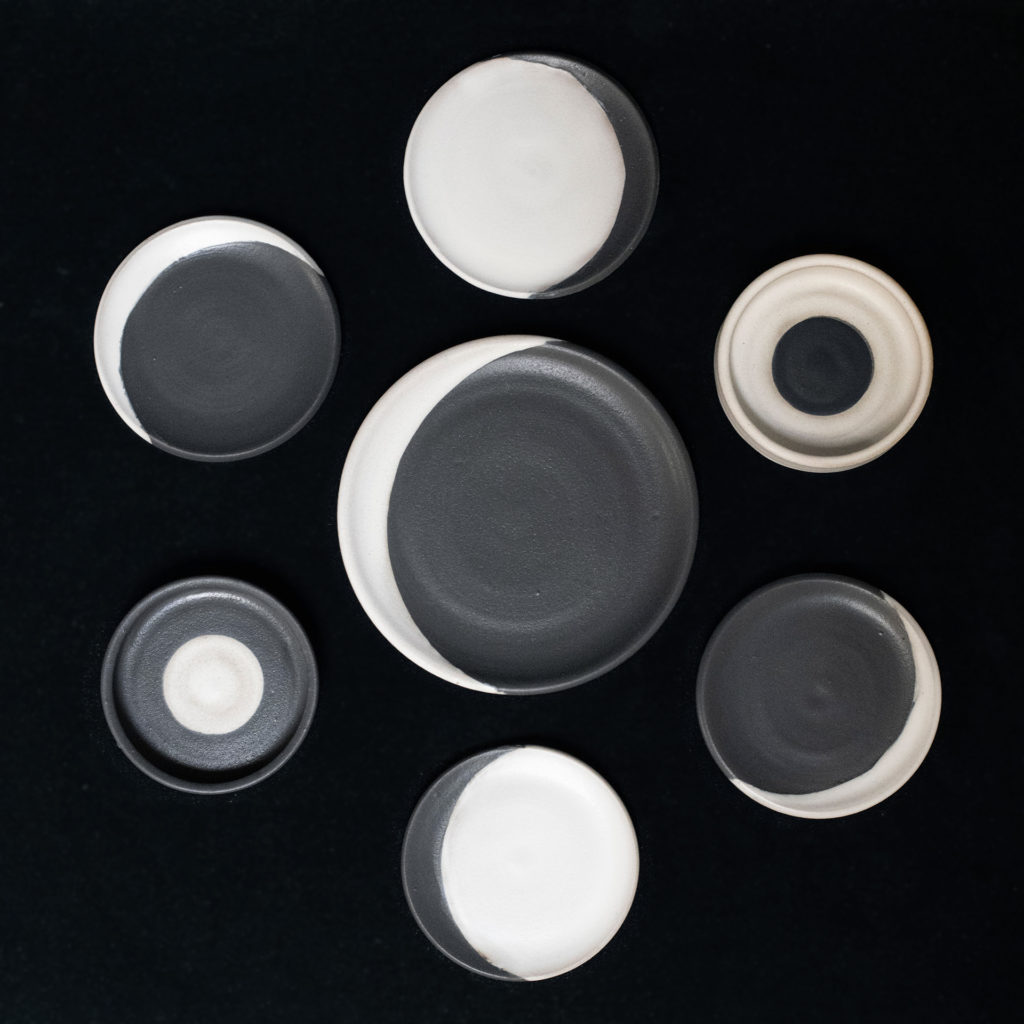 Where do you spend days off?
"My favorite escape is the ocean. It always has been. Water grounds me and it feels like home. The sounds and smells envelop me and I release. I've lived many places throughout my life, and almost every location is adjacent to a large body of water. My childhood was spent on the shores of Lake Michigan, where I escaped to Big Bay Park to watch, listen, and feel the waves. I went to college in Madison, Wisconsin which is situated on an isthmus between two beautiful lakes. In my early twenties, I briefly lived in Manly, Australia where I learned how to surf in the ocean. For the last 15 years, I lived in San Francisco and my escapes were to Ocean Beach, Fort Funston, and Mori Point."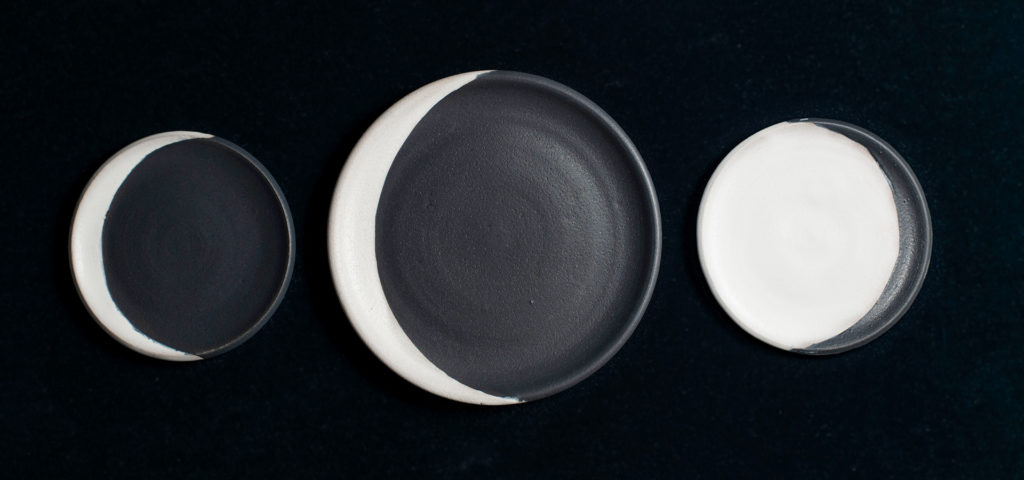 Tell us about your newest work.
"My most recent work is my Ink Vase Bracelet Collection, which I'm currently showing at a gallery pop-up in San Francisco. I often see my pieces as little people with personalities of their own, so a few years ago I had the idea of adorning my vases with rings and bracelets. When I first tried the concept it just didn't jive. But one of my art instructors wisely advised me to keep a record of all ideas, even what seemed to be impractical ones. So I wrote it in my journal and moved on. A few months ago I returned to this concept, trying it a new way. It came alive for me and my bracelet and ring vase collection was born. This collection feels incredibly authentic at this moment in my life. Jewelry can make us feel gorgeous but it can also restrict and confine. Some of my pieces shine with their new bracelets and rings. Others push back against society's norms and constraints. I actually take the vase and push against the rings as I throw. My next step will be a more conceptual collection where the vases break free. I've been diving deep into this concept for myself, so why not allow my ceramics the same exploration?"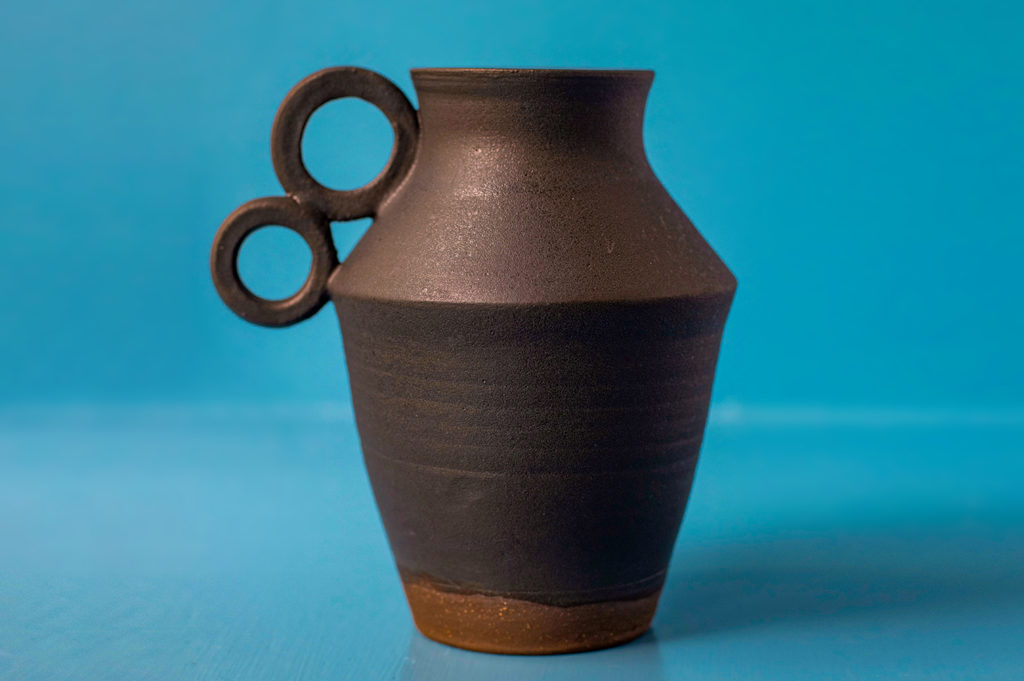 Your favorite collection?
"My recent Moon plate collection for Californios. We unveiled it at our late-August event when I threw live on my wheel in the courtyard of Californios. It was a beautiful night. I threw on my potter's wheel through two services for about 6 hours. The music was rocking, servers were moving gracefully around me, and diners were able to view my wheel while they enjoyed their food. It was a celebration of the collaboration Val and I have built over the years. It was a dream of mine to share the beginning and end of my process. That night the making of a piece on my potter's wheel came together with the final step of my process: the presentation of that piece plated with Val's food, and all in a live setting. It was magical."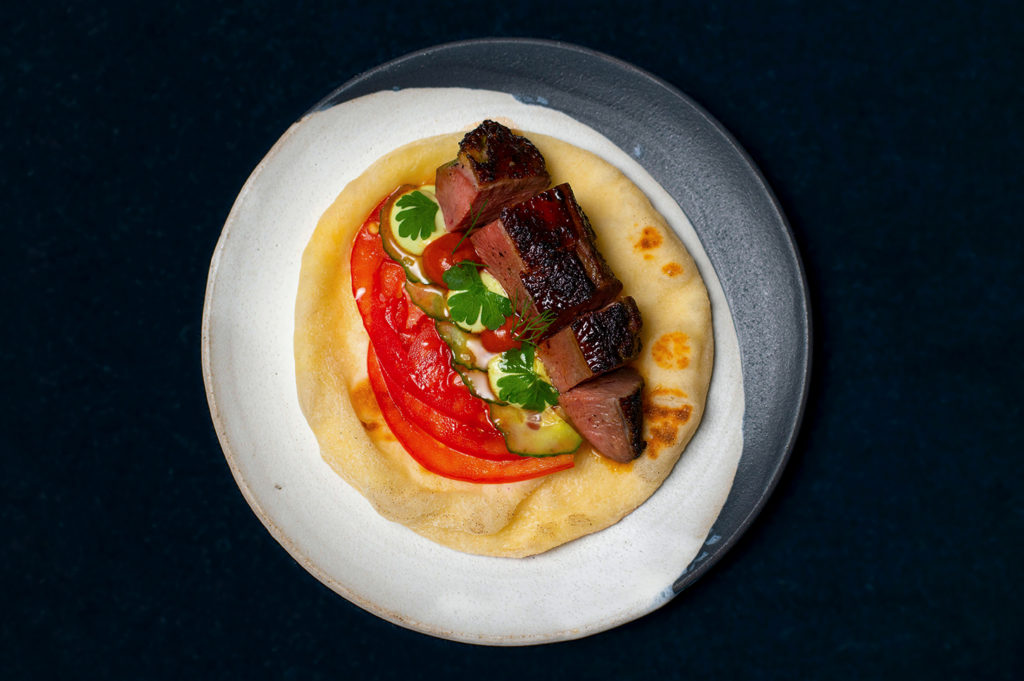 Anyone you'd love to partner with?
"I'd love to join the dream team of Single Thread and Little Saint Healdsburg and Ken Fulk. Kyle and Katina Connaughton have built a beautiful dream where art, design, and food connect. I respect their vision and ethos. I would also love to work with Harbor House Inn. We just had lunch there and we were blown away by the meal and Mathew Kammerer's commitment to local ceramics, and the coastal view."