Wallpaper maven, Elizabeth Rees, founder of Chasing Paper, first came up with the concept for her peel-and-stick, removable wallpaper company she established with her brother, Mike, in 2012 while living in New York City. "I am third generation in my family's printing company," says Rees. "I had the idea to try and leverage the equipment they had to find a new market while doing projects for friends and friends of friends. For one project in particular, I created some custom wraps for office walls that were so well-received, and I knew the idea was just very clearly there. Removable wallpaper at the time was not very popular, but I could see from my friends in the design industry that this trend was up-and-coming, and removable wallpaper allowed for renters to try it too. Being a renter in the city myself at the time, I knew there was value in the idea."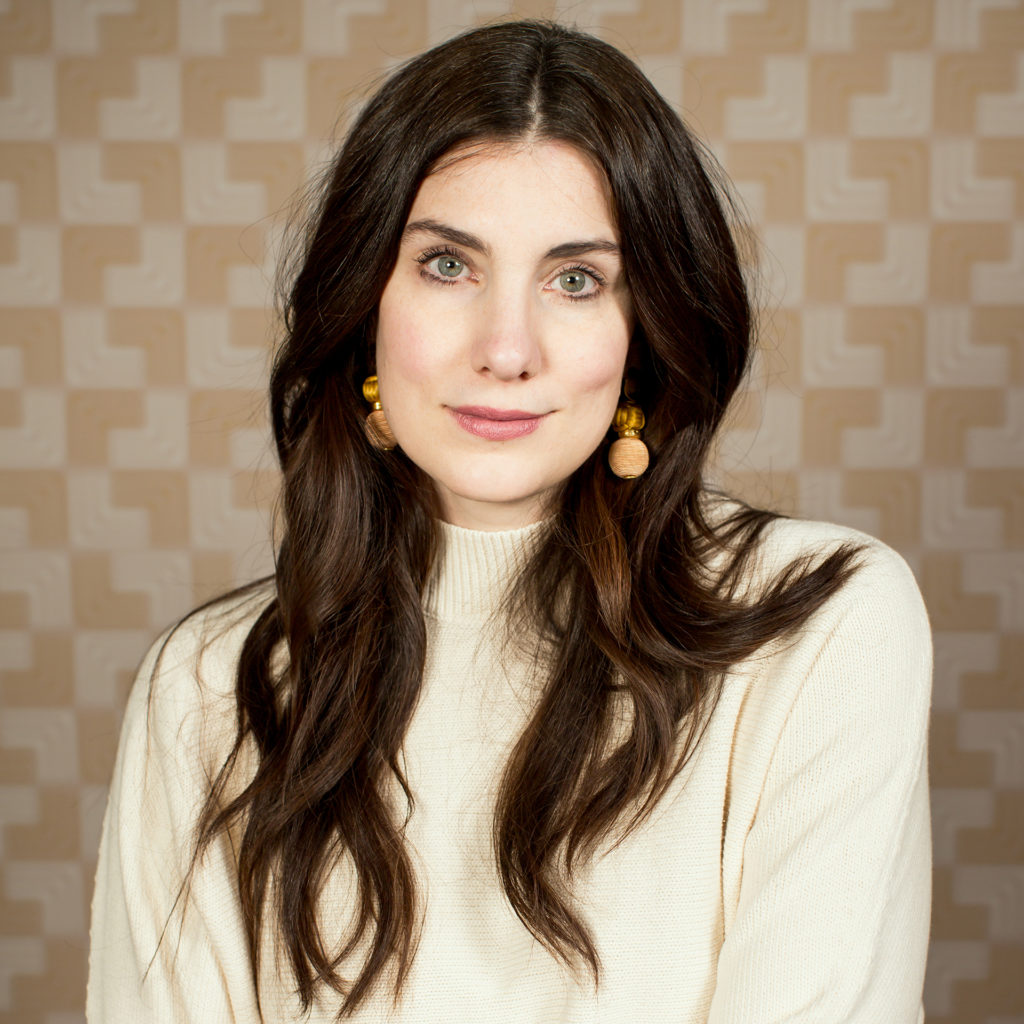 Next, Rees, who now lives with her husband and two daughters in her hometown, Whitefish Bay, Wisconsin, began working on a company name and landed it while on the subway. "Like most New Yorkers, I rode the subway every day and for many months while building on this initial idea, and I kept a running list of names in my notebook," says Rees. "During most rides, I would look at this list adding and subtracting names to see what stuck. I just kept coming back to 'Chasing Paper,' and I hoped it would stick with other people too."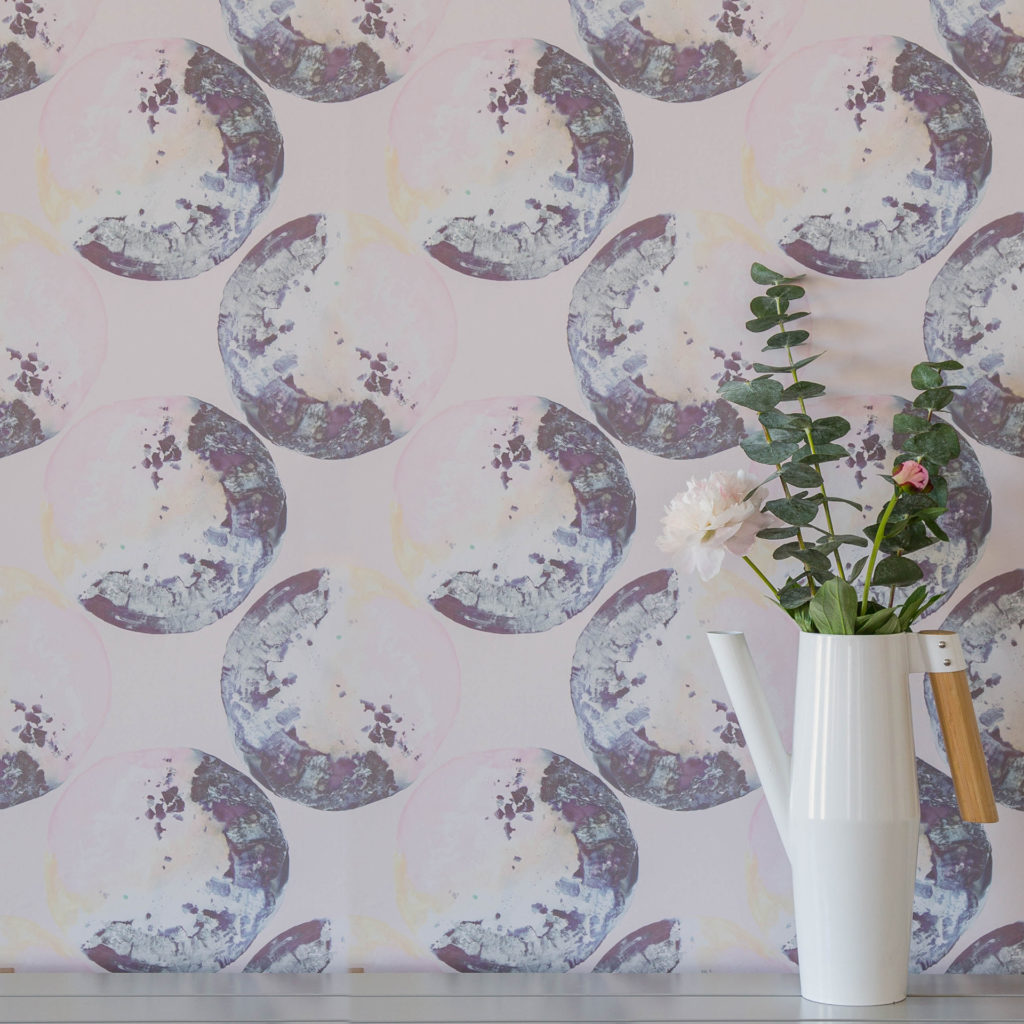 But, she was also aware of swirling misconceptions and firm opinions about wallpaper. "I think for a long time it felt very inaccessible to most people for a variety of reasons," says Rees. "The reason we hear the most, is that people feel they wouldn't be sure how to incorporate it into a space. To combat this, we try to inspire and empower our customers to bring print and pattern into their homes. Removable wallpaper is a great option for those who may be afraid to commit long term."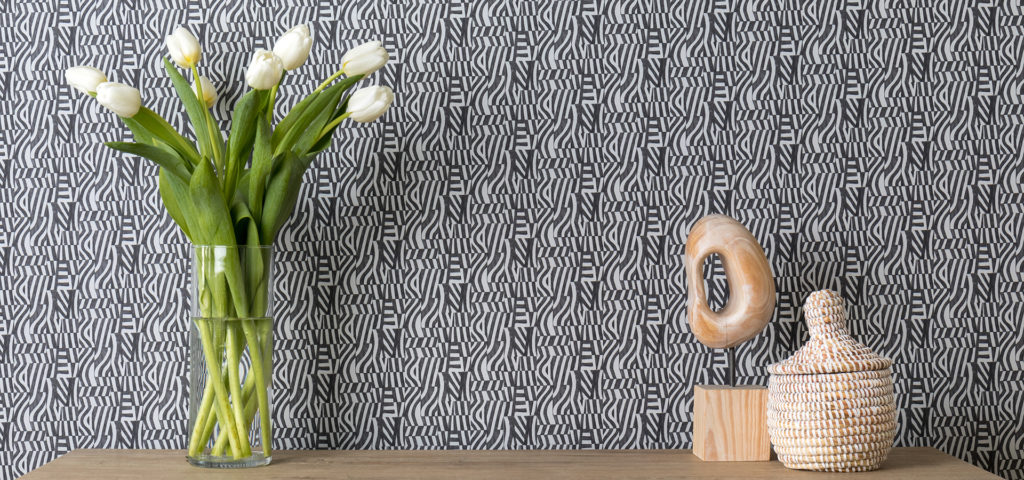 Now, nearly ten years in and 200 wallpaper designs later (including peel-and-stick flooring), Rees has found her niche. "I have always been someone that is drawn to the idea of transformation," says Rees. "To me, wallpaper is the single most transformative design element. It can completely change the way a space feels."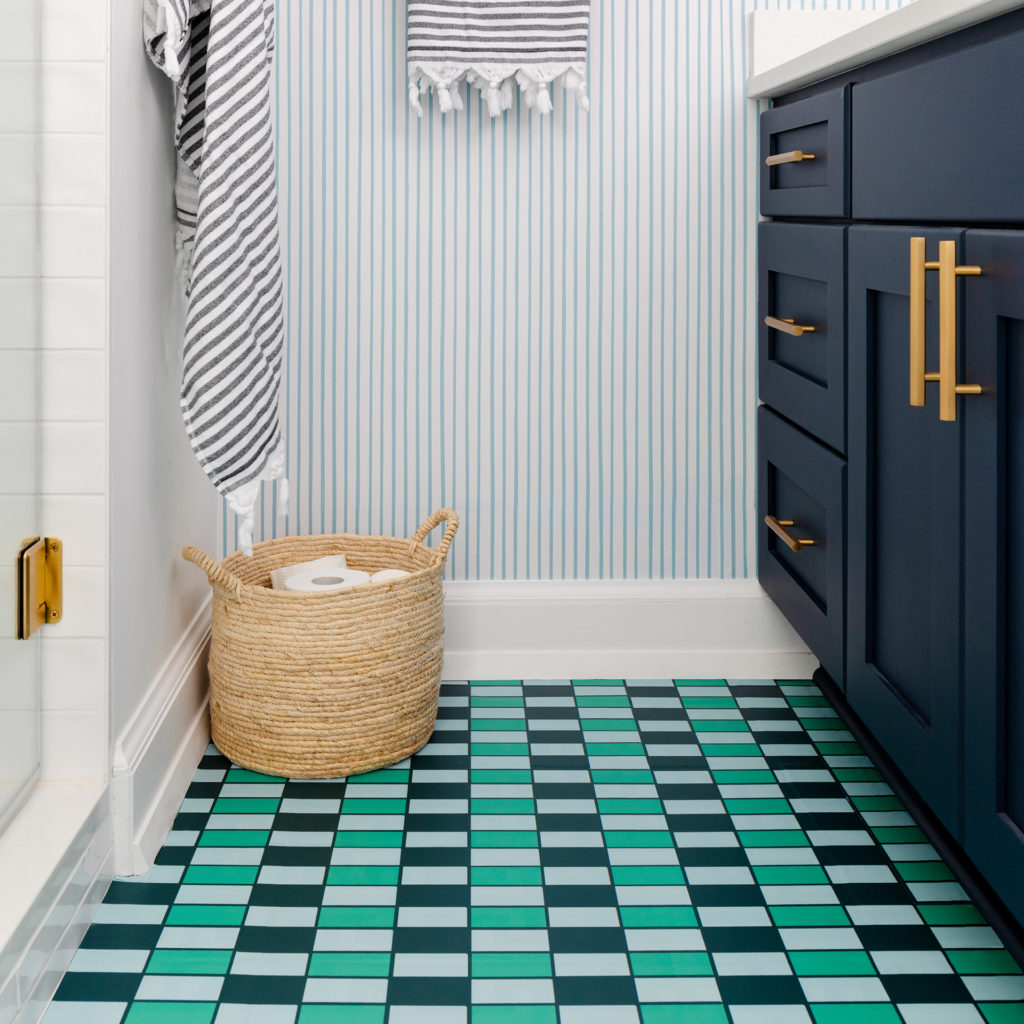 With weekdays now spent juggling zoom calls, business meetings, her daughters' school schedules, and styling photo shoots for the website, Rees is also busy dreaming up new artist collaborations including the recent launch of I Spy DIY X Chasing Paper's new collection replete with peel-and-stick floor tiles. "I was introduced to Jenni, the founder of I Spy DIY, a few years ago when I was contemplating leaving New York City to move to Milwaukee," recalls Rees. "She had done the move a few years prior, and I loved her genuine outlook on the world of social media, as well as her love for design and making things her own. Years later, after working together many times on her DIY projects, we decided to build a collection together. It has been so much fun working with her, as the collection is a true embodiment of who she is. She pulled the inspiration for the prints she created from vintage floral book pages and has such a great way of giving something old a fresh new take."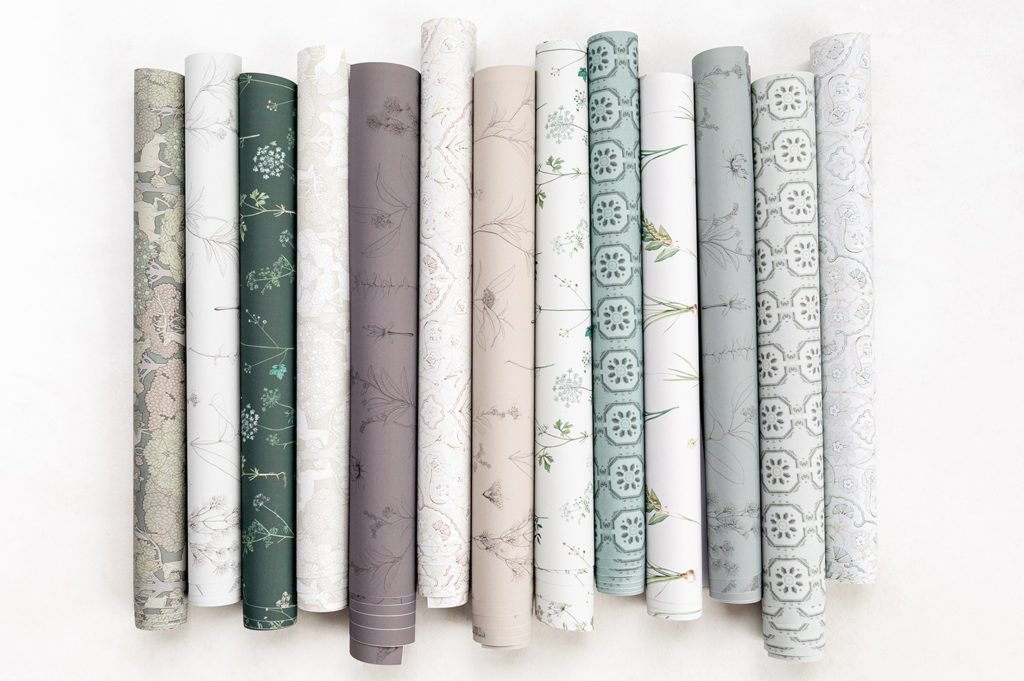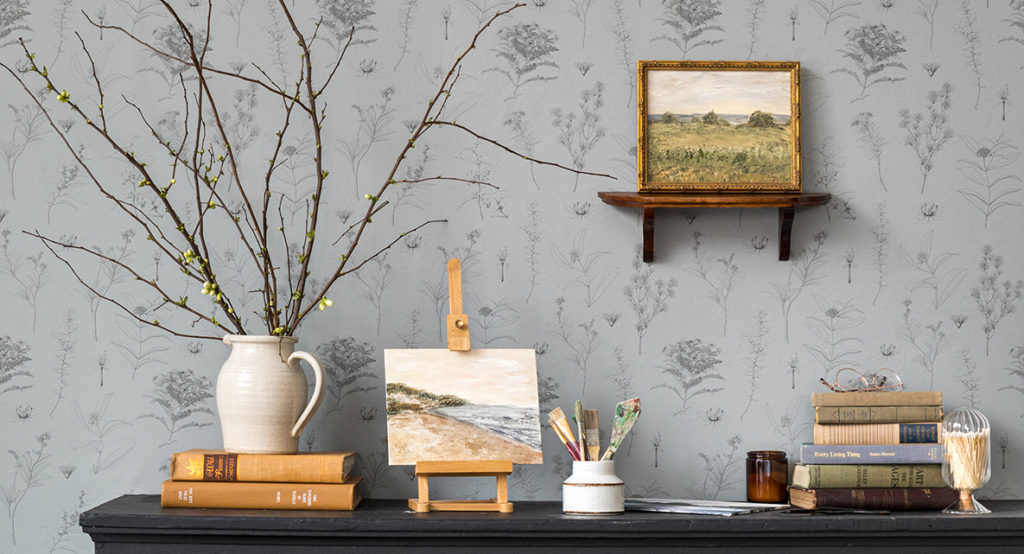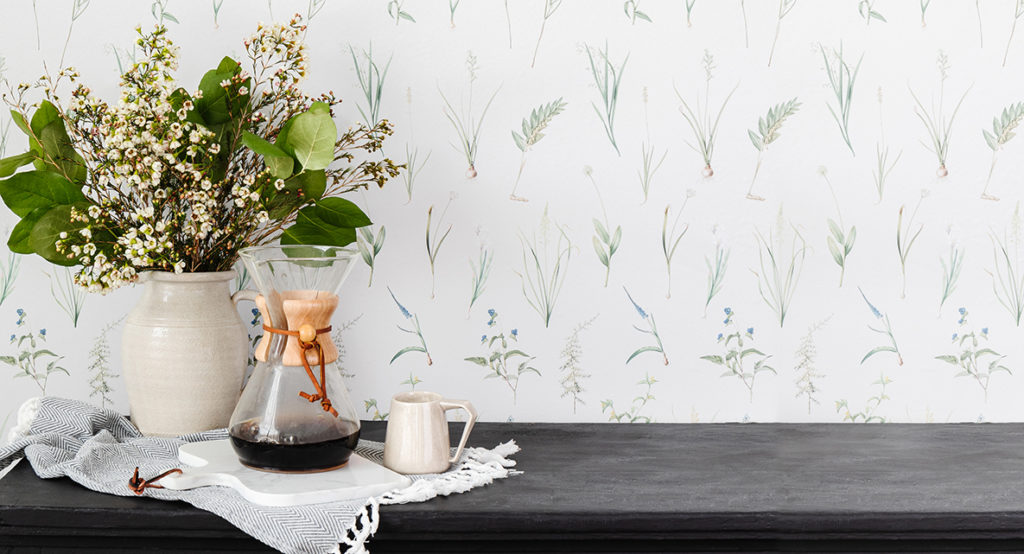 On Wednesday, June 30th, Chasing Paper is debuting a collaboration with Wovn Home. "I have spent the better part of a decade thinking pretty much exclusively about our customers' walls, which, of course, has always kept me thinking about creating a statement around windows" says Rees of the new collection launching next week. "When I was introduced to Davina of Wovn Home, I was immediately drawn to the way we had created such similar businesses and how seamlessly I felt they could come together to create something really special. The Wovn Home prints are elegant and timeless, and we feel make for a wallpaper collection that will stand the test of time."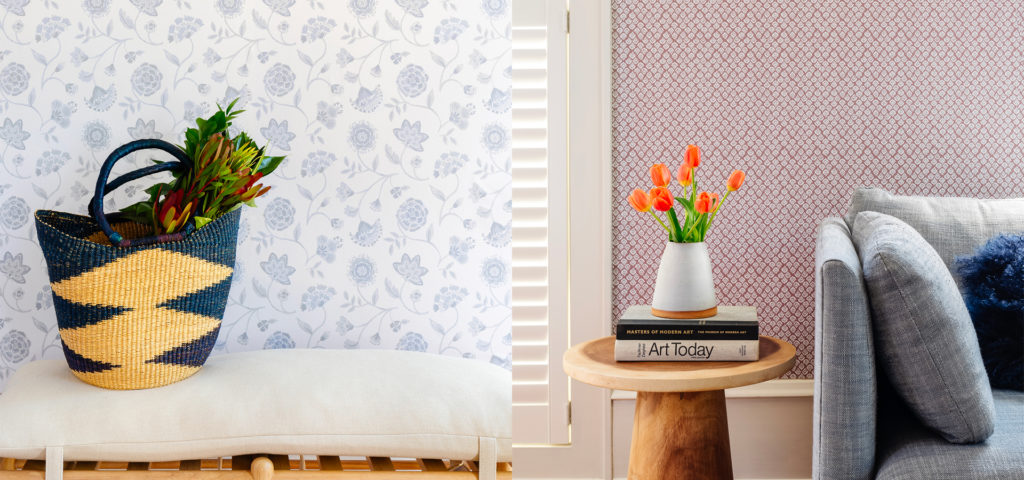 Rees' Expert Wallpaper Tips
Trust Your Instincts
Your home should be a representation of things you love and what brings you joy. Find prints that really resonate and that you are drawn to.
Think Beyond The Wall
If you don't have a wall you are ready to paper, or your wall is textured, remember there are so many great DIYs that don't require a wall, such as a fridge, a desk resurfacing, or a laptop cover.
Take A Risk
Go for it. Like any DIY, installation can seem a lot more intimidating then it is in reality. So just go for it, have fun, and you will see it's so much easier than you thought.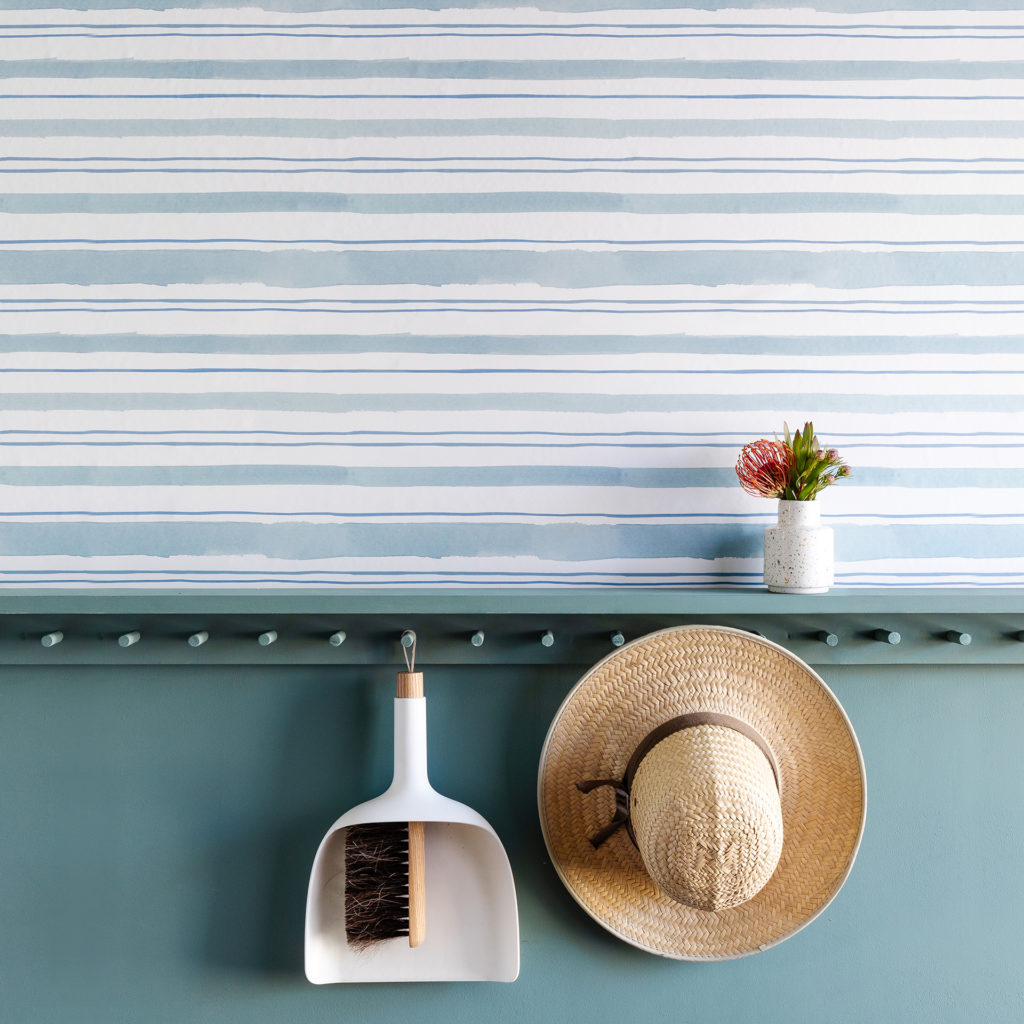 Make It Your Own: Rees' Custom How-to Bookcase Project
"One of my favorite DIYs that is easy to do but adds a lot of impact, is adding peel-and-stick wallpaper to the back of built-ins or a bookcase," says Rees. "It is a perfect project for our 2' x 4' panels, and the steps are simple."
Check your surface. Peel-and-stick wallpaper requires a smooth, non-textured surface to adhere properly.
Next, clean the surface prior to adhering the wallpaper to ensure it is free of dust and dirt.
Line the panel up with a corner of the shelf backing.
Peel back the wallpaper a few inches and adhere, smoothing from the top down.
Continue smoothing with a smoothing tool or your hand until you meet the bottom of the shelf backing.
Use a straight-edge blade to trim the wallpaper at the bottom.
Repeat for each shelf backing.
Troubleshooting Tips: If the panel is not straight, don't worry. Simply peel the panel back slowly and re-stick (avoid stretching the panel by pulling too hard or too fast.) If you encounter any stubborn air bubble, use a pin to poke a small hole in the center and smooth out.