Jess Weeth, principal and owner of The Shop at Weeth Home in Rehoboth Beach, Delaware, spent time during her childhood tearing pages of furniture from catalogs to build small rooms on paper. "After I got out of school, I got my first job as a fashion buyer for a large, global brand," explains Weeth. "I ended up spending seven years in that role, and had the opportunity to travel to London, Paris, Los Angeles and New York for design inspiration, as well as Hong Kong, China, South Korea, and Turkey to work hand-in-hand with vendors. Working in that field really stoked my creative fire and as I considered my long term career I couldn't help but be drawn back to my passion for interiors."
Later, when Weeth and her husband moved back to Delaware and renovated and sold two of their own properties, they started to get requests from friends for design help. "With many client projects and several online design classes under my belt, I made the leap and left my corporate job and launched my interior design business in 2017," recalls Weeth. "This jump paved the way for our careers today."
Weeth, who also owns interior design studio, Weeth Home, wants customers to feel right at home. "I love when a guest comes into the store and tells us how they wish they could just live here," says Weeth. "When we were building out the shop, we wanted clients and customers to feel like they were walking into a beautiful coastal home more so than business, so we were very intentional about things like materials, palette, and lighting. We have a lot of warm, natural elements like the reclaimed wood beams, a cocoa-bead chandelier, and grasscloth wallpaper, so even on gloomy days in February the shop still feels cozy and inviting. Ultimately, we want anyone who comes to the store to almost feel transported, so when they're shopping they feel like they're bringing a piece of our place back to their own."
Weeth gives us an up-close look at the boutique and points out some of her most beloved pieces.
How did the shop come about?
JW: The Shop came about almost by accident in 2019. My design business had started to grow rapidly and I needed a space to work and hold client presentations, so we found a space right on the main avenue in Rehoboth Beach, less than a mile from the ocean. We ended up gutting the space and totally re-doing it to be a reflection of our breezy, timeless design aesthetic and show clients how I could transform their spaces. The main area of the shop was originally built to be my design office and presentation space, and I had packed the shelves with unique lighting, textiles and decor samples to show clients. After we opened, people would walk into the office and ask us if they could buy the samples off the wall. After just a couple months I realized this space needed to be a store, so I moved my design studio upstairs and opened The Shop at Weeth Home shortly thereafter. 
What kinds of items do you offer?
JW: Maybe it's because of my background in fashion, but I love textiles so one of the biggest categories for us is pillows. Each season we pull some of our favorite fabrics from textile designers around the globe to create pillow statements that we merchandise throughout the shop. This helps set the palette and tone for the season and provides an anchor for the collection. The Shop is such a fulfilling way for me to curate some of my personal favorite fabrics.
Tell us your five in-store favorites.
---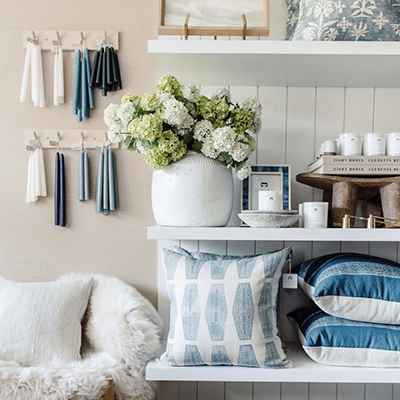 Custom Fabric Pillows
"While we change our palette with the seasons, you can always count on us to have unique patterns in cool misty hues," says Weeth. "They are perfect for coastal spaces and mix in so well with textured neutrals. Susan Connor's organic hand blocked prints are a staple (bottom left) and I've been loving Lewis & Wood's storied patterns lately as well (top right).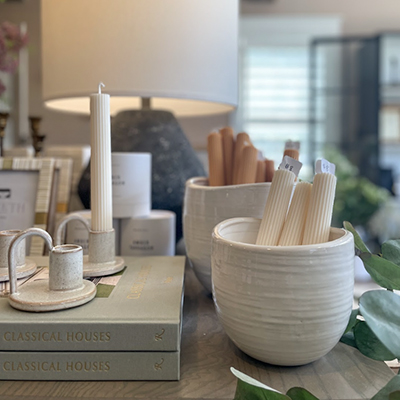 Ribbed Pillar Candles
"We love updating a classic taper candle with our fun ribbed pillars. It's such an affordable and simple way to freshen up your styling," says Weeth."We have a lot of candle holders in our store, but we also recommend pairing it with your own vintage brass collection (like I do at home). White feels like a fresh take on a classic while the muted hues are perfect to welcome fall."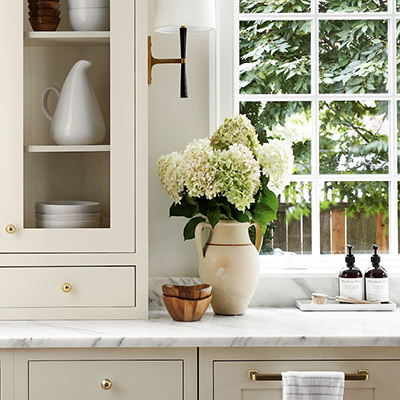 Found Clay Vases
"There is just something about an earthy, organic element that brings warmth to a space," says Weeth. "No matter the palette I love bringing in a clay vase with fresh seasonal stems. The terra-cotta handled pot is my favorite."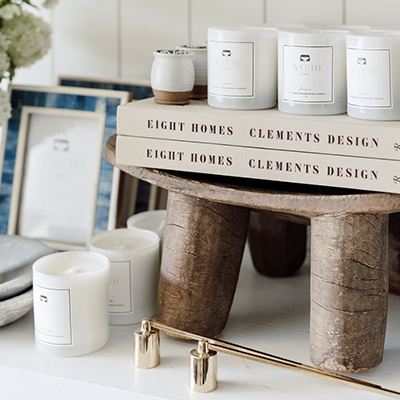 Weeth Home Candle & Match Strike
"One of our best-sellers is our line of in-house candles with custom scents that we update each season," says Weeth. "As we head into fall and winter, a team favorite is our 'Prosecco' scent, with crisp notes of citrus and woodland flowers that's the perfect backdrop for holiday celebrations."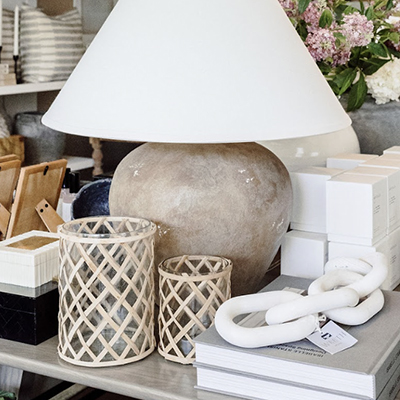 Rattan Hurricanes
"These textured vessels are so versatile," says Weeth. "From holding a candle to summer hydrangeas, or even serving utensils, they are such a cute accessory to add to the mix."
Do you offer any design services?
JW: Yes, design services continue to be the mainstay of our business. We're a full-service design firm specializing in custom, high-end residential projects. Our services are geared towards clients seeking a cohesive design through inspired concepts, effective planning and project management, strong communication and leadership with partners, a keen eye for interior trends, and deep relationships with vendors to offer pieces and lines you have yet to discover.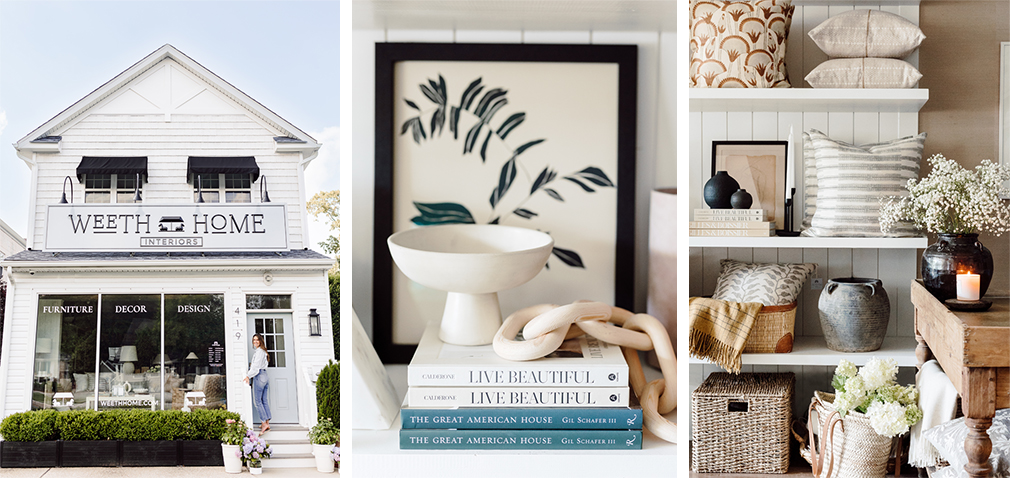 How is the store different?
JW: With Instagram and online shopping, you can pretty much find anything on the internet now, but we've kind of embraced that as an opportunity to be great curators. We want to always carry custom pillows and a few pieces that you can't find anywhere else, but our goal is to offer an assortment that balances the barefoot ease of living at the beach with the heritage and refinement of the East Coast. We have a lot of fun playing with that tension when we're buying and merchandising. In a lot of ways, our assortment is a reflection of our design studio's work, so it gives people an opportunity to take a piece of our design's home with them.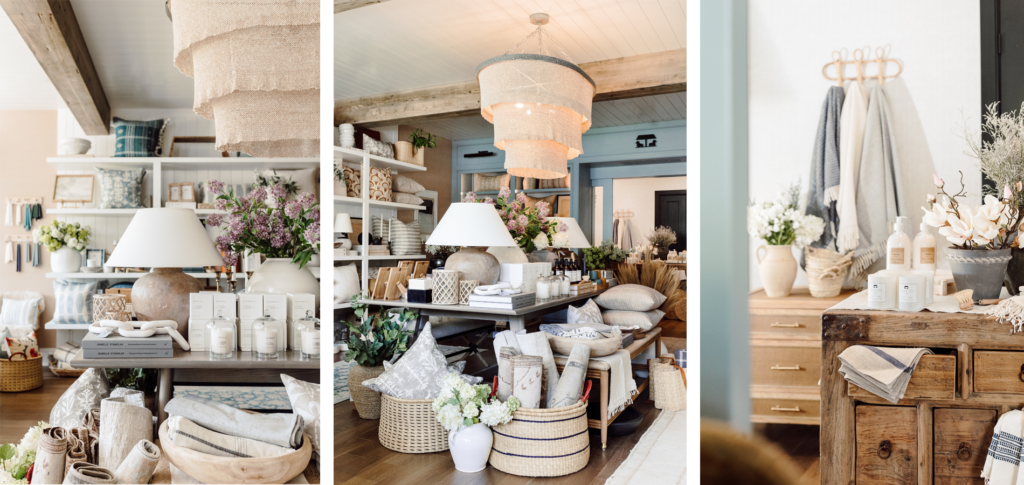 Anything new or upcoming?
JW: We've become close friends with the owner of a local fine furnishings store whose family has been in the business for decades and has deep relationships with many key furniture lines. We're partnering with him to develop a custom upholstery program for our store, where customers can apply a curated selection of our designer fabrics and trims to create truly one-of-a-kind pieces.