Eunice Byun, cofounder and CEO of New York—based culinary wares company, Material, spent the large part of her formative years in the kitchen surrounded by good food and family. "I like to think that the idea of Material was brewing super early on in my life, [ let's say around the age of 6], as my parents owned a restaurant growing up," explains Byun. "I loved being around the kitchen, seeing food being cooked, and people coming together. But it took me a few turns through other careers and industries to find Material."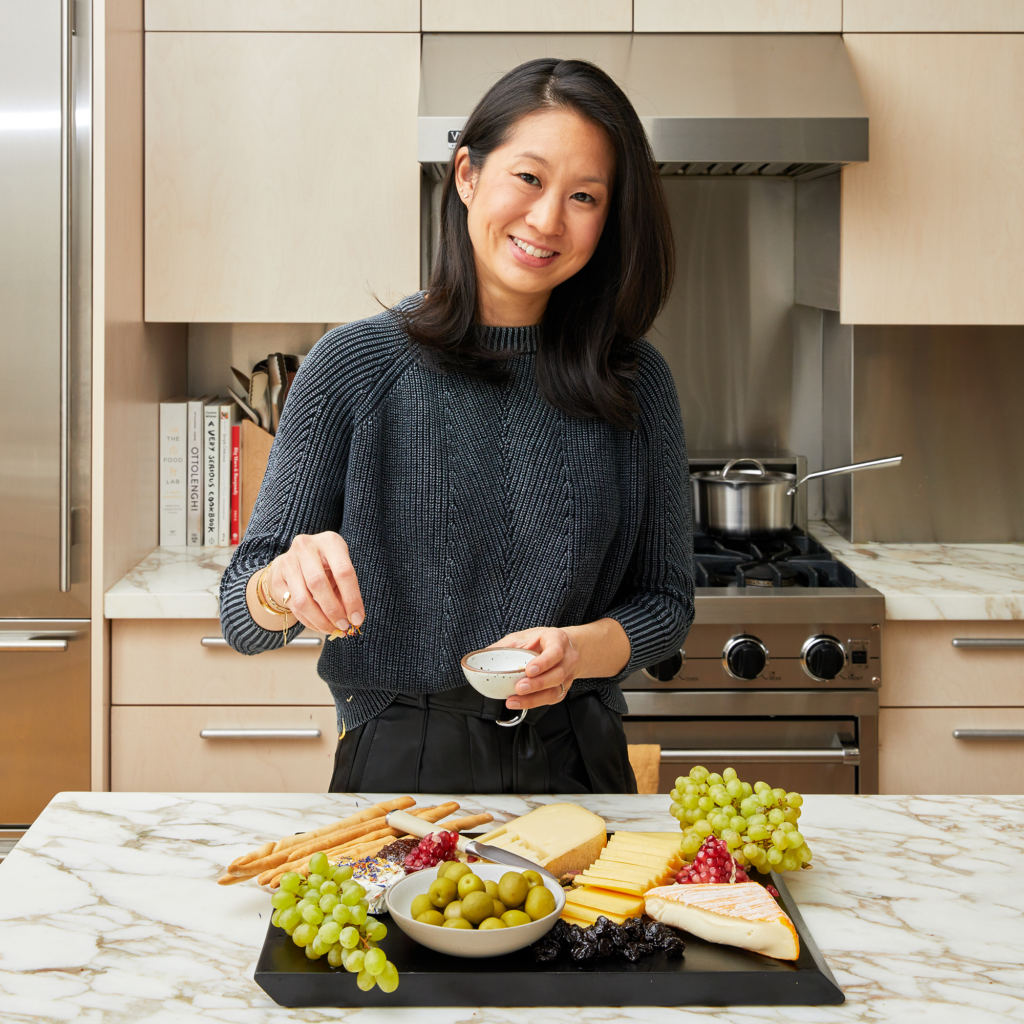 But, after having her daughter six years ago, she had an epiphany. "I realized how much 'stuff' we had accumulated," recalls Byun. "Our kitchen was full of products that were either functional or beautiful. It was as if the industry at large was asking you to pick one, and only one."
So, she teamed up with a good friend, (now her business partner and cofounder, David Nguyen), to bridge the gap between beauty and functionality in the kitchen. "We also wanted to simplify the shopping process and curate the big world of kitchen products down into things we felt mattered the most, and we aimed for substance over stuff."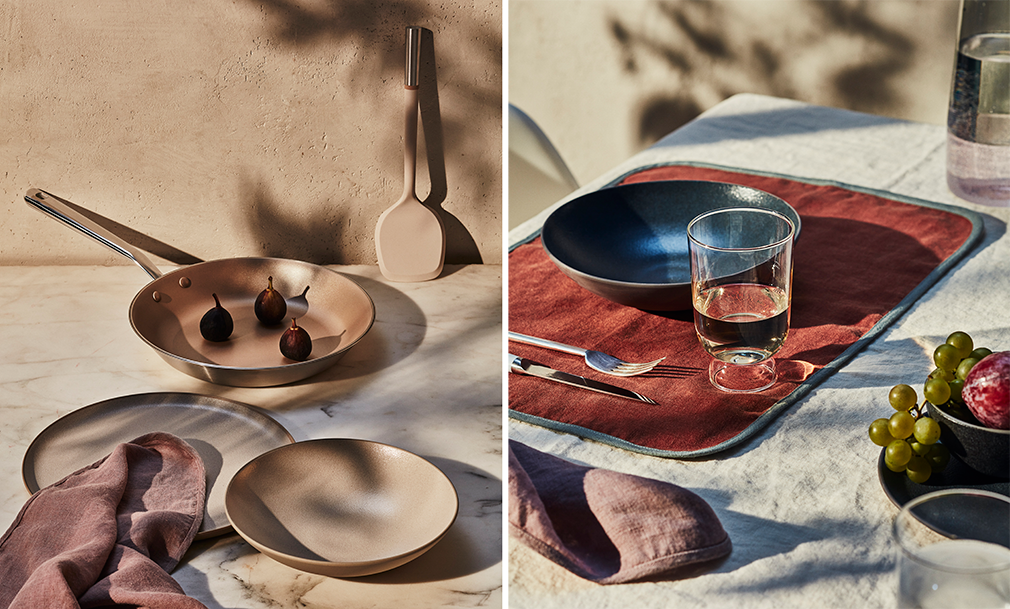 Four years ago, the duo, whose items have now landed among Oprah's Favorite Things, launched Material with their inaugural collection, The Fundamentals. "Since the beginning, we've been on a mission to create intentionally designed, heirloom-quality products for the home cook," adds Byun. "I'm proud to say that we've stay true to that same mission for almost five years now."
Here, Byun shares her personal mantra, how she starts each day, and the vision for the new holiday tabletop collection that debuted on November 8th consisting of glassware, linens, and tablecloths. 
Tell us about the inspiration for the new collection.
EB: "Spending time preparing and sharing meals with loved ones has always been a passion of mine and was a driving force behind the creation of Material. While we launched solely as a kitchenware brand in 2018, we eventually expanded into tabletop in 2021 with the launch of our Ceramic collection, which our customers loved. Since then, I knew I wanted to continue to round out our tabletop offerings and become the one-stop shop for every home cook and host alike. Developing a glassware and linens collection felt like a natural next step for us, so thus, our new line was born. We are so thrilled to be launching this collection in time for holiday gatherings and celebrations with friends and family. My hope is that our linens and glasses not only adorn tables everywhere, but also serve as a vessel for connection for years to come."
An unexpected fact about Material's products?
EB: "I love sharing unexpected, yet intentional details that make up each of our products. For example, the Forever Peeler features a replaceable blade, like a razor blade, so you never have to buy another plastic peeler again. The Air Whisk was designed with unique flattened loops allowing it to stand upright in the bowl to help keep your workspace mess-free. The Only Tongs have a hidden gravity lock that allows you to open and close the tongs with a simple squeeze and flick of the wrist."
Your must-haves in the kitchen?
EB: "A quality chef's knife. it's the workhorse of the kitchen so you want one that won't break down on you. Also, a knife sharpener because all knives will go dull with use, and dull knives are dangerous. Our handy sharpener is foolproof and keeps your edges super sharp. And, finally, my Chemex. It's a part of my morning ritual that I cannot do without."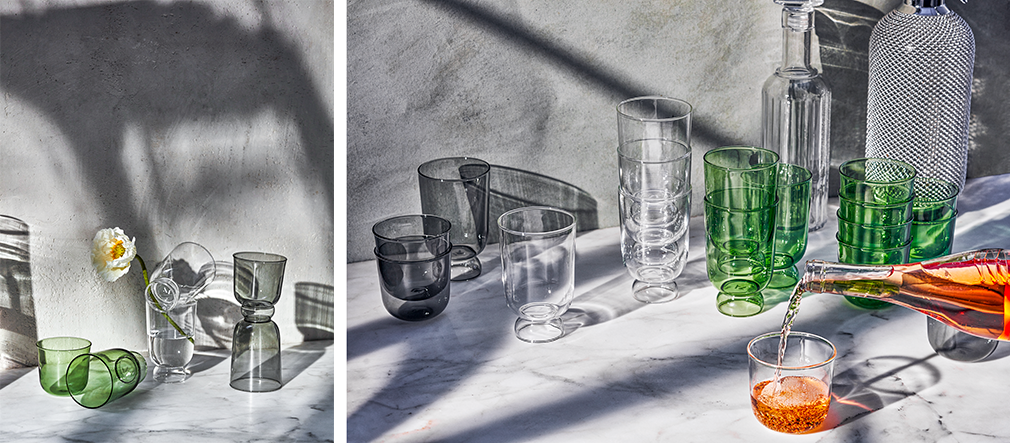 What's your personal mantra?
EB: "Be kind. So simple and so common, yet not easy to be all the time. That being said, it is an important part of our company's values. We believe doing business is not enough for companies these days. We have to do good, and be better. For us, this drives a lot of the social impact work we do for organizations that are uplifting under represented voices like Heart of Dinner, the Korean American Community Foundation and the Lower East Side Girls Club of New York."
How do you start your day?
EB: "I start my day in the kitchen at 6:30 a.m. making breakfast for my daughters. I sort of feel like a line cook though. They tell me what they're feeling and I start whipping it together. But my favorite time to cook is when the house is quiet because it becomes almost meditative. These days, I love cooking stews as the seasons are changing with my favorite being a Korean dish called doenjangjjigae. It's earthy and chock full of vegetables."
Your favorite on-the-job perk?
EB: "Creating and dreaming things up that start as a mere inkling or idea and then transforms into a physical thing you can touch. It's equally exhilarating and terrifying. I also love connecting with our customers, which we are starting to do more of again in person. I find myself peppering them with questions about what they are inspired by, what they want to see more of, their likes and dislikes."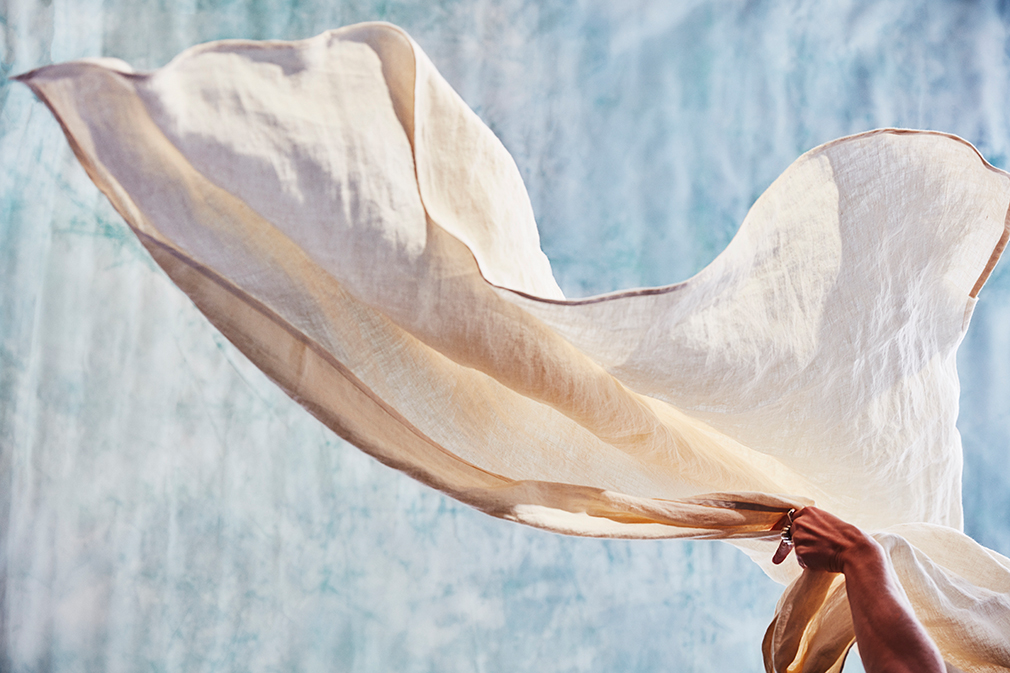 Material's Top 5?
"The reBoard is one of our most beloved items. Customers love the look and feel of our cutting boards, but they really appreciate the durability and sustainability of the reBoard. Made with renewable sugarcane and recycled plastic kitchenware scraps, the reBoard looks good and does good."
"When we were developing our cookware, we wanted pieces that heated quickly and evenly, but were also a breeze to clean. The Coated Pan is adored by so many Material users for those exact reasons. Featuring a 5-ply copper core and a non-stick coating made without PFOAs, lead and cadmium, The Coated Pan is a must have for every kitchen."
"Included as one of Oprah's Favorite Things in 2021, the Knives+Stand continues to be a crowd favorite, and for good reason. The 8-inch Chef Knife, 6-inch Serrated Knife, and 4-inch Almost Knife are made from Japanese steel and high carbon to be meticulously sharp and incredibly resilient and can be beautifully displayed on an angular, magnetic wood stand in either White Ash or Walnut. Long gone are the days of shoving your knives in the back of the drawer or into a bulky block."
"We teamed up with Soil Baker to help craft our ceramic line, which now adorns the tables of our customers, restaurants and hotels. One of our most popular shapes is The Open Bowl, the perfect blend between a plate and a bowl. It's the ideal vessel for salads, noodles, or anything saucy. Each bowl is made with up to five different types of Korean soil and is hand-finished, creating an elevated aesthetic that our customers love."
"Kitchen shears are way too underrated in the US. Across the world, you'll find they are a kitchen staple for so many. Many of our customers have caught on though because The Good Shears continues to be one of our best sellers. They are crafted with German stainless steel and are designed to come apart for easy cleaning (and it also helps make it easier to break down boxes.)"