"If you're going to invest money somewhere in your home, invest in your kitchen," says interior designer Kristin Hildebrand, creative director and founder of KH Interiors in Los Angeles. "It is the heart of the home, where people congregate several times a day, so putting time and energy into a design that will make your kitchen both beautiful and functional for your family will go a long way."
From reconfiguring the layout in an A-frame cabin to updating a kitchen with old, rickety cabinetry in a 1950s bungalow in Santa Monica, Hildebrand walks us through three recent California kitchen projects and offers key design insight.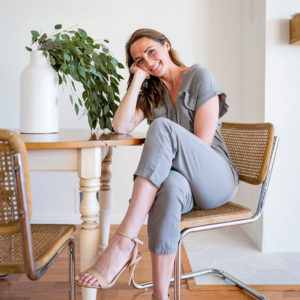 Lake Tahoe
Photos by Stephanie Russo
"This A-frame cabin was a dark and dated space when we were hired," explains Hildebrand. "The clients had great vision, and wanted to lighten and brighten things up. They entrusted us completely with our vision for the space. This included removing the wall between the kitchen and living area, which once taken down created a beautiful open concept and allowed space for an island with plenty of seating for family and friends to congregate."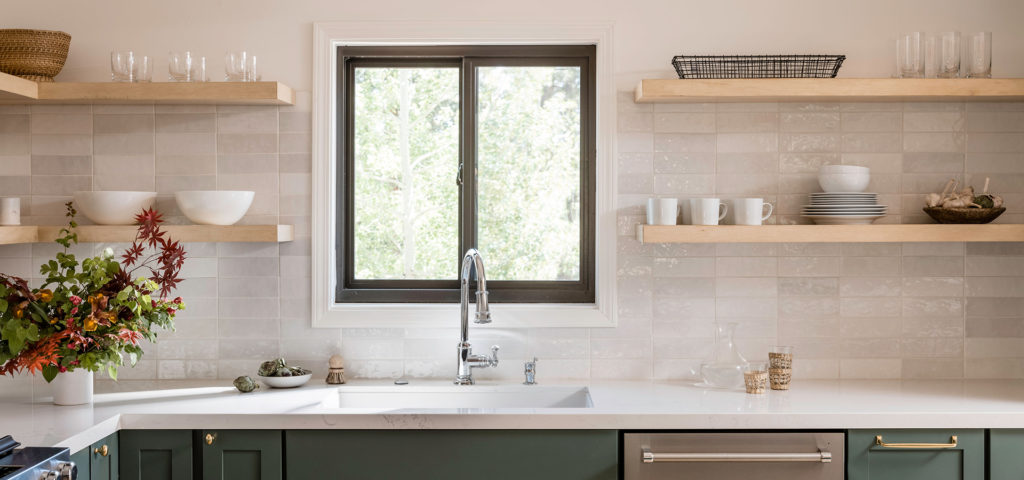 To create efficiency and support the new, open concept, Hildebrand relocated appliances and chose fresh and updated materials such as custom cabinets and stone slabs. "The result was a much more functional and beautiful kitchen, with an incredibly calming color palette," adds Hildebrand, of the space lined with flooring by Urban Floors and a "Chloe" ceramic tile backsplash from Bedrosians Tile & Stone.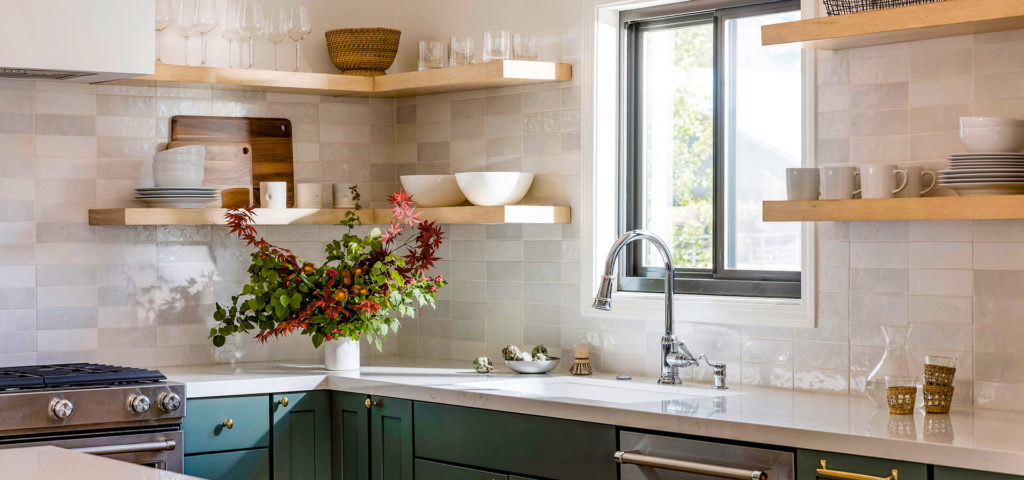 Hildebrand's favorite aspect is the plaster hood and range surrounded by floating shelves. "Before, that exact space where the hood/range is now was a walkway to the kitchen," says Hildebrand. "Closing it up and venting the hood and relocating the range there allowed us to open up the kitchen and transform the space entirely."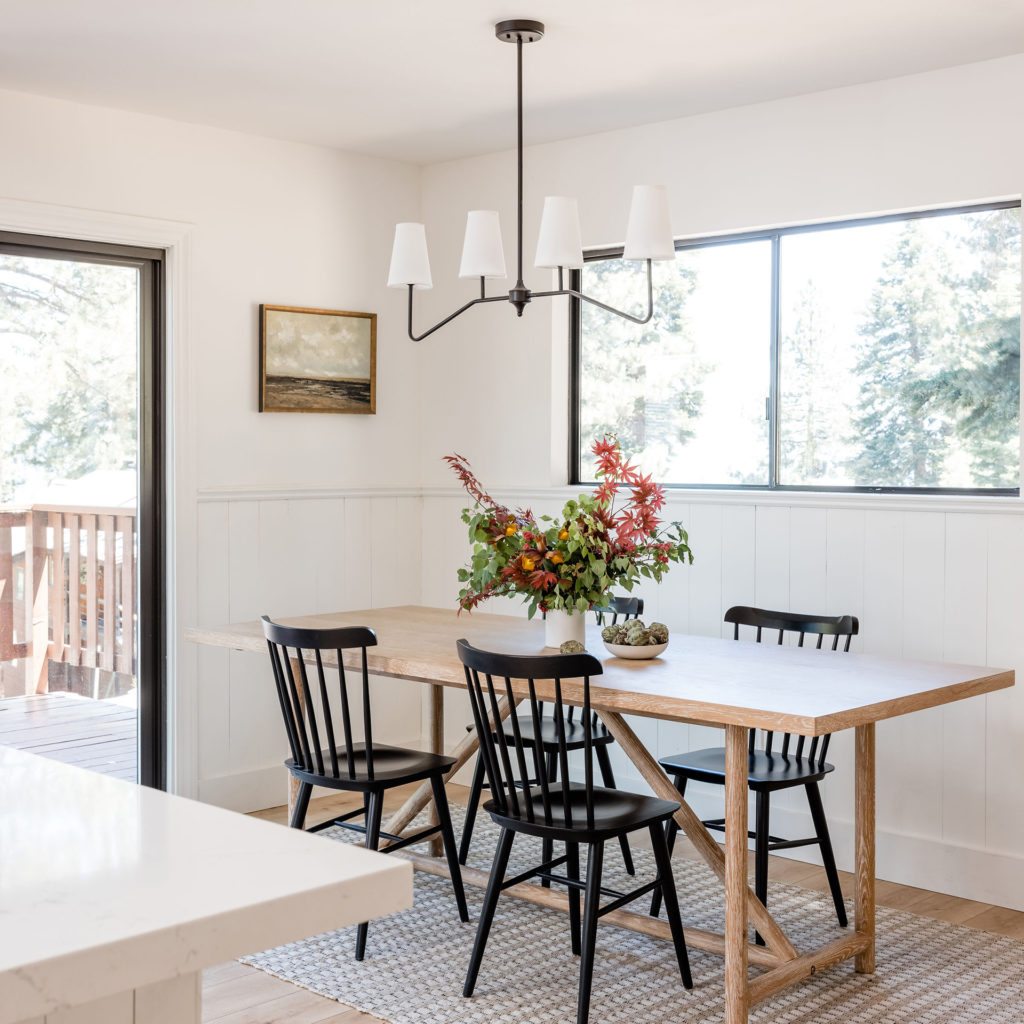 Sherman Oaks
Photos by Hugo Landa
For a complete gut of a kitchen in Sherman Oaks, Hildebrand teamed up with Rebuilt to modernize the design throughout. "Our vision was a warm, modern oasis and I think we achieved that through selecting modern fixtures and finishes," says Hildebrand. "Rebuilt was the client, and they had great vision for the space but needed our help selecting finishes for the entire home both interior and exterior."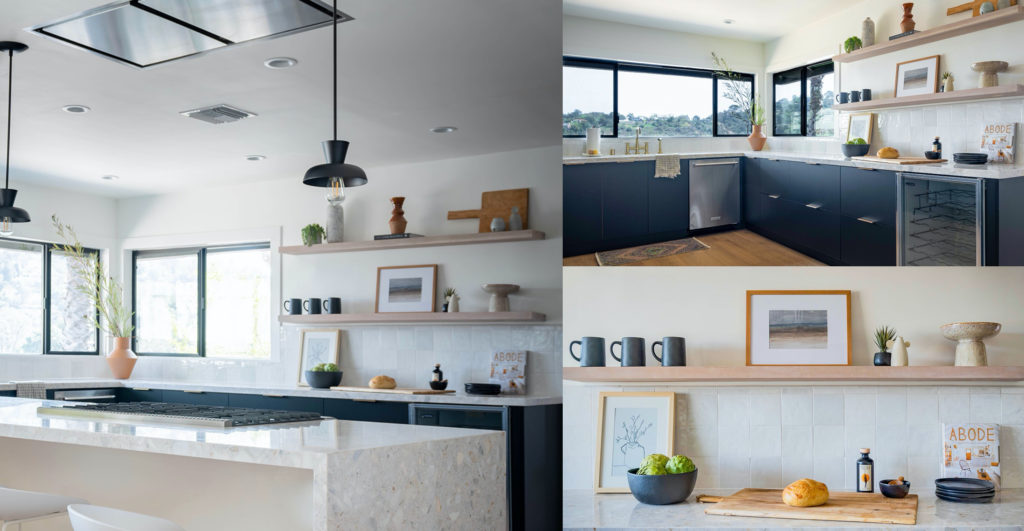 "I love the kitchen sink moment," says Hildebrand. "We selected a sleek kitchen faucet to attain our modern aesthetic, and when standing at the sink, the view from of the new windows is incredible. You see an infinity pool and then some insanely beautiful hills that seem more like clifftops behind that."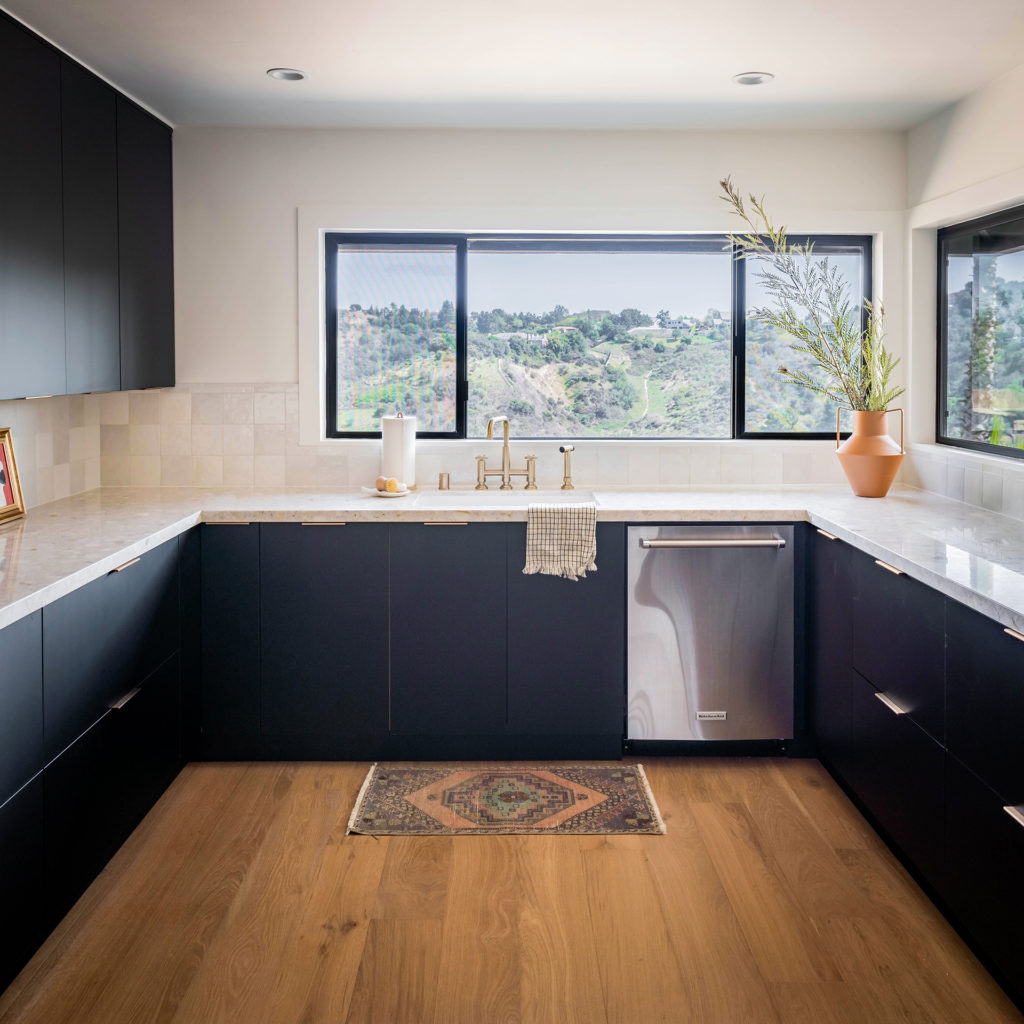 Santa Monica
Photos by Hugo Landa
For a closed-in and dark kitchen in a 1950s bungalow in Santa Monica with lime green tiles and rickety cabinetry, Hildebrand reconceived the layout to add more efficiency, update the aesthetic, and fit the needs of a growing family. "We ended up taking down a wall that previously separated the kitchen from the dining and living room, and updated every material throughout including the flooring, cabinets, countertops, backsplash, appliances, plumbing, light fixtures, and hardware," says Hildebrand. "We also incorporated a washer and dryer into the kitchen per our client's request."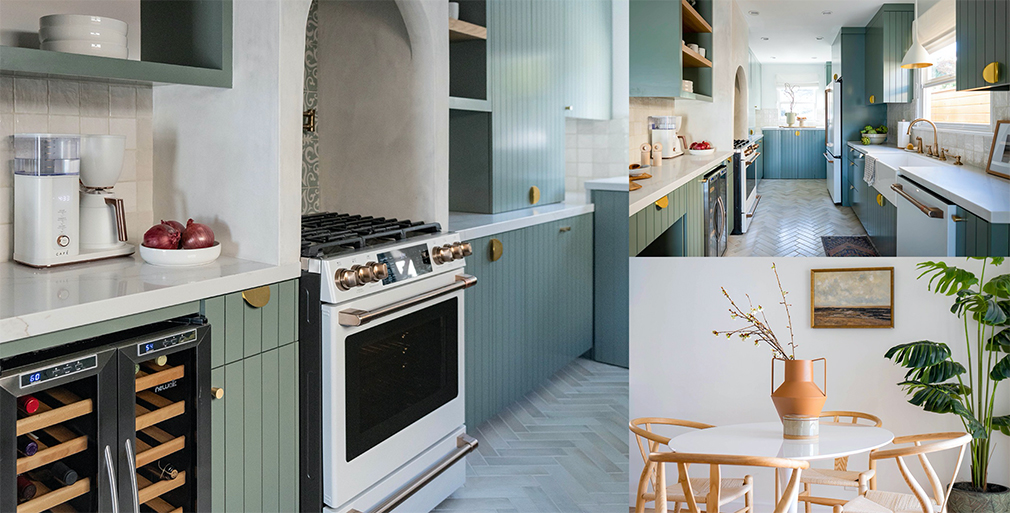 Above the sink, Hildebrand opted for a white Agnes pendant  from McGee+Co., and a brushed brass faucet and fixtures to match the cabinet pulls. She also created a plaster range alcove for textural interest and added in a washer and dryer. "It's ingeniously tucked away at the back of the kitchen," explains Hildebrand. "It was a pretty big challenge to find a way to fit the washer and dryer because the kitchen footprint is pretty narrow, but after several renditions of drawings, we found a way."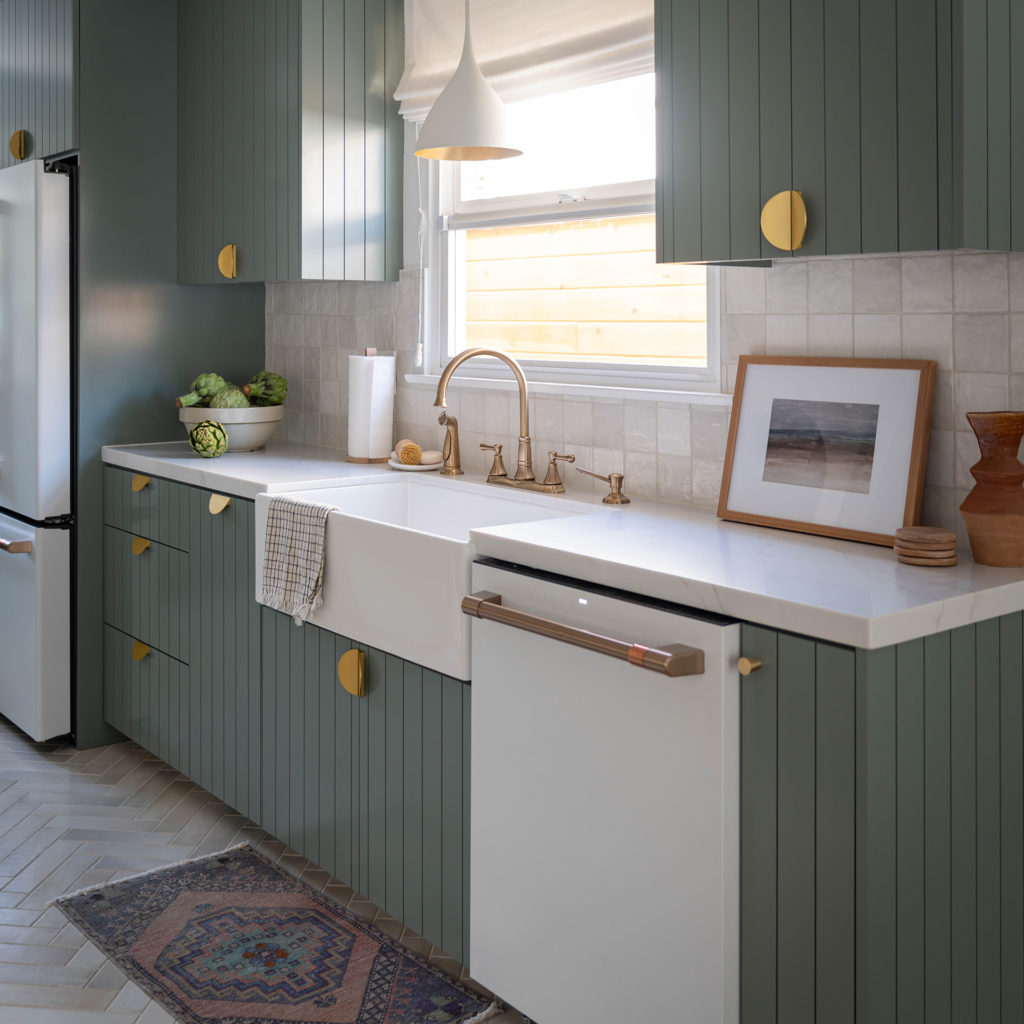 Hildebrand's Kitchen Design Tips
---
Go Custom
"If you can afford it while planning your renovation, opt for custom inset cabinetry. Custom cabinets will allow you to think through how you use your kitchen and then lay out the cabinetry optimally for your cooking and storage needs and inset cabinetry will give you a more custom look and feel."
Consider Cabinets and Hardware
"If you can't budget to replace your cabinets completely but they need a facelift, just reface the cabinet doors and add some new hardware. There are lots of incredible resources for this, and refacing your cabinet doors and installing some new hardware will give you a really nice refresh."
Create A Tech Zone
"If you're at the beginning of a renovation, don't forget to ask your electrician to wire for a few outlets in your island so people can pull up a barstool and chat and charge. Or another option is to create a charging station somewhere in your kitchen for phones and tablets. In the past, we've designed charging stations inside drawers so cords and charging items are concealed.