Mindy Laven, founder of Newport Beach–based design firm Mindy Laven Home, has revamped residences throughout Southern California and beyond in cities including San Clemente, Newport Shores, and Huntington Beach. For a recent project in Yorba Linda (one she has aptly named "Reimagined Ranch"), Laven transformed a classic 1950s ranch house for a family of six with hints of glamour and contemporary California style. "This was my third project for this family," she says. "The homeowner loves blue so we made sure to sprinkle that everywhere. This was such a fresh take on an old home."
Using modern brass hardware and bold, rich colors such as clover green and navy, Laven created a light and bright ranch chic-meets-traditional refuge for the family and their children. "What I loved most about this project was the homeowners' willingness to push the envelope, meaning not doing a typical ranch house," she says. "The colors, treatments, and finishes are the perfect mix of contemporary and traditional. I loved the richness of the navy throughout the space. The Venetian plaster is a treatment we had done in one of their previous homes. It's a bit unexpected here and adds a real richness to the overall design."
Laven goes room-by-room to show us the final result of the year-long project.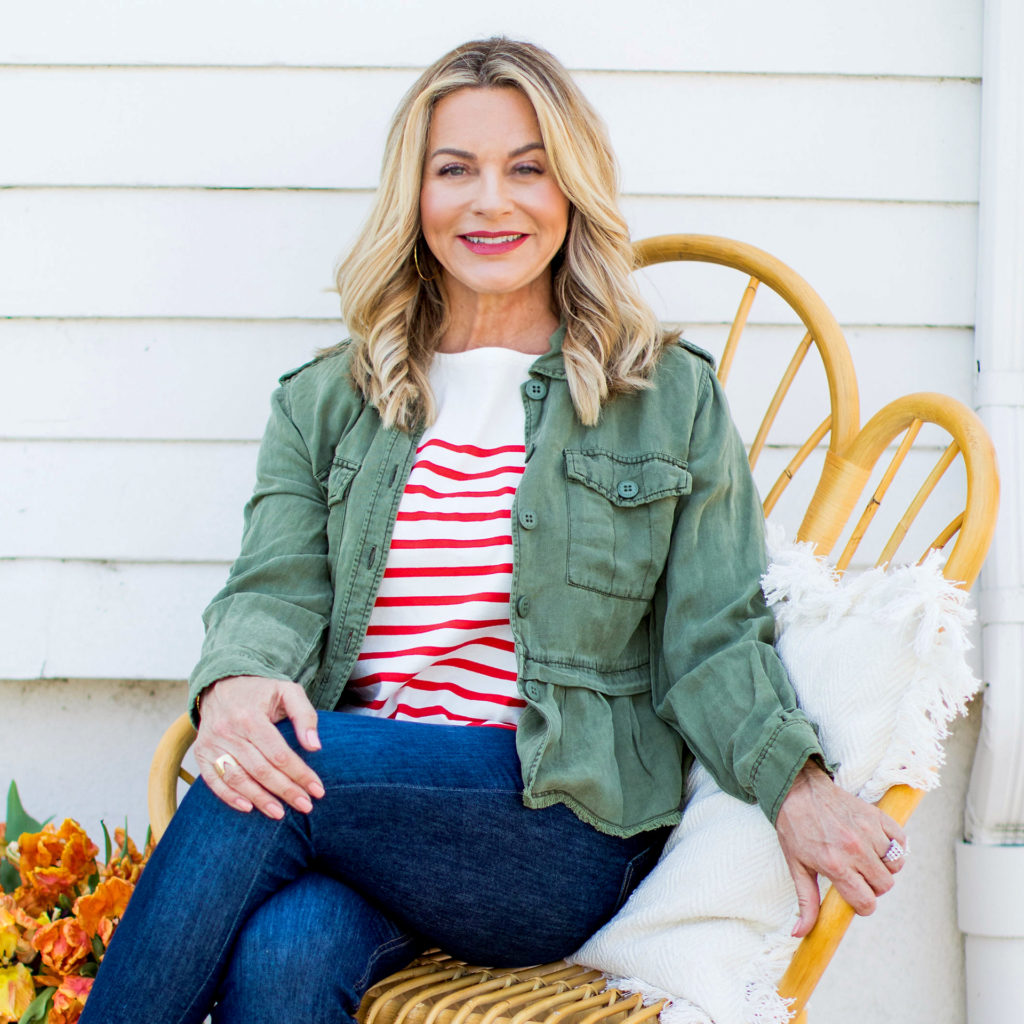 Living Room
"I love that we used two identical coffee tables," explains Laven. "We pushed them together to create one large surface for everyday living, but the option is there to separate them when entertaining."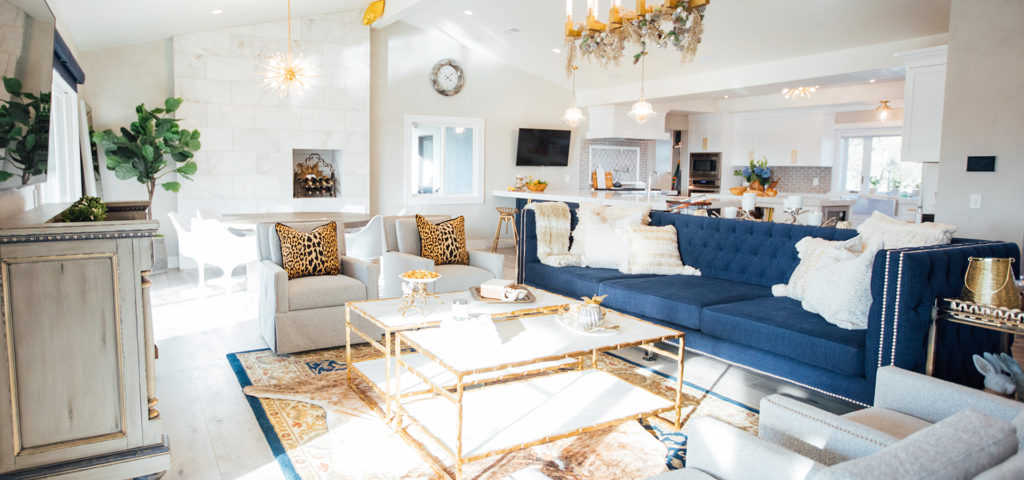 "We continued the use of navy and brass in this room as well," adds Laven. "We turned up the design volume here by pairing a traditional rug with a cowhide layered on top. This is such a great way to spice up a traditional space. And, in my humble opinion, every house needs a leopard pillow."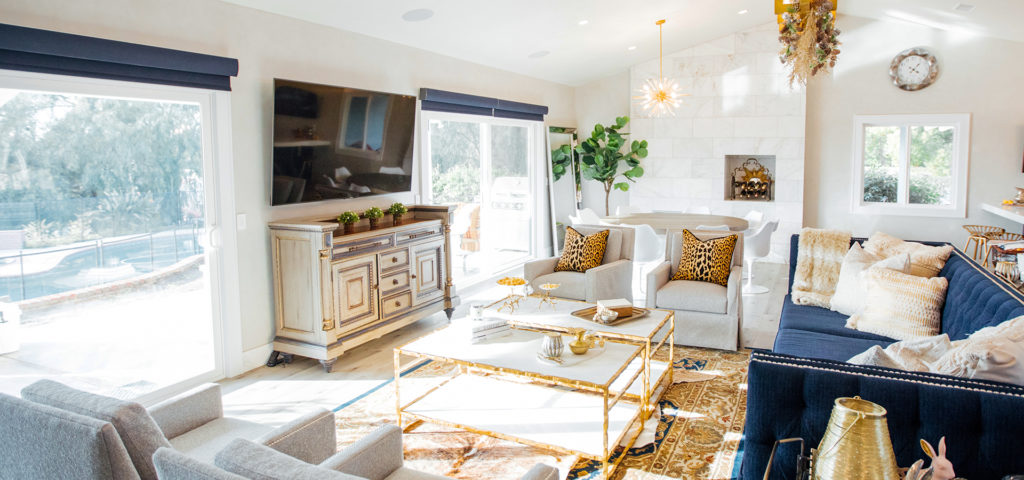 Kitchen
"We did both an island and peninsula to provide ample space for entertaining and cooking," says Laven. "This family is always spontaneously inviting guests. Although this is a ranch-style home, they definitely wanted a modern twist. The navy cabinets and brass hardware provide a dramatic foundation for the white quartz countertops. We did a unique diamond pattern to customize the panels on the refrigerator. Contemporary lighting fixtures, like these closed glass bell pendants, are used throughout the home."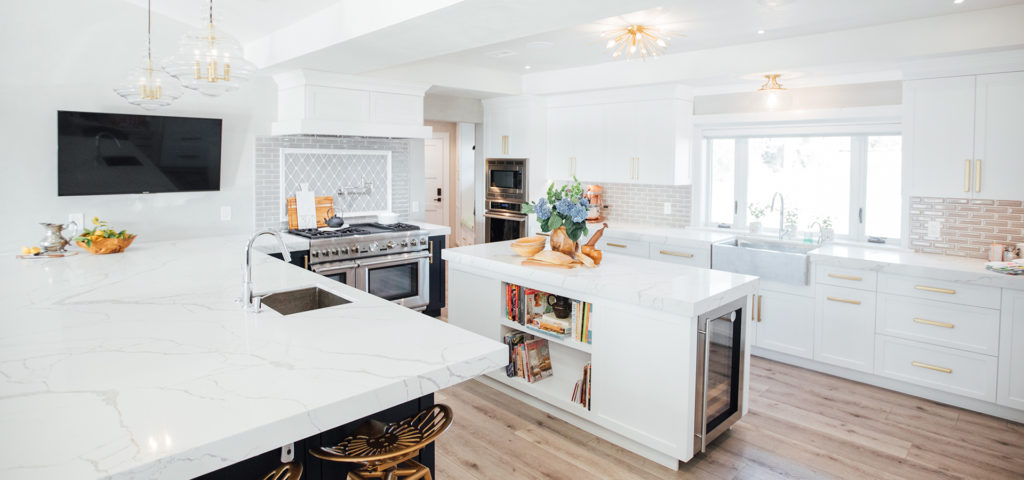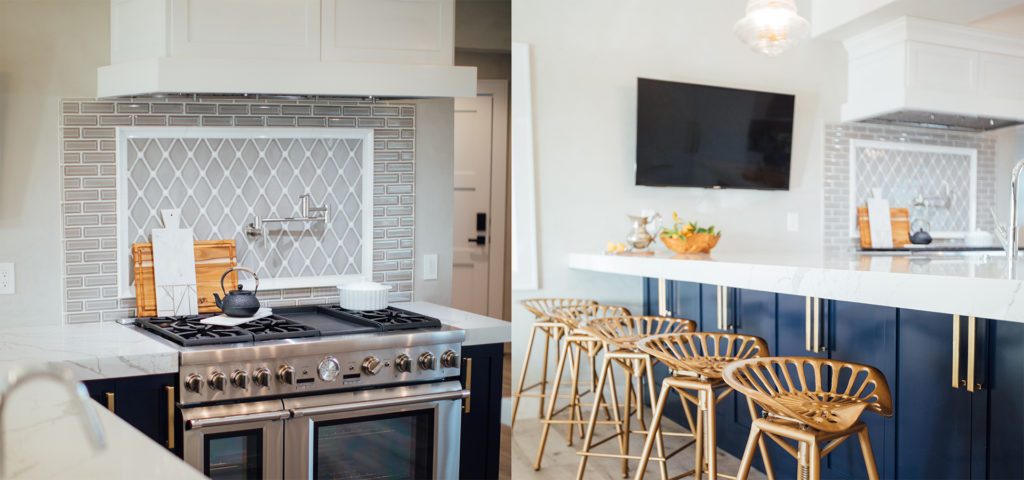 Powder Room
"The clover green paint was the first this we chose for this darling bath, which is shared by two sisters," says Laven. "The accents of brass play so wonderfully off of the green cabinetry. This is a space that will grow with these two tweens."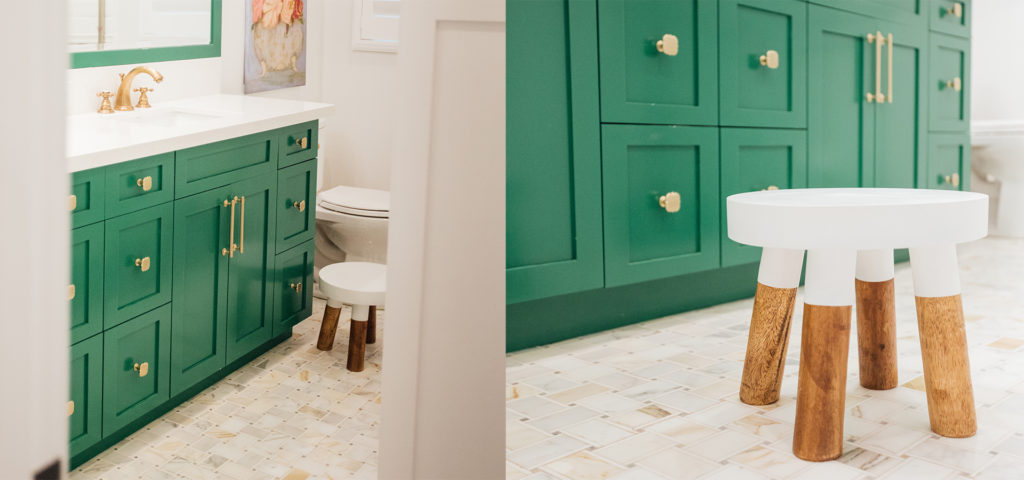 Dining Room
"This dining table extends to accommodate the constant flow of guests," says Laven, of the reclaimed table paired with tufted side chairs. "The paneled walls lend a sense of formality and the blur harkens back to the kitchen cabinets. The Renior reproduction is called The Luncheon of the Boating Party. I love that it makes you feel like you are dining somewhere along the Sienne. Paired with the contemporary lighting, the traditional elements give this room an elevated, collected, feeling.