Real estate consultant Tara Rodgers, of Living West and Compass in Santa Monica, knows exactly what it takes to prep a home to sell. For nearly 15 years, Rodgers, originally from Northern Ireland, has been working in the real estate market representing both buyers and sellers on the Westside of Los Angeles including Santa Monica, Pacific Palisades, Venice, Mar Vista, and Culver City. She also helps customize and streamline the buying and selling experience for clients by providing access to designers, contractors, and other tradesmen for insight and expertise on updating, remodeling, staging, or spatial planning and furniture arrangement.
In this first installment of SHLTR's real estate series with Rodgers, she offers her tips and tricks for prepping the home to sell, and takes us inside the finished result of a recent Santa Monica listing transformed with the help of professional home staging company and designer Chantal Moyal of Marshall Design Group. "Every buyer will have a slightly different approach to design," she says. "You can update certain features of a home for the sale while still working with some of the traditional elements of the house. We really wanted to work with the darker wooden floors in the condo we just listed as they were in great condition. We also loved the original wooden cabinets with the more classic glass paneled doors."
From pricing to paint choice, here's what's at the top of Rodgers' prep checklist: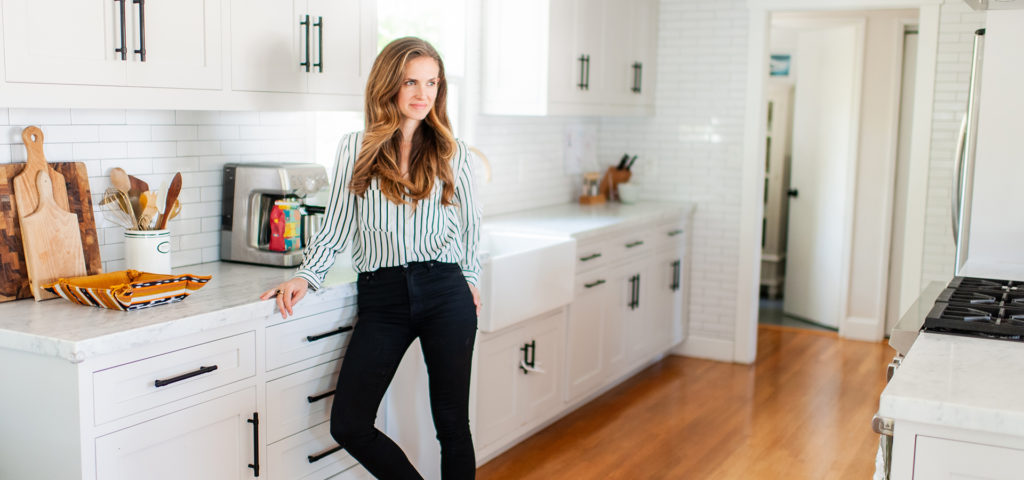 Rodgers' Going To Market Tips:

Paint Color Is Crucial
"Keep it white," says Rodgers. "We recommend white walls for every listing. It is calm, neutral, and really brightens a space. Changing walls to a nice clean, white can also make everything feel new and larger. We love the following whites:
Benjamin Moore "Simply White"
Benjamin Moore "Chantilly Lace"
Dunn-Edwards "Whisper White"
Farrow & Ball "All White"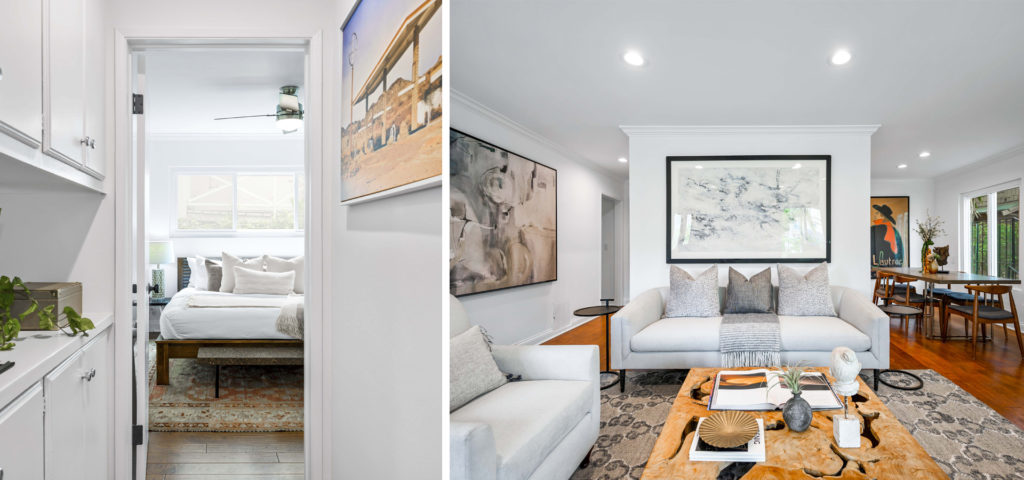 Create A Clean State
"You really want buyers to be able to envision living in the space," says Rodgers. "And, it is hard to do that with personal belongings, clutter, and personal photos everywhere."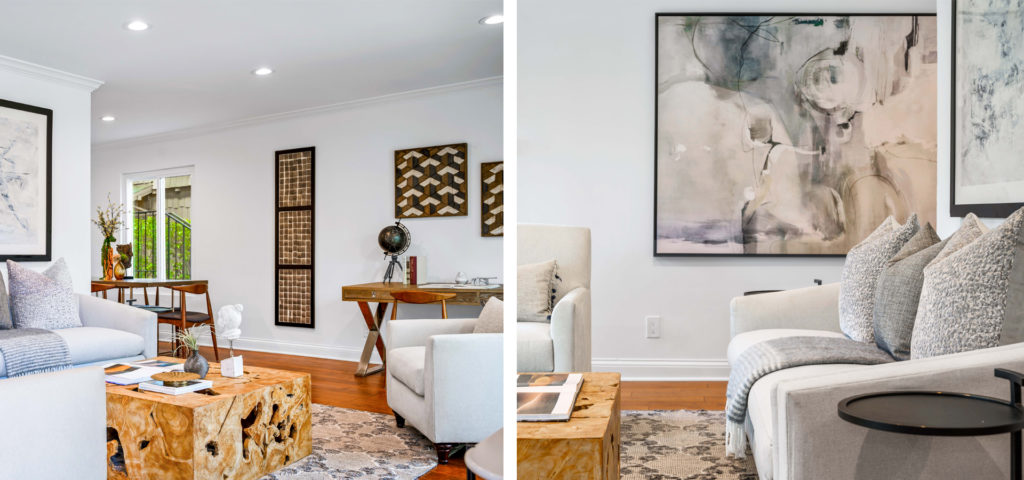 Stick To Neutrals
"Furnish the space with neutral and high-quality pieces that speak to today's consumer and compliment the architecture of the home," says Rodgers. "If you do not plan to professionally stage, this may mean swapping out some of your key pieces that you use for everyday living, with items that will speak to a broader audience."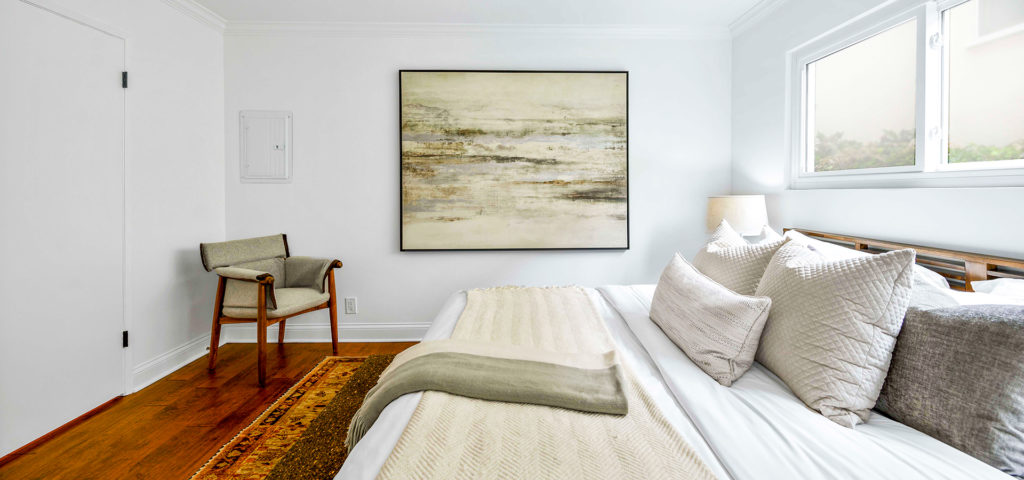 Consider Hiring A Stager
"We really rely on our designers to select furniture that compliments the size of the room and architecture of the home," says Rodgers, "A great stager is everything. Chantal Moyal of Marshall Design Group did a fantastic job here."
Keep It Clear
"Don't forget to spend some time reducing the amount of clothes and stored items in your closets so that people can understand the space they have to work with," says Rodgers. "If storage spaces are lightly used, a buyer will feel more comfortable that there is enough room for their own belongings."
The Kitchen Is Your Best Friend
"The way you present your kitchen can dictate the success and end value of your home," says Rodgers. "There are some really simple upgrades that we find really add value to a property. Light fixtures, sinks, hardware, and countertops are all great options."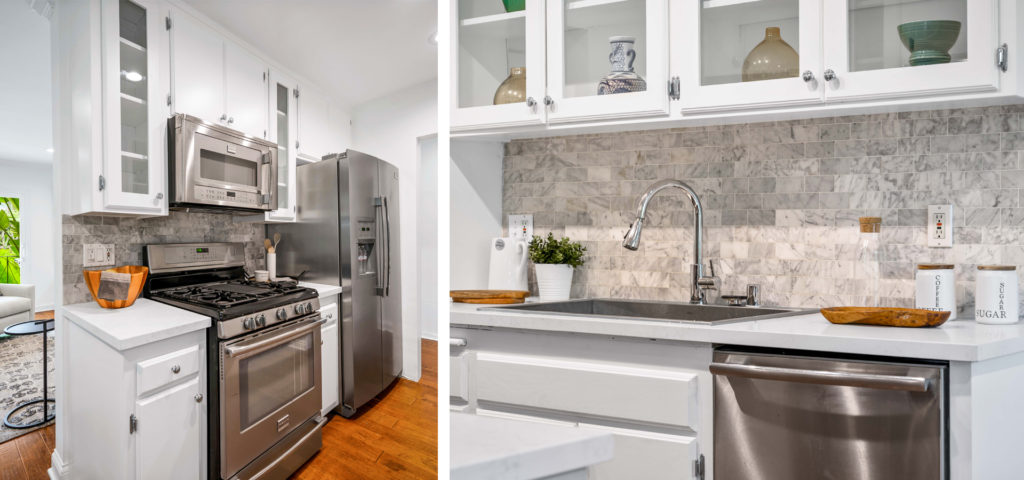 Invest In The Bathroom
"If your bathroom is dated, you might want to explore replacing vanities, light fixtures, mirrors, and fresh paint to create a fresh new look," says Rodgers.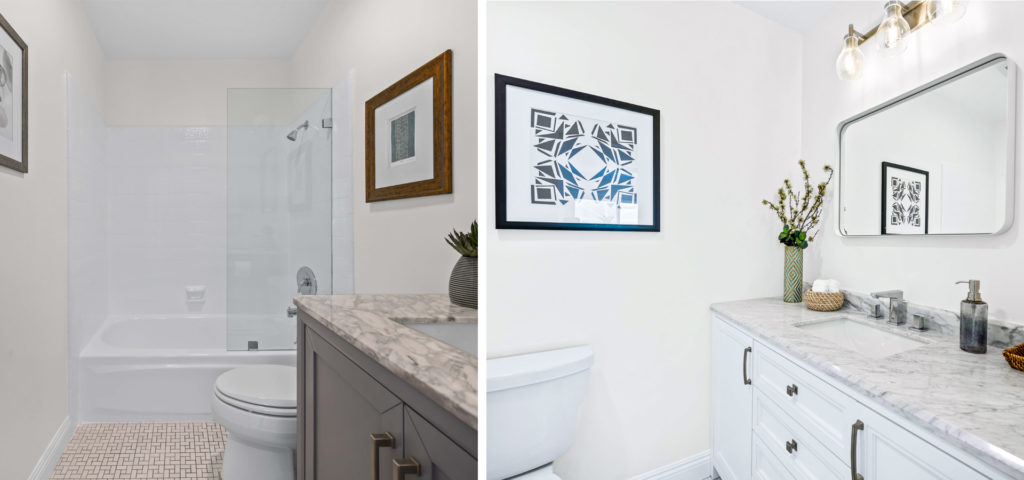 Have a Strategy
"If you have not priced your property correctly, all of the prep discussed with an agent will be for nothing," explains Rodgers. "How you approach the value of your home will truly dictate the level of exposure that you are going to receive."