The Slate Denver, Tapestry Collection by Hilton is welcoming discerning design-minded travelers and academia aficionados to Downtown Denver alike. Opened less than two months ago, the 25-room modern hotel, housed on the former campus of historic Emily Griffith Opportunity School (now Emily Griffith Technical College) has been fully restored following a three-and-a-half-year transformation now featuring a fitness center; 4,500 square feet of meeting and event space; an expansive outdoor patio; and an on-restaurant, Teachers' Lounge Food + Drink. The hotel's design is a wink to its school days from reclaimed chalkboards depicting lesson plans and salvaged school bells from the original structure, to hallway carpet inspired by Scantron test forms. "We were inspired by the landmarked Emily Griffith Opportunity School and its storied history," explains interior designer Gina Leone of The Society. "We took this inspiration and abstracted it to be a progressive and modern hotel with hints of education related nostalgia. The intent for the guest upon arrival was to have an immersive experience that told the design story via signature movements both progressive and subtly recognizable."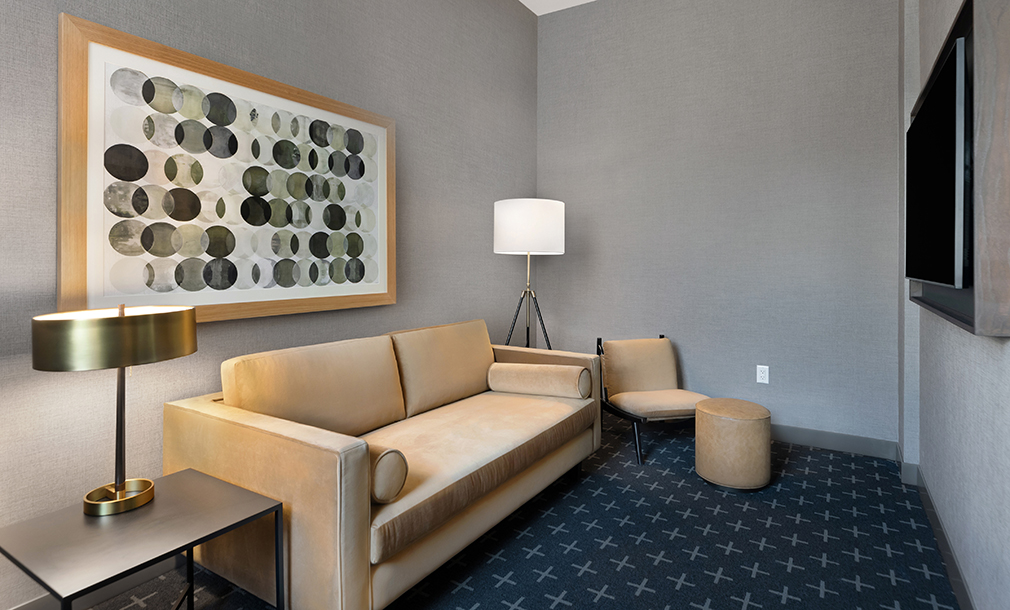 SHLTR got the chance to catch up with Leone on the hotel design and don't-miss highlights.
Tell us about the project.
After recently completing the Moxy Seattle Downtown hotel together, Stonebridge brought the project opportunity to The Society. The story of The Slate was very compelling, and we were immediately drawn to the design possibilities of renovating a historic school into a Tapestry Collection by Hilton hotel.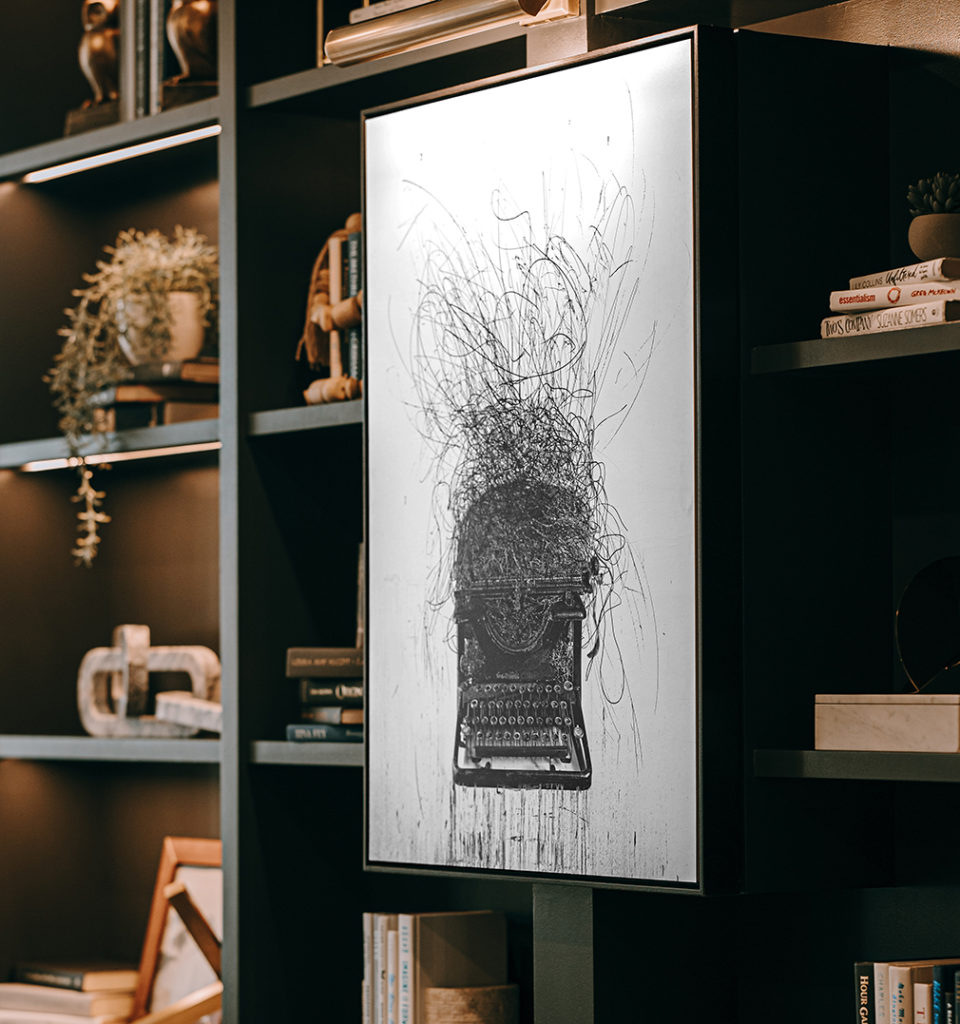 Design highlights?
"Reclaimed chalkboards behind the front desk with lesson plan by Meridith Feniak; repurposed school bells and collage by Suzanne Creighton; a cast zinc bar top reminiscent of the Emily Griffith trade school machining program, and Arithmetic-inspired guestroom carpet."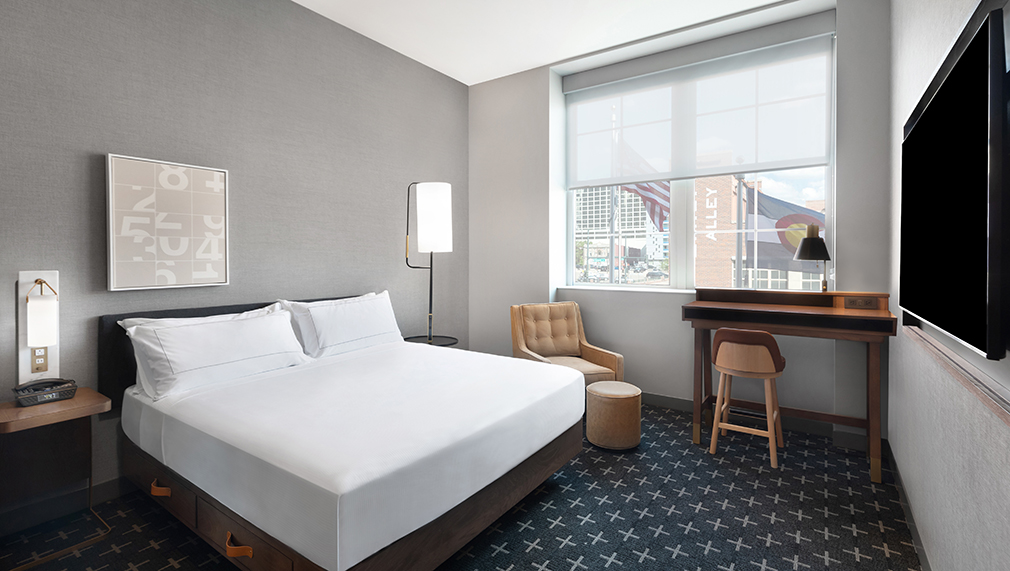 Favorite space?
"The bar at Teachers' Lounge Food+Drink. The bar area contains many subtle ques to the design narrative but none of them are too overt; book spines at the bar face, analog numbered mosaic tiles at the window wells, and nod to the school technical education with the bar shelving design. The lounge seating in this area is a collection of statement pieces upholstered in soft textures and deep colors. The clerestory windows leading into the space were also repurposed from the original administration offices of the school, which was also the use of this space in its former life."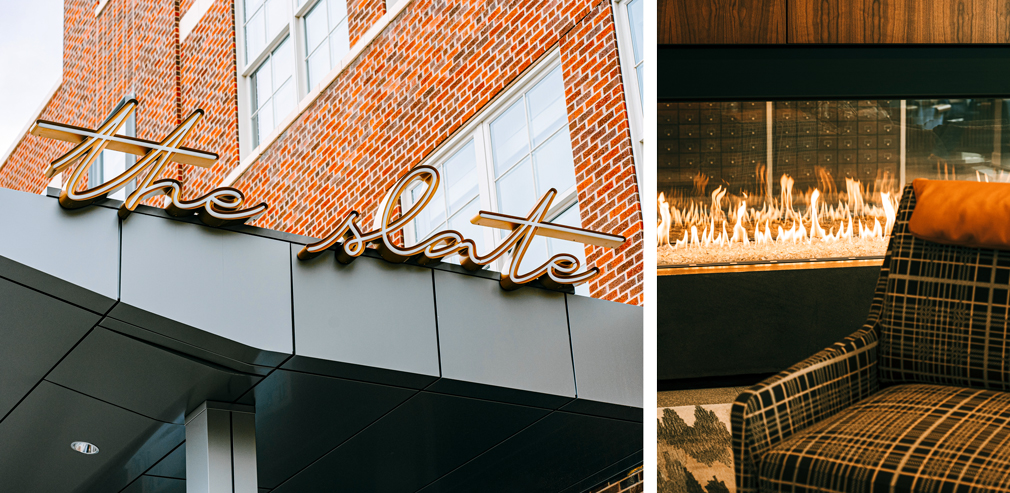 Any only-the-designer-would-know insight?
"Many of the art pieces throughout the hotel are made with salvaged items from the school. The school bells, wall clocks, and hinges were all shipped to artists for them to repurpose into art."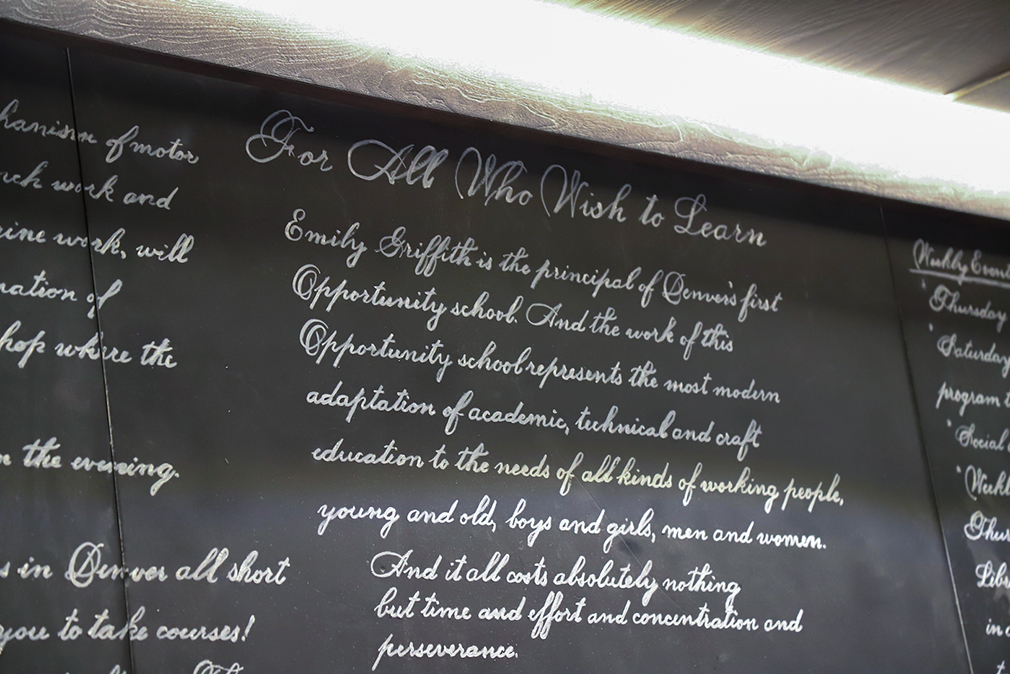 Any challenges along the way?
"The original building was built in three phases spanning 30-plus years: 1926, 1947, and 1956, and each had a different structural system, so trying to design a guestroom bath with a regular footprint was very tricky. To allow for passing time, the school had twelve-foot-wide corridors flanked by historically landmarked glazed block creating a unique design challenge and guest experience."