On Monday, prepare to pack your bags and head to Azure Sky in Palm Springs for opening day. For a peek inside the reinvented 14-room boutique hideaway that took two years to renovate, we sat down with one of the designers, Anne L'Esperance of An Ellipsis Design, who teamed up with John Janulis of Lightning Bar Collective, along with Cioffi Architect and others. "It feels lush and lavish from the perspective of the property's landscape, and clean and minimalistic in the guest rooms," explains L'Esperance, of the adults-only hotel. "It's somewhat like you are in a fortress once inside the gate and ficus hedges. It becomes your home for the duration of your stay."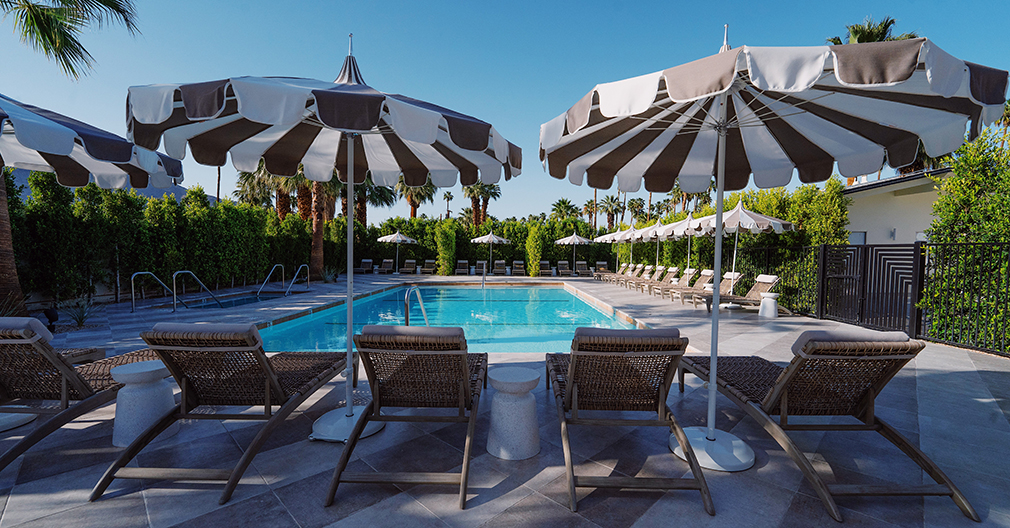 What was the design concept for Azure Sky?
"The building was built in 1959 and though we are not 100-percent sure, it is believed to have been done by Howard Lapham. He was a notable architect of the time and did the neighboring hotel, The Desert Star. We wanted to honor its origin with crafted interiors and amplify its exteriors with thoughtful landscaping. We wanted to create a hidden oasis almost, an exclusive hideaway like the old Hollywood stars were always searching for when Palm Springs was gaining popularity. The front screen is meant to create intrigue, while at the same time giving guests a secluded resort feel that makes you feel like you never have to leave."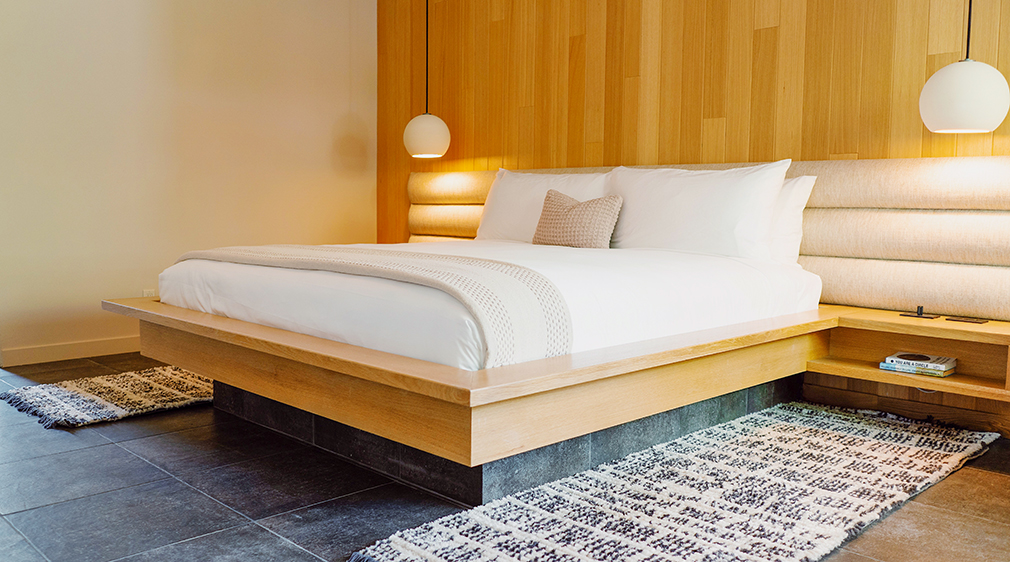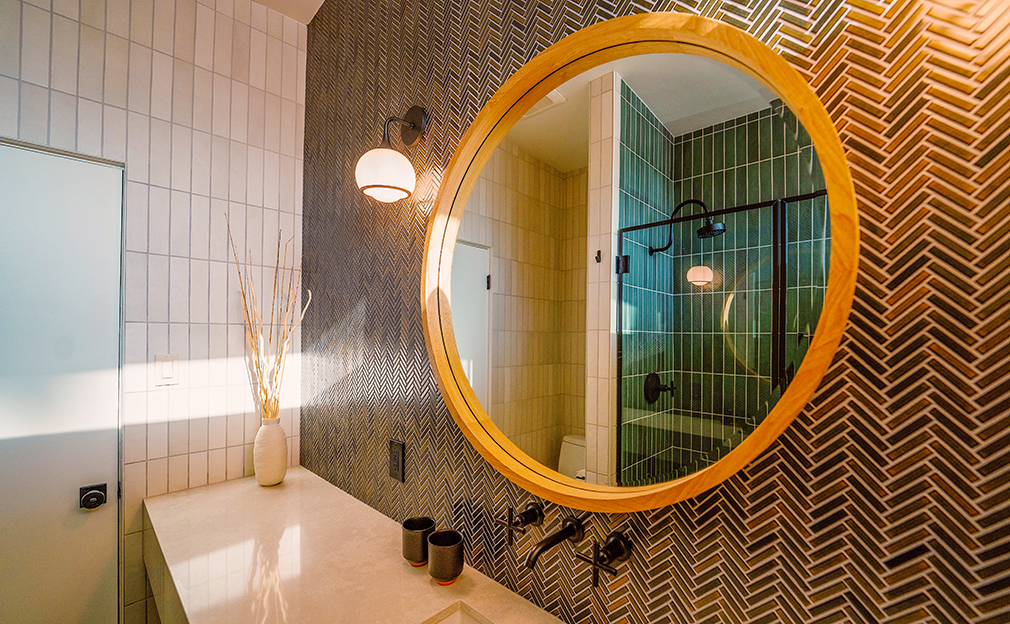 Describe the style and vibe.
"Overall, the aesthetic is our own interpretation of the midcentury modern style translated to what we felt suitable for today. We worked with our team of finish carpenters to create all of the wood details in the property including floating beds with nightstands, accent walls, and the incredible wood and mirror details you see in the lobby [that includes the floating credenza and the front desk and bar.] Vintage Italian pendant lights that from the 1930s hang in the lobby, while the painting above the fireplace was done by Spanish artist Juan Francisco Casas. The paintings in the guestrooms are by Los Angeles-based artist, Ardalan Rafie.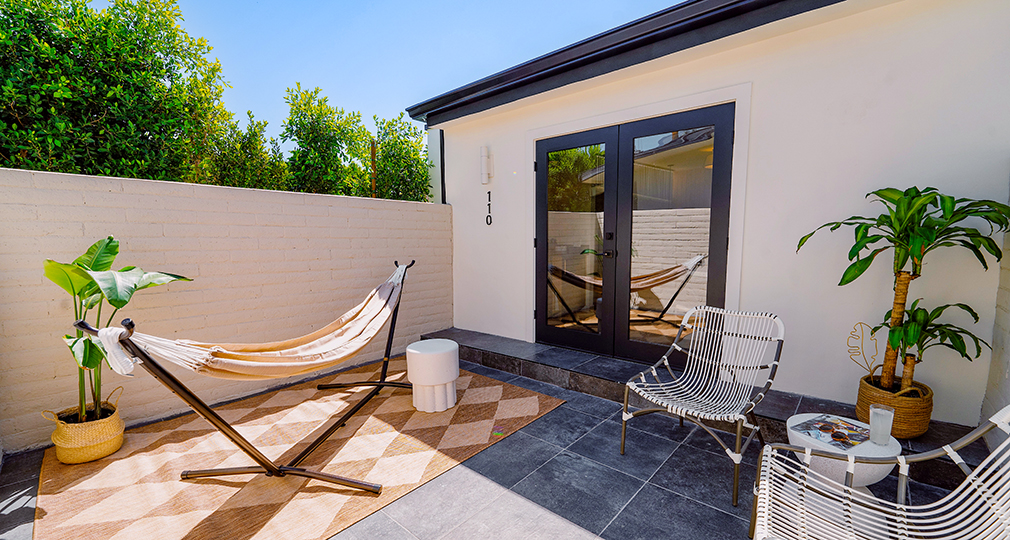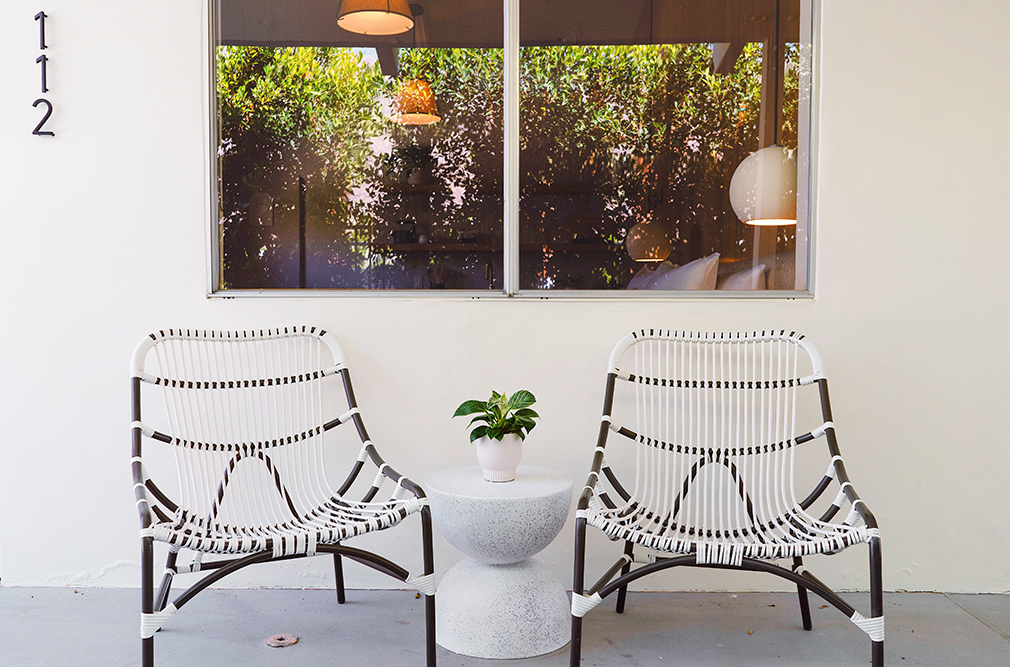 Your favorite design element?
"The Lobby. It just feels like a cool, comfortable space. It's inviting [like your most stylish friend's living room], where you can grab a glass of wine, a cocktail, or coffee and chat with friends or strangers with the doors wide open to the courtyard in the warmer months. You can do the same with a glowing fire in the colder months."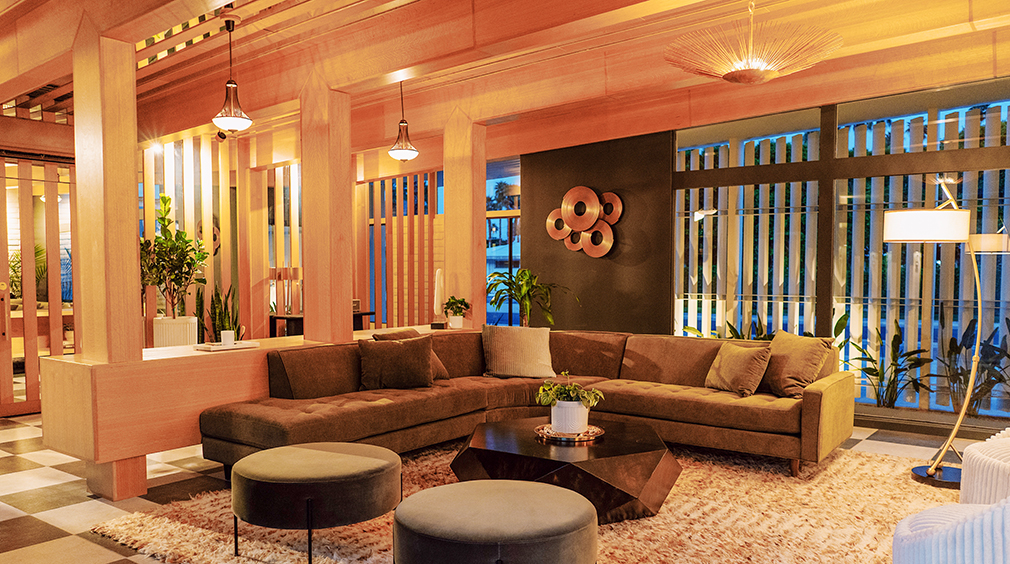 Design details to look for?
"The lobby bathroom is concealed in the wood and mirror details that line the walls and ceiling. It's often missed on the first, second, and sometimes third pass through the space. Also, the pool decking has a pretty great design that is most visible from a bird's-eye view, but when you meander through the pool area you can see the pattern in the two-tone tile."