Tucked in Culver City, California, The Shay, a Destination by Hyatt hotel, features 148 rooms and suites and an expansive art collection with 35 locally-commissioned murals, textiles, and installations curated by Lendrum Fine Art and Studio Collective. "Here at The Shay, it's like a living room for Culver City, Los Angeles, and beyond," says Christian Schulz, Principal of Venice–based interior design firm Studio Collective. "We want the local community to feel welcome and feel inclined to use the various public spaces just as much as short-term guests. It's always important to create places where nomads and locals can mingle to create engaging experiences for guests and L.A. natives alike."
SHLTR caught up with Schulz on the vision for the hotel's design and highlights.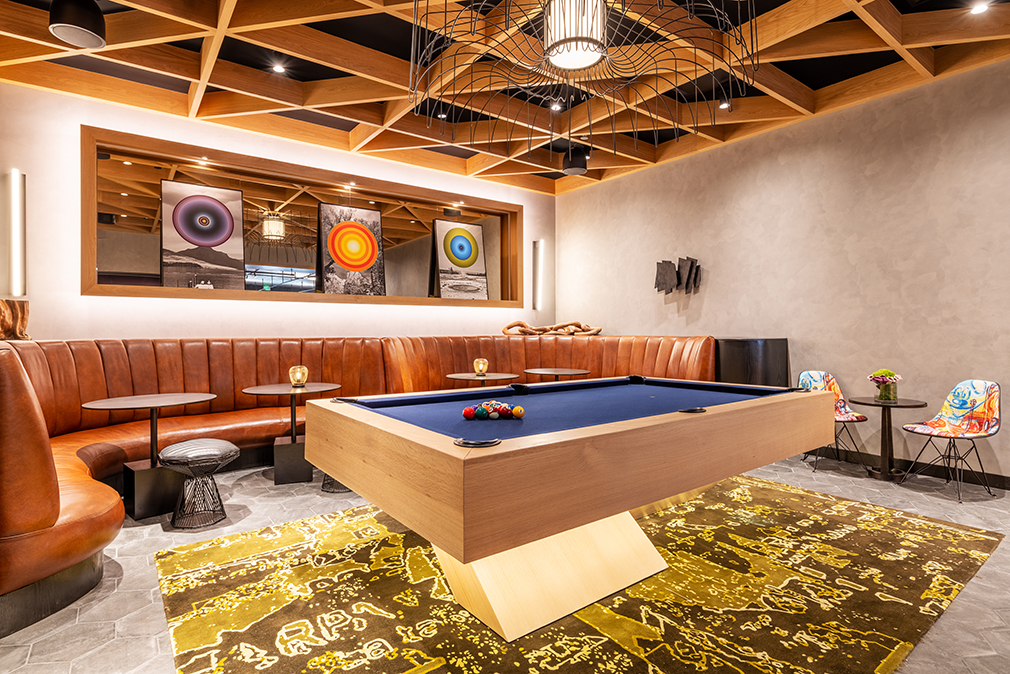 Tell us about the design concept for The Shay, a Destination by Hyatt hotel, and how you got involved?
"The ownership group at LOWE, [a Los Angeles-based real estate development company], had become familiar with our work locally and nationally in the hospitality sector for projects like The Bungalow, The Spare Room, The Surfjack and Hotel Figueroa and asked us to be part of their process of local L.A. designers. In subsequent meetings with them, they liked our design approach and proximity to The Shay project with our location in Venice."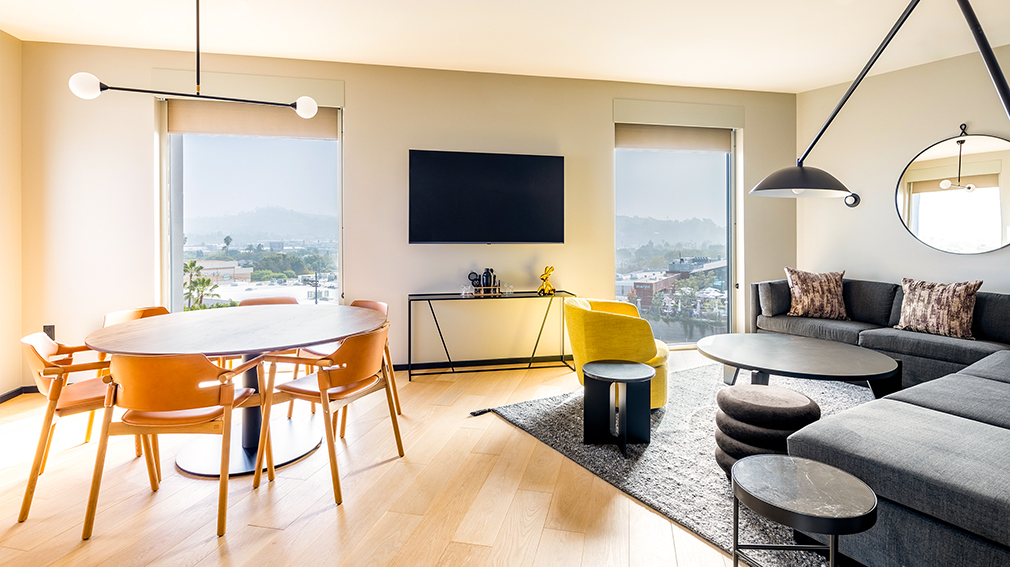 Some of your favorite design moments and features?
"What we love most about the project is the conceptual metaphor that is weaved through all of The Shay's public and private spaces. The property is a true beacon and megaphone for local art and artists from Los Angeles and beyond. We like to call the lobby an elevated, modern art garage for the city. We enlisted an exceptional art consultant, Tiffiny Lendrum of Lendrum Fine Art, to help us find and procure local art pieces at various price points to truly champion and celebrate L.A.'s vibrant art scene in a multitude of forms and mediums.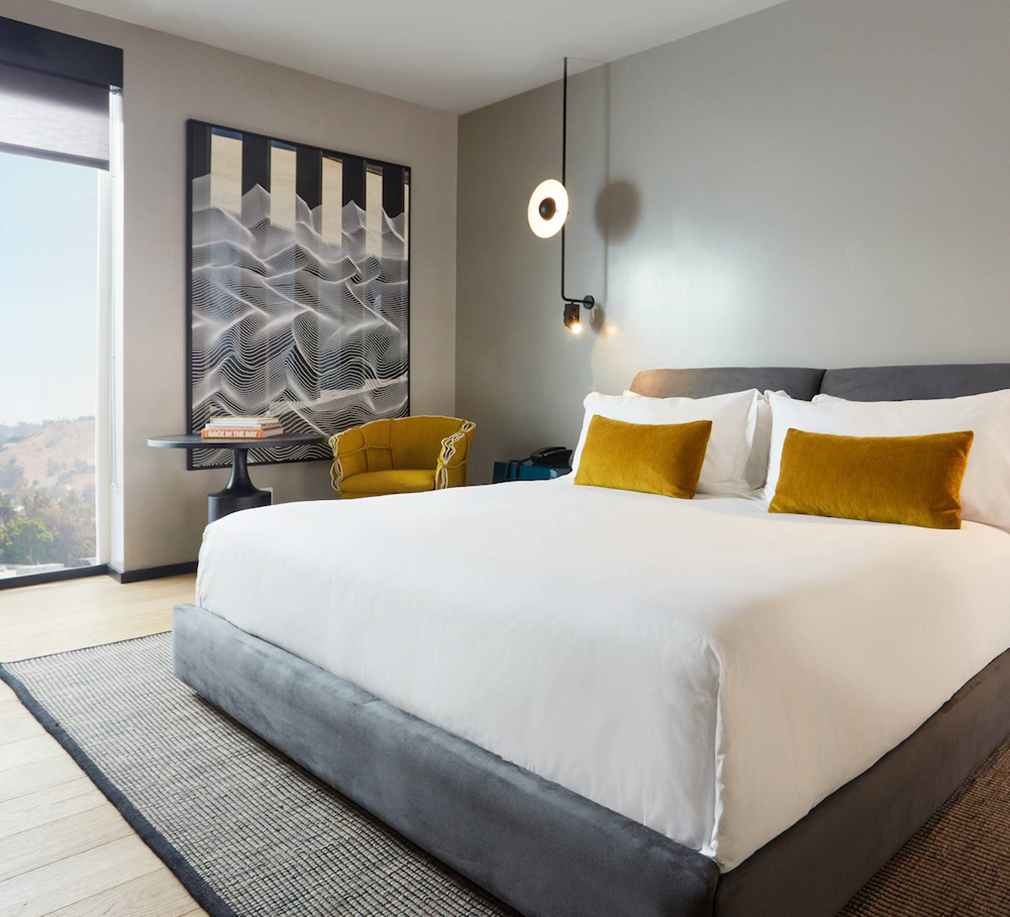 What kind of design experience did you hope to create?
"With each of our projects, we want to create a design that is warm, yet approachable and provokes discussion that establishes a sense of magic along the way, a place that leaves a positive and memorable imprint on your brain. Our goal is to have guest say 'I can't wait to go back there again and explore more.'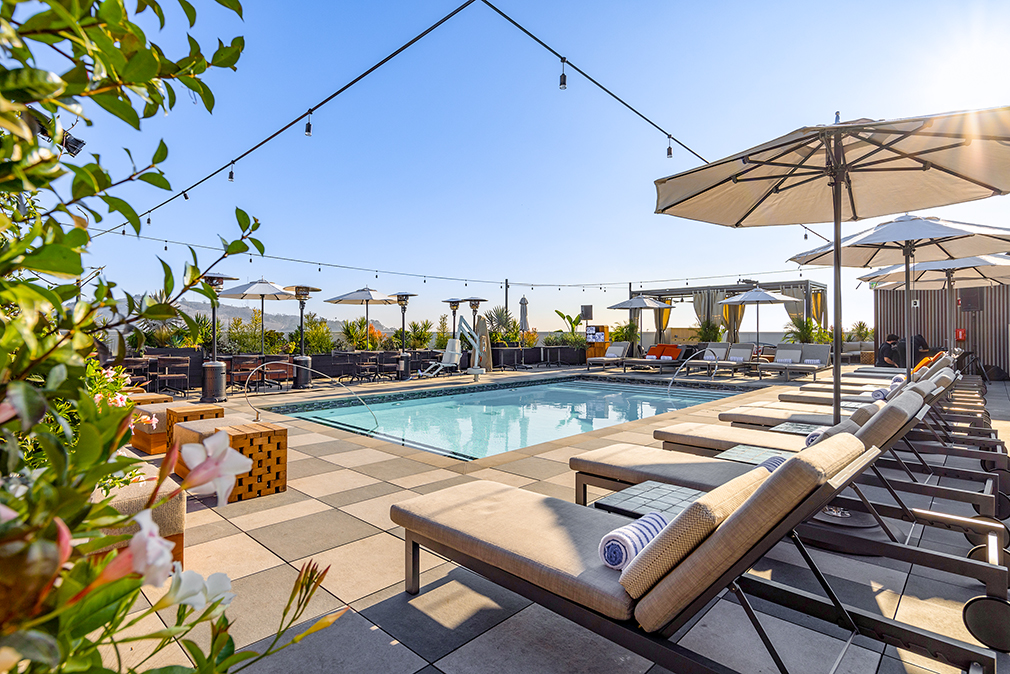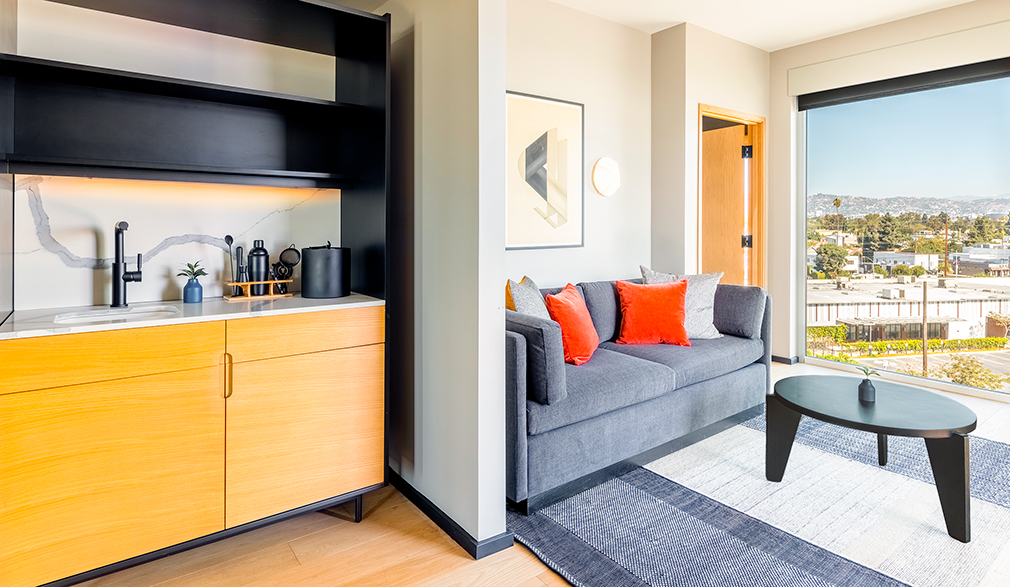 Your favorite aspect of the hotel?
"Personally, I'm very proud of the lobby's intimate 'Box' space and the custom blackened steel staircase that runs alongside it. We created an all-birch plywood, tiered series of spaces meant for lounging and working. 'The Box' is meant to be a truly flexible space that can adapt to all types of programming and events at any hour of the day. The detailing of the 30-inch finish plywood squares [complete with inlaid walnut plugs at the corners] are positioned next to a stunning art installation by local artist Matt Murphy. Inset at the large steel framed window, the area is a true representation of California cool. Dubbed the 'birdsnest,' the area's custom staircase that ensconces the lobby is a true mark of craftsmanship and collaborative design engineering."