If you've been wanting to add floral pattern and vibrant garden-inspired prints into your home, now's the time. Artist, author, and fabric designer Bari J. Ackerman, founder of Bari J. Designs in Charlotte, North Carolina, has joined forces with Joybird for a six-piece furniture collection featuring limited edition hand-drawn fabrics from an upholstered bed to a vintage-inspired armchair with a brushed brass frame. "As a fabric designer, I have wanted to create a furniture collection for a very long time," says Ackerman, who penned the book Bloom Wild last year featuring some her favorite Joybird items. "I've always loved the streamlined clean lines of their pieces. So, I approached Joybird with my idea of collaborating [their silhouettes with my upholstery designs.] And the timing proved to be just right."
Ackerman—who designs wallpaper, dishes, puzzles, stationery, wall art, tech cases, and even dabbles in interior design for select clients—fills us in on the new Joybird x Bari J. collaboration, why flowers are her muse, and how to expertly integrate the floral designs and bold patterns into any space.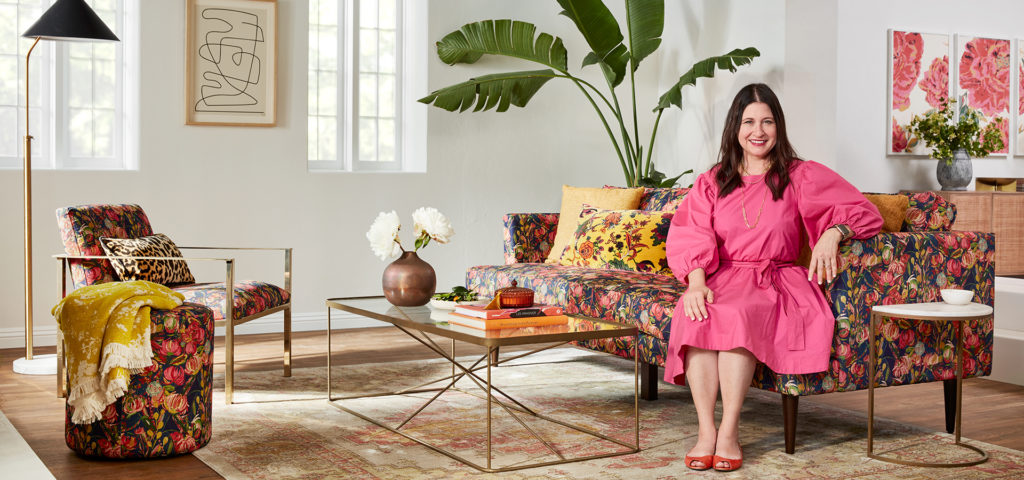 What was the vision for the designs?
"We chose from several of my existing surface pattern designs. The criteria was to pick sophisticated patterns that would give the silhouettes a smart look. The maximalist designs on minimal, non-fussy furniture frames was the winning combination. We knew blues would be a popular color pick, and the colors of the flowers on "Midnight Fleur" give the design an earthy feel. "Heron Jardin" was a pick we all were drawn to. Herons have such an elegant look, and the addition of flowers and hummingbirds in the print add a touch of whimsy. We feel the pieces can be used in both juvenile and sophisticated adult spaces."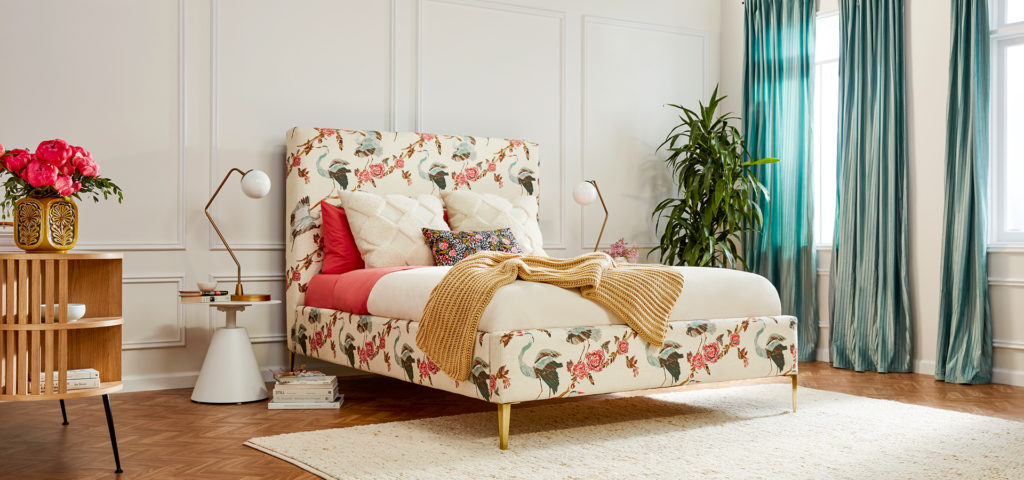 What do you love most about this collection?
"First, it's such a thrill to see my designs on furniture. It's a dream come true. I love this particular collection because it speaks to exactly what I love in design. I often call my style 'curated maximalism' because I'm particularly drawn to the idea of layering pattern and color on minimal design, be that a furniture shape or a minimal space."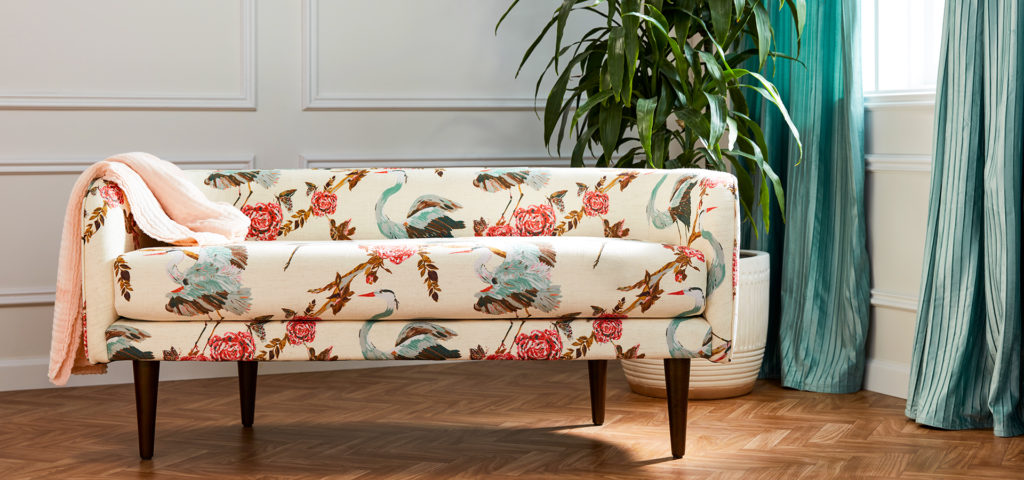 Why floral and bold pattern?
"Florals are really just part of me. My mom decorated our childhood home with them, and grew rows of peonies, lilacs, tulips and more. Her china is Rose Chintz to this day. My pick for china back when we got married was "Iris" by William Morris who still remains my favorite. I was warned back in 1994, [when I chose it] that I might get tired of it. Not a chance. It's still a prized possession. Flowers are home, they are joy, and they are love. So naturally, my art and patterns reflect my passion for them."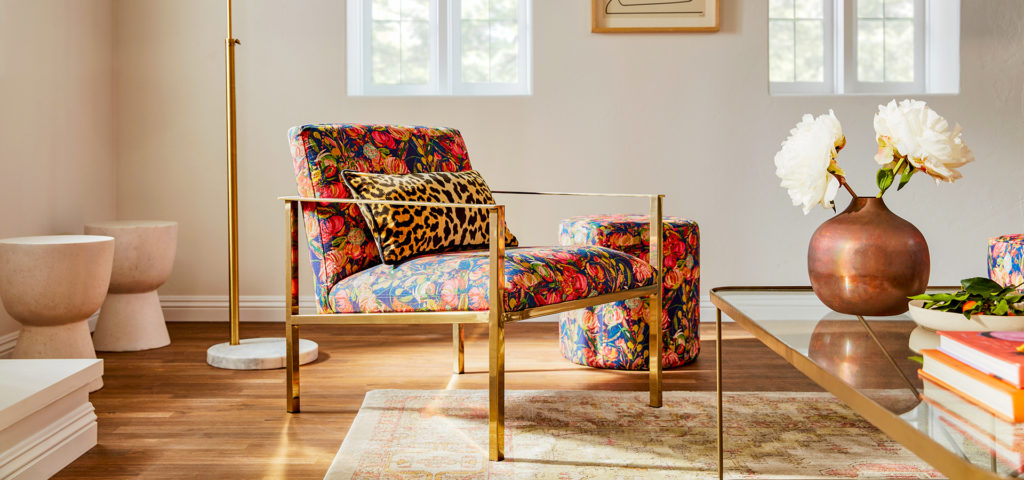 Your favorite item in the collection?
"I love the versatility of the Midnight Fleur Orla accent chair. The gold details are particularly appealing and it can be used in so many different spaces. Also, if you're dipping your toes into using patterns, it's a great place to start."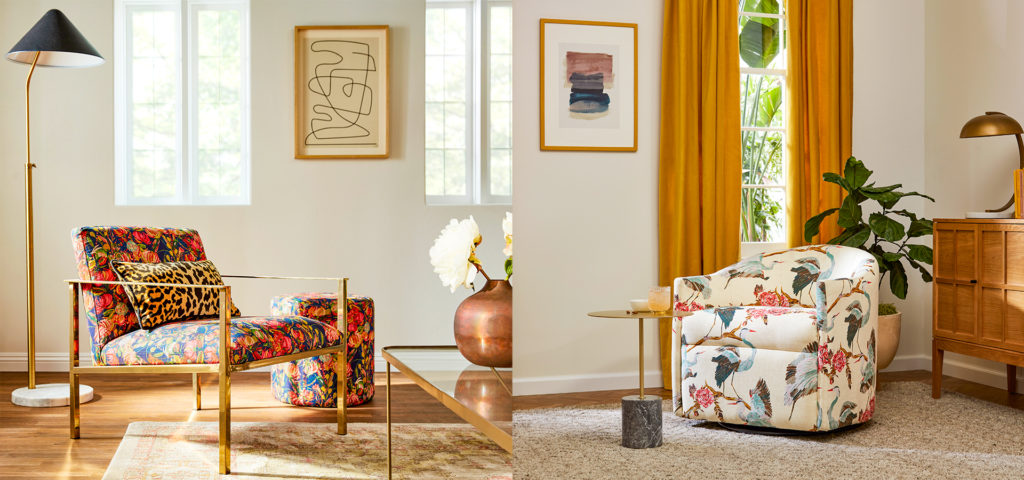 How can the items be used in a space?
"I currently have most of the pieces in my own home. You can have any of the them on their own as a feature piece mixed with solid pieces, or layer in geometric prints, florals at different scales, and even stripes."