Six years ago, Rianne Aarts, founder of Teddy and Wool in Groningen, The Netherlands, launched her textile studio after initially thinking of pursuing a career in law and experimenting with weaving on a loom. "I started out with weaving on a self-made wooden loom," explains Aarts of her one-time hobby. "Although it was a lot of fun, unfortunately nothing I made really ever looked like what I envisioned and I just wasn't feeling it, so I started to look for something else to create in my free time. That's when I found macramé."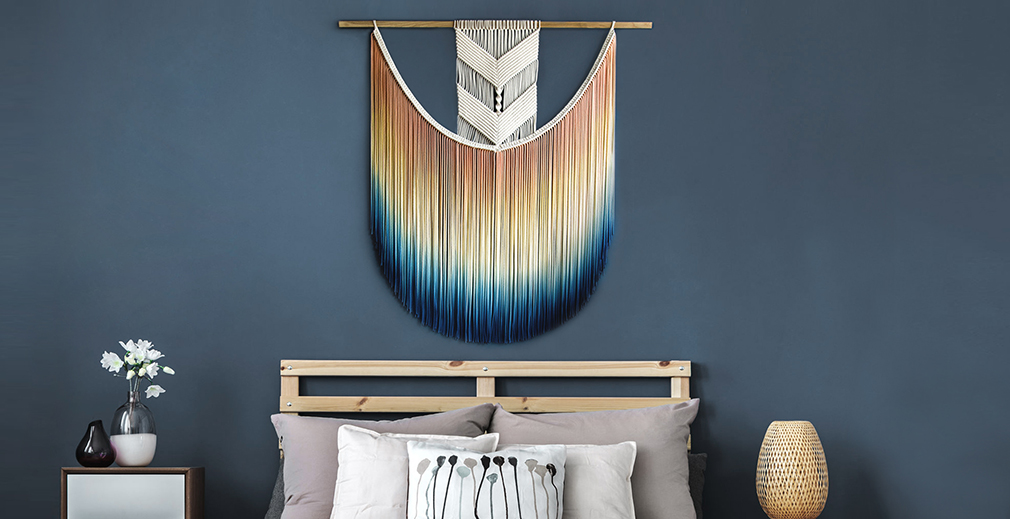 Starting from scratch and beginning with a basic tutorial she found online, she taught herself the art of macramé. "I immediately knew that I could give a more modern and contemporary spin to this classic craft," adds Aarts. "My first few pieces were nothing special, but after a while I started to create my own designs and when I created my signature "EVA" wall hanging, I knew I was onto something special. I started experimenting more with different knots and also with dip-dying and it turned out I was pretty good at it [or so I have been told] and people seem to love what I made."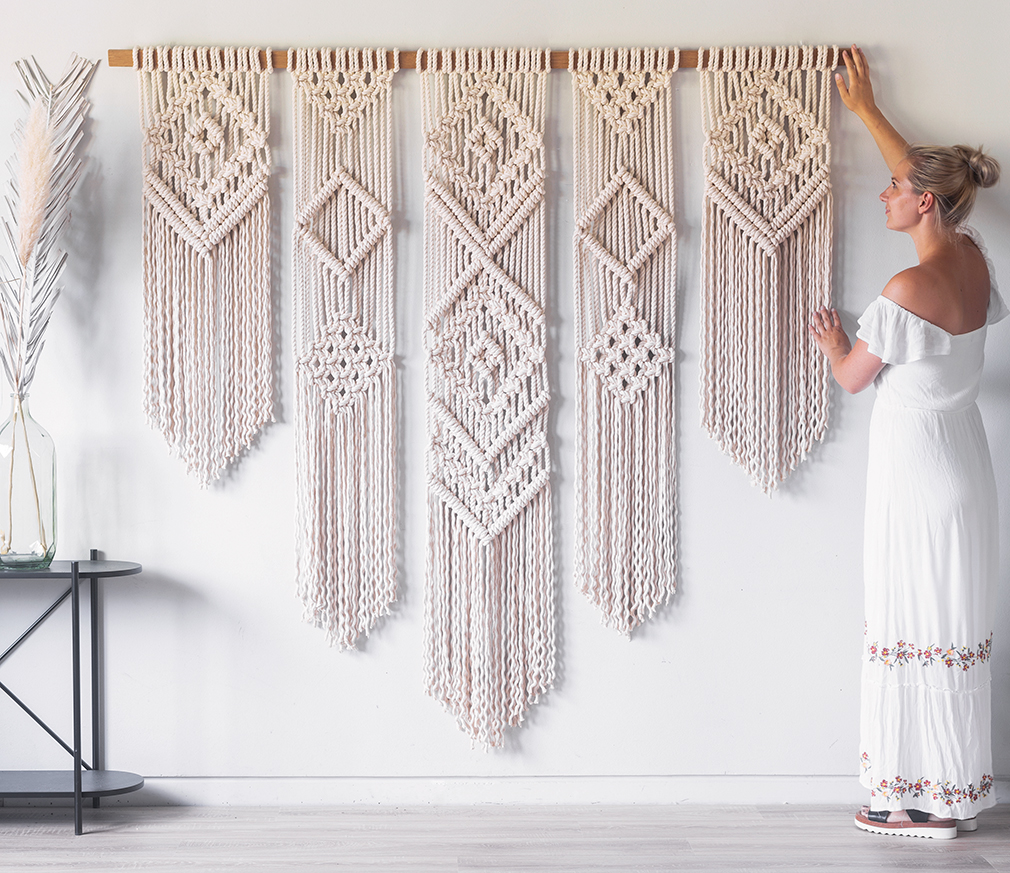 Now, the fiber artist and mother of three—who at one time wasn't certain she could "make it" as a full-time artist—is busier than ever managing a staff of three and designing for the likes of interior designers and major corporations such as Google, Hilton, Starbucks, and Maje. "Maje Paris was one of my first larger commissions," adds Aarts whose husband also works with her on the marketing and administrative side. "I made seven panels for their shops in Paris, London, and Milan, to decorate shop windows. It was one of my first commissions for a large brand, so you can probably imagine how proud and honored I was when they asked me for this project."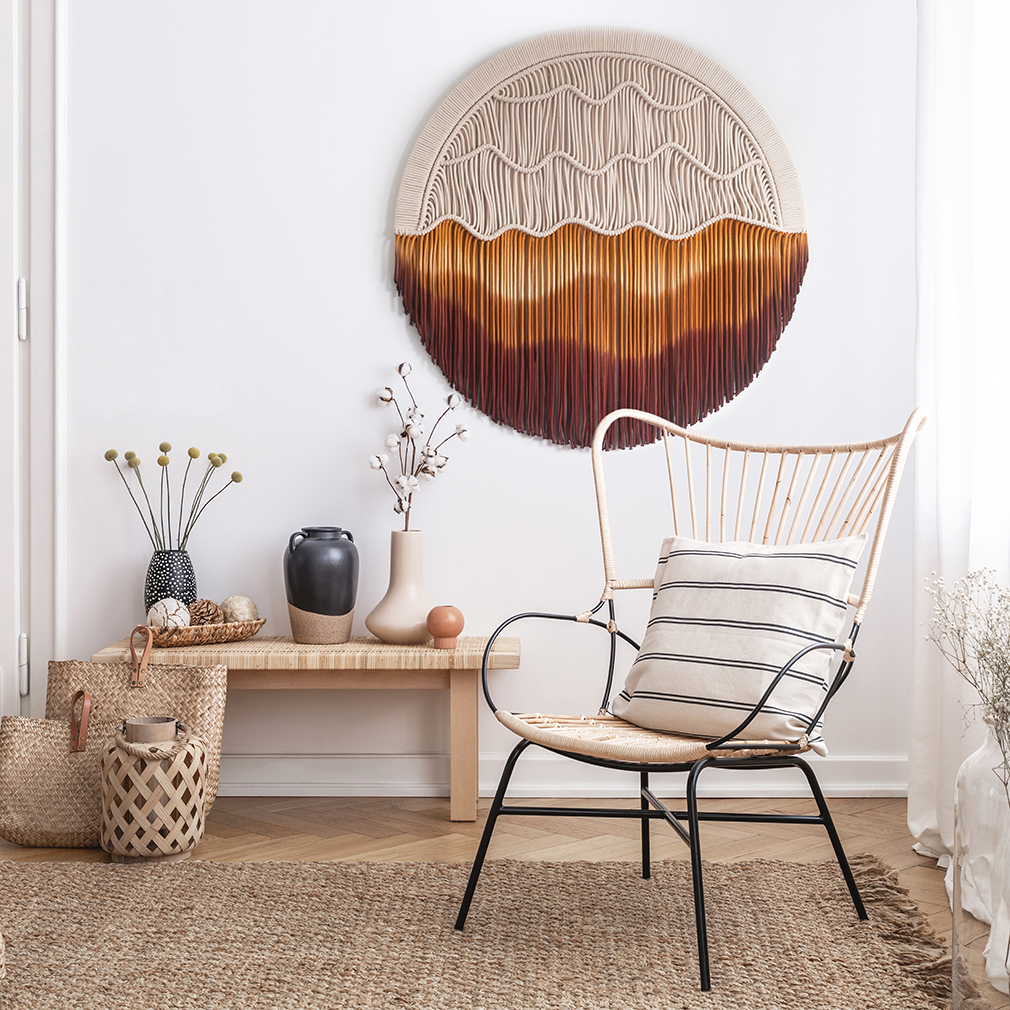 Last year, she was created more than 100 pieces for a luxury resort in the Maldives by Seaside Hotels. "I sometimes receive messages from people who stayed there, asking if I can create something similar for their own homes," says Aarts. "How cool is that? My most proud commission has to be the one for Google, however. I was commissioned to created four huge panels all measuring over 10 feet tall and seven feet wide, which I had to knot in a 70-degree angle and which contained a large-colored medallion in the center [dyed in the colors of the Google logo.] They were used to create seating booths for a dining area in a new Google building in California."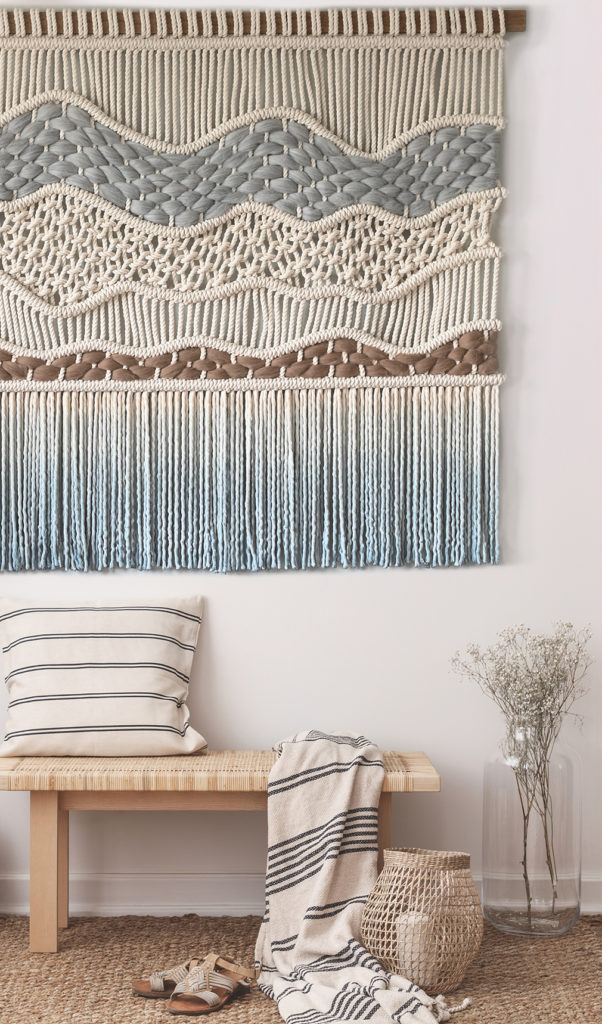 Aarts stepped away from her studio to share where she sources her materials, what she's scheming now, and some of her design influences.
Your biggest inspirations?
RA: I think I really have my own unique style and vision when it comes to my art. I'm inspired by other things, though, most notably by nature and the things around us. I'm a huge plant freak and a few years ago we bought a little garden house and this is where I really developed my love for gardening. The colors and organic shapes found in nature play a huge part in my creativity and often shape my design choices. Like macramé, I feel that gardening is also a form of art; an art of growing beautiful plants and flowers.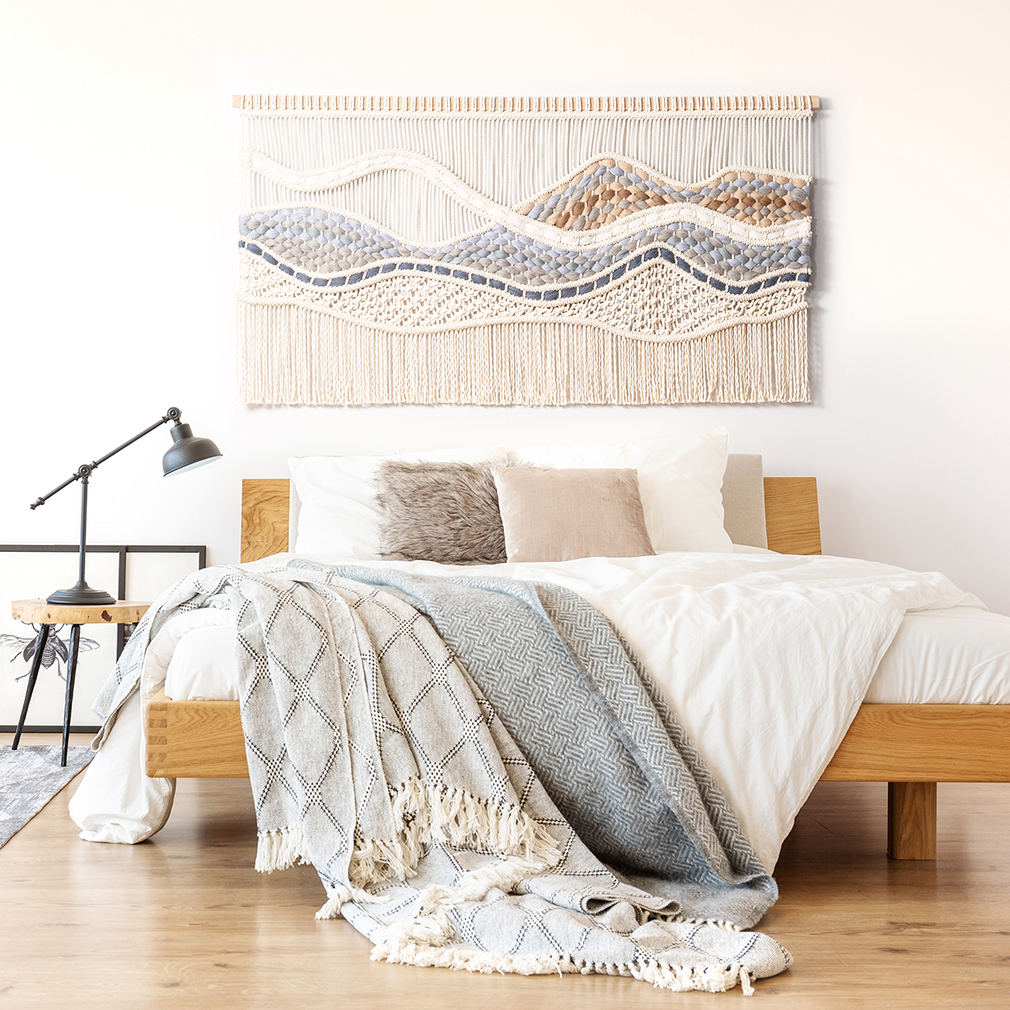 What kind of materials do you use?
RA: My favorite materials to work with are cotton and Merino Sheep Wool. I have created a really great type of cotton cord together with a local Dutch supplier, which is perfect for my work. It's not too rigid and not too soft, and it is really able to absorb the dyes. The Merino Wool is European, [which means produced in Europe following high bio standards], and it's mulesing-free. I simply can't go a day without having the rope or wool go through my hands, and I just really love the look and feel of both these natural textures.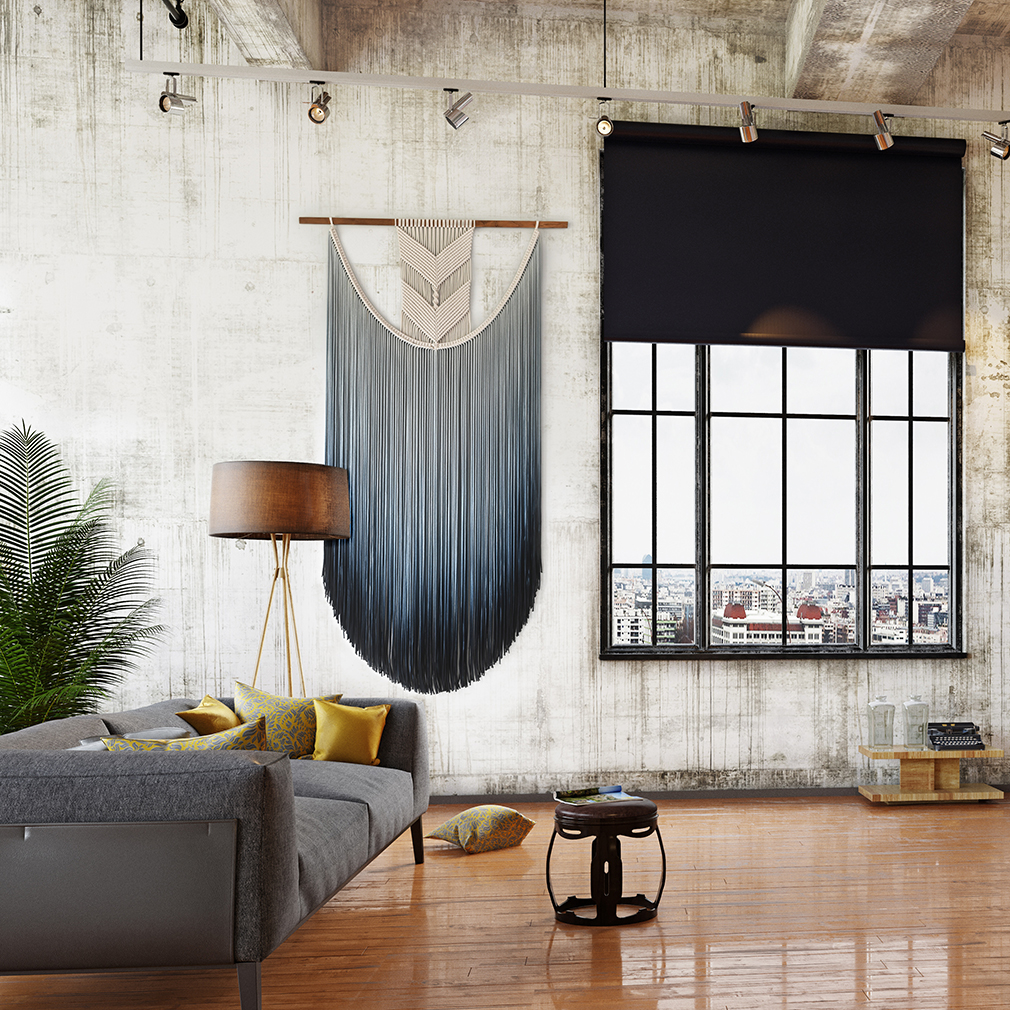 Best aspect of your job?
RA: I really love working with my hands, and bringing my artistic vision to life gives me so much joy and energy" says Aarts. "On top of that, making people happy with the art that I created with my own two hands is just an amazing feeling."
What are you working on for 2022?
RA: I'm currently working on a new collection, called the 'Framed.' I shared a quick picture of some of my new pieces for this collection and people seemed to really be into it. I also have an exhibition coming up soon for the Dutch Design Hotel Artemis in Amsterdam, which I'm really excited about.
Your design dream?
RA: I'm actually quite content with how thing are going, but if possible I'd love to maybe do a collaboration with Anthropologie, or create a piece for Sandra Bullock. She's my absolute favorite actress.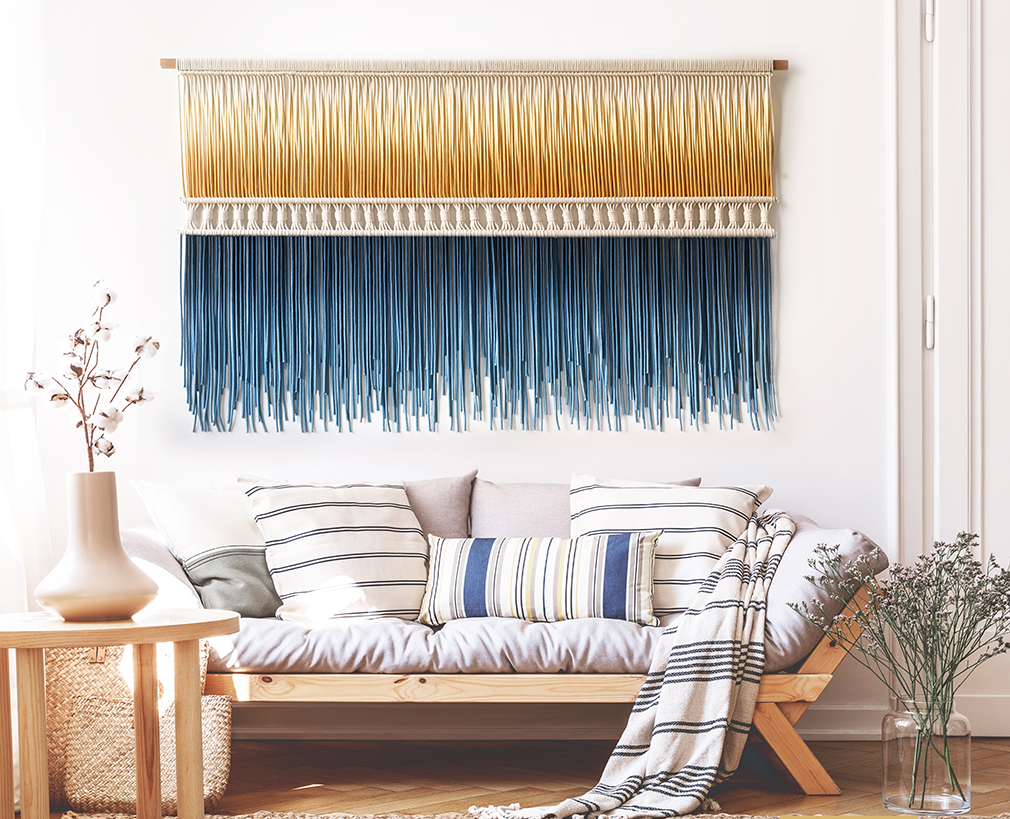 Your ideal day away from the studio?
RA: Owning my own studio and being my own boss means I get to organize my own time. This allows me to have more freedom and spend more time with my family. If I don't feel like working or when I'm having a artistic block, I can choose to go out and enjoy nature, go to our garden house or just stay at home and relax. If I would get to choose my ideal day off it would be to spend the entire day at my garden house all by my myself. This also happens to be the perfect remedy to get my creative juices flowing again.