Palm Springs, once a preferred hideaway for Hollywood's elite set from the likes of Elvis Presley to Marilyn Monroe, is home to some of the finest examples of midcentury architecture and design. For last month's Modernism Week, local designer Michelle Boudreau transformed a pool house at a home in Indian Canyons into a cheery private casita and guest suite. "It was dated and untouched," explains Boudreau. "Christopher Kennedy graciously asked me to design the guest room. The clients wanted an inviting place for guests to enjoy the indoor-outdoor lifestyle in privacy. They envisioned colors that reflected the essence of Palm Springs."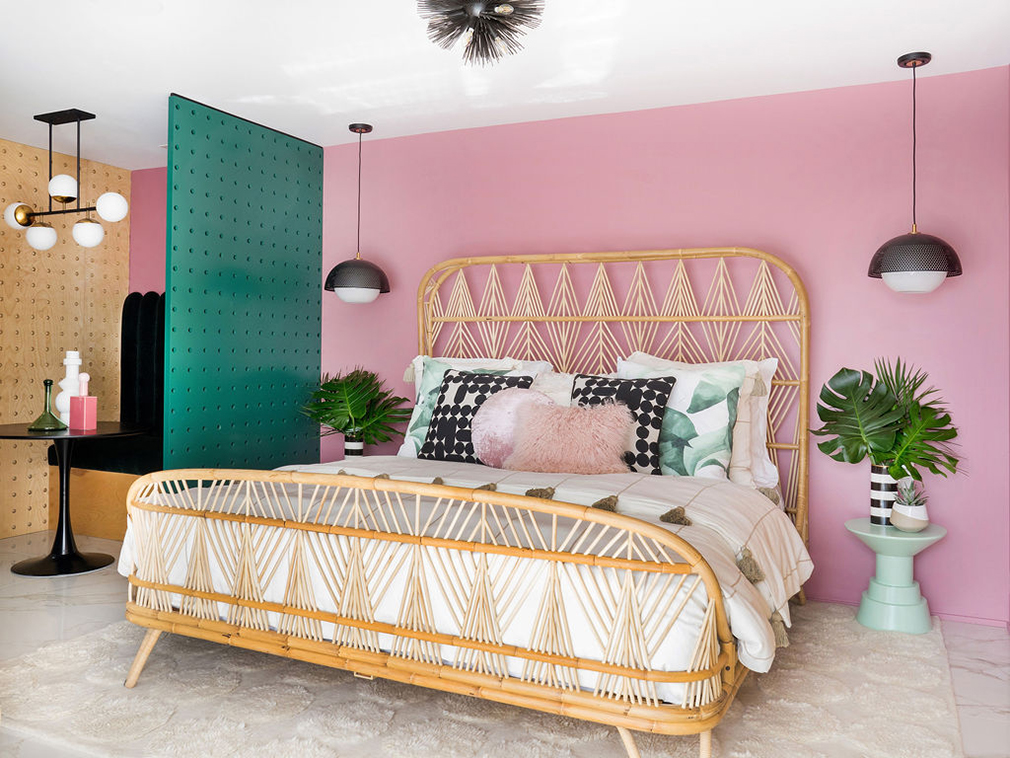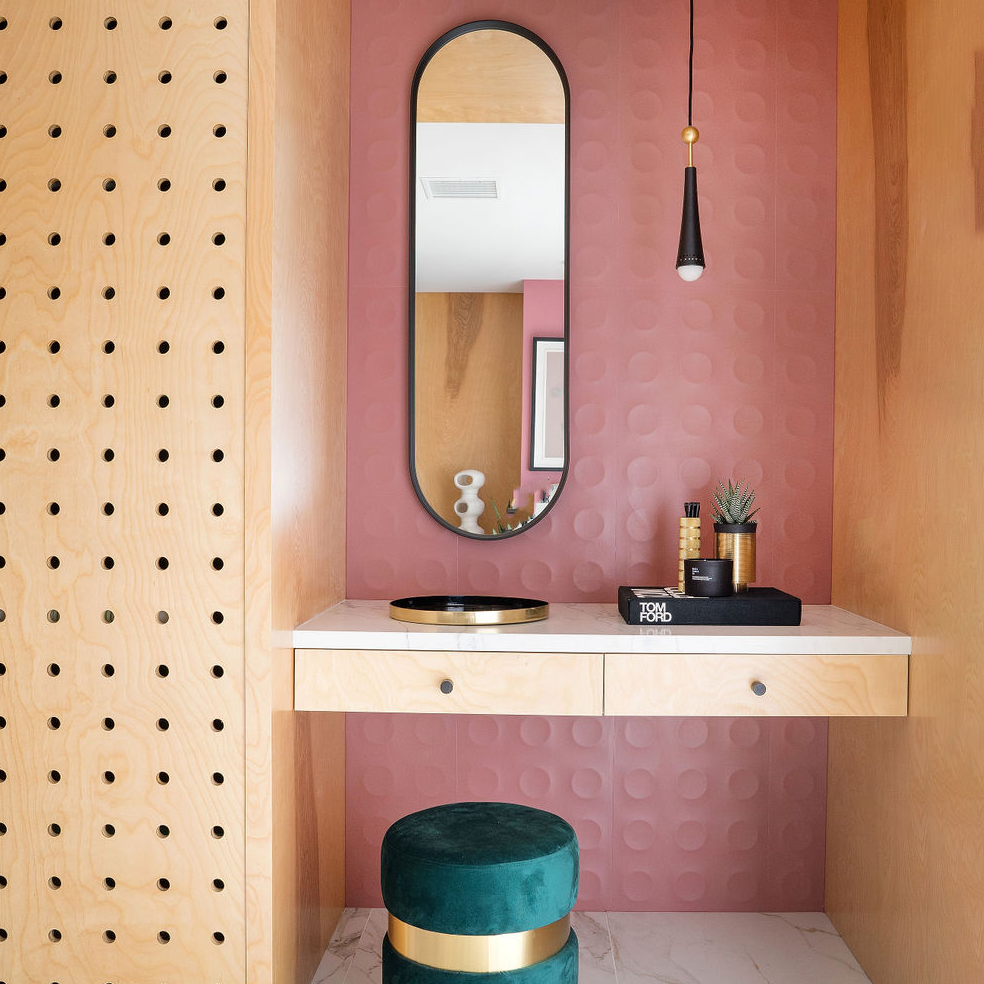 Playing off of colors found in the natural desert surroundings, Boudreau appointed the space with greens, grays, pinks, and even black. "I was inspired by the lush landscaping of the property," recounts Boudreau. "The variations of the green palms and plants, and the dusty pinks of the surrounding succulents and warm tones of the desert mountain sunsets that can be viewed from the floor to ceiling windows. Black brings in a contrasting edge. I wanted the color palette to be refreshing and inspiring, as well calming and comfortable."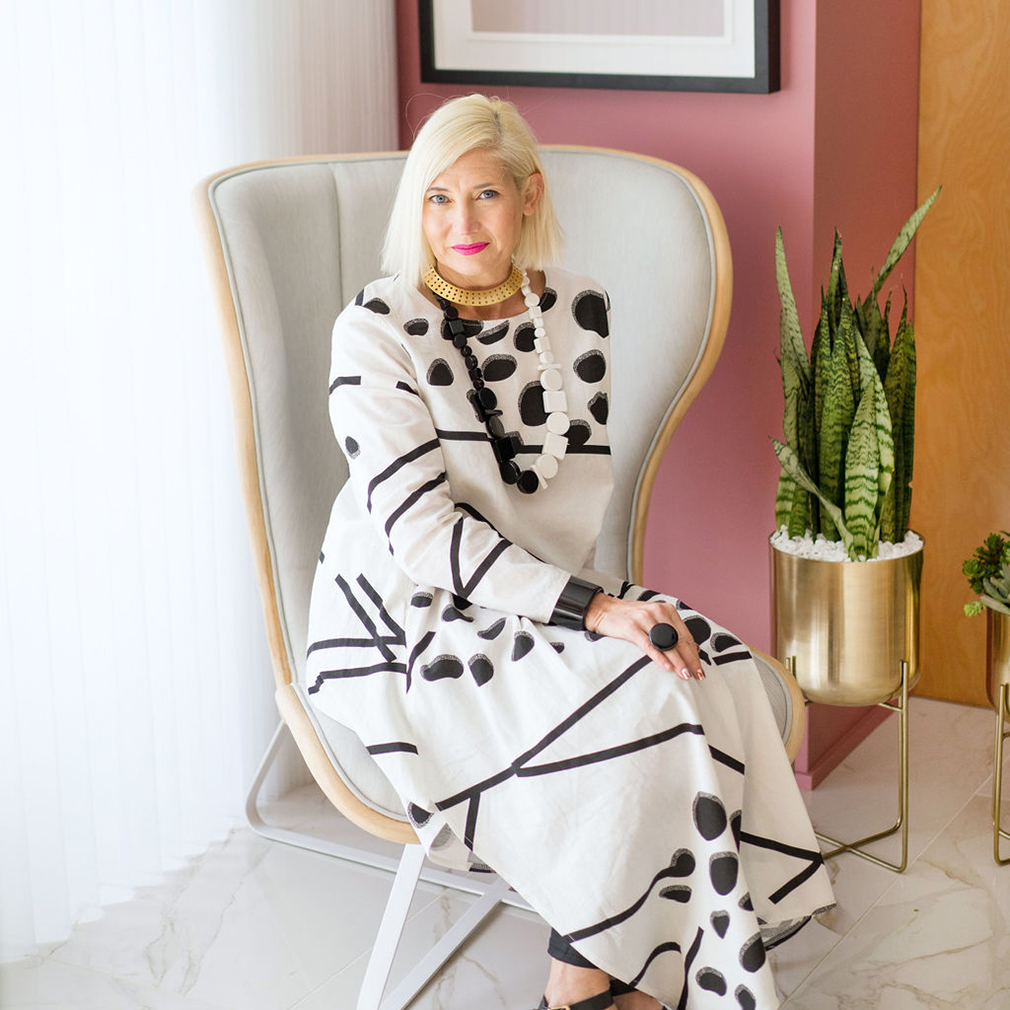 Boudreau also added a unique twist on an ordinary material. "One of the details that I pulled through the design was inspired by the original peg board material," says Boudreau. "I updated this element by creating large perforations in the woodwork to nod to the prior detail for a modern update. She also designated space for a kitchenette using a perforated wood decorative screen panel, and added hints of glamour and sophistication with a banquette upholstered in a soft velvet.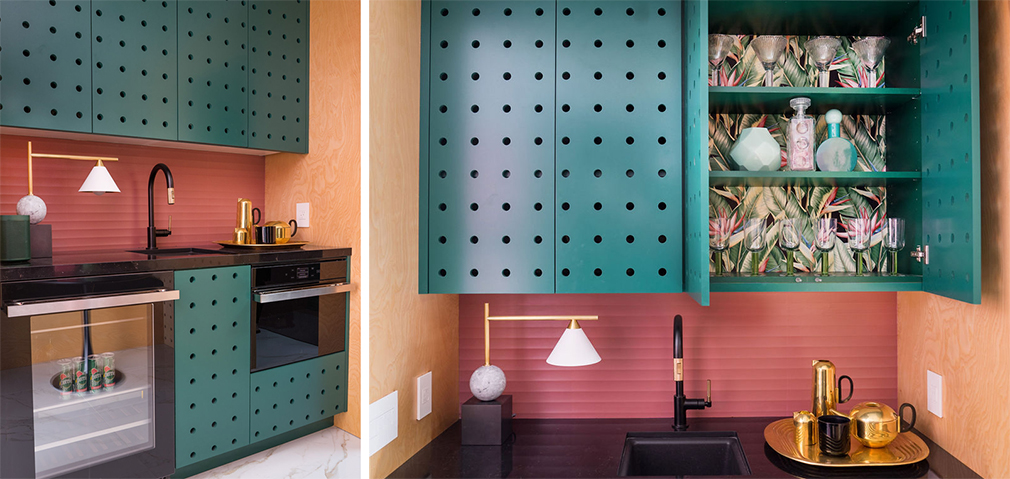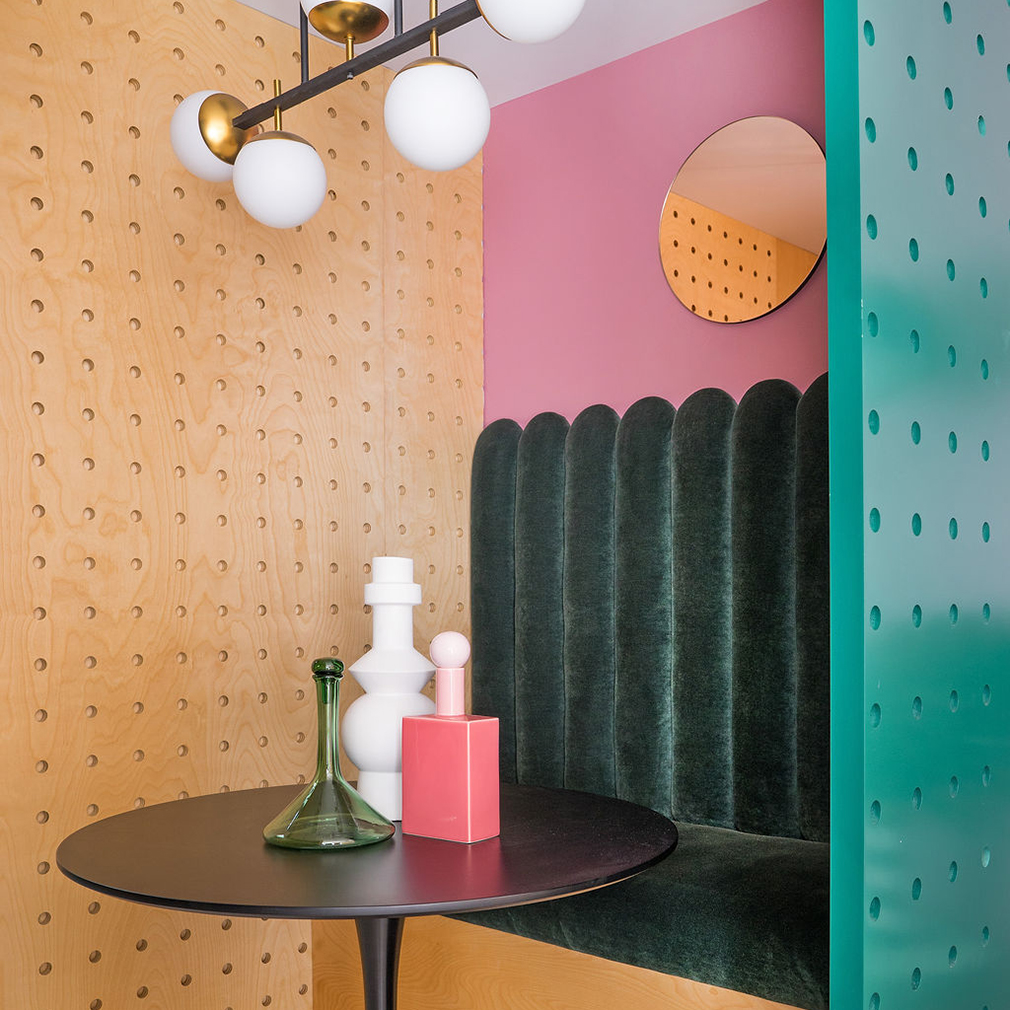 To maximize space and function, Boudreau removed the door access from the main house to expand the bathroom, and added a floor-to-ceiling glass slider to create a private entrance for guests. She also repeated patterns to make the space cohesive. "I pulled the round element of the perforated panels into the dimensional shape of the tile in the bathroom," explains Boudreau.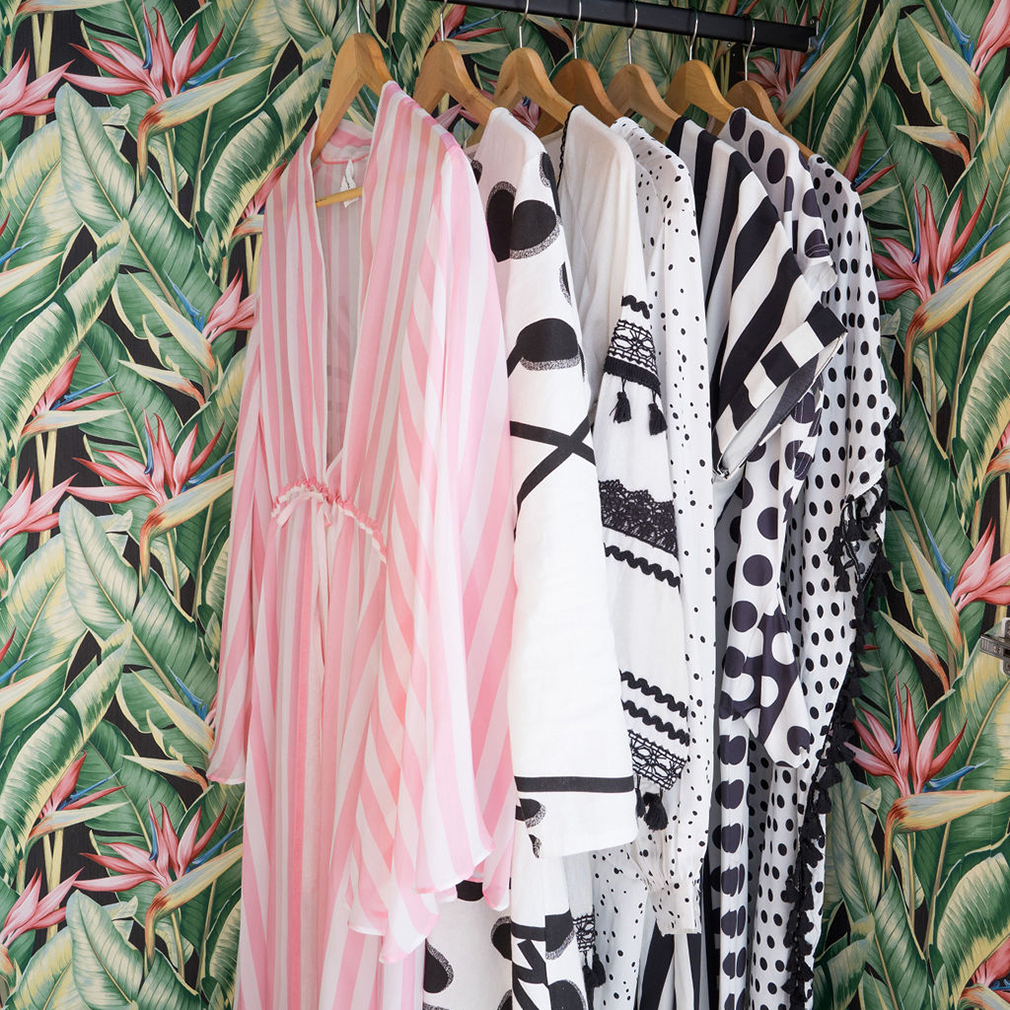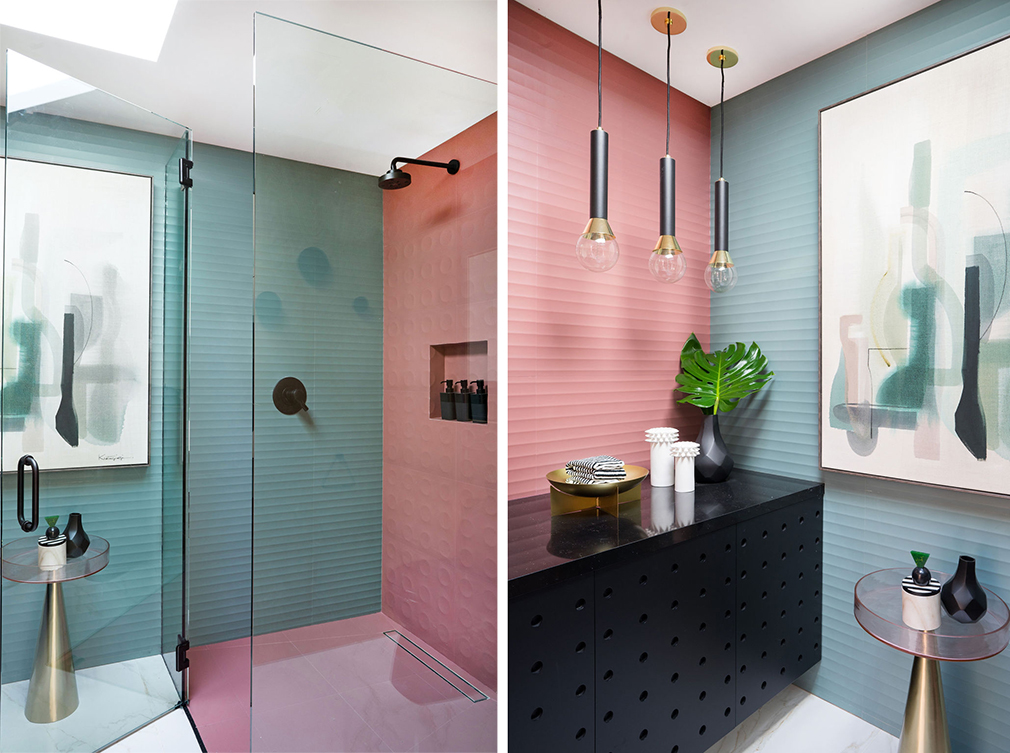 Boudreau's Design Hacks
Check Your Surroundings
"Ensure the colors work with the environment."
Examine The Light
"Study the light from dusk to dawn. Sunlight is varies in warm and cool tones in different locations making colors appear differently."
Consider The Palette
"If you are using multiple colors, ensure that they work nicely together. I stay away from jarring and bright colors in a home, since that is a sanctuary of happiness and calm. There are no rules with color. It is a really nice way to express your personality. Also, an easy way to reinvigorate a space."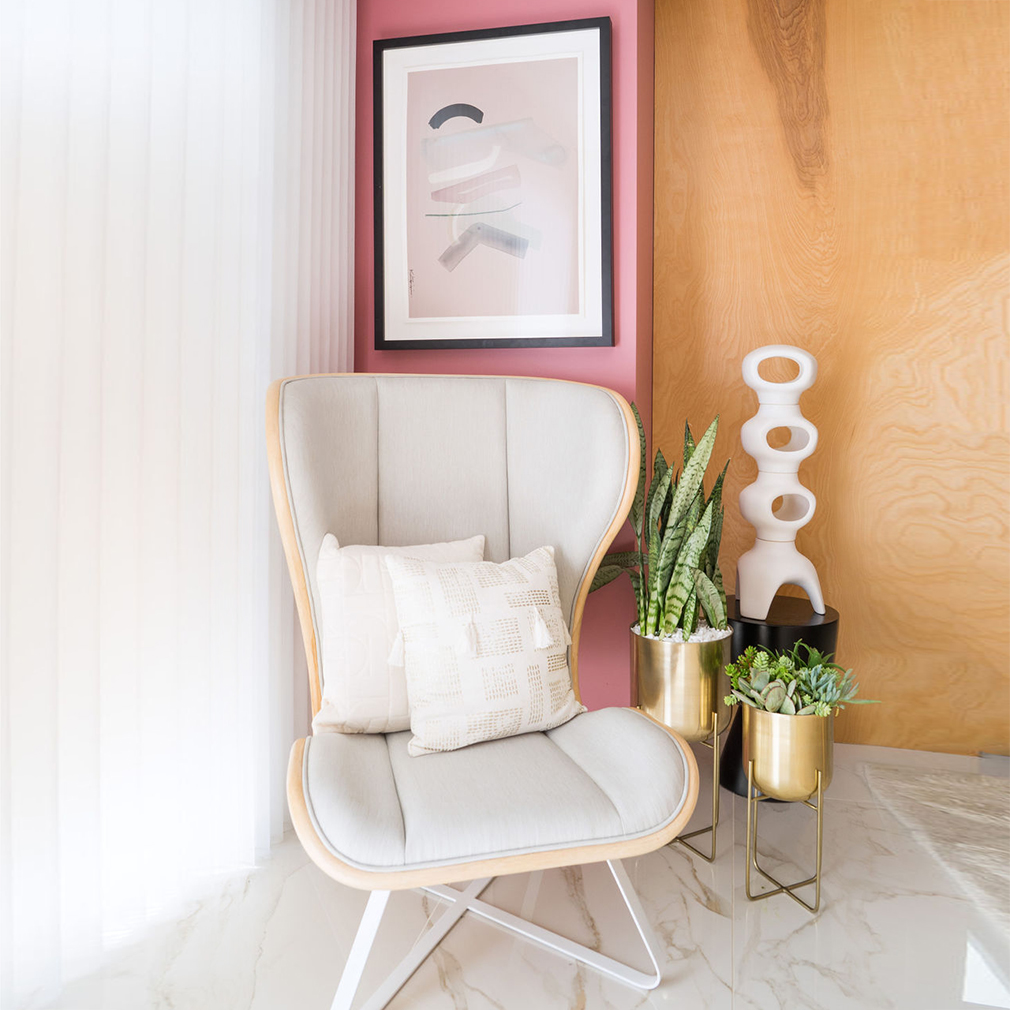 Boudreau's Top Shopping Sources
Lighting
"I love to create custom-designed lighting or source found interesting vintage lighting. 1stDibs is great for sourcing pieces from all over the world."
Fabrics
"I source a lot of my fabrics from Schumacher. They have an extensive luxury collections of original prints and elegant high quality."
Accessories
I source from all over the globe and always finds one of a kind objects on my inspirational travels.
Paint
"I work with Dunn-Edwards paint. They are leaders in curating the best colors and understand design palettes with high performance-quality."