Two years ago, Nicole Crowder, founder and furniture designer of eponymous upholstery studio in Minneapolis, Minnesota, got a phone call she'd remember forever. "I was working in my studio when I got a phone call l from two furniture buyers from World Market asking if I ever had an interest in making my own furniture and textile collection, and I nearly dropped my phone and screamed," recalls Crowder of the new collaboration, Nicole Crowder Upholstery x World Market. "It was the most surreal invitation because I had been dreaming about an opportunity like this since I began working in furniture design, and I've been a huge World Market shopper throughout my entire adult life, so it felt like a beautiful alignment that my first-ever custom furniture collection would be a brand I really admired and saw myself in."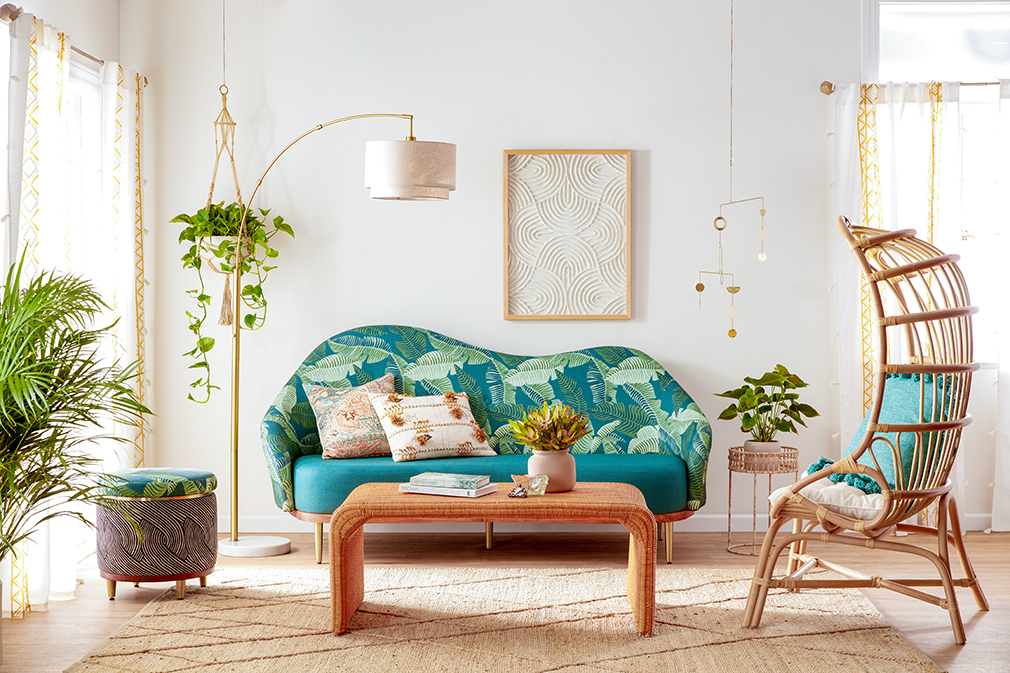 The six-piece collection—comprised of an upholstered storage ottoman, chaise lounge, a bench with shelves, an armchair, a dining chair set, and a loveseat—is crafted from acacia wood and awash in conversation-sparking fabrics ranging from playful banana leaf patterns in emerald greens to striking geometric prints in sunny yellow tones. "This collection was inspired by my desire to create new heirlooms for a new generation of people like myself," explains Crowder, who named the collection after women who have inspired her. "A generation who have leaned into this understanding that rest and tending to our homes is just as important as tending to ourselves and relationships. A generation that admires and appreciates well-made, unique items that reflect who they are and are not simply status symbols. It's inspired by my love for deep storytelling through design. I want people to know a little bit more about me and about my love for attention to detail and duality through this collection."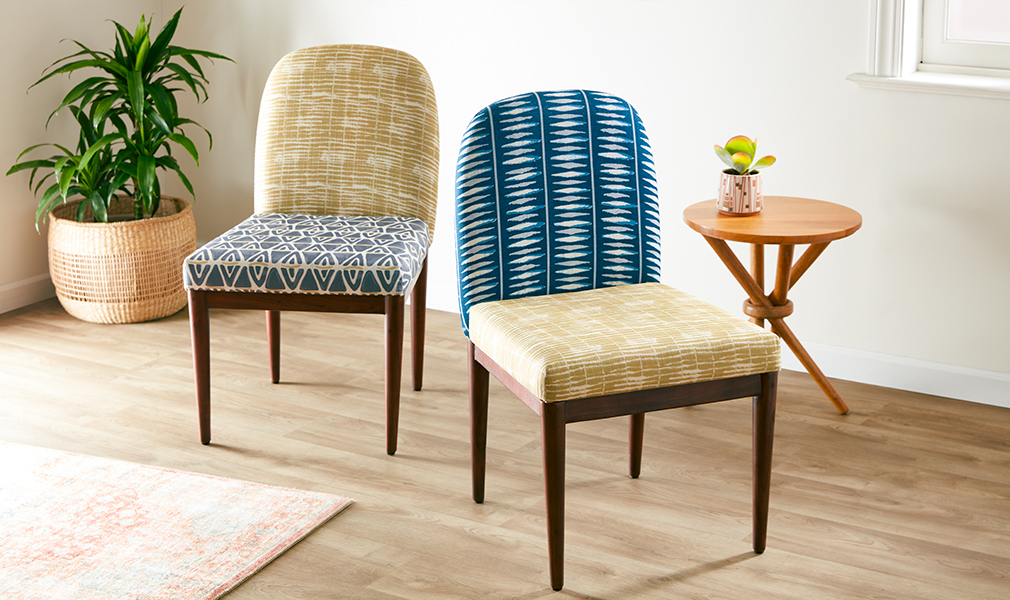 Crowder sits down with SHLTR to describe the collection, where she finds her unique fabrics, and the single piece she loves most.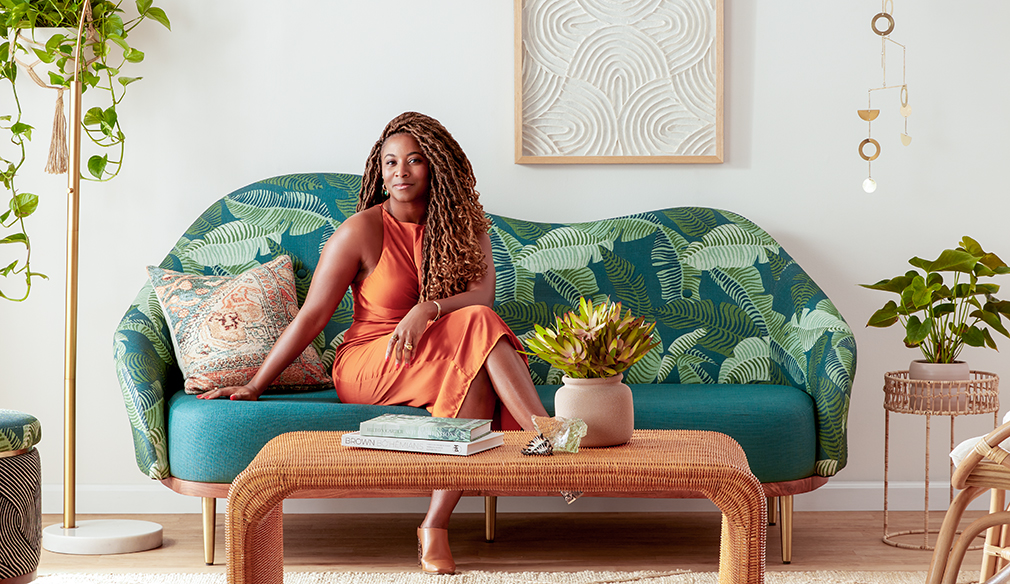 How do you choose the fabrics?
NC: Typically, I source fabrics from a range of brick-and-mortar stores in my hometown or through several online outlets where I have created relationships with the vendors. But for this collection, we tapped a couple of fabric mills and companies that I have shopped with previously and already had a relationship with, but also some new ones that I was introduced to through this collection.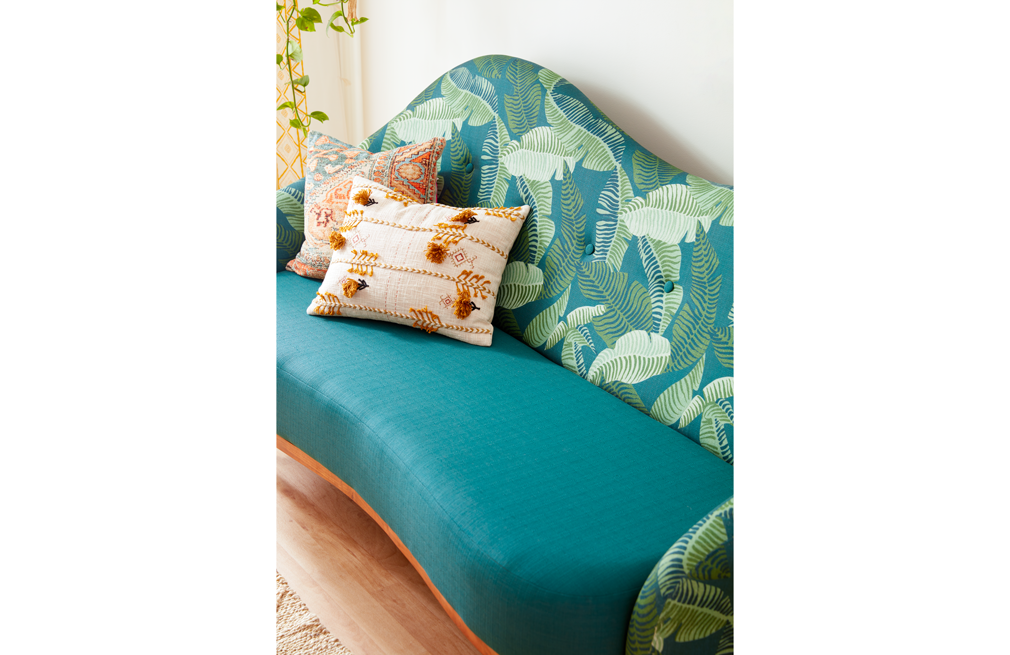 One piece that personally stands out to you?
NC: My favorite is definitely the Denise chaise lounge. I immediately bought it for myself to have in my future home. I don't even have a house yet, but I know someday when I do I will want this piece to be something that I carry with me for the rest of my life. This chaise reflects so much about me and my design aesthetic and where I want to go with my future designs and the contrasting but complementary way the patterns mix with each other. The yellow pillow accenting the stark black and this cream textures. The fact that it's a daybed that doubles as an actual bed because of how long it is, curvaceous and really inviting you to rest and linger and feel comforted and engulfed in the space. I love the duality of a piece that invites you to sleep or read, and be this kind of island to yourself where you have your books and your glass of wine next to you and not have to go anywhere if you don't want.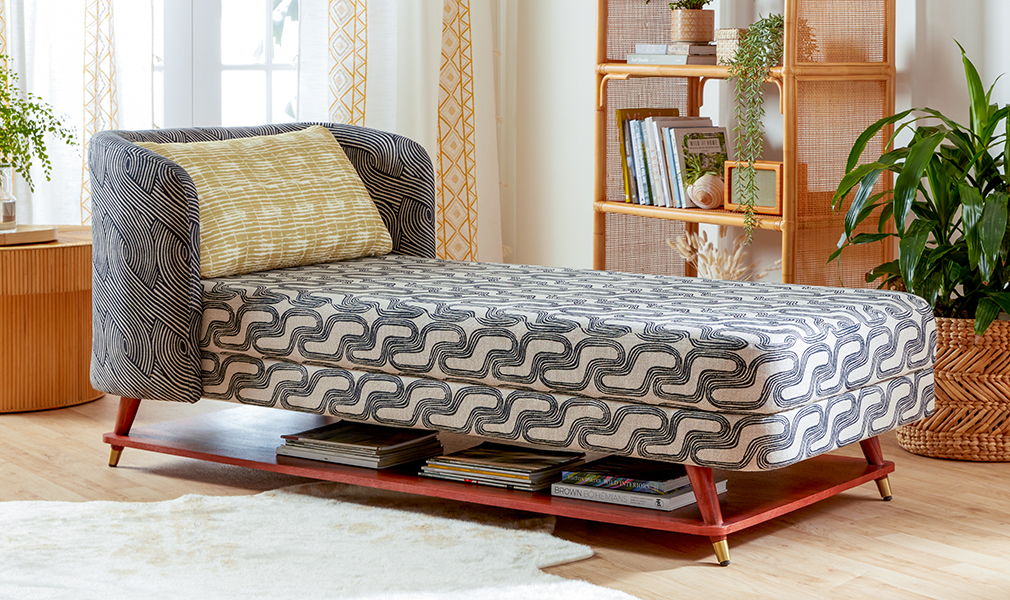 Your favorite aspects of Nicole Crowder Upholstery x World Market?
NC: I think what I love about this collection is that even though I sketched it and conceived another two years ago, it still feels fresh and very much in line with forward-thinking designs for everyday spaces. I love that it takes into consideration people who might not have homes, but live in small city apartments. I love that there's a piece that suits every room in the home and that they are all multi-functional. There are storage options, and I love that the chaise lounge is so unique because rarely, if ever, has there been a chaise lounge design that also includes a bookshelf under its carriage. It makes me smile thinking about this because I wanted to create timeless pieces that could be passed down or stay with you through the various phases of your life and evolving self.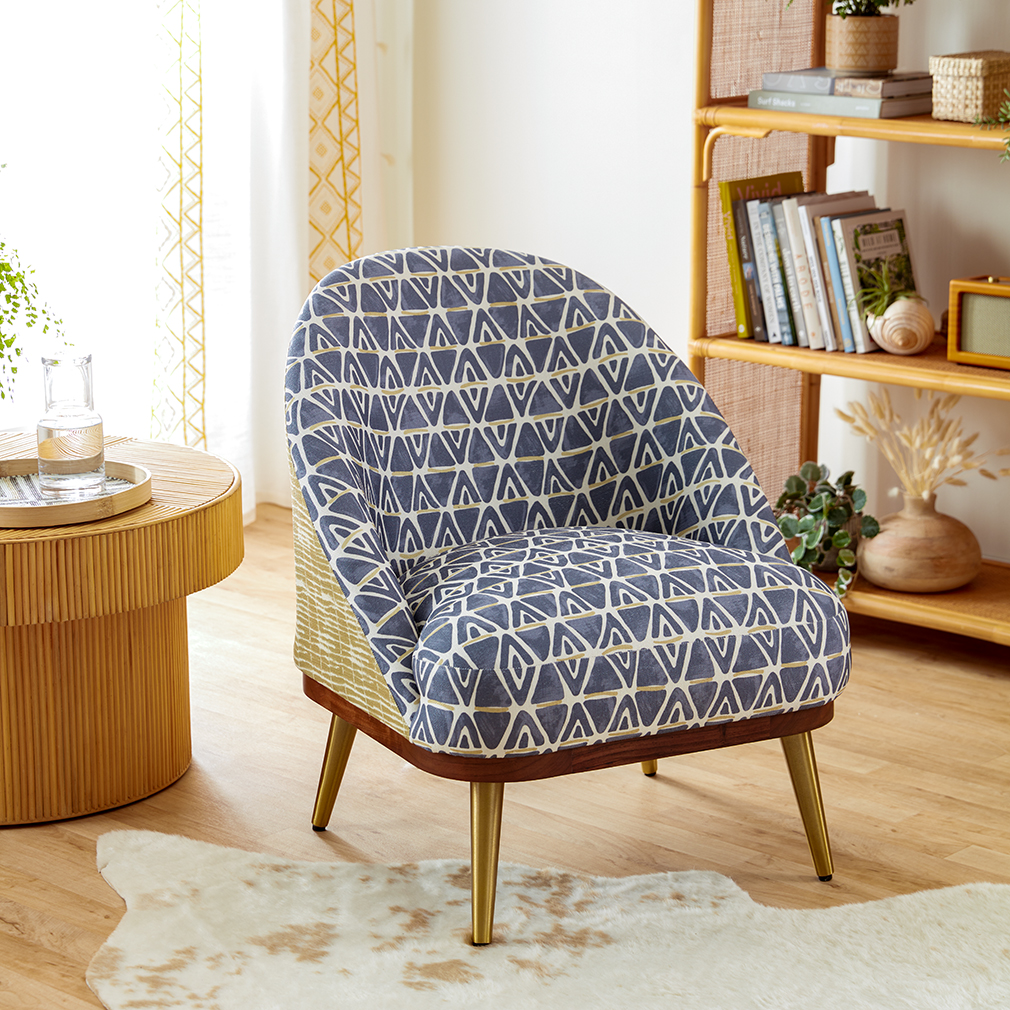 What kind of environment do you envision for the collection?
NC: I envision these pieces being in someone's living room sitting among their plants. I imagine them being in a reading room or sunroom inviting you to step away from your phone and pick up a book or a magazine or just to take a nap. I also envision these appearing on movie sets. It's been a dream of mine to work with production designers to create the look and feel of the interior spaces where characters live, and I think any of these pieces would fit in beautifully with a movie or television set.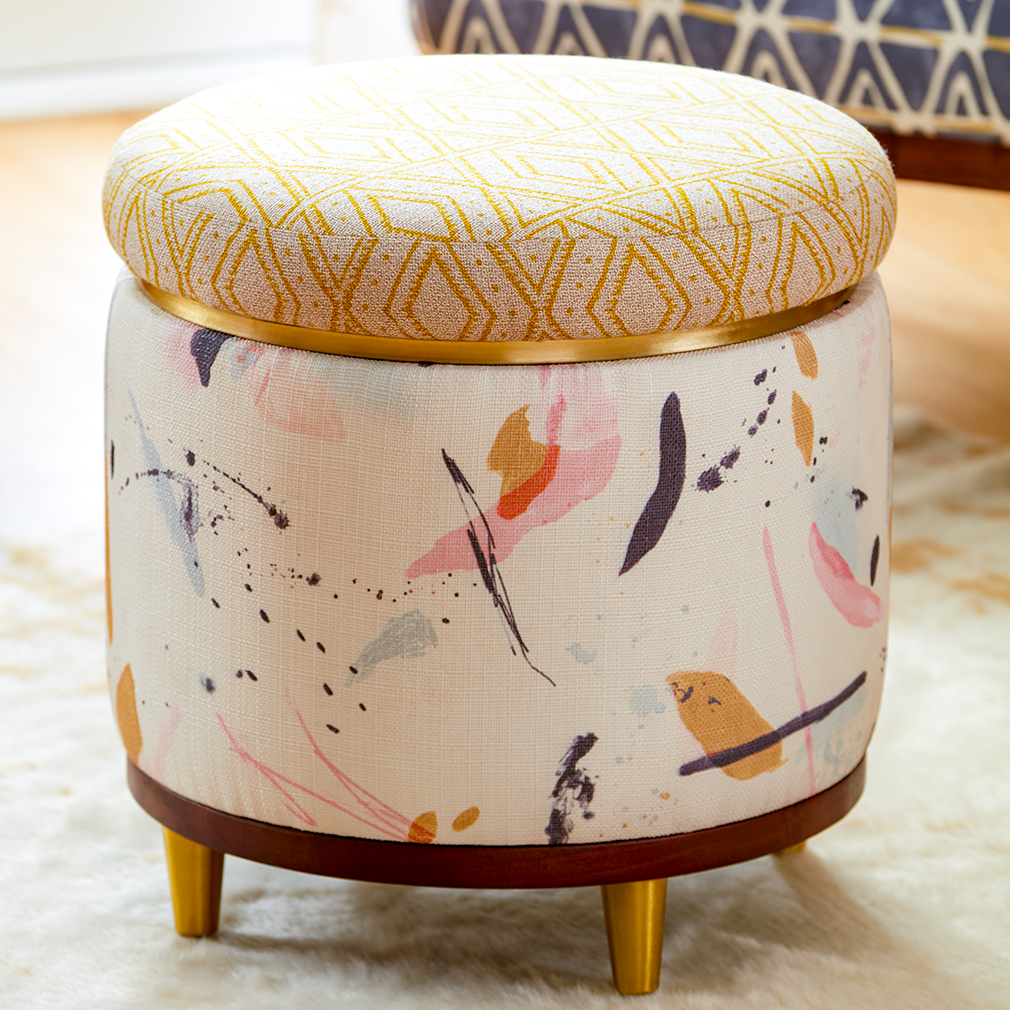 Best part of your job?
NC: There are so many facets to this job that I absolutely adore. I love the ideation and discovery phase when I am dreaming up what kind of story I want to tell or what kind of color palettes I want to work with or materials to play around with. I love getting excited about the possibility of a piece of furniture. I also love sketching and sourcing fabrics that I then either put into a box, or that I am playing with digitally via a Pinterest Fabric board. I love when I see that spark between two completely different patterns where they are having a conversation that I can then reproduce into a chair's design. Pattern design and figuring out pattern play is really intuitive and unique skill, and I love leaning into it because it allows me to be playful and experimental and work without boundaries. And then I also love when I see the end result of how a chair's design has crystallized and comes out exactly as I had imagined, but more often than not even better than I had imagined. I love being in all of the work because the piece is separate from me now and can stand on its own and have a life.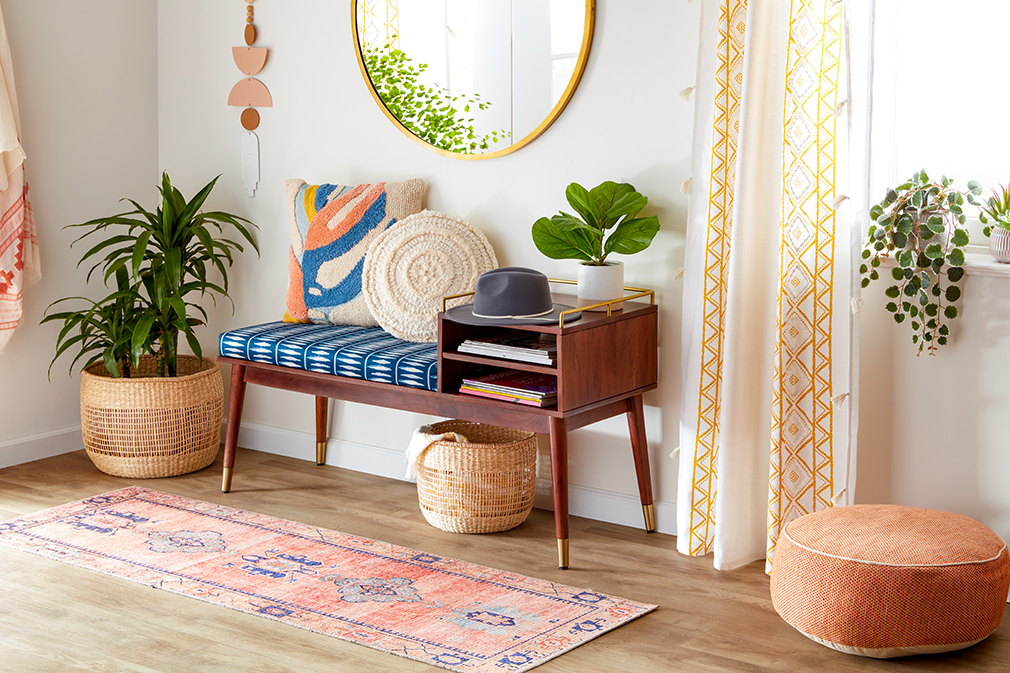 What's next?
NC: I have a lot of wonderful projects that are in the works. A few involve new home furnishing products that I am launching this year that include custom napkin rings and more items for the tablescape, because I love dining and entertaining.