London–based artist Ellen Merchant has a long history with art and textiles. "I grew up in the countryside in Dorset and was constantly drawing and making things," explains Merchant. "I always knew I wanted to be an artist, which led me to move to London to study a foundation course at University of Arts, Central Saint Martins and then a Bachelor of Arts in Illustration at Camberwell College of Arts. It was there that I really got into printmaking, which naturally developed into pattern design and textiles where I found all my interests aligned."
After working as a freelance designer for a few years, Merchant cultivated her own style and launched her business. "I am just really obsessed with patterns and interiors, and I'm at my happiest when making or printing something," says the prolific decorative artist. "Being able to incorporate all of this into what I do really is the dream."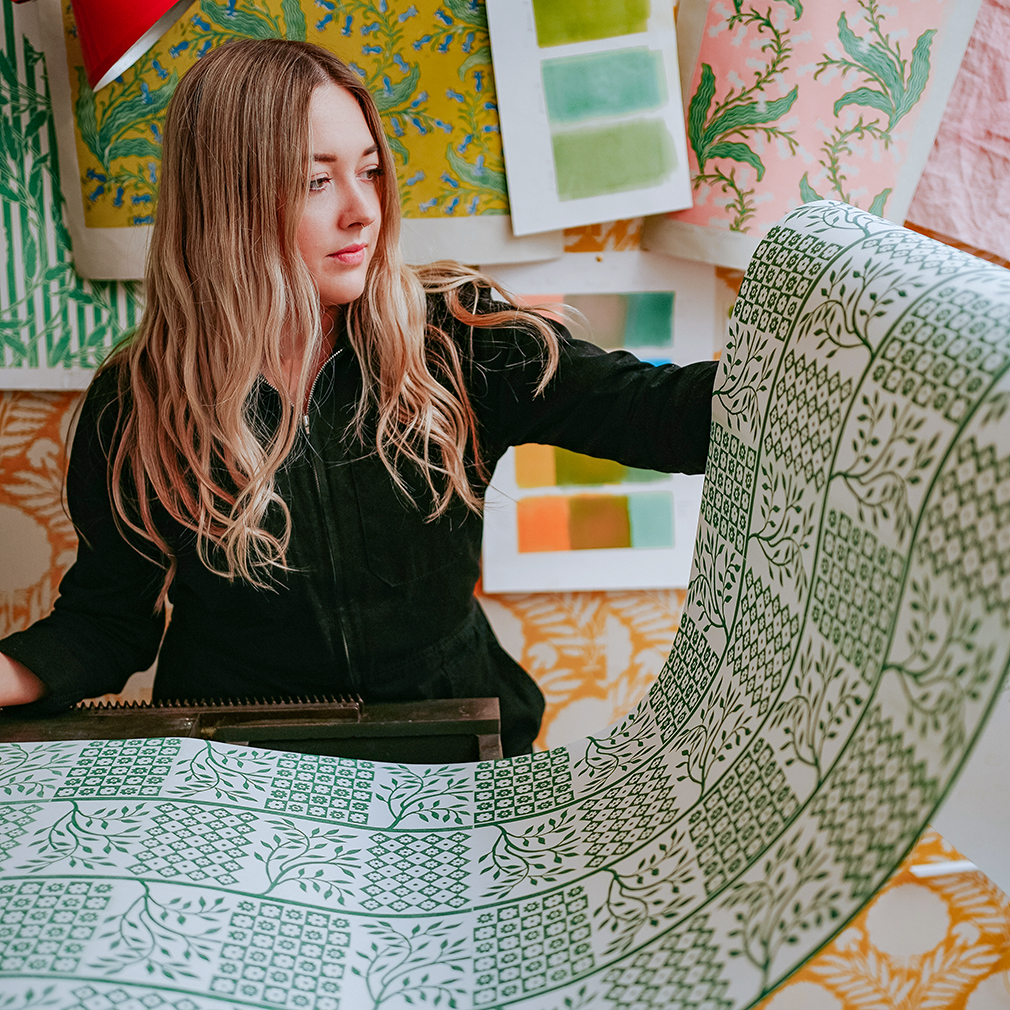 Drawing upon cues from fashion and the British Arts & Crafts movement, Merchant's hand-drawing intricate designs can be spotted throughout England, Paris, Los Angeles, and Dallas. Her exclusive collection for Anthropologie spans more than 50 botanical-printed items such as melamine serving trays, beach towels, pickleball paddles, wallpaper, candles, and cornhole games.
Here, Merchant fills SHLTR in on the inspiration for the new line, where she goes for a personal getaway, and what we can expect from her next.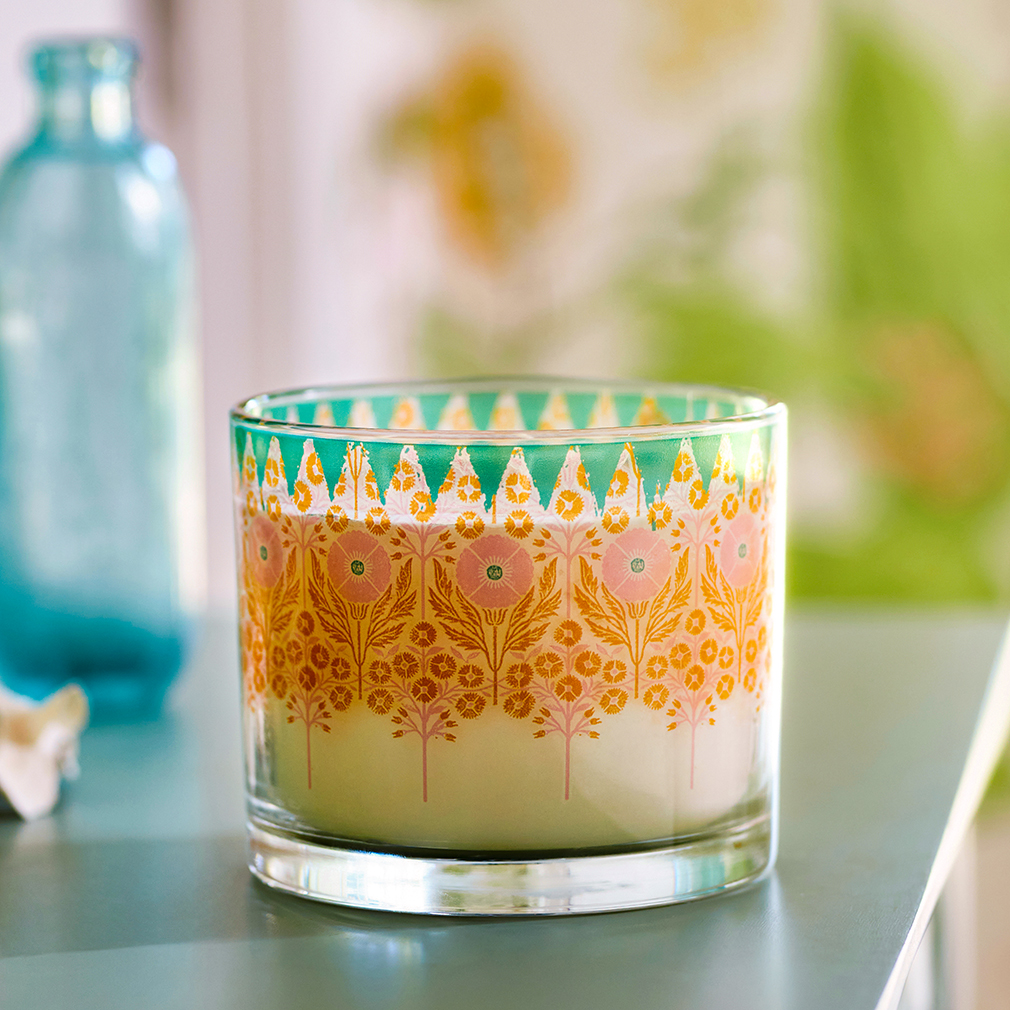 We love your work! Describe the collaboration for the collection with Anthropologie.
EM: "I'm over the moon to have worked with Anthropologie on this collaboration. I have been visiting the store for years and always found it very inspiring. The design team at Anthropologie reached out last Christmas to talk about an artist collab, and naturally I was thrilled. I shared various patterns and illustrations from my sketchbooks with them and they worked them into this fabulous collection of products."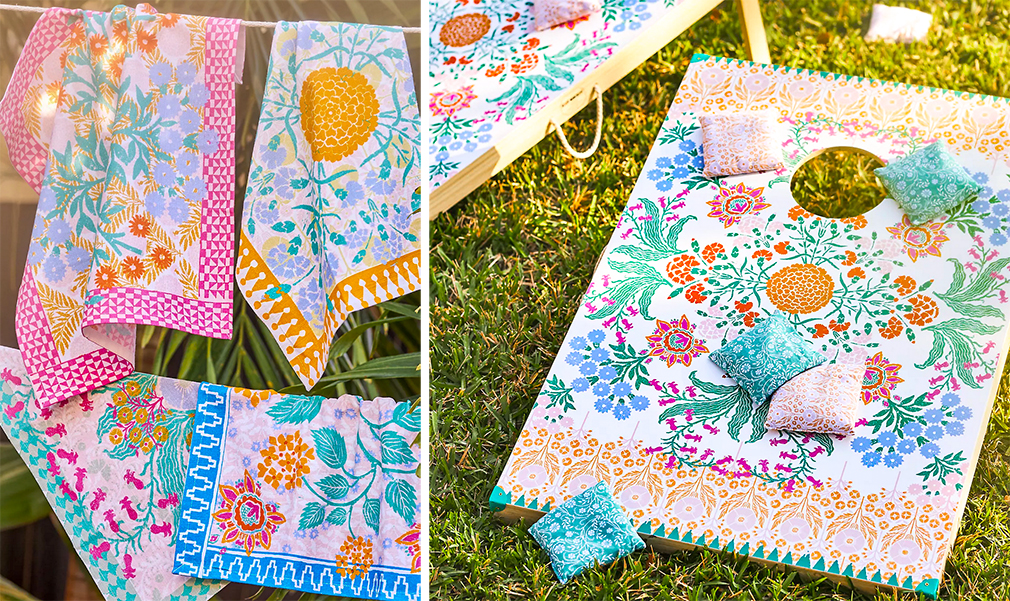 Your biggest design inspirations?
EM: "I particularly love Arts and Crafts design and the ideology of the movement as I'm passionate about conserving traditional skills. Designers like C.F.A Voysey and William Morris initially sparked my obsession with wallpapers and printed textiles. Another great love is Josef Frank for his joyful and original aesthetic. I'm also very into any sort of retro design, from packaging to fashion. I like clashing references from past and present. I think that's what creates the most interesting results."
The pasta bowl and melamine side plates (left). Photo courtesy of Anthropologie. Merchant with some of her designs (right). Photo by Clementine Cusack.
Describe a typical day in the studio.
EM: "I like to try to get any emails or admin done first thing. I usually walk or cycle to my studio along the Thames, which is lovely in summer and a bit grueling in the winter. When I get there I'll send out any samples and pack any orders. Depending on what I'm working on, I would expect to spend the day designing, printing, or sewing. I have three mood boards on the walls that are filled with design drawings, and I will often test something out roughly in quite a few different ways before committing. Sometimes I will have a client visit which is always nice too."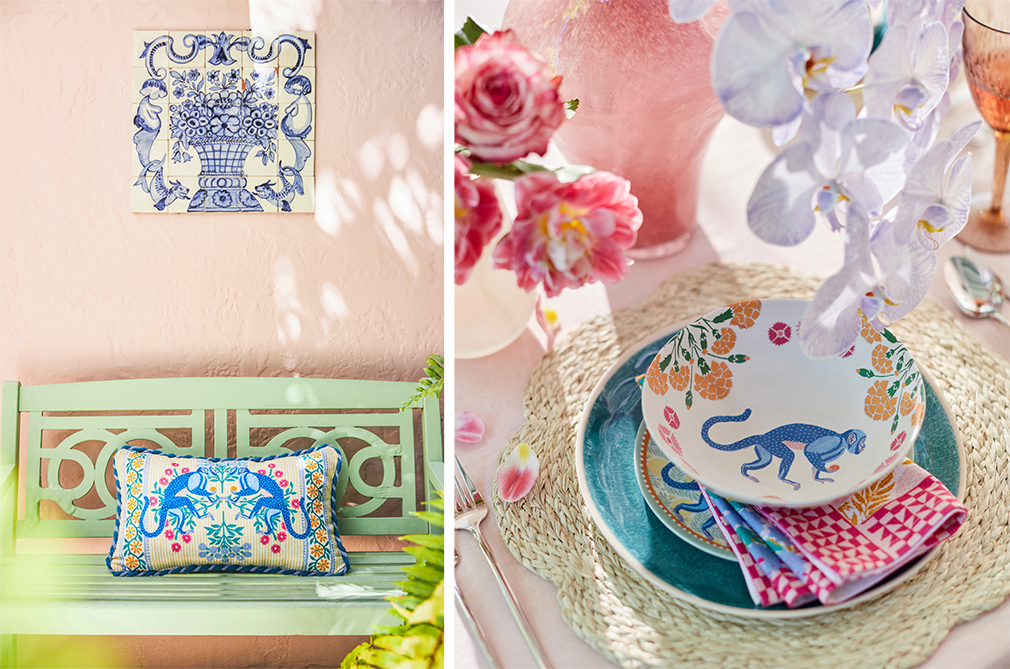 Your preferred personal escapes?
EM: "For holidays abroad I love Italy, particularly the South. My fiancé and I love going to Naples. It's such an underrated city. I never really stay in hotels, usually a great Airbnb apartment as I like to pretend that I live somewhere for a little while. I do love to visit old English houses and gardens. My favorite walks from where I live are along the river to Kew Gardens or Chiswick House, and then a good pub."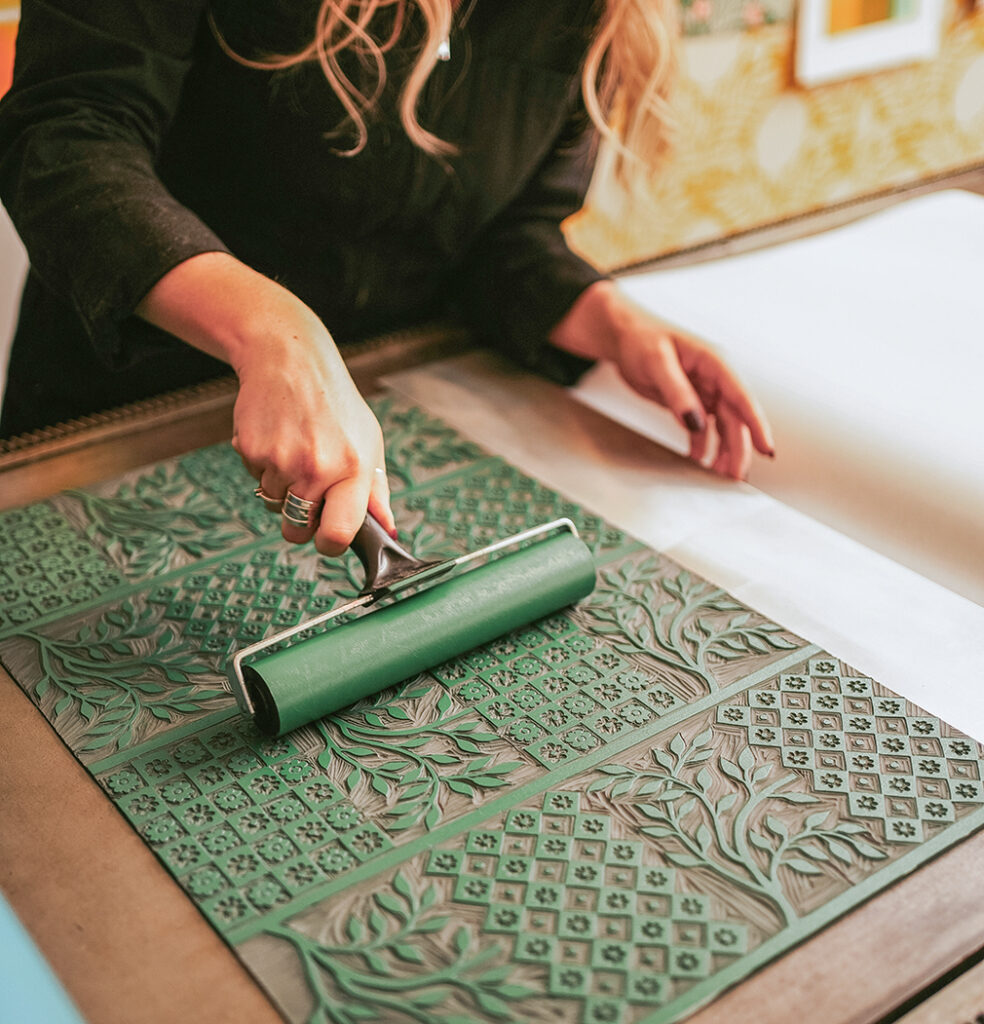 Any future designs coming up?
EM: "I'm working on producing new wallpapers and fabrics, and slowly adding to my existing collection. I'll also be creating a new cushion collection and a few exciting additions to my made-to-order furniture offering."