If you're looking for a furniture overhaul with colorful pattern and bold prints for spring, now's the ideal time with the debut of the Joybird x Dani Dazey collection. Los Angeles–based interior, art apparel and print designer Dani Dazey has joined forces with furniture mogul Joybird for the line (launched on Wednesday, April 5th), featuring two playful and cheery patterns with six pieces each consisting of modular sofas and beds to decorative pillows. "Two of my favorite eras in design were the daring 1970s and the dramatic Art Deco," explains Dazey, whose projects include The Trixie Motel in Palm Springs. "The Joybird x Dani Dazey collection prints point back to these iconic times, but with a modern take. 'Sunny Chevy' is so fresh and fun, but feels luxe with the chenille and woven mixed texture. 'Deco Peacock' takes the classic scallop motif, but turns it on its head with abstract line work." 
For Dazey, the collection with her hand-drawn original patterns, has been a longtime in the making. "It has been over a year of designing and planning, so seeing this collection come to life has been an absolute dream come true," says Dazey. "The pieces turned out even better and more beautiful than I could have imagined. Being able to take prints I normally use for clothing and apply them to furniture has been so fun. It really feels like all the things I'm most passionate about put into one thing."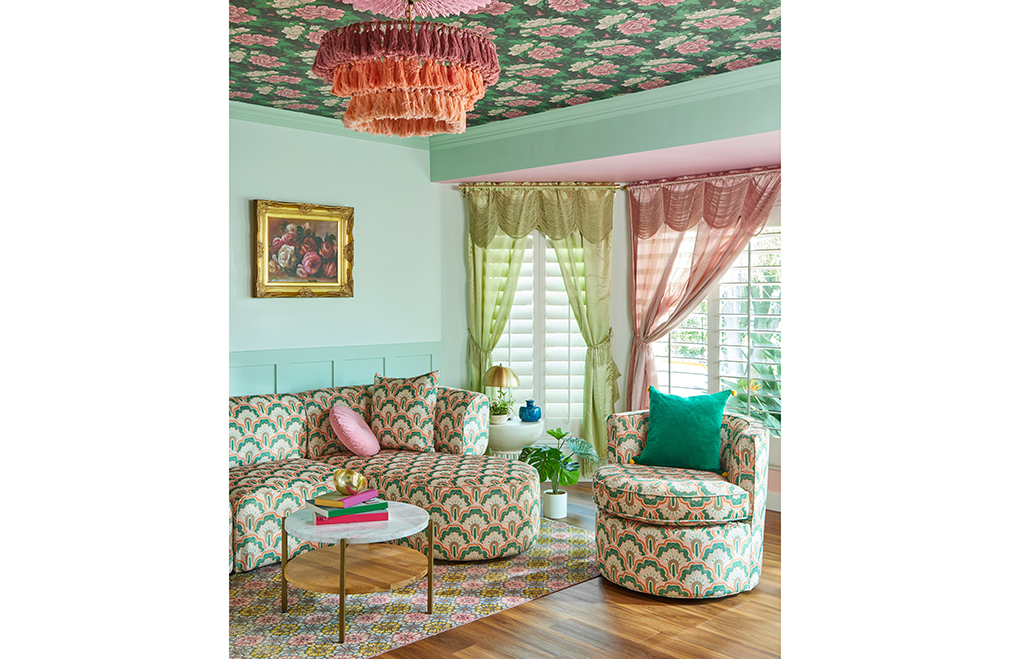 Dazey fills SHLTR in here on the inspiration for the pieces, her fabric selections, and some of her collection highlights. The collection rolls out to Joybird showrooms nationwide on April 12th.
We love the new collection! Tell us the backstory.
DD: As a print and interior designer, I absolutely adore printed furniture, yet can't seem to find it anywhere. This beautiful and unique style seems to have been forgotten and left in the past, but I'm determined to bring it back. With the rise of my favorite design style Maximalism, now seemed like the perfect time to reintroduce printed furniture with a fresh, modern twist. After years of working with Joybird on interiors for clients and my own home, I knew they would be the perfect collaborator for a project like this. Joybird makes amazing quality furniture, customized to fit any space or personality, and really has a knack for color and vintage design styles. We knew that together we could create pieces that are boldly original and timeless classics offering maximalist options for any space.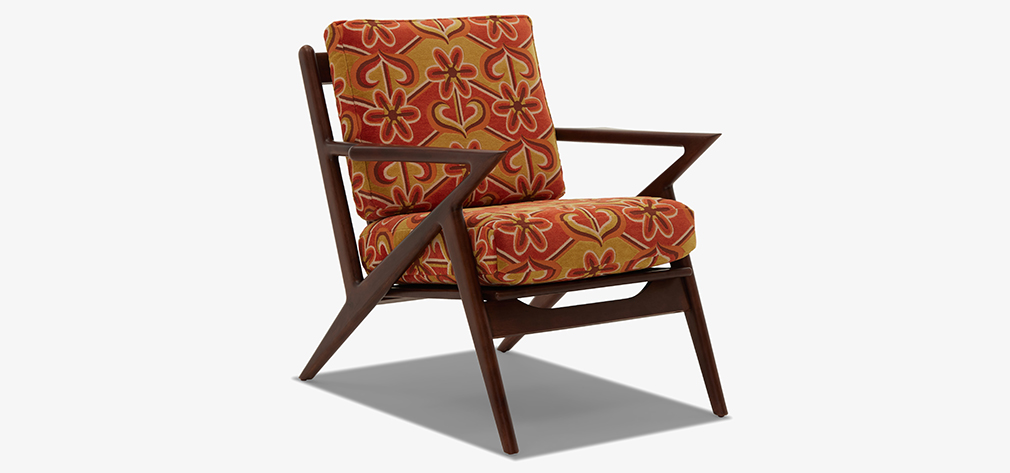 Describe the collection.
DD: The Joybird x Dani Dazey collaboration is on a mission to empower people to be daringly original, and to design their world more fearlessly. Honestly, it brings me joy to see people embracing their creativity, taking design risks, and expressing themselves with bold colors and patterns. The maximalist-inspired collection features two of my Dani Dazey signature prints ["Sunny Chevy" and "Deco Peacock"] in luxe fabrics on a range of favorite modern furniture frames. Sunny Chevy is a celebration of color and light, combining a 1970s inspired floral motif with a marigold and orange chevron all on a super soft woven chenille. The Joybird products featured in the Sunny Chevy print include the 'Daya' modular sofa, 'Daya' storage ottoman, the 'Soto' Chair, 'Soto' cushions and covers set, and decorative throw pillows. Deco Peacock is a true Art Deco print decked out in luxe velvet with an abstract modern twist. The products featured in the Deco Peacock print include the 'Dania' bed, 'Diane' modular chaise sectional, 'Carly' swivel chair, cushions and covers set, and decorative throw pillows.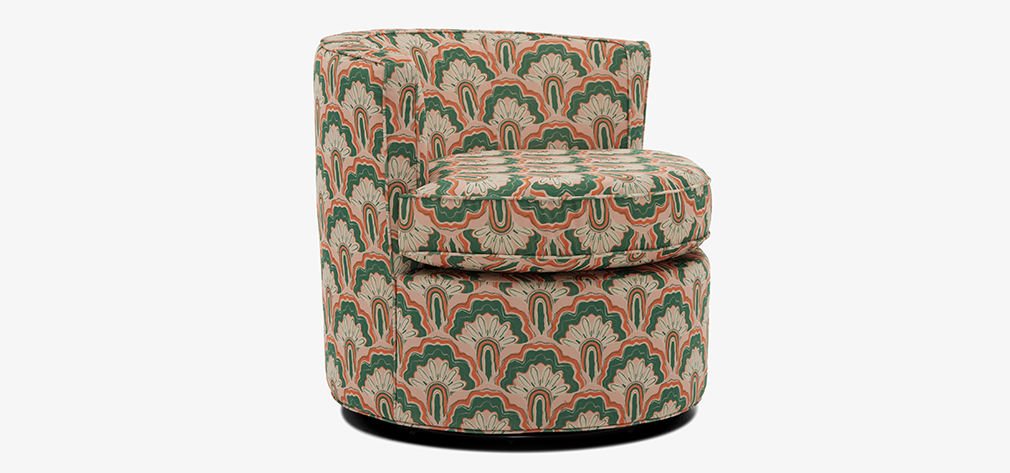 Collection favorites?
DD: I literally can't choose which print or piece I like most. They're so different, but still have my artistic touch and hand, which makes them feel like a collection. If I have to choose, I'm torn between the two couches: the Deco Peacock 'Diane' modular chaise sectional and the Sunny Chevy 'Daya' modular sofa. The texture and richness of the Sunny Chevy fabric is hard to deny and it feels truly like a 1970s vintage floral couch. But, the Deco Peacock colors are so cool, the print is truly unique, and the curvy silhouette of the couch calls to me. I love them both.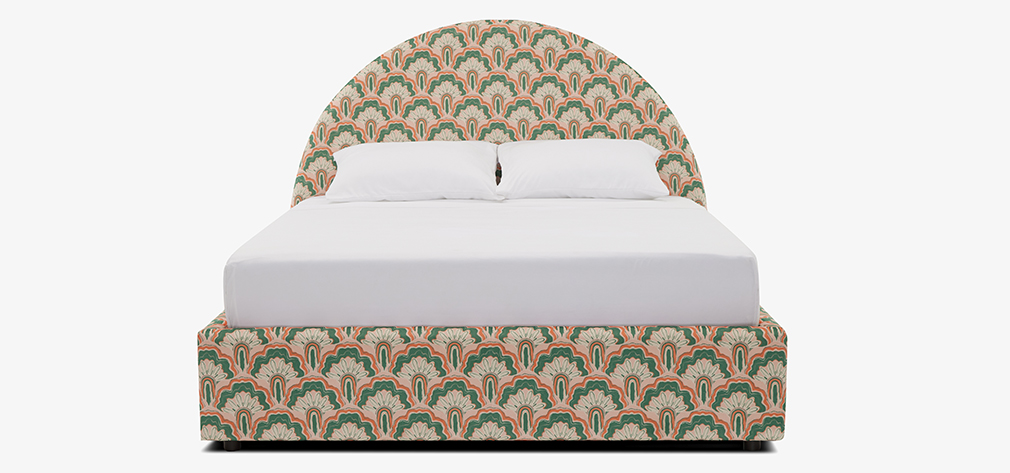 Your fabric selections for the line?
DD: I'm a huge velvet lover and use it in almost all my interiors, including a ton in the Trixie Motel. Velvet feels so fancy and elevated, but what people don't realize is it's actually really easy to clean and a very sturdy material. I knew velvet would be a good fit for the Art Deco design as it perfectly complements the era and style. Chenille is essentially a textured velvet, and has been one of my favorites to work with lately as it adds a fun dimension to an interior. When the Joybird team showed me the possibility of using a chenille and woven fabric I was ecstatic! Texture is everything in interiors right now; the more variations the better. It turned out beyond gorgeous and balances the bold playfulness of the print.