For The Hythe, a Luxury Collection Resort, Vail, designers Mark Wilson and Yoko Ishihara, Partners of Sonoma and Oakland–based firm Wilson Ishihara, drew upon cues from the setting and the history of the historic ski town in Colorado. "The project was inspired by the origin of Vail, those who built it in the 1960s, and the beautiful surrounding nature that drove people to the destination," says Ishihara. "The spaces reimagine the founder's pioneering spirit, optimism, camaraderie, and their mutual love of skiing. It was important for us to create a story that connects to the local community and history."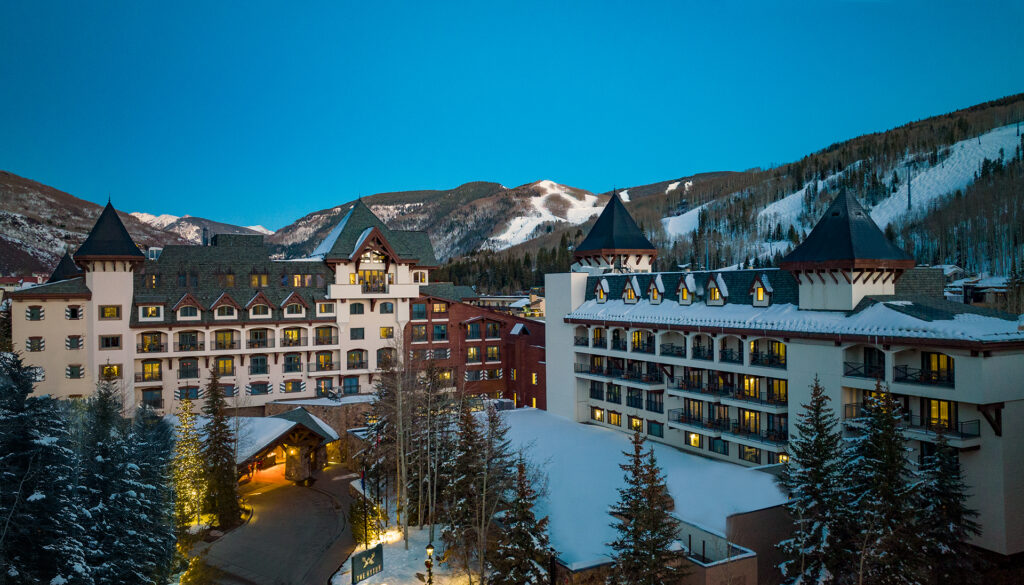 SHLTR sat down with the design team to debrief on everything from the design to a few key art pieces. "We love how the story of Vail is conveyed through design details, art, finishes, and furniture throughout the spaces," adds Ishihara. "While they work in unison, each space and element have their own unique identity and their own part of the story to tell. It's been very rewarding to see people's reaction to them."
Tell us the backstory of the design.
YI: We were brought in by the hotel ownership, DiamondRock Hospitality Company, (who we have a rewarding, long-term working relationship with.) The design revamped the arrival and lobby experience, and added four brand-new culinary concepts.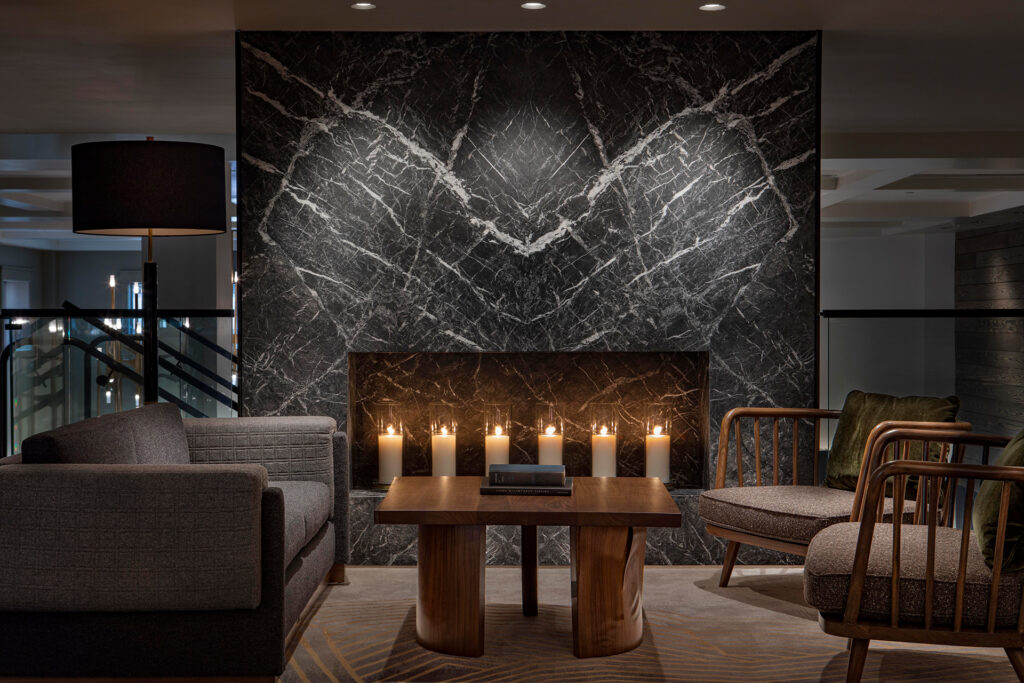 Describe some of the highlights.
YI: Working with the contrasting high and low existing ceiling zones, we were able to transform the approach and relationship of the spaces entirely. Upon entry, the guests are welcomed by the dramatic central hearth lobby anchored by a whiskey bar. Contrasting to that, the registration and concierge were relocated to low ceiling spaces for more intimate personalized guest experiences. It was our goal to make the overall guest experience intuitive and exciting. With the powerful presence of the staircase in the lobby and transforming the flow of the space, we were able to provide visual clarity and sense of connections.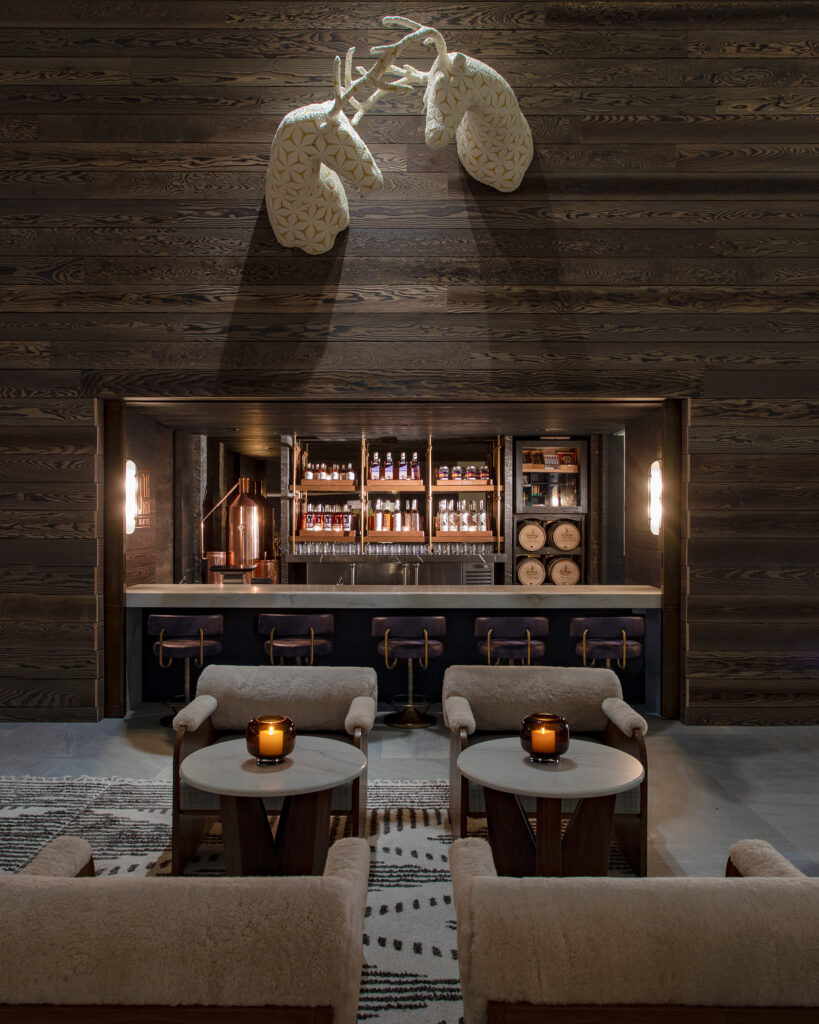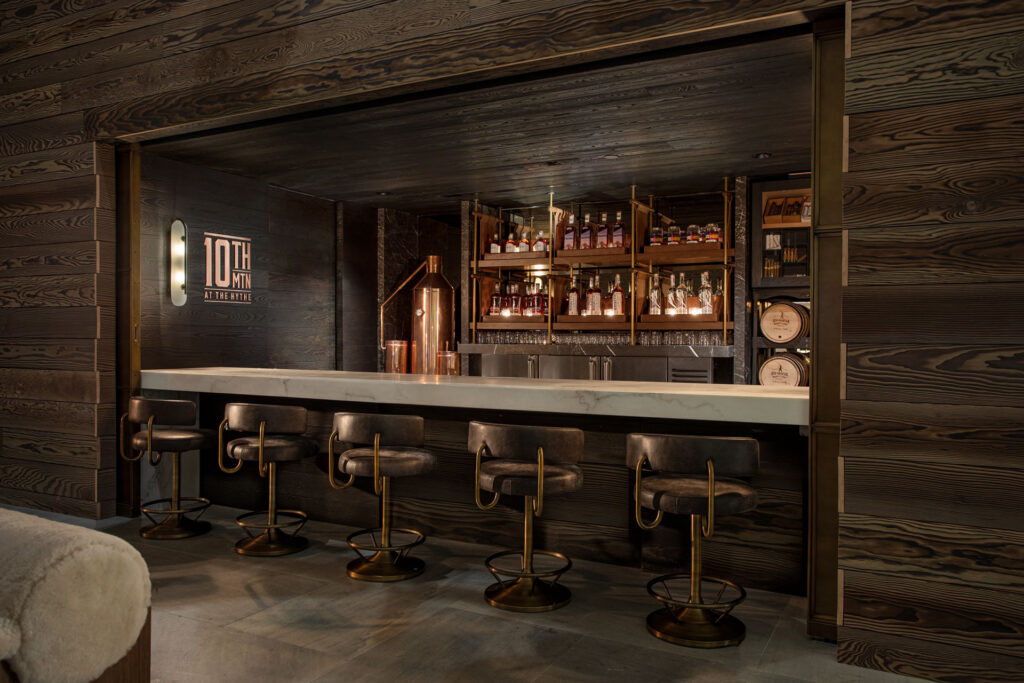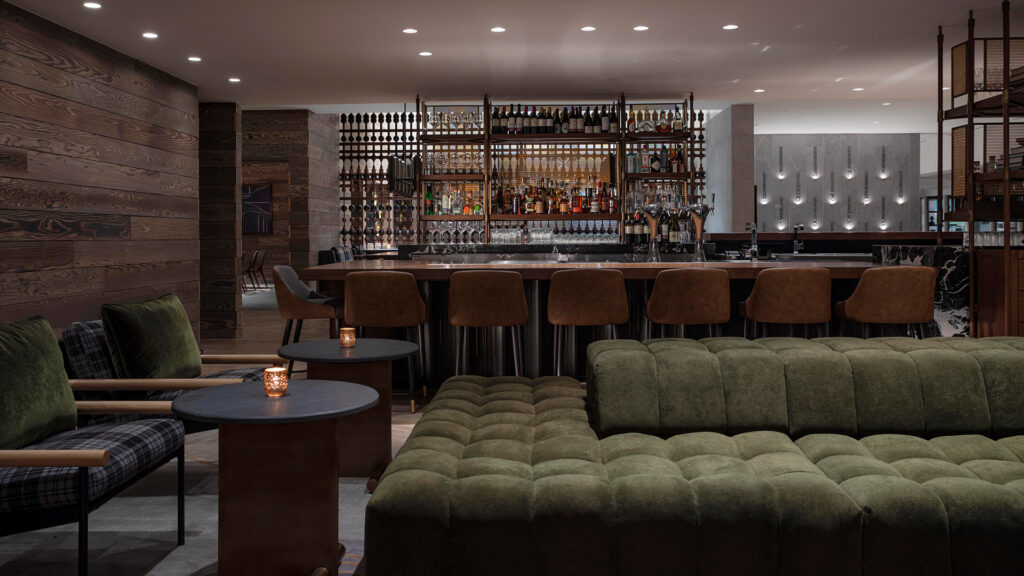 What are some of the specific elements?
YI: The Duel elk sculpture by the whiskey bar symbolizes the partnership of the founders who created Vail. The carved wood feature wall behind registration is inspired by the local shepherding tradition of Arborglyphs by James Hall, and the hanging wool tapestry art by registration is made by local Rocky Mountain artist Sarah Neubert. Almost all furniture and decorative light fixtures was custom-designed specifically for the project. Colorado Calacatta marble quarried from the Rocky Mountains was used in key areas as a feature element, as well as utilization of undyed natural wool fibers in custom-designed area rugs throughout the spaces, and in custom hand-knitted pendant fixtures in the restaurant. There are many subtle details woven into the design that reference the Vail founders' passion for skiing. Look closely and you can see wooden skis and bindings in the concierge lounge shelving.