The team behind beloved Michelin-starred restaurant, Esmé in Chicago, has perfected the art of dining and design. Their latest tasting menu is replete with a playlist curated by co-owner Katrina Bravo, custom tabletop sculptures and artwork by local artist Courtney Shoudis, and ceramic serveware by Dara Schuman and Alexandra Vaga. "The attention that Chef Jenner and the Esmé staff bring to every second of the dining experience is unbelievable," explains Shoudis, who teamed up with Esmé to exhibit nine paintings along with 13 sculptures she created specifically for the restaurant to highlight Chef Jenner Tomaska's canapes. "Not just the serveware, but each course itself, is a piece of art; ones that perfectly complement the environment as a whole, not just my works on the wall. Where sitting for a meal feels like you've become an unwitting participant in some unknown culinary ritual, where every second of choreographed service bleeds with purpose, all to have one's retinue of senses indulged with art all at once. It's truly an amazing experience and I'm so honored to have my work be part of this magic."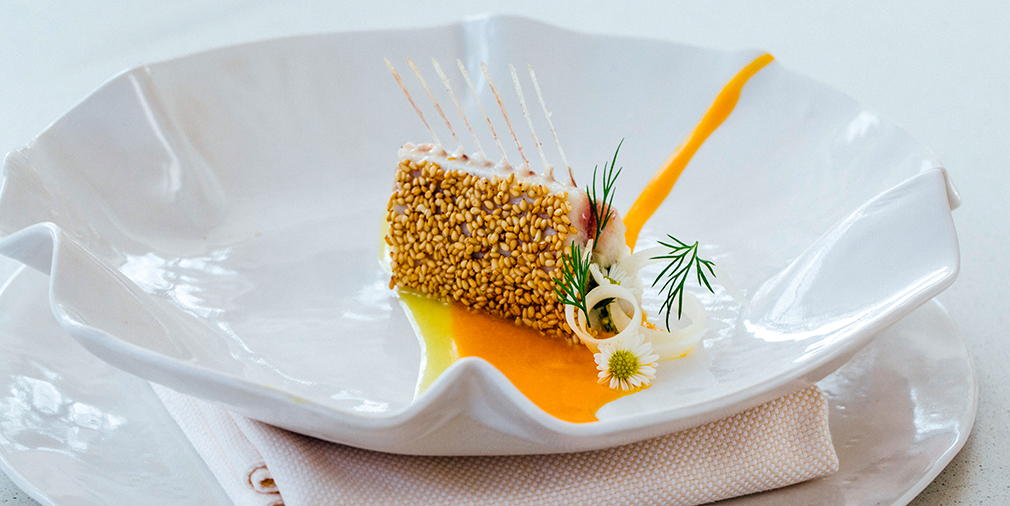 SHLTR caught up with Shoudis for an inside look behind her art celebrating the female form, and the dining experience at Esmé in Chicago.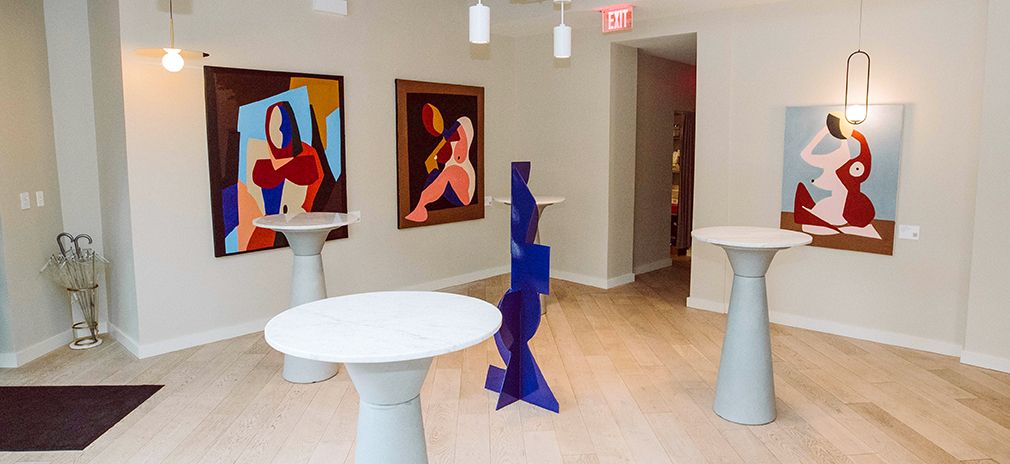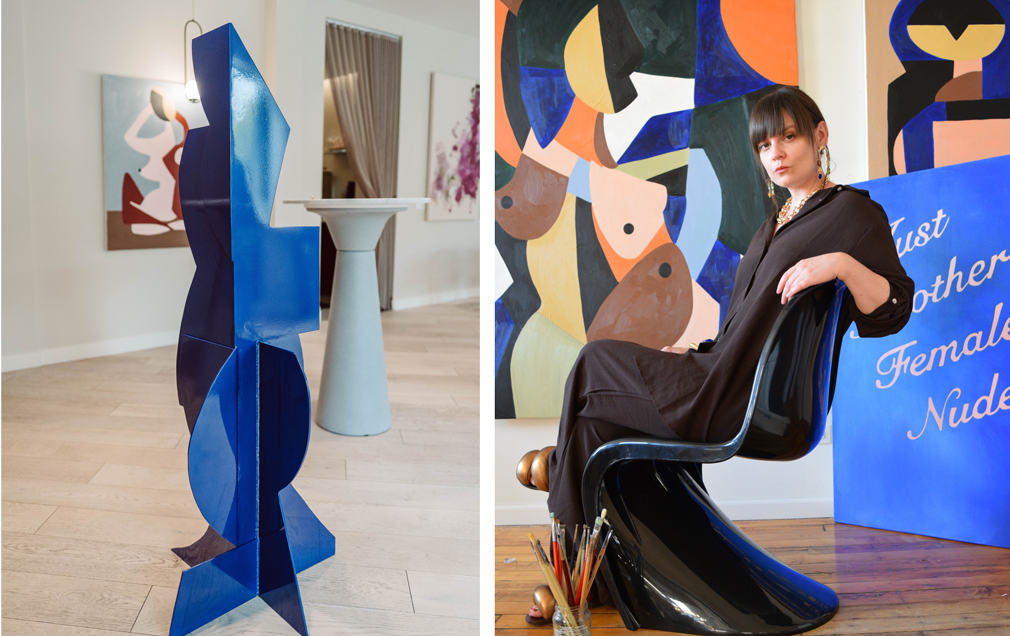 How did the collaboration with Esmé come about, and what was the vision?
CS: I was introduced to Katrina and Jenner through a mutual friend: Aron Fischer from Facture Goods. Many of the beautiful serving pieces used in service are his creations. During our first meeting, Katrina and Jenner really connected with my works dealing with the female experience. This is when the idea for the tabletop sculptures was created. A few weeks later, they returned to me with the idea of having two different bodies of my work brought into the restaurant at the same time. Normally, these works are shown separately and it took me by surprise to have them being shown together. After seeing the end result, I am so glad they did decide to combine the two. Walking into the restaurant, you are immediately met with pieces from my "Just Another Female Nude" series. Here, where you will enjoy your hors d'oeuvres, three female nude paintings surround you, gazing down at you while you are poured champagne and given your first few bites. In the middle of this experience, my sculpture sits as company. Once brought into the dining room and seated, my abstract paintings from my "Passing of Time" series come into view. A body of work that stands in stark contrast to the abstractions found earlier, both thematically and visually. Inspired by the difficulties of my partner's immigration, each painting represents a season that has passed since he left to return home for this process. There are six of the 12 paintings from this series displayed in the dining room.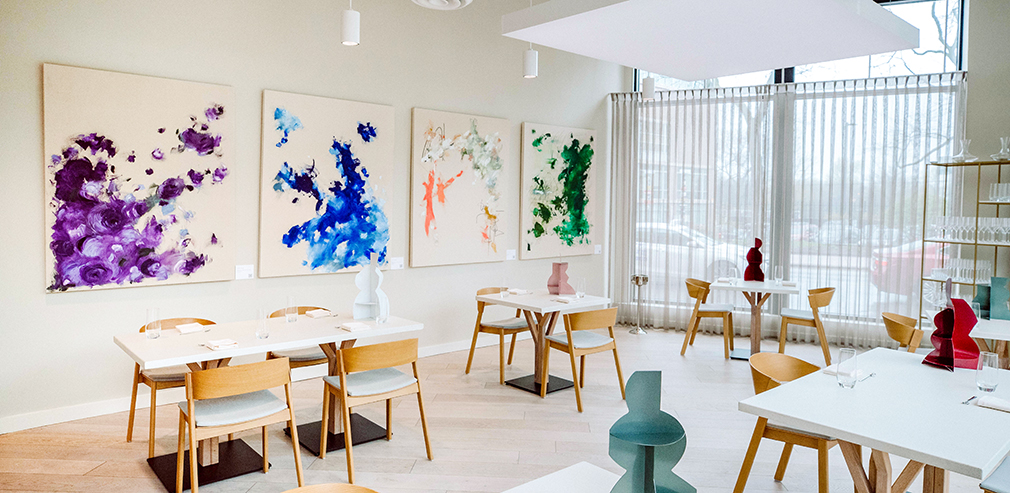 Tell us about your background. 
CS: I consider myself to be a self-taught artist. For years, I worked as a visual director in the fashion industry and during that time I found myself constantly drifting through various roles within the art and design world. A few years ago, I began to create the work I wanted to see in my home and I just got hooked on the experience. Since then, I haven't been able to stop and now I find myself expanding beyond more traditional art roles into heavier fabrication, as with my steel sculptures. It just keeps going, and, honestly, I'm just excited to see how it keeps expanding with time.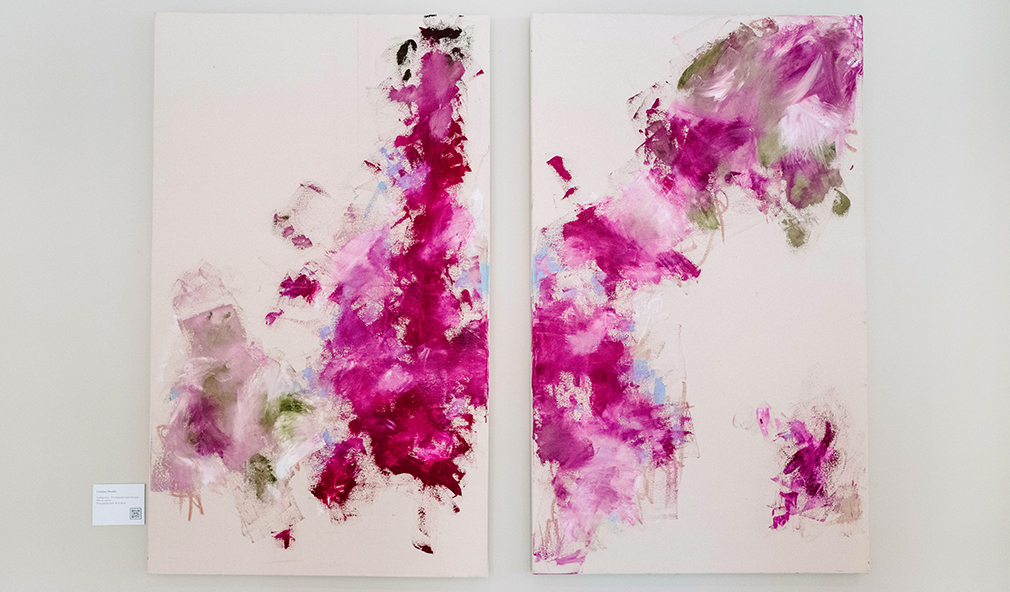 Did you always consider becoming an artist?
CS: Yes and no. Although I have always worked in a creative field, I never believed that it would lead to painting and sculpture. Now that I'm here, I cannot imagine doing anything else. Personally, I always hoped I would be a writer.  Even now, I still write, but painting and sculpture have taken over my life in a way that writing just never did. However, my love for writing will occasionally seep over into my artistic work; with it showing up as subtle literary references in the titles or forming the basis of inspirations for my works.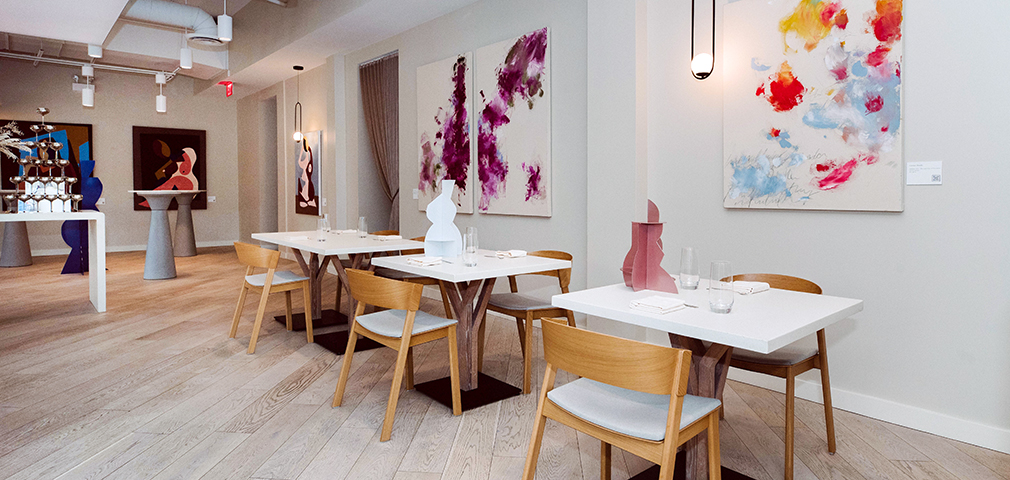 How would you describe your work?
CS: Most of my works on the female form would be described as minimal figurative abstractions. On a majority of the paintings, I use a mix of oil paint, charcoal, and oil pastels. To create depth and a more resilient surface, on the sculptures I use a two-stage urethane-based, automotive paint. I grew up with a family of mechanics. Growing up in a body shop, I learned a lot of the techniques that go into fixing cars. I took those same materials and production techniques and used them to create my sculptures. I also love the dynamic of using what many consider to be a primarily masculine skillset to create work that is deconstructing the female form.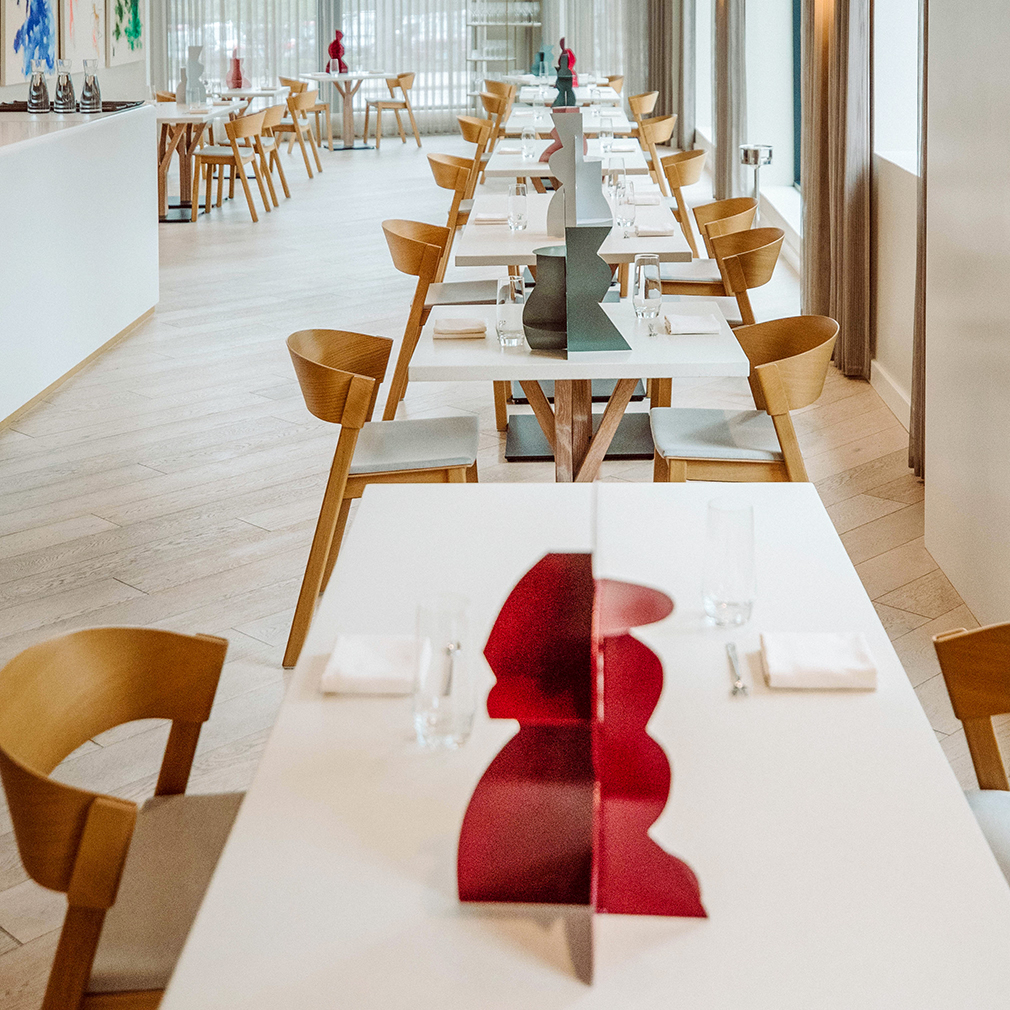 What do you love most about the exhibit?
CS: With this collaboration, I love that I was given the opportunity to make pieces for an environment that I would have never thought about. The idea to take the sculpture and bring it down in scale and be part of the meal was such a fun and novel project to partake in. Each sculpture is a representation of the female form and to be able to eat off it feels sensual, intimate, and, in a certain sense, appropriate. I want the work to force people to think about how we view and interact with the idea of femininity. A moment where they pick food off a female form hopefully creates just that.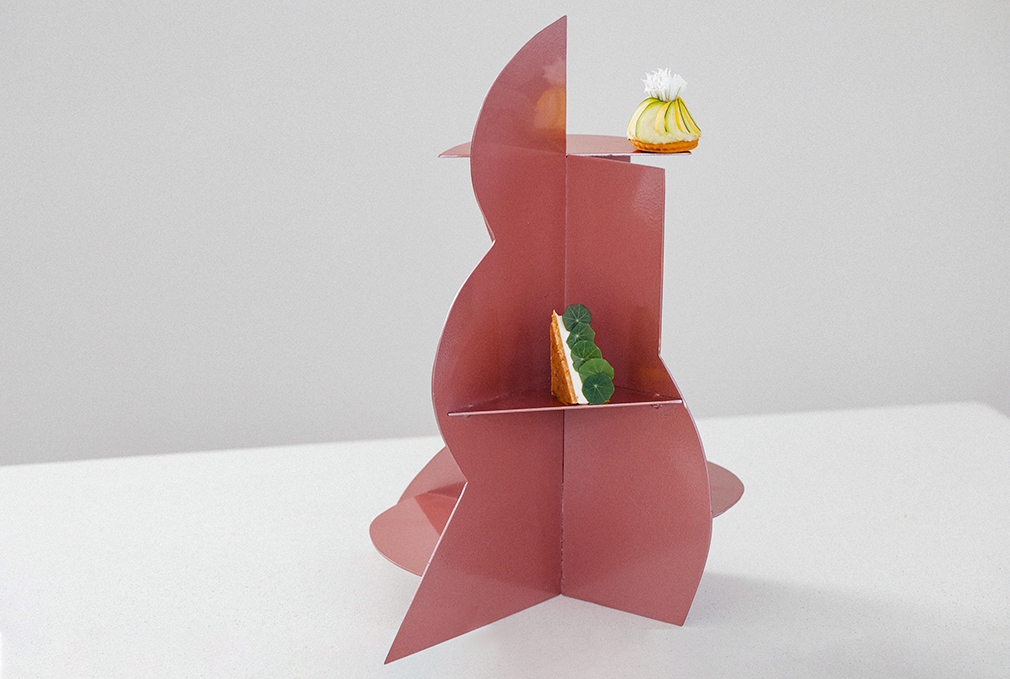 Tasting menu tickets available for $200 per person on Resy through July 31. For an à la carte option, head to Bar Esmé (available Wednesday through Sunday nights; reservations and walk-ins welcome).