Whether you've always fantasized about moving into a real-life bubblegum pink Barbie Dream House or just love all things pink, here are four destinations—from sophisticated to playful—to let you join in on the Barbie craze.
Seven years ago, Pietro Quaglia and co-owner Mina Soliman opened this beloved pink bar and eatery in New York's Nolita neighborhood with fare inspired by Quaglia's Italian mother and grandmother. Taking cues from the Italian Riviera, the fashion-forward restaurant serves up breakfast all day including the famous Pink as F*** pancakes with raspberries and maple syrup. For all-day options, the menu offers fresh burrata with grilled peaches and tomatoes; rigatoni alla carbonara with bacon, egg, black pepper; and mushroom risotto with truffle oil and parmesan.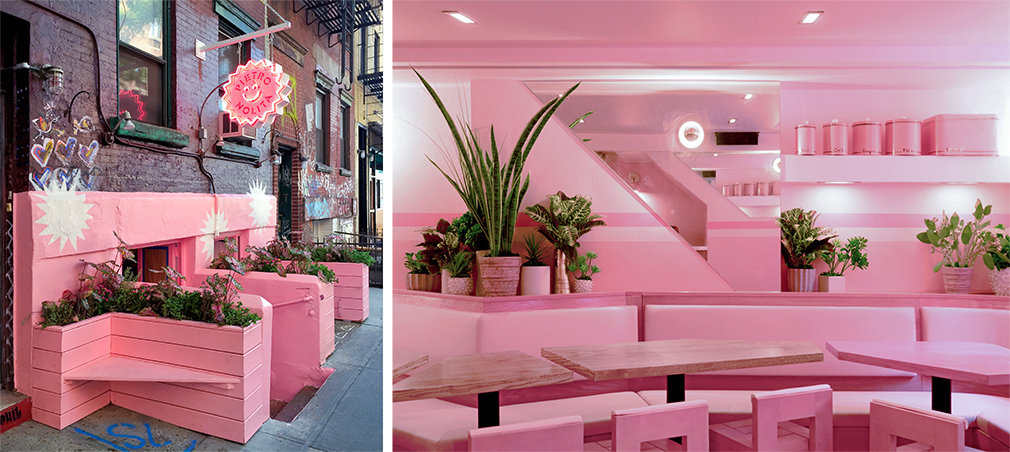 Originally opened in 1927, the iconic beachfront resort—dubbed the "Pink Palace of the Pacific"—has lured Hollywood luminaries and notable guests that include Frank Sinatra, Shirley Temple, Franklin Roosevelt, Bing Crosby, and Marilyn Monroe. Set on 15 acres on Honolulu's Waikiki Beach, the 400-room Spanish Moorish-style property underwent a massive renovation with the addition of the 17-story Mailani Tower in 2015. For fun in the sun, choose from activities like stand-up paddleboarding, bike rentals and snorkeling excursions to Hanauma Bay.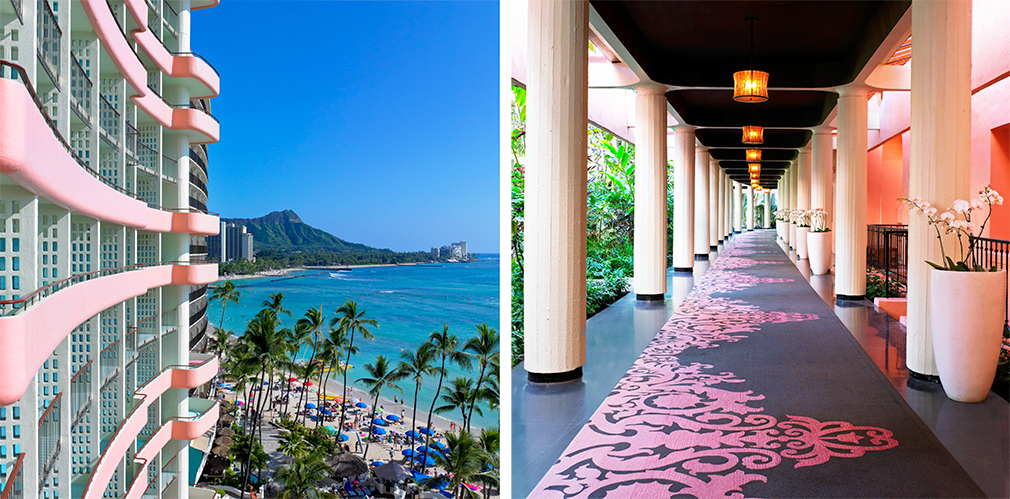 Once a vacant, dated motel in Palm Springs, this pink oasis features seven rooms in themes that range from the Pink Flamingo suite with a pink brick wall and flamingo-shaped brass table lamps to the Queen of Hearts suite with a heart-shaped headboard and hot pink chairs. Lounge in the lobby decked in wall-to-wall pink, or relax poolside with pink-and-white striped beach towels, pool tile, and umbrellas. It's the closest thing to a modern-day Barbie vacation as it gets.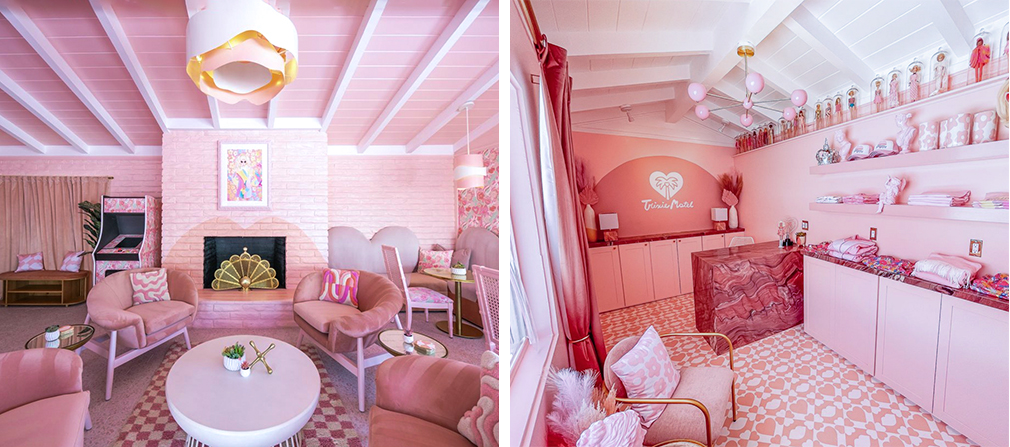 If you've ever imagined jumping inside the board game Candyland or feeling what it might like at the bottom of an ice cream sundae, here's your chance. Inside the museum-slash-playground, explore a whimsical world with activities such as make-your-own edible slime or plunge into an all-pink sprinkle pool filled with nearly a hundred million "sprinkles" made of antimicrobial biodegradable material. At the onsite café, cool off with the Lil' Fashionista, a nonalcoholic pink lemonade garnished with a sugar rim, or indulge in a Sprinkle Pool sundae with ice cream that's topped with chocolate and caramel sauces, strawberry, whipped cream, and red-and-pink sprinkles. When finished, take home the souvenir bowl.