Hey all, it's Roberto. This past week I took Carleigh & Odie on a trip up north to the great state of Montana to visit the Whitefish area. Whitefish and the surrounding Glacier National Park has been a region we've been admiring from afar because of the beautiful Instagram photos our friends Justin & Travis would often post of their hometown. So we decided to visit them.
Upon arrival, we had to get a picture of Odie standing in front of the treehouse, and to our delight, there was fresh snow on the ground, and the Christmas lights still adorning this magical double-decker treehouse. Nestled on a private, wooded 7 acres, this artistic architectural marvel is truly one of a kind.
As blue hour slowly crept in, the warm light and details of the exterior came into focus, and a short sprinkling of fresh snow made for a magical scene.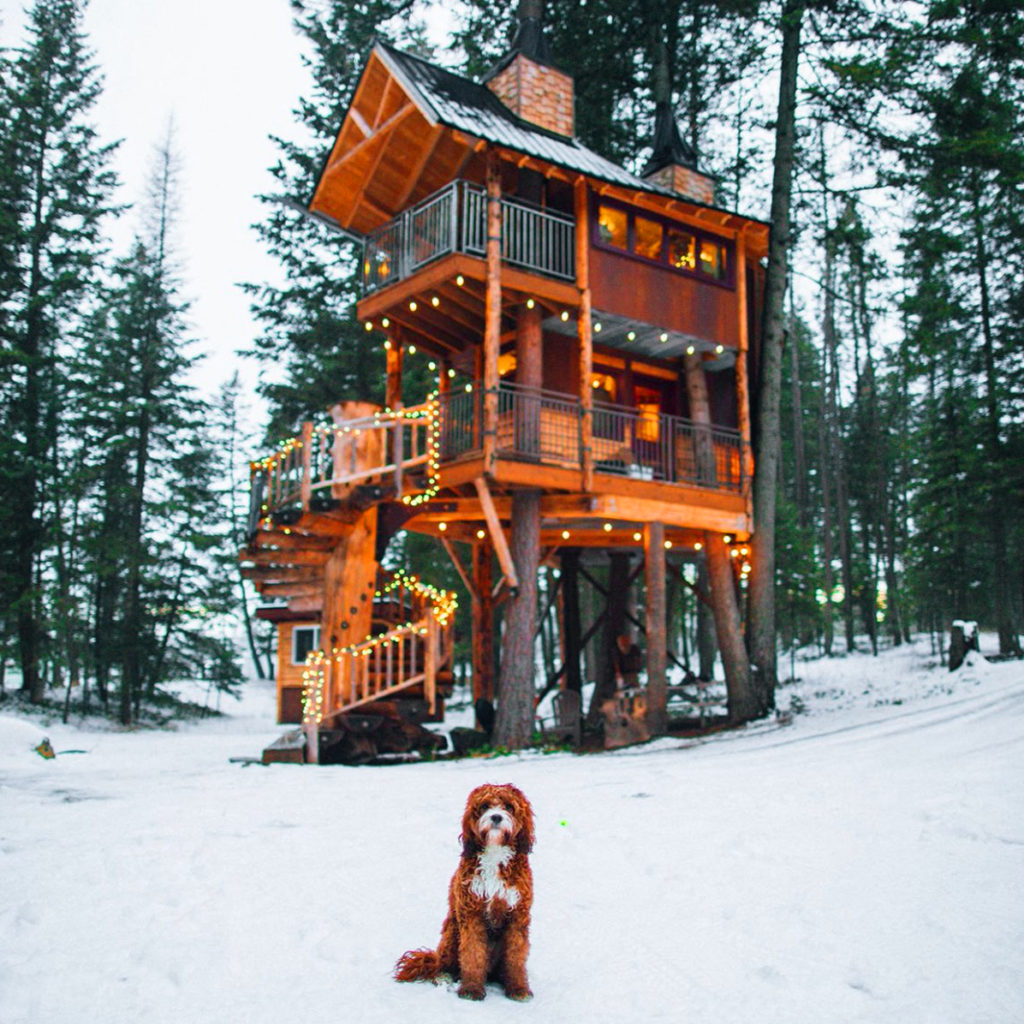 The interior of the treehouse is as cozy as it looks. Unique decor, art pieces, and fairy lights make for an attractive setting, and the live tree trunks that provide the house with structural support steal the show.
The house has all the luxury amenities you need—WiFi, a big-screen TV, a heating/cooling system, a dishwasher and a coffee maker. While it's the perfect place to unwind and unplug, it is nice to have these amenities in case there is some work you need to get done or a Netflix show you want to cozy up to.
The house has one bedroom, and 1.5 bathrooms. While the home can comfortably host a family of 4-5, we think it's ideal for a couple looking for a romantic retreat, an artist looking for a creative retreat, or a small group of close friends.
Odie was completely in his element in the treehouse. He was excitedly running up and down the hand-built staircase and tremendously enjoyed having 7-acres of land to run around on.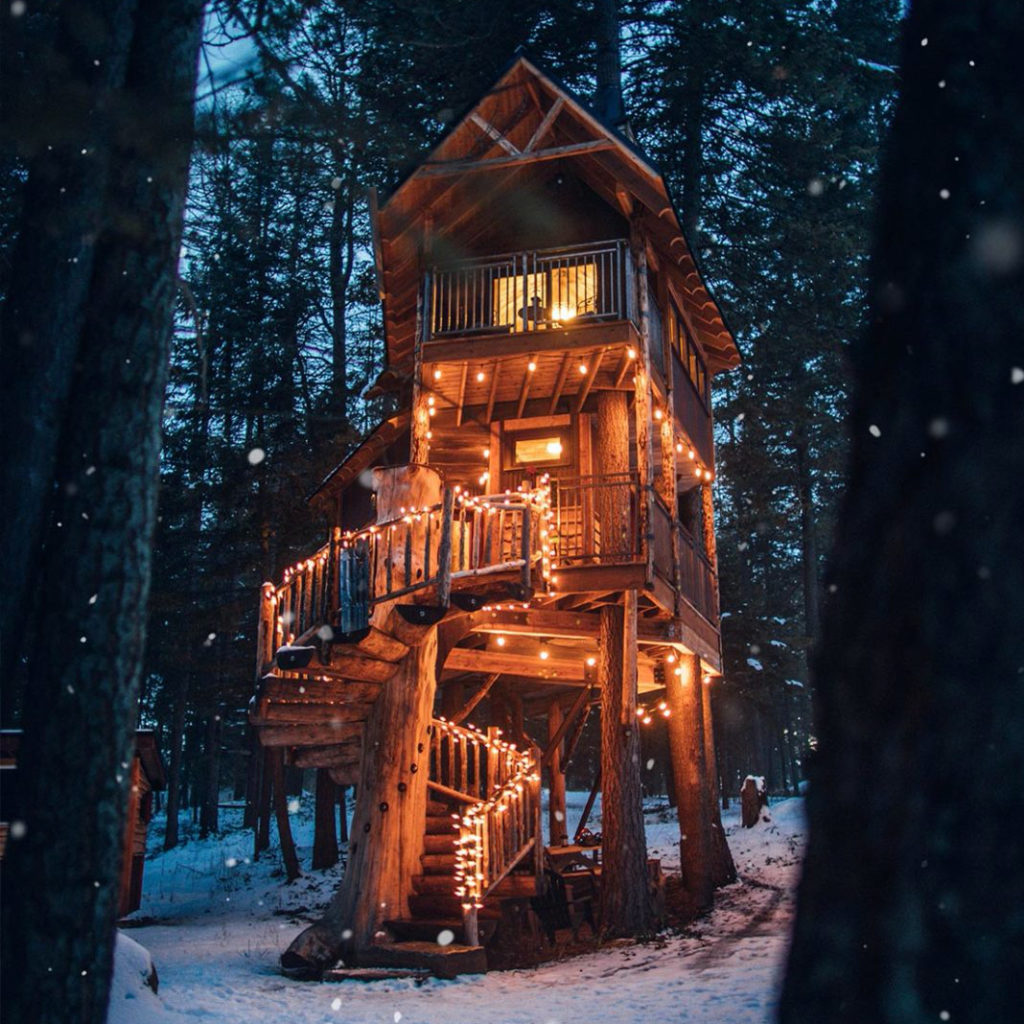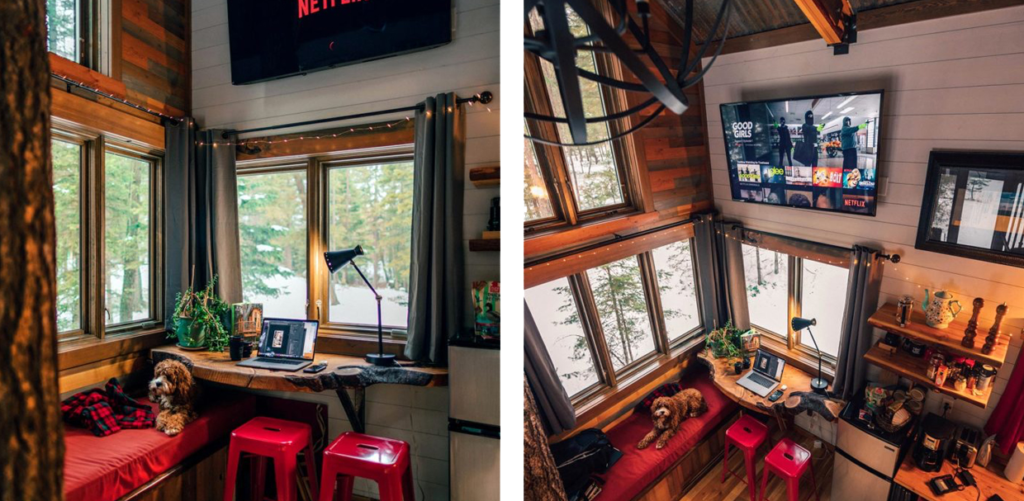 For more images of the treehouse, and your daily dose of unique places & spaces, follow SHLTR on Instagram.
The Montana Treehouse Retreat is available to book on both Airbnb and VRBO. We consider it a must-stay if you're planning on visiting Glacier National Park and the surrounding area.