Four years ago, interior designer Anna Franklin, founder of Stone House Collective in Milwaukee, Wisconsin, and Boulder, Colorado, embarked on a major life change when she decided to transition from her longtime job in fundraising. "I had just had my daughter, Charlotte, [my first child) and realized I didn't want to be confined to someone else's schedule," she explains. "Instead, I wanted to use my creativity and work in an environment that was fulfilling. I decided to leave my 9-5, secure-paying career in fundraising, something I had worked nearly a decade to build."
A year later, after a simple word was uttered by a friend, her new design business was born. "A friend mentioned to me the word 'staging,' which was something I had never thought about, but intrigued me," she remembers. "I became obsessed, and within a few short weeks we had a name, a rough business plan, a storage unit, and my first staging opportunity [a free stage, of course.]"
After the initial staging project turned into more, she knew she not only enjoyed her new design did, but she was generating a following. "Eventually we started getting requests for interior design projects as well, and eventually, one thing led to another," she says. "Today, we are headquartered in Milwaukee, and have expanded into design offices in Boulder, with design projects all over the U.S."
Franklin talks to SHLTR about her company, some of her recent projects, and offers insight on easy tips for updating a space. 
What design services do you offer?
"Stone House Collective is a full-service design studio, working with new construction, renovations, and existing homes. We manage your entire project from initial concept and installation to magazine-worthy finishing touches. We work with architects and contractors to complete beautiful projects, while making the process fun and easy for our clients. We also provide space planning, finish and fixture selections, and our decorative services to help you from start to finish, ensuring you achieve your design goals. We also offer a furniture-ordering service. If you are struggling with deciding what furniture to put in your space, simply want a high-quality, one-of-a-kind look, or are too busy to spend hours online looking for furniture, we can do the initial work for you. We set up an initial consultation to go over your needs and style, then from there we source the items for you. After the selections have been finalized, you can purchase furniture directly through us."
Tell us about a few recent projects and highlights.
Skyline High in Chicago
"We were able to incorporate aspects of the surrounding cityscape and elements of Lake Michigan into our design, ultimately creating a traditional style with a modern twist. This project really allowed us to play, and take inspiration from the surroundings."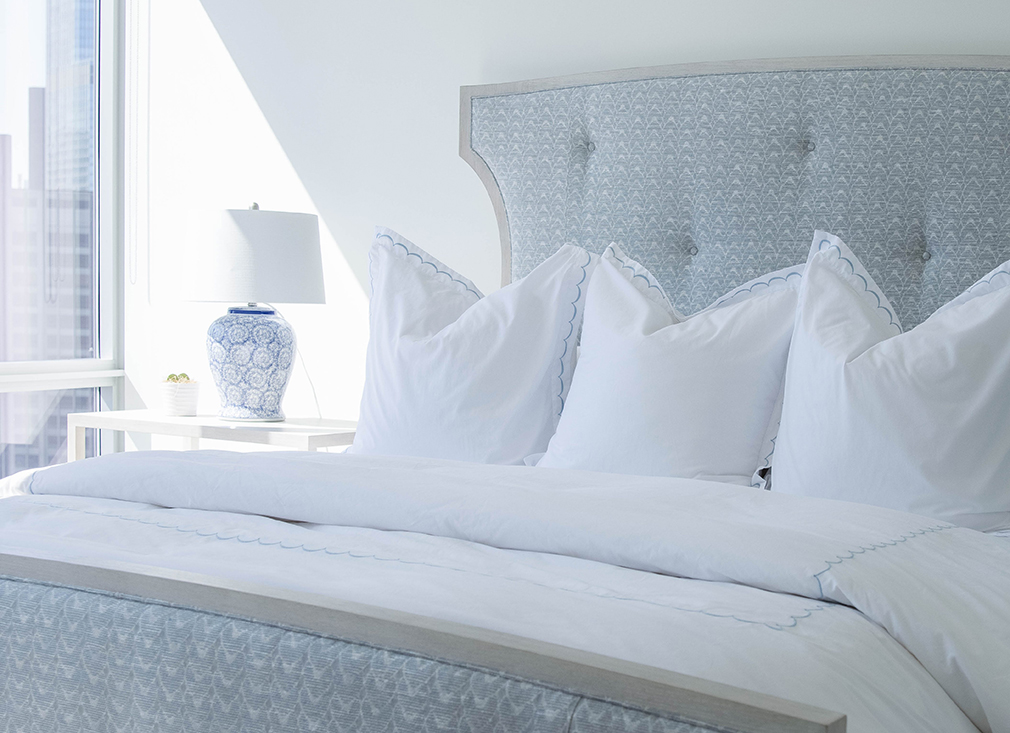 "Since you can see Lake Michigan from this apartment, we used the lake as inspiration for incorporating blues and abstract patterns, like the one you see in the headboard, to create movement and intrigue," says Franklin. The headboard features custom upholstery by Bernhardt.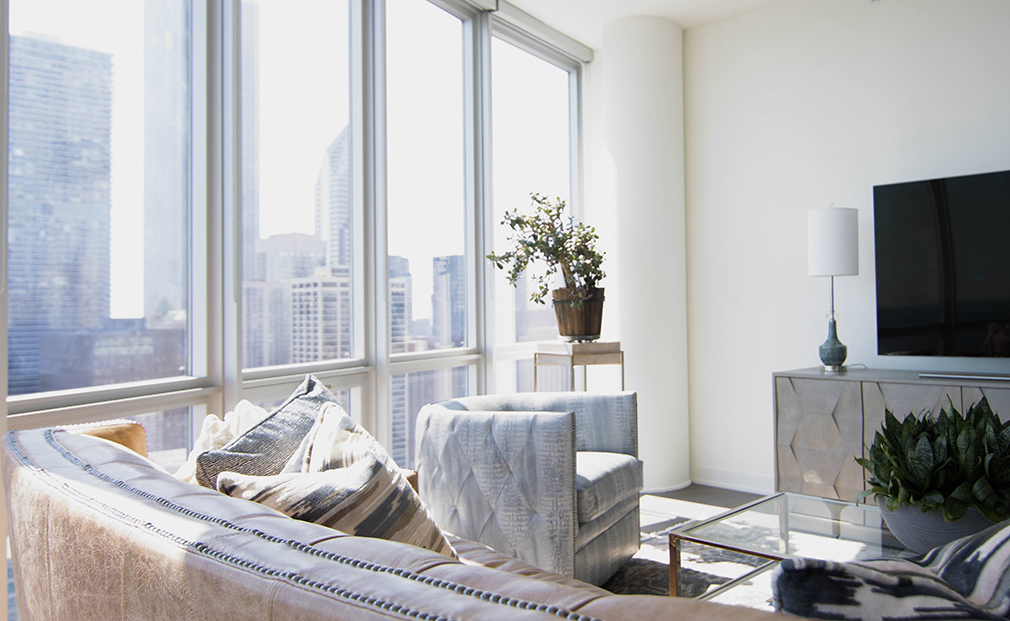 "When designing the living room, we wanted to create a playful yet sophisticated look, by utilizing different textures and fabric choices," explains Franklin. "The blue snakeskin chair is a classic design, but incorporates a tasteful but fun flair. We added in metal accents throughout this design as well to bring in the city view, and add a little edge without being too much." The accent chair is a Bernhardt piece with custom leather.
Third Coast
"This was a 1,200-square-foot apartment, owned by a California family of four with two teenage sons that wanted a stylish and modern retreat when visiting the grandparents a few times a year," says Franklin. "They wanted stylish and functional furniture that was also comfortable and could ideally be used as an Airbnb with a minimalistic and clean style. We updated a navy drum light fixture in the dining room, added a round white dining room table and white Parsons-style chairs to make the dining space feel light and airy. In the living area, we wanted to provide comfort as well as additional seating, while also adding texture and warmth."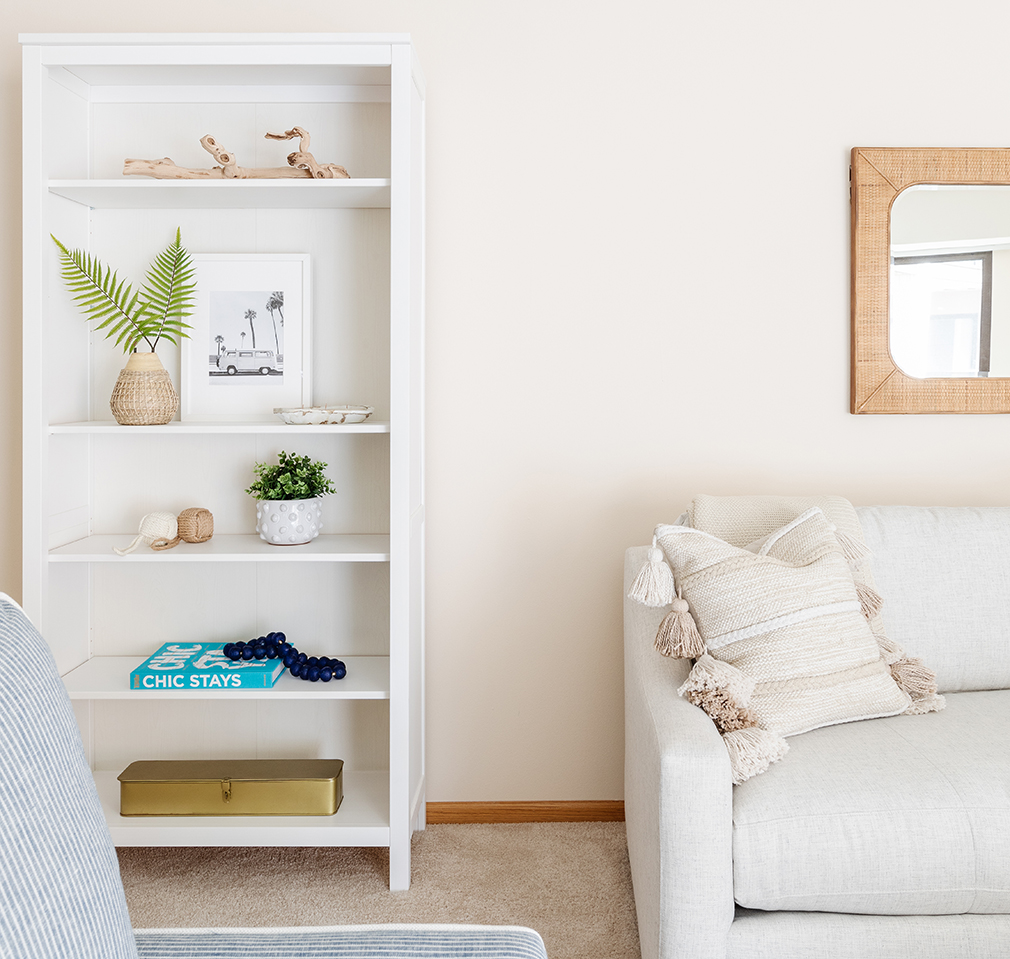 "A white bookshelf was added next to the couch and styled with modern accessories to add color and interest to the space," says Franklin. "A beautiful oversized rattan mirror above the couch grounds the room and adds warmth and brightness to the space."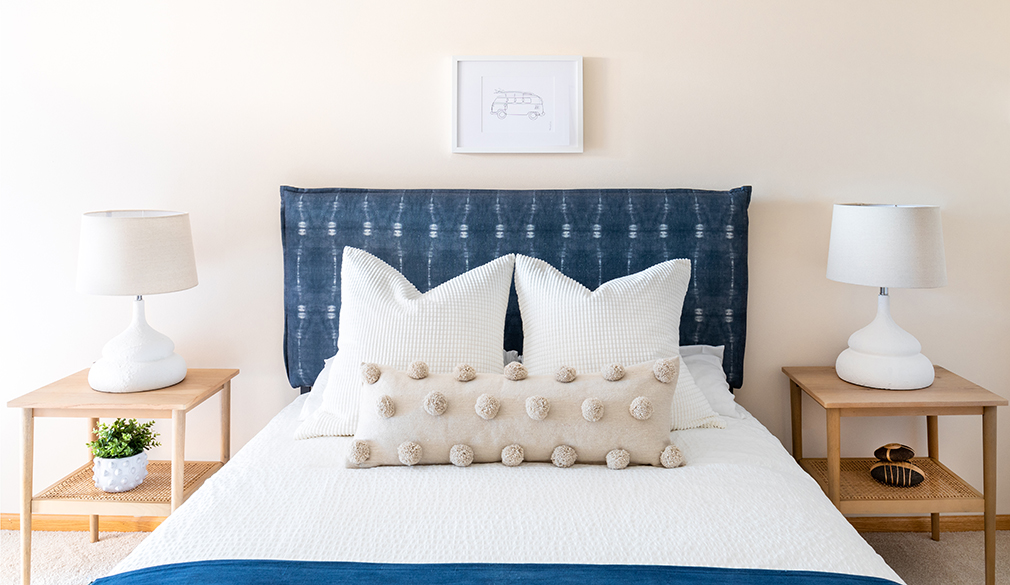 In the primary bedroom, Franklin added a custom headboard with a patterned indigo fabric to act as a focal point topped with crisp white linens. She selected light cane wood nightstands from Target and paired them with symmetrical white table lamps with linen shades.
Franklin's Design Cheat Sheet
Create Balance and Dimension
Emphasizing the height or width of a room can make the space feel larger. If you have a room with higher ceilings, focus on highlighting the vertical space by using items that complement the height, such as a tall bookshelf. If you have lower ceilings, take the opposite approach.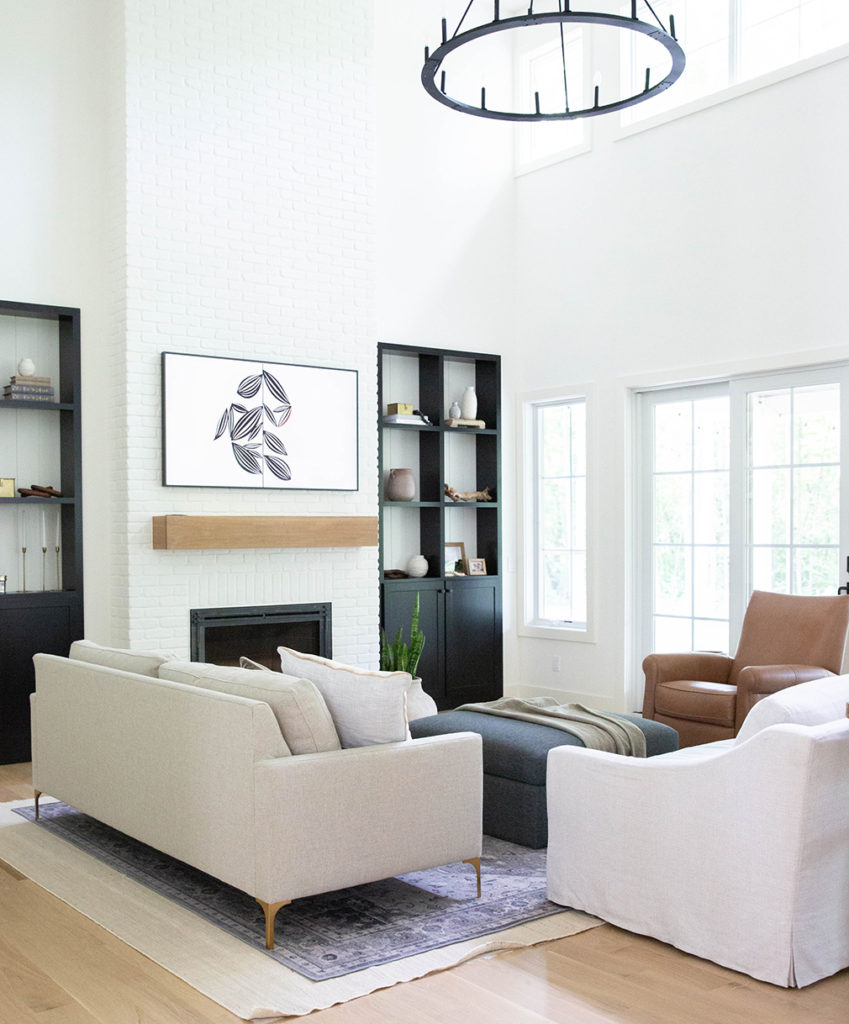 Don't Forget Lighting
We recommend adding light at multiple levels by including ceiling lighting, wall lighting, and table lamps. By doing so, you will be able to bring light into multiple areas, which will completely change the look and feel of your space.
Use Wallpaper
Add immediate interest to walls with wallpaper. Whether you install an accent wall or outfit the entire room in wallpaper, it will showcase your personality and add a pop of color to the room.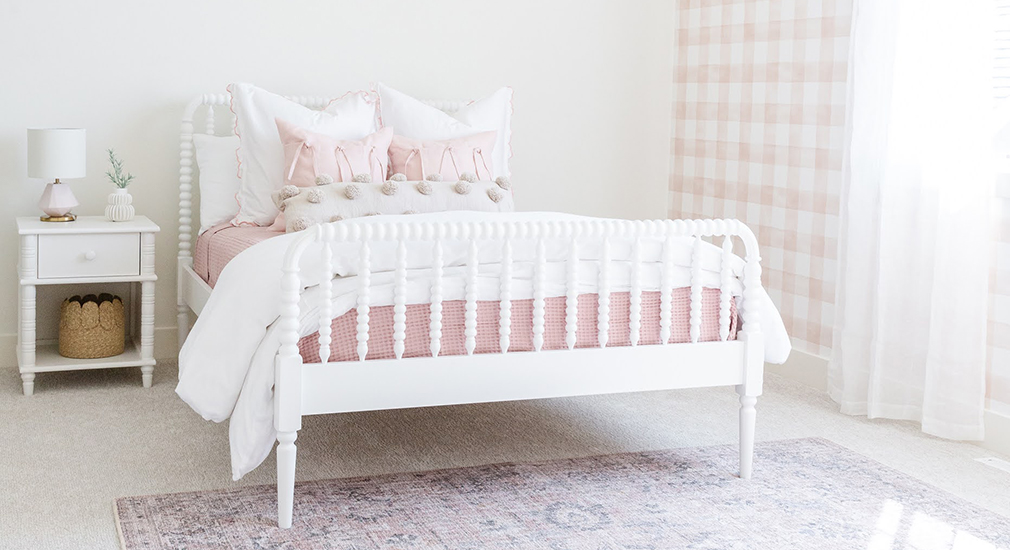 Think Tall
For window coverings, use long drapes that reach all the way to the floor instead of stopping at the bottom of the window or above the floor. This tricks the eye and gives the illusion that the space is taller.
Layer Textures
This will create depth, and ensure your space does not look one dimensional. An easy way to do this is by playing with different textiles such as cotton, linen, or velvet that contrast architectural elements like wood. This will create interesting elements that draw the eye.