Textile designer Amy Weisberg, founder of like.leigh Textiles worked for more than a decade in the fashion industry before segueing into the interior design arena. Her latest hand-screen-printed fabric line entitled The New Moon Collection depicting organic patterns from crescent shapes to wave-like squiggly lines, came about six months after the birth of her daughter. "For me, it was my first step back into life outside of my new identity as a mother," explains Weisberg, based in Long Beach, California. "This collection will forever be that moment in time for me. Each print is about life's transitions and the ebb and flow of new beginnings."
Featuring four prints in three different colorways (for a total of 12 pattern options), the collection is a compilation of Weisberg's recent musings. "This collection came together really organically for me," explains Weisberg. "Each print was hand-painted, and all of the concepts are rooted in the idea of new beginnings. From colors and textures to images, I love drawing from physical inspiration, so during the design process I am constantly surrounded by walls covered in mood boards and items that spark creativity. This collection was no different, only I had to hang things a bit higher so that my daughter didn't turn my inspo into her newest teether."
Weisberg clues us in on how she got into fabric design, more details on her newest collection, and what's ahead for this year.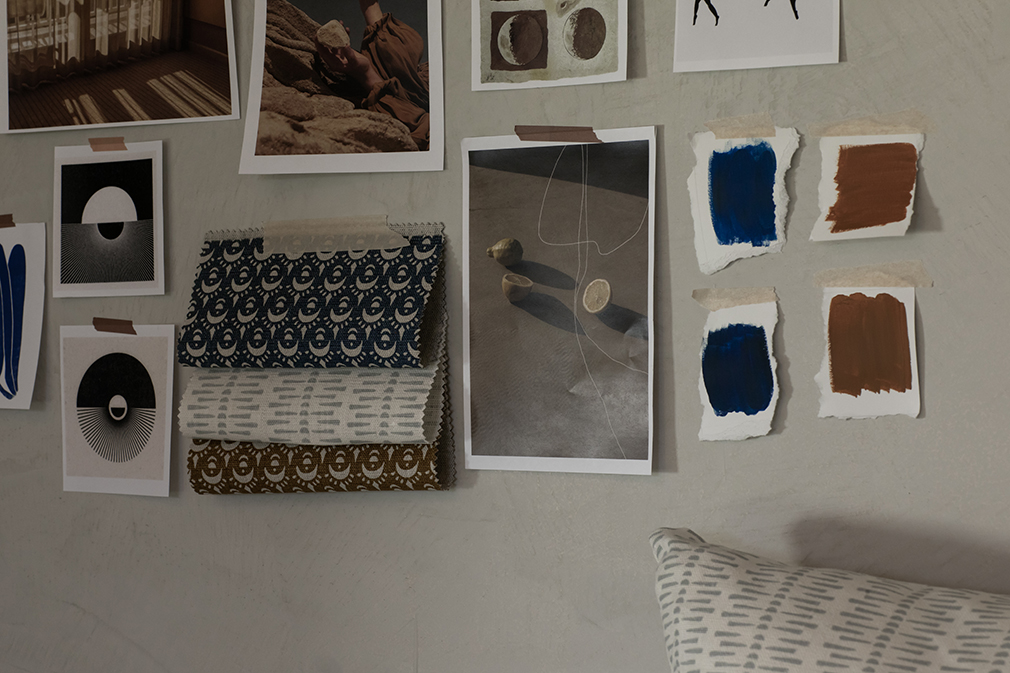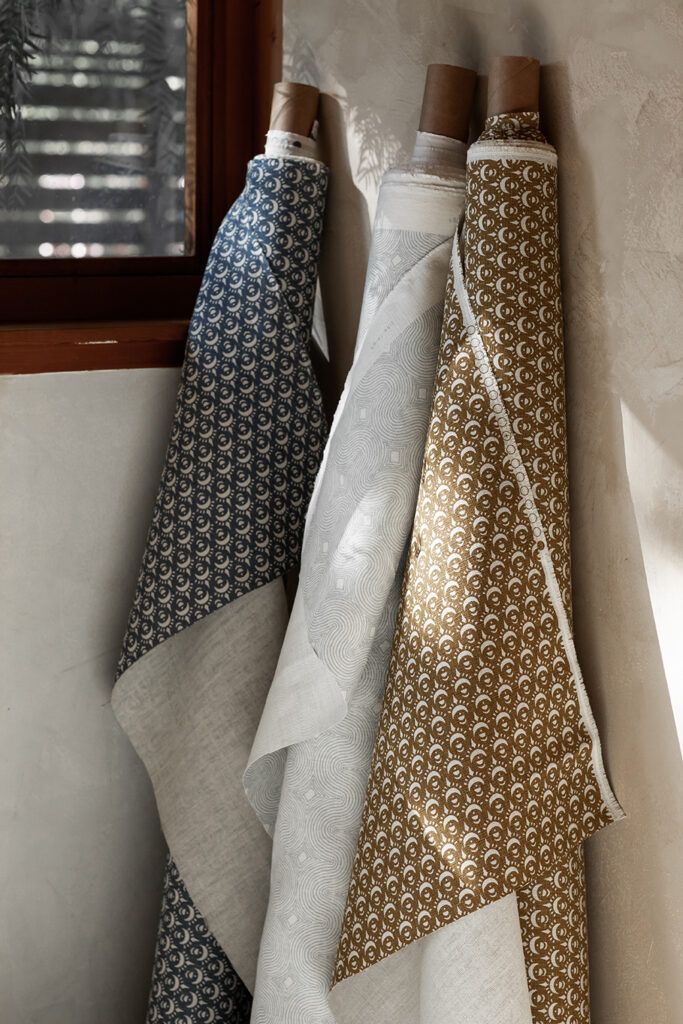 We love your designs and the new collection. Tell us how you transitioned from fashion to home.
AW: I actually double-majored in both textile design and art history in college, so my journey into textile design was a natural progression. I began my career in the fashion industry, but after about a decade, I started to feel a little burnt out and wanted to transition into the home-interior space. While I've gained an immense amount of knowledge from my experience in fashion, I felt I had strayed too far from my original inspiration. With my studies, I learned the history and origin of many classic techniques. I used my hands to create every project that I designed, and I felt connected to the craft from start to finish. Unfortunately, this is often lost in the world of mass-market design, and that was very much my experience in the fashion industry. With deadlines and quick turnaround times, the connection to the craft is often replaced by the efficiency of digital-aided design. While digital design has its benefits, after ten years of veering in a direction so far from where I started, I needed to reconnect. So, I decided to take a risk and start a venture that reconnects me to the craft that I love.
Tell us about the New Moon collection.
AW: For our most recent line of textiles, the overall look and style stays true to our roots. It is minimal, while embracing the uniqueness of handcrafted design. I recently transitioned into a new phase of life, motherhood. This collection is a nod to ever-present transitions, both within nature and personally. In my experience, becoming a mother has been both a beautiful and complex transition, so this collection is very much a response to that.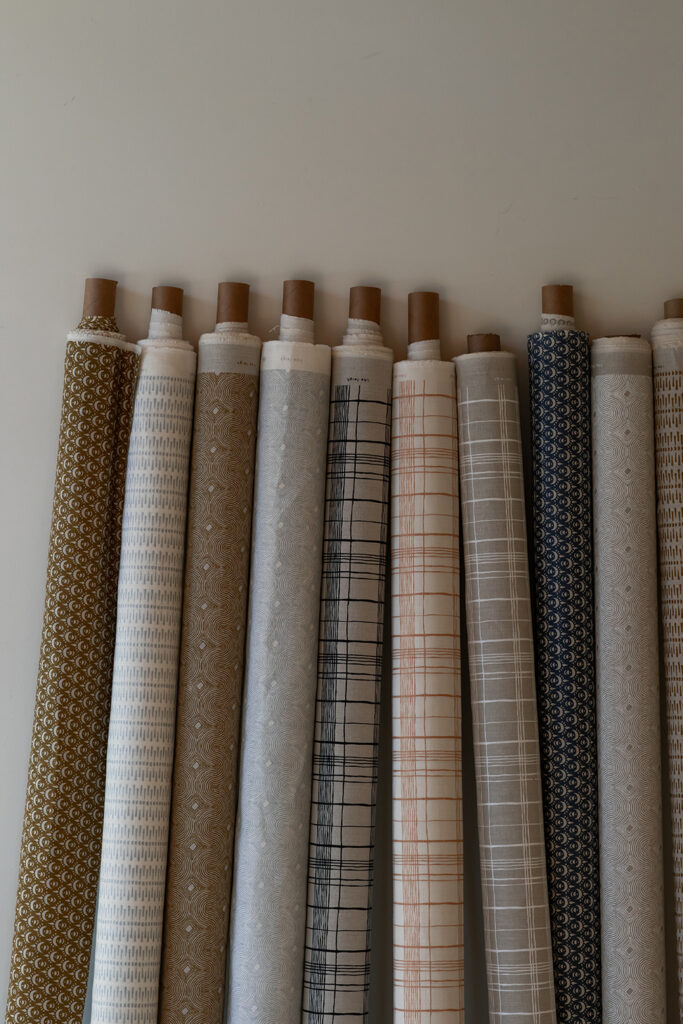 Describe the fabrics and how they are made.
AW: All of our prints are printed onto 100-percent certified Belgian linen. Belgian linen is a quality label that ensures that our linen meets three essential criteria. First, it's made from flax of European origin. Second, it is at least 85-percent flax in weight. Third, it's woven in Belgium. Ultimately, it is just an extra stamp of approval on our goods. It is a sign of our commitment to always delivering the finest goods, with a knowledge of our sourcing and how they are made.
Any personal standouts?
AW: I love each of the prints, but "Mara" feels especially important to me, since it is my daughter's middle name. Inspired by the rise and fall of tidal movements, this print pulls your eye through an ocean of wave-like brush strokes. To me, this feels like one of nature's most obvious displays of transitions, with the gravitational pull from a source far beyond ourselves.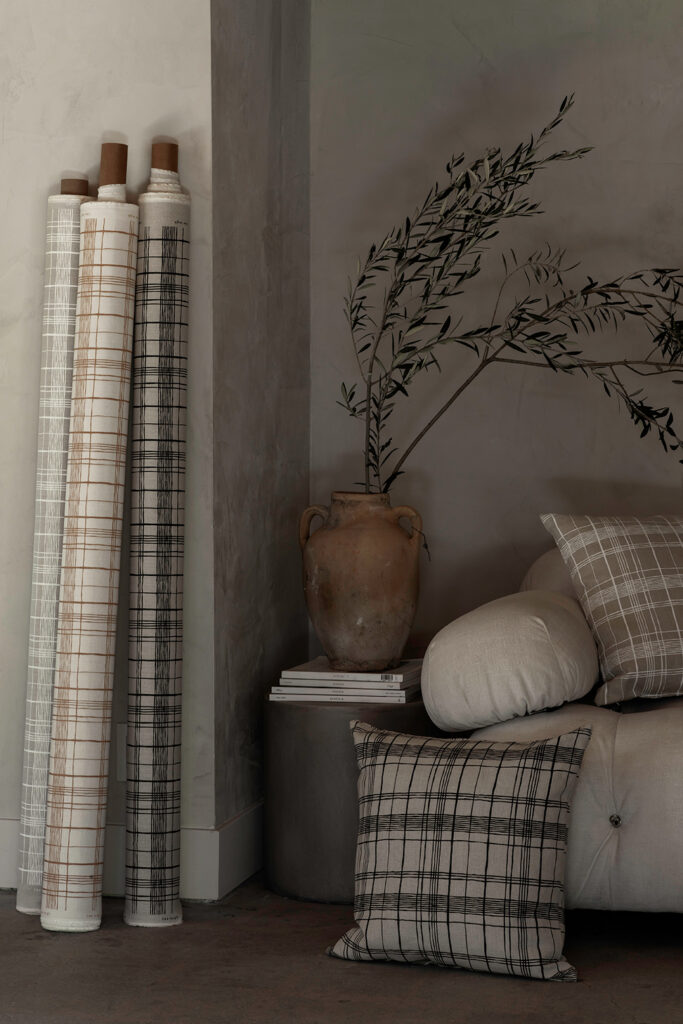 What are you contemplating for the company now?
AW: This year will be all about The New Moon Collection and continuing to build and expand upon the amazing relationships we've developed with our clients, designers, and showrooms. We are currently in select showrooms in the U.S. and Australia. We've also received quite a bit of interest in Canada, so we're evaluating opportunities for thoughtful expansion there. For the most part, like.leigh is a one-woman show, so time is tight, but we are also hoping to launch a pillow shop by the end of the year, so stay tuned.