When New York–based interior designer Malka Helft, founder of Think Chic Interiors LLC., was hired to help a family of five with the redesign of their 1920s Tudor-style home in New Rochelle, she paid special attention to the furniture and accessories. "They were extra excited about the spacious living room and dining room, and already planning all the great gatherings with family and friends," says Helft. "But when it came time to furnish the spaces they felt stuck."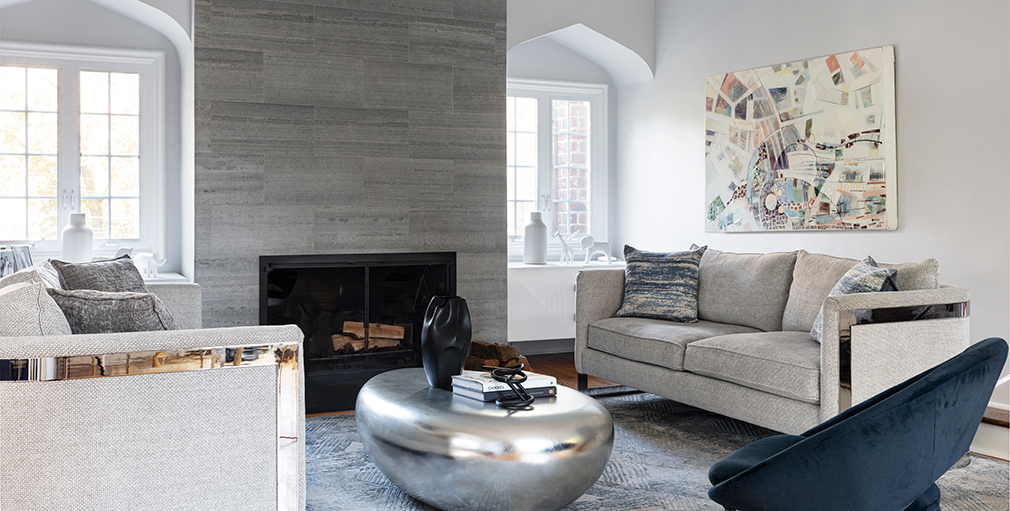 Helft also created a plan to define the living room and dining room and make more efficient use of each space. "The living room was extremely long [seeming more narrow than it actually was], with an oversized bulky stone fireplace that overpowered the entire room, and French door at the end leading to the backyard," explains Helft. "The dining room was a large square with little light. I decided the best way to tackle the long, large living room was to divide it into two focal points, and make one a sitting room and a one a play area."
In the sitting room, she opted to remove an unsightly fireplace surround and replace it with a natural stone by Artistic Tile. "I used the fireplace as my main focal point and center of space, creating a symmetrical sitting area with two credenzas under two windows and two sofas in front of them," says Helft, of the credenzas from Mod Shop and sofas from Bernhardt. "The symmetry widens the room making it feel deep and spacious."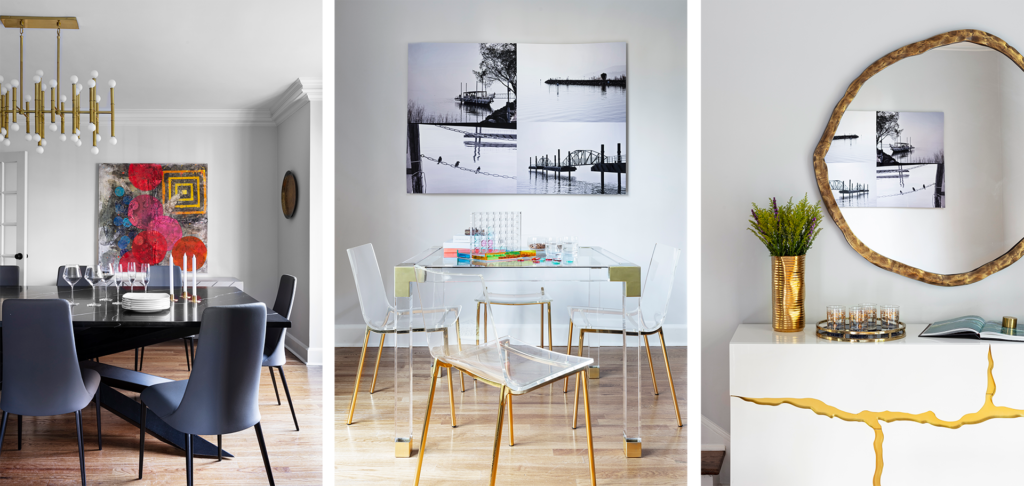 For extra light and space for entertaining in the dining room, Helft added an "Oh" chandelier by Jonathan Adler with 40 lightbulbs; a mirror from CB2; and created a custom 5-by-10-foot dining room table from the existing granite countertop and added a brass-colored steel base. "We created a worry-free room for up to 14 guests," adds Helft.
Helft is especially proud of the transformation and how the new design meets the family's needs and is light and bright. She offers her quick and easy hacks for updating any space here.
Helft's Design Rules:
Have a concrete idea of what the space is meant for and who is using it.
Establish what pieces of furniture are a must for the space.
Scale is key to every design.
Lighting is the most important piece of jewelry in a room.