According to Sheena Langub, a freelance botanical artist and founder of Rooted Harmony in Los Angeles, the right balance of water for succulents and cacti is one of the most crucial elements. "Overwatering your succulents and cacti is the worst thing you can possibly do as a plant parent," explains the Hawthorne native and former elementary school teacher. "Succulents are desert plants, so very little maintenance and watering is needed. They actually thrive in what seems like neglect."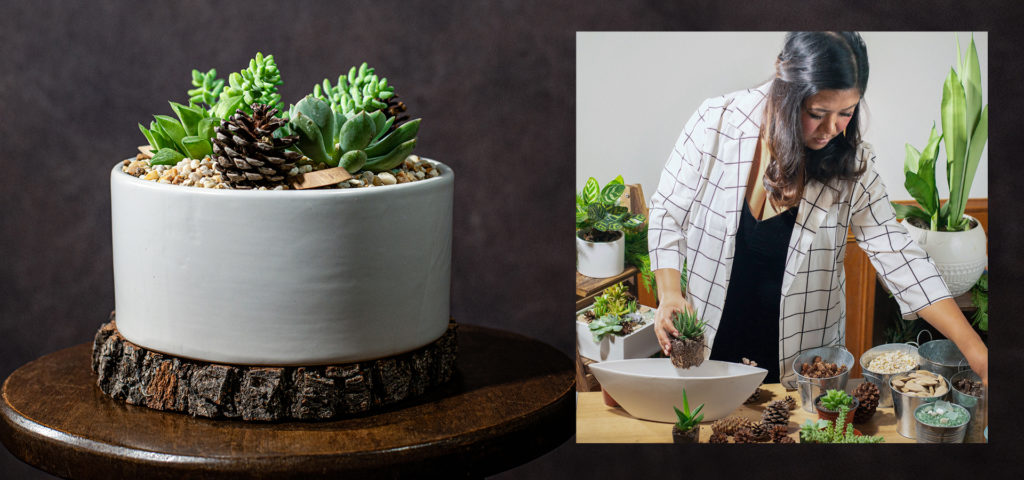 Langub, who now hosts frequent workshops and creates designs for weddings and events throughout Los Angeles, admits her affinity for succulents and the botanical arena was initially sparked in high school when she worked at a local flower shop in Manhattan Beach under the tutelage of master florist, Patricia Hachiya. During her senior year, she partnered with a close friend to make boutonnières and corsages for prom to pay for their own expenses. Later, her floral career path became a reality after a move with her husband to San Diego. "We visited local nurseries and both gained a deep connection with the plant world," explains Langub. "My husband became highly involved in caring for Bonsai, and I acquired a new familiarity with cacti and succulents. Rooted Harmony then flourished into more than just floral services, it became an experiential outlet. At farmers' markets, I was able to sell succulent arrangements and I hosted workshops at local wineries, breweries, and coffee shops. Rooted Harmony is a combination of my mother's love for gardening and my father's heart for music. Their expressions of art allowed my own passion for floristry to bloom."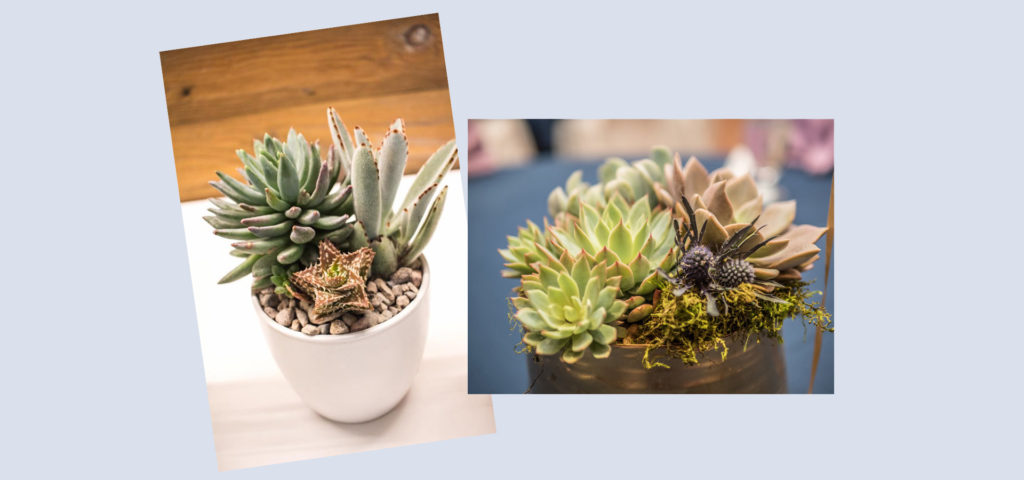 Langub shares the essentials of plant care and shows us some simple tips and tricks for making an elegant holiday succulent arrangement. Scroll down for the full video.
Plant Care 101 With Langub
Avoid The Bathroom
"Do not place them in bathrooms," says Langub. "They can receive excessive moisture. Signs of overwatering. Soft, mushy, translucent leaves. An overwatered plant will have soft, mushy leaves that may also appear shriveled. Leaves turn black. If the overwatering continues, the leaves will start to rot."
Watch Stems
"If your plant is growing slowly or failing to flower, it may be under-watered," says Langub. "And, brittle, crisp stems. Healthy stems should be strong and flexible, so if stems are snapping or looking especially brittle, they are dehydrated.
Embrace The Sun
"Succulents need at least four to six hours of light per day," explains Langub. "Fluorescent lighting counts too. That's why succulents do great in offices or classrooms. Placing succulents near your bedside, kitchen counter, coffee table, or patio sets are great places to nurture and maintain your indoor garden."
Consider The Soil
"Succulents need special soil," says Langub. "Potting soil will retain too much moisture, and accumulate a lot of bacteria, which can damage the roots. They need the same soil as palm, citrus, and cacti. Wood chips, filtered sand, and Perlite are the main ingredients needed."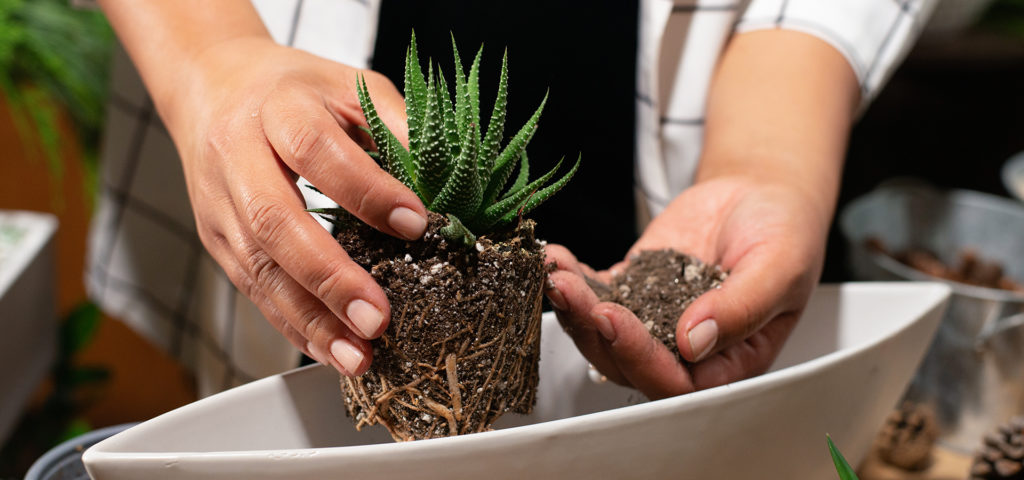 Think Outside the Box
"Your choice of planting vessels is limitless," says Langub. "Succulents can be planted in any container, even without drainage holes. I've successfully used cups, crystal bowls, empty aquariums, ceramic pieces, wooden vessels, hanging terrariums, SPAM cans, drawers, and coffee mugs."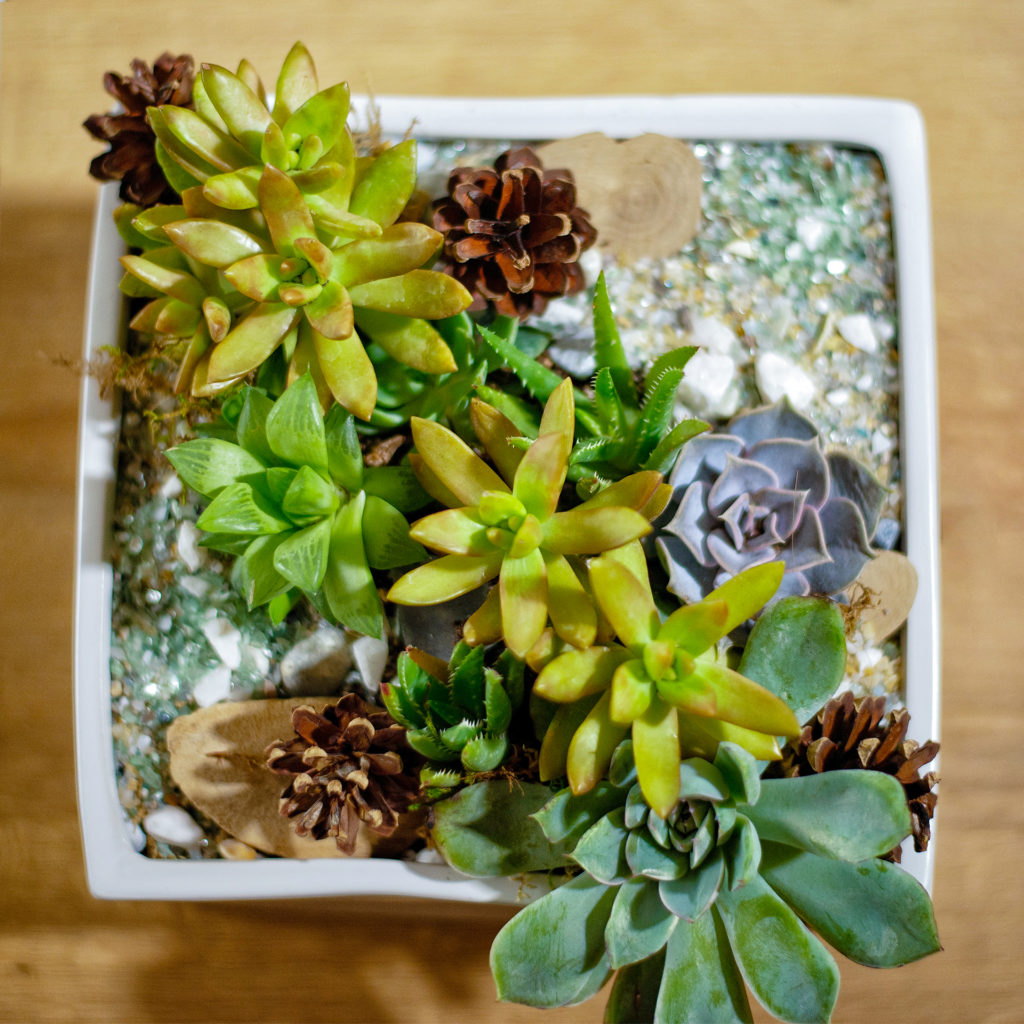 Create A Solid Foundation
"Place a layer of gravel, filtered sand, or lava rocks on the bottom surface of your vessel, where it will act as your false foundation," says Langub. "This will allow your succulent a second chance, in case you overwater them. It also helps filter and provide proper drainage for your succulents."
Go Local
"Purchase and support your local plant nurseries," says Langub. "All certified nurseries will have assorted varieties of plants and succulents for you to choose from. This will also ensure that your plants are not exposed to any contamination in the soil. You can also get the best care instructions from garden experts."
Bring On The Holiday
"Succulents are commonly used to enhance styles and designs associated with rustic or dessert-themed spaces," says Langub. "However, succulent blooms come in all colors and forms that can be easily incorporated into any holiday display. Allow a functional succulent arrangement by using a solid color container or a textured vessel that can be easily transformed into a basic piece after the holidays are over. Simply using decorations you already have [ornaments and Christmas miniatures] and even collecting natural winter elements like pine cones, shapely branches, and decorative gravel are perfect ways to enhance your holiday succulent arrangements."