From a rooftop in Venice, California, to an outdoor living room-like retreat on a walk street in Manhattan Beach, interior designer Nancy Russert of Les Beaux Interiors and Twist Custom Furniture, guides us through three resort-style spaces she designed and offers her pro tips.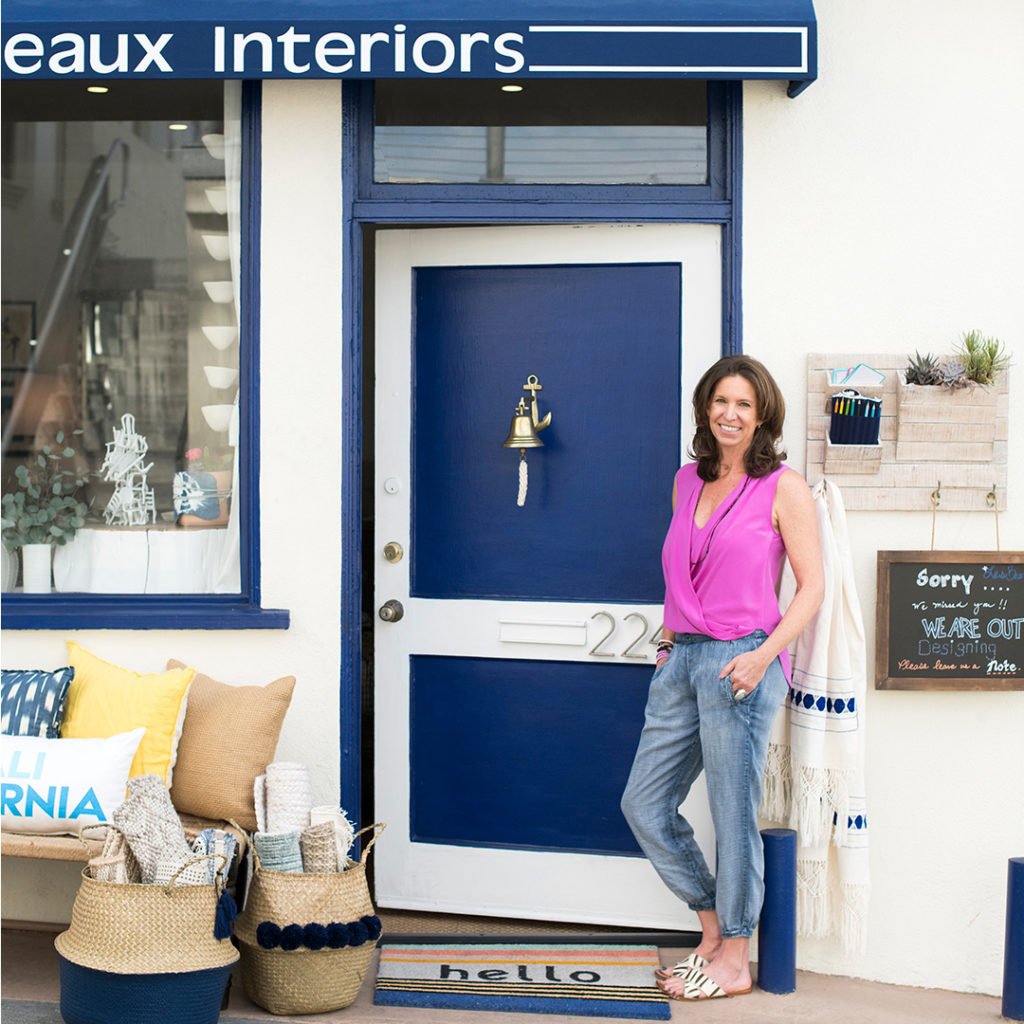 Manhattan Beach
The Space: "This home is just steps from the beach with a family that loves to spend days on the sand and entertain," says Russert. "We worked on their walk street patio and adjacent family room with wide expansive doors that open up to create a big entertaining space. We kept the clients existing sectional and two chairs and added on to them. We always look for opportunities to repurpose existing pieces [when it works] to take the load off the environment and use the budget wisely."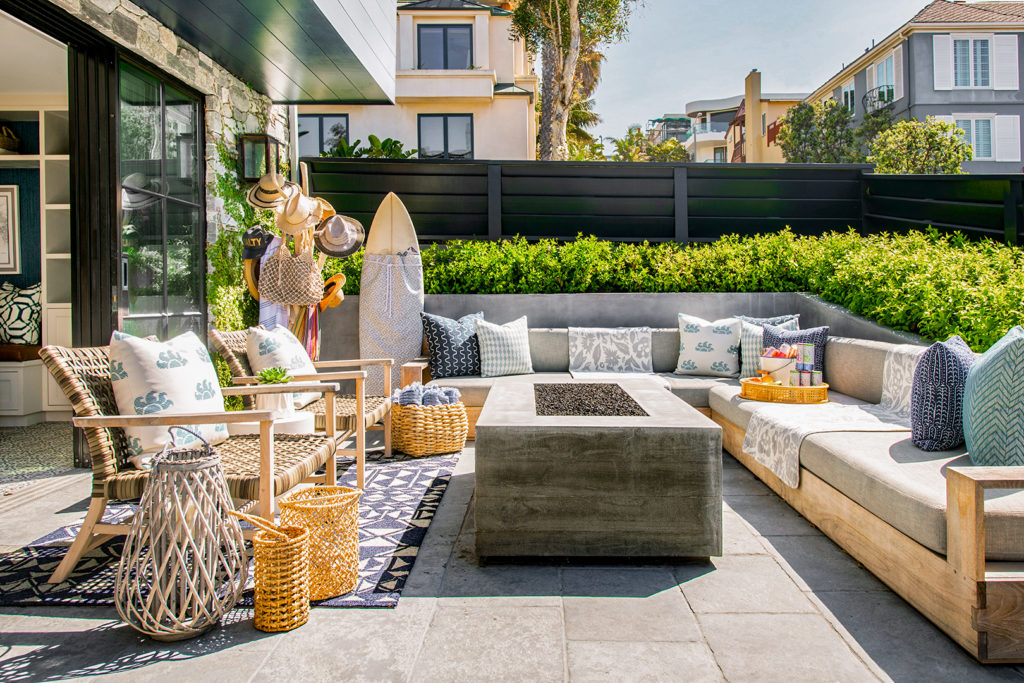 The Plan: "We wanted to bring in lots of color with pillows, a rug, blankets, and beach towels," explains Russert. "A combination of exterior textiles from Link, Perrenials, Thibaut, and Robert Allen were mixed in to brighten things up such as wicker baskets to hold extra towels, and hurricanes with big candles. We added a large umbrella and bench to tuck in when needed for extra seating and shade. The tree root hat rack from Roost is the perfect spot to throw extra hats, towels, and beach bags so the space doesn't feel too cluttered when there are extra guests."
Russert's Quick Outdoor Design Tips:
• Consider Entertaining
When outfitting an outdoor space, always have several trays on-hand for serving and housing snacks and drinks.
• Go Neutral
Keep seating fabrics neutral so you won't tire of them, and add your personality with pillows. It's always easy to update with new pillows (or if you are in the mood for a different color.)
• Don't Skimp on Towels and Throw Blankets
When entertaining off the beach, you can never have enough towels and throw blankets. Keep towels matching (or in the same color scheme) and buy lots when finding one that you love. Throw blankets or wraps are key when entertaining at the beach. Evenings can get breezy and guests may not be prepared.
Venice Beach
The Space: "When we came on the scene the only existing items were a sofa, two matching chairs, and a fire pit, all in a very neutral fabric palette," says Russert. "Our clients expressed to us that they wanted some personality added to the space, and to create an environment for entertaining. They also wanted a spot to grab the laptop and work or have a quick lunch break. They have a love for live plants throughout their home, so the exterior deck was no exception. We worked closely with Roots and Stems to bring in all the plants and interesting vessels."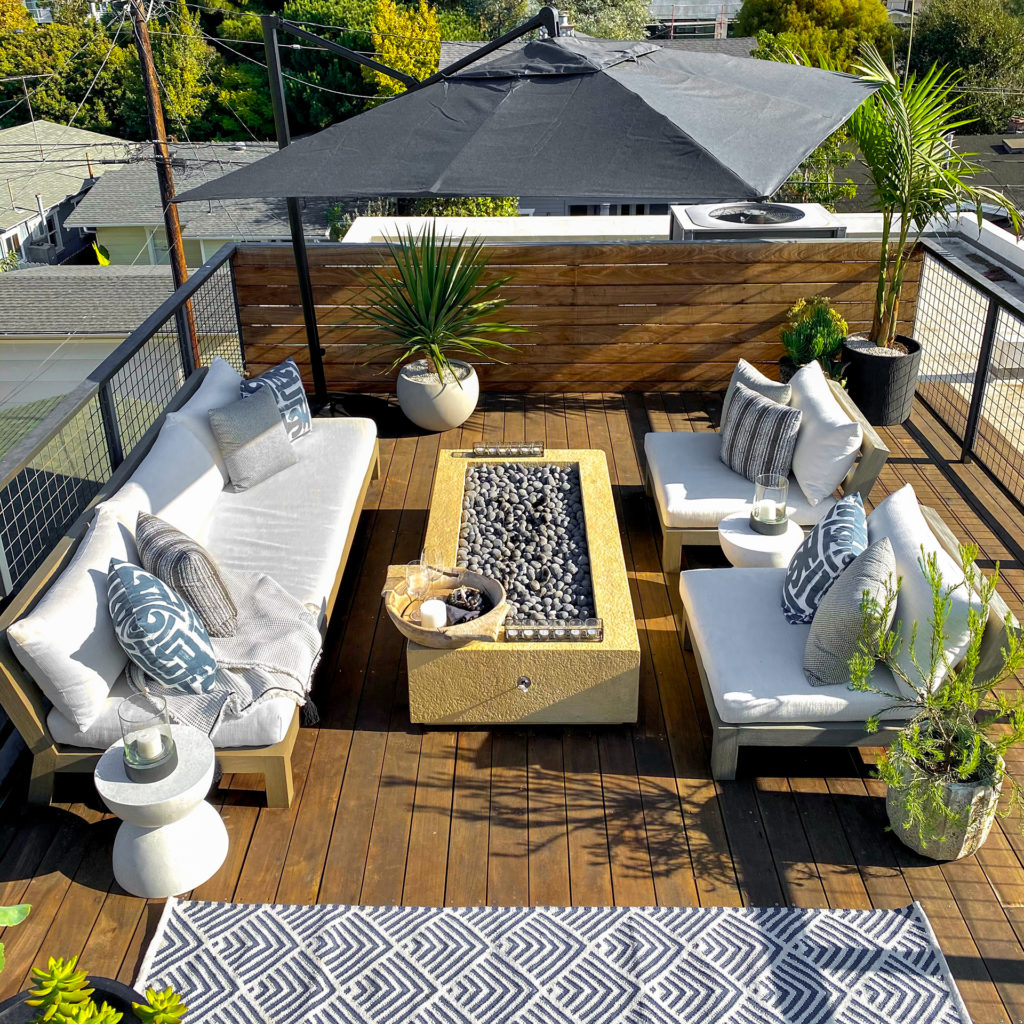 The Plan: "Adding fabrics in pillows is always part of our esthetic as it brings in interest, a bit of color, and sets a story to connect other items in the space," explains Russert. "Here we used a mix of Perennials outdoor fabrics and an outdoor line I have fallen in love with created by Peter Fasano. Their hand-printed outdoor line is unique and interesting. With the main kitchen being several stairwells below the rooftop, we wanted to create an area that could be like a small kitchen/serving buffet. We brought in the outdoor buffet from Four Hands [which has great storage to keep entertaining items], anchored the space with a Dash and Albert runner, and flanked each side with large trees. A midcentury vintage planter serves as a party vessel filled with ice and beverages. We accented the main seating area with several smaller floating side tables and a great tilting canopy umbrella on wheels to move as needed. Both the tables and umbrella are from Crate and Barrel. For ambiance, we brought in a mix of candle holders. Again, any of these can be moved easily to create warmth for gatherings."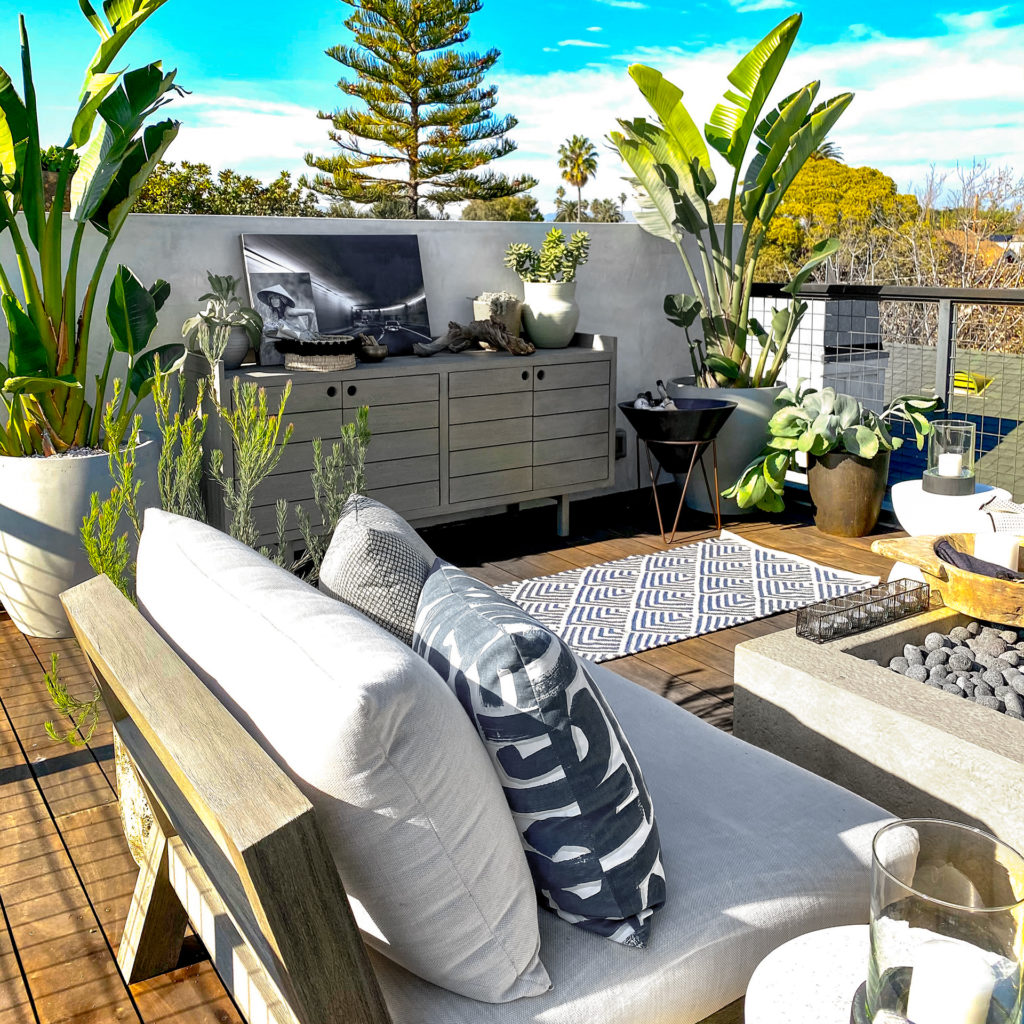 Russert's Quick Outdoor Design Tips:
• Consider Versatility
Select smaller moveable side tables that can have multi-functions.
• Quick Thinking
When entertaining outside have a set of fun dishes and glassware that will quickly turn an impromptu gathering into a festive event. Tie up a bunch of cloth napkins in a basket for an easy grab.
• Don't Forget Candles
Have tons of candles available so you can light them often and enjoy the vibe they create.
South Redondo Beach
The Space: "The homeowner is an architect and cactus enthusiast, so he wanted to design the fence, lighting, and do all the landscape himself," says Russert. "The idea was to add a bit of drama by creating more height and mixing the vertical and horizontal tightly-placed wood planks. JCB Construction came in to build the new multi-level fence, add exterior lighting, and a fire pit. With the bulk of the construction completed, the cactus and succulent landscape was carefully selected and placed with a new layer of decomposed granite just below. With a new landscape that is drought-tolerant, the water needs are at a minimum."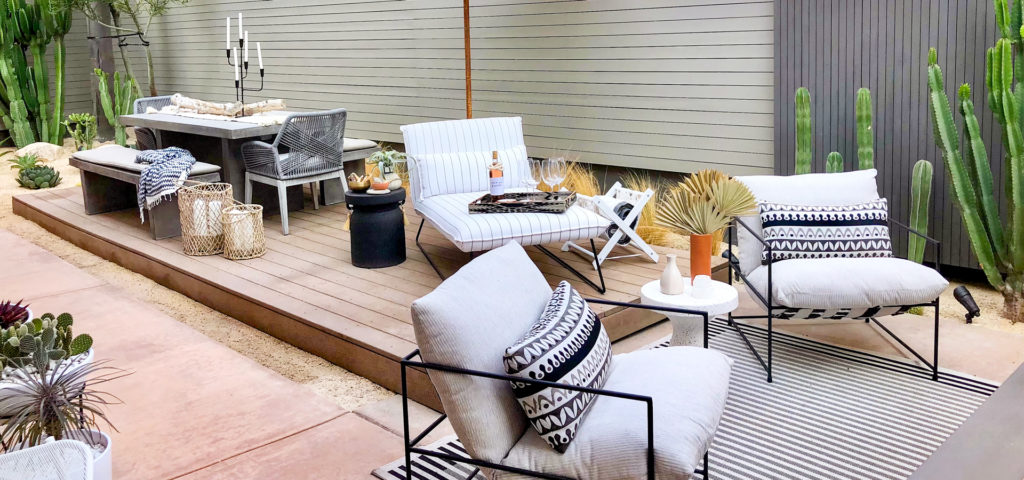 The Plan: "Because the space is not large it was important to make the most of it," says Russert. "We added a clean concrete table with matching benches to maximize the footprint and get as many seats as possible. The rope accent end chairs from Essentials for Living add a bit of interest and also serves as more seating when needed around the fire pit. A single chaise lounge from Dovetail and reupholstered by Twist Custom was added to create a reading spot flanking the conversation area. The iron chaise and accent chairs are an interior favorite of ours, so we decided to powder coat them and reupholster with outdoor fabrics. We even changed the strapping on the back of the chairs to an outdoor fabric with a print. We really wanted the space to be filled with neutrals for a sophisticated feel but add warmth and texture with the amazing macrame umbrella from Indonesia and available at Coda Studio in Malibu. There's lots of throws, pottery, and found objects from nature and travels."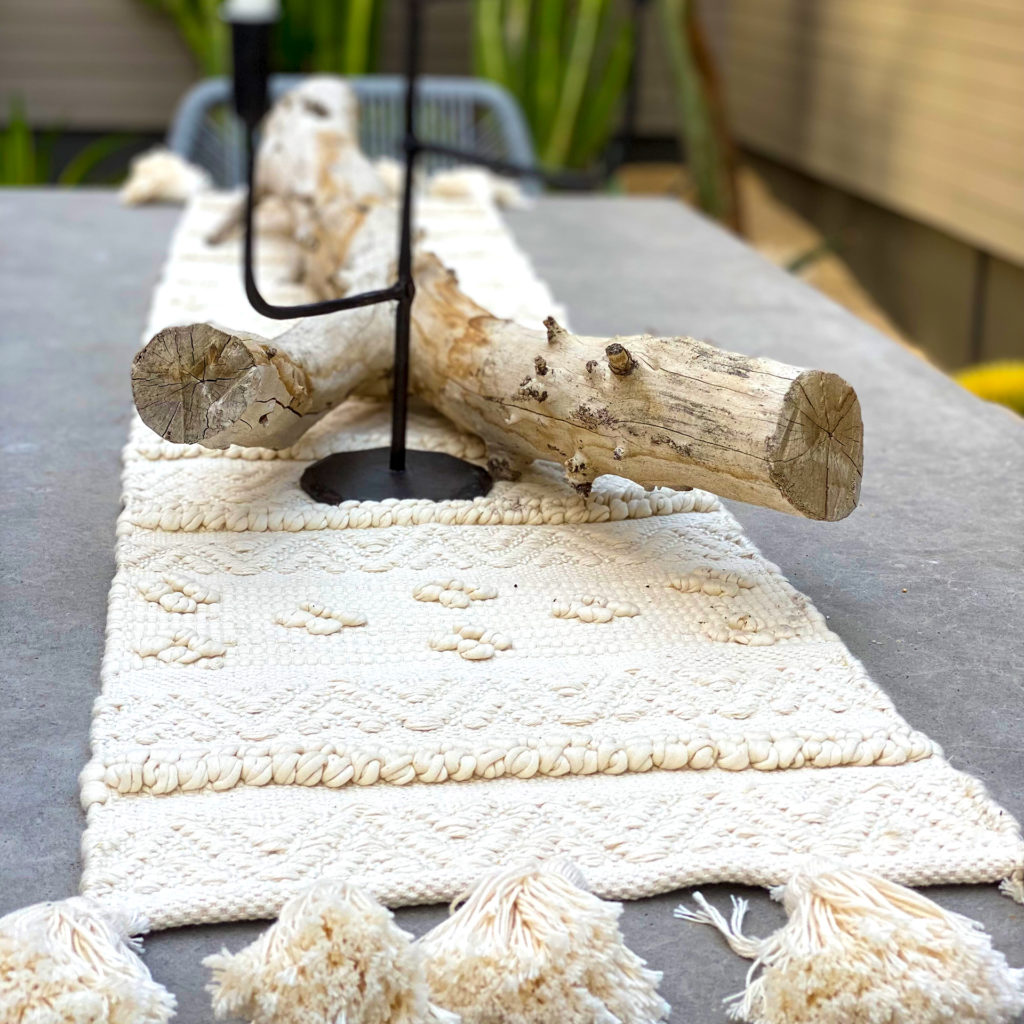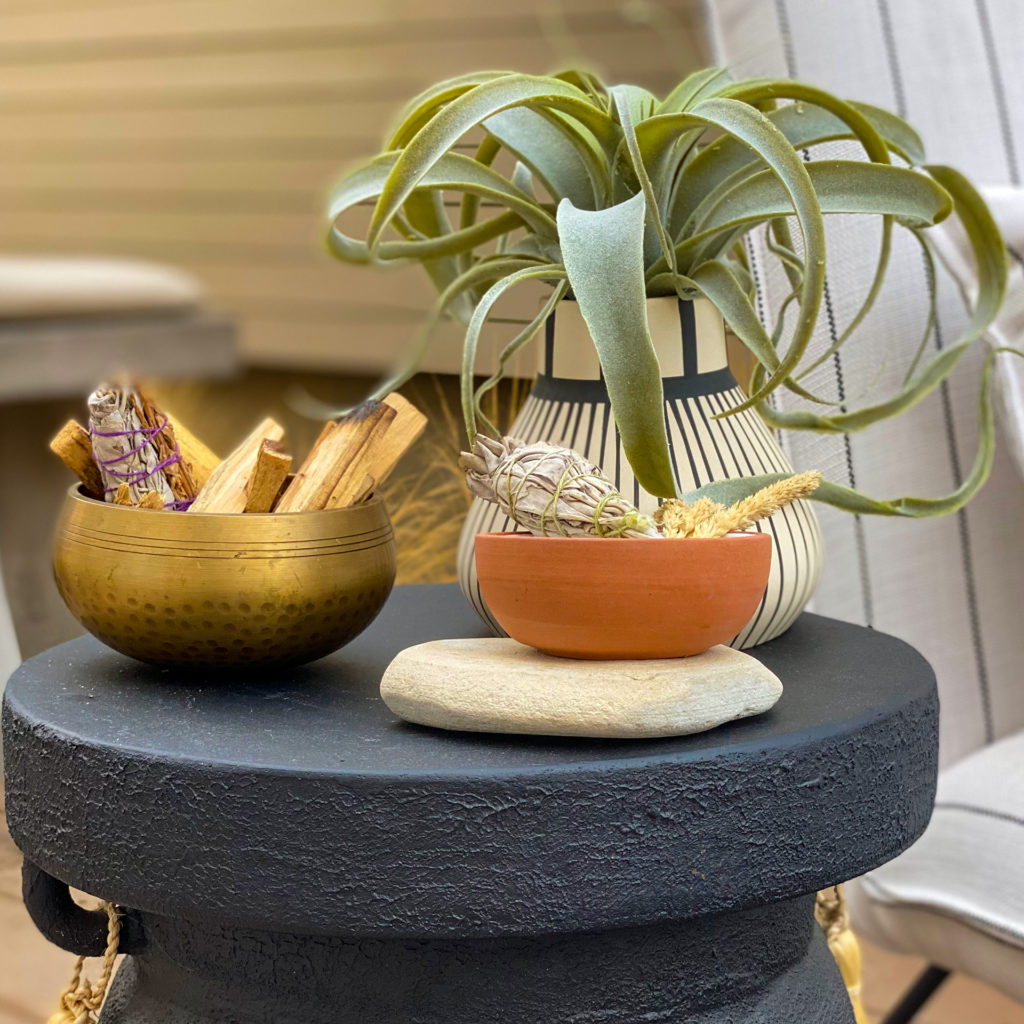 Russert's Top Outdoor Design Tips:
• Take Care
"Take care of your exterior space just as you would the inside of your home. Living by the beach brings in lots of moisture, salt air, and unfortunately dirt. Wipe down surfaces and fabrics often, and when rain is coming grab what you can to protect. It's so worth a little bit of effort to keep things looking great."
• Use The Space
"Use your outdoor space as much as you can," advises Russert. "Grab your morning coffee, take a book, do some work, talk to your loved ones, and of course entertain and be festive."
• Be On The Lookout
"Keep your eyes peeled when walking on the beach, out in the forest, or in the dessert, and especially on your travels," adds Russert. "It is so fun to pick up small things to add to a space. Not only do the items create interest, but they immediately take you back to the place you found it."