Keith Chan, founder of interior design firm Hintegro, has designed spaces all over the globe spanning upscale boutiques and jewelry stores in Hong Kong, to private residences in Los Angeles. The Hong Kong–based designer gives us a detailed look at three recent projects from a Japanese-inspired apartment on Hong Kong Island, to a multi-generational home in a high-rise building facing the South China Sea.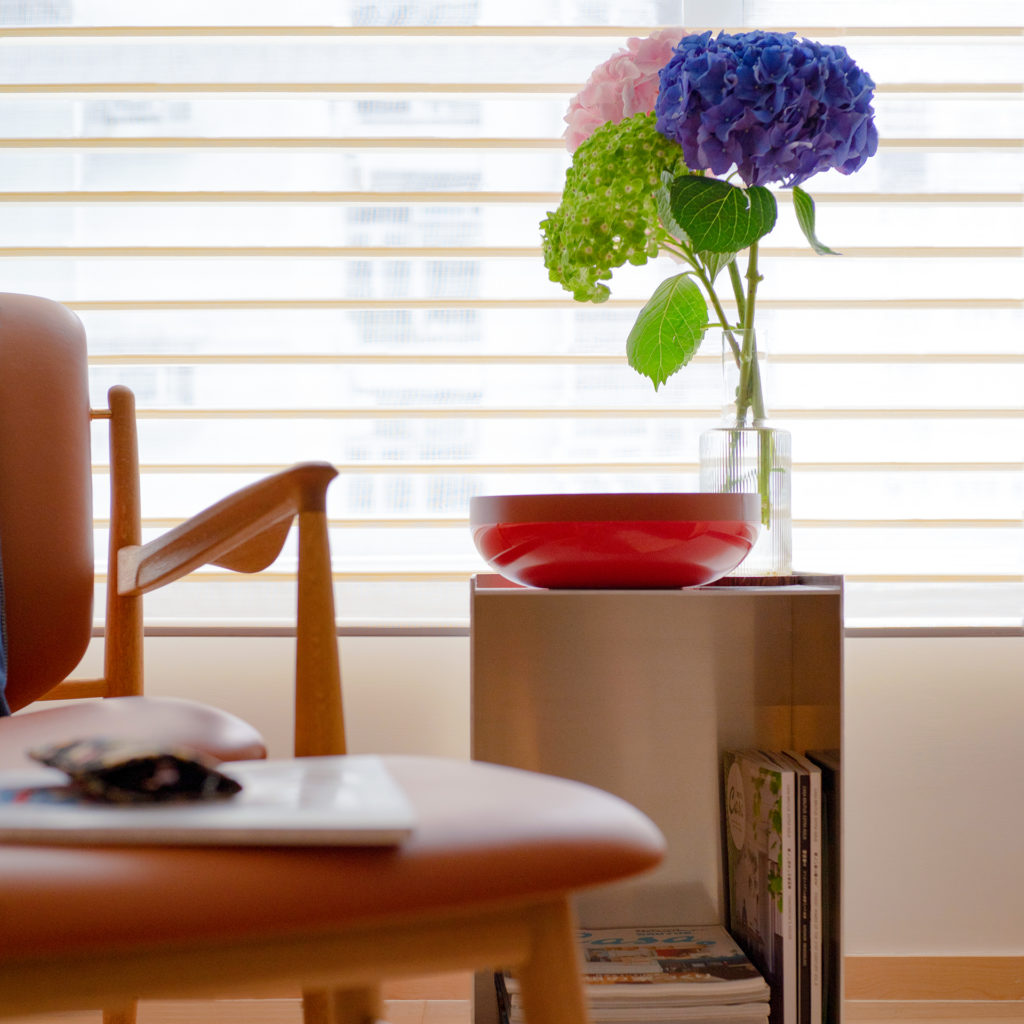 Simple Elegance: Taikoo Shing on Hong Kong Island
"This is the home of a traditional Chinese medicine practitioner," says Chan. "The owner is fond of Japanese aesthetics [also Shinto theory about respecting Mother Nature], so we decided to use Japanese traditional materials and craftsmanship such as 'Shikui' plastering, 'shoji' screens from Wakayama, and an onsen-style bathtub in the project. We did a twist on this to combine the shower and bath due to the space limitations in Hong Kong, and how we execute Japanese traditional elements into Hong Kong."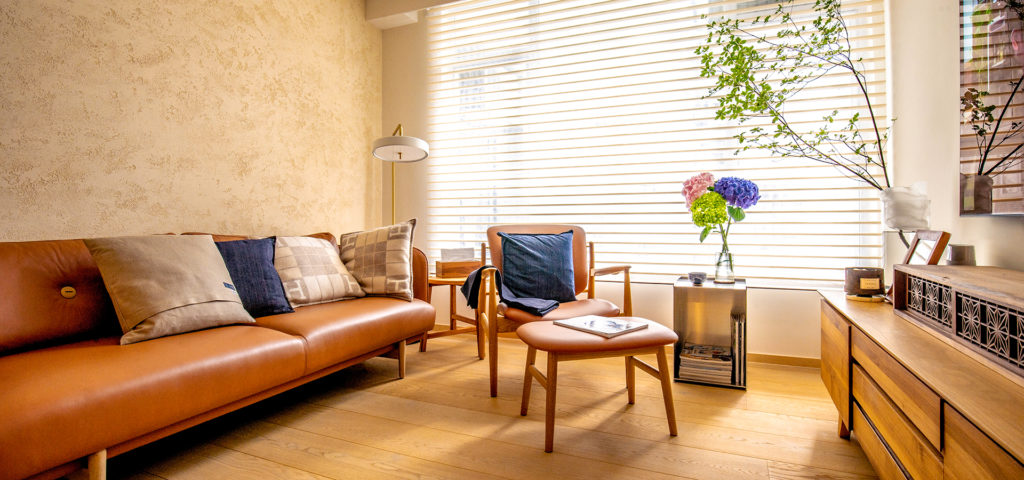 "During the pandemic, our client reduced his workload and started a carpentry class with a carpenter referred by us," says Chan. "He handmade these engraved wooden boxes to cover the internet routers and wires on the TV cabinet."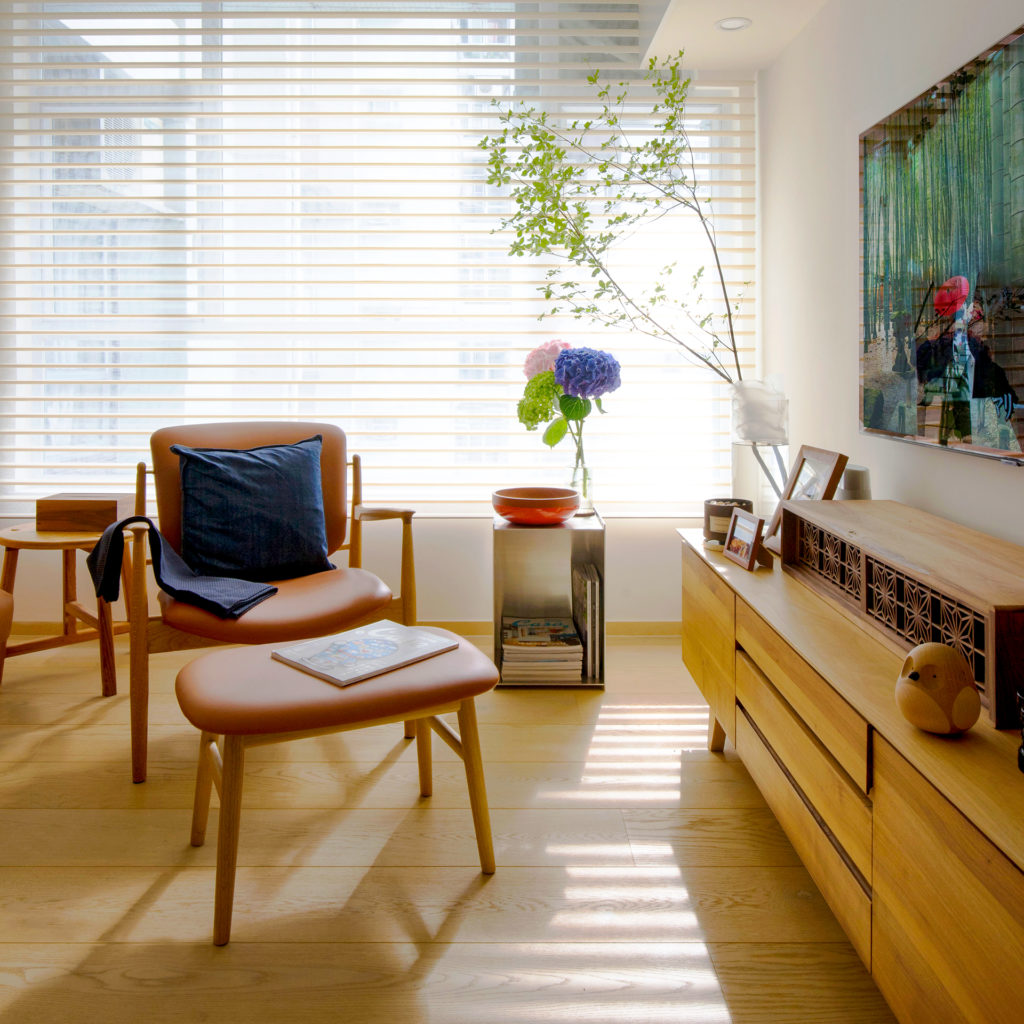 "The "France" chair by Finn Juhl was chosen for the apartment as it is the perfect combination of Scandinavian and Japanese minimalism," says Chan.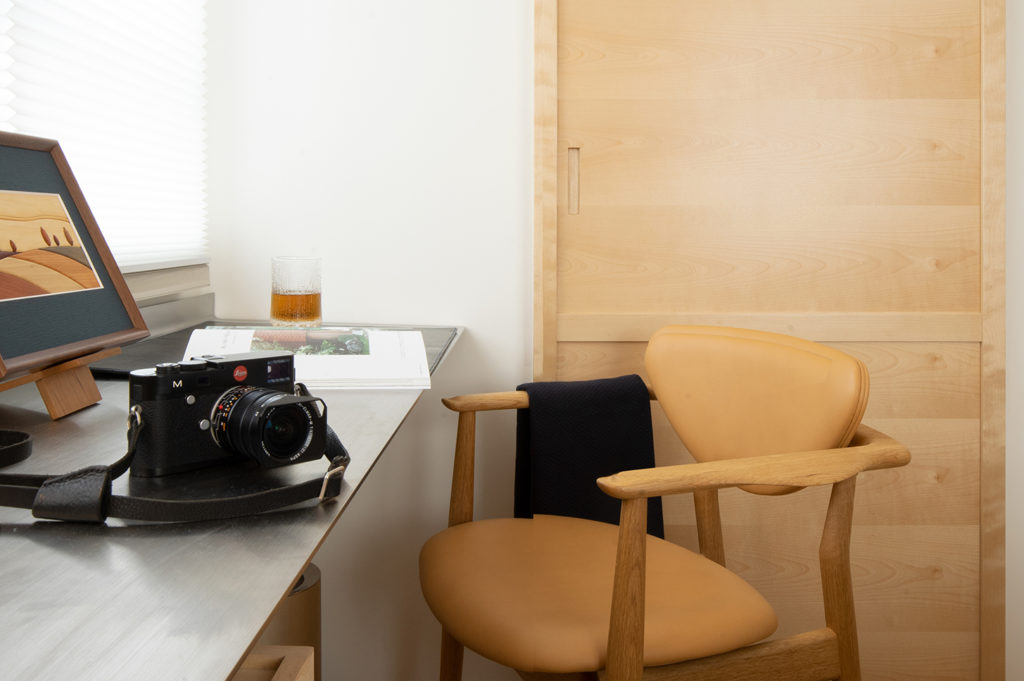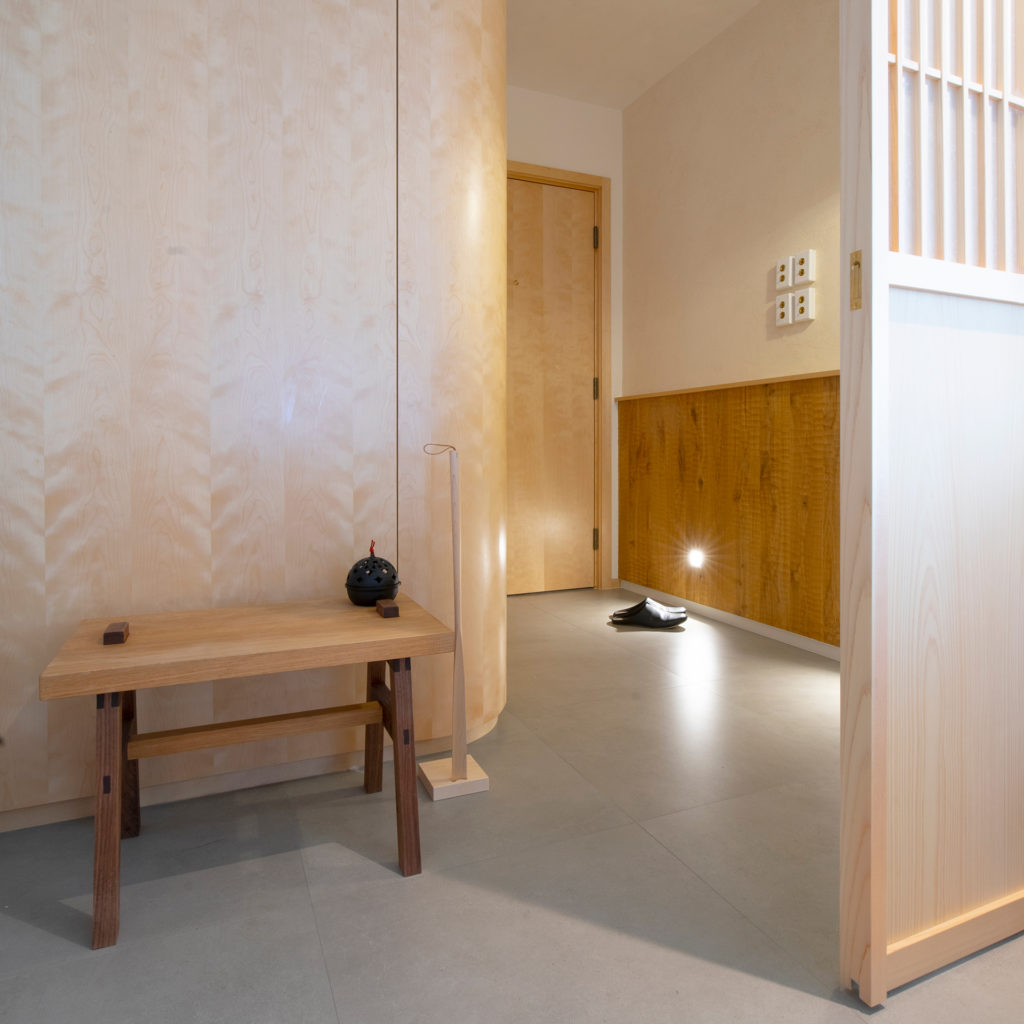 "We chose traditional Naguri wood from Kyoto and had it made for the walls," explains Chan.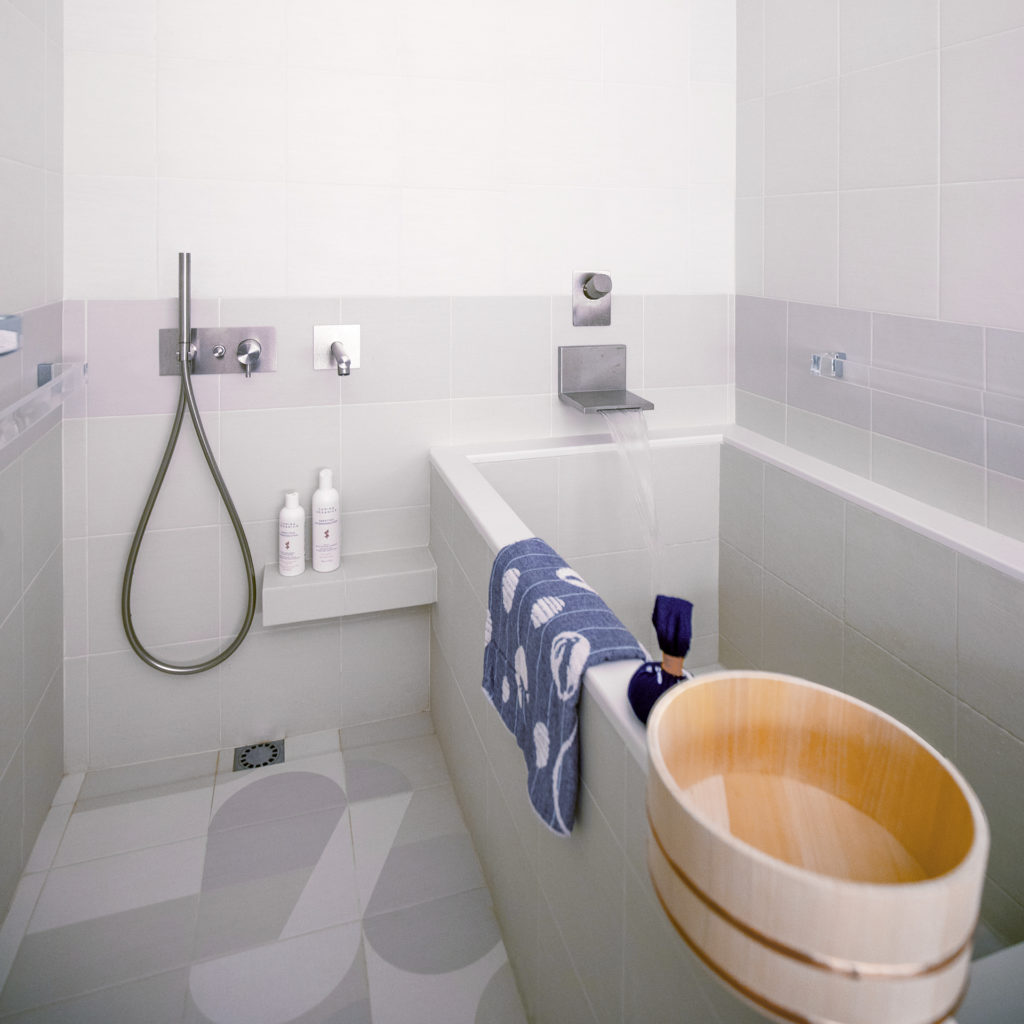 Into The Blue: High-rise Apartment in Hong Kong Facing the South China Sea
"It is a retirement home but also a shared home for three generations, from grandparents to grandchildren," says Chan. "The space allocation had to be well-planned to cater to all generations, also allowing family members to have their own privacy."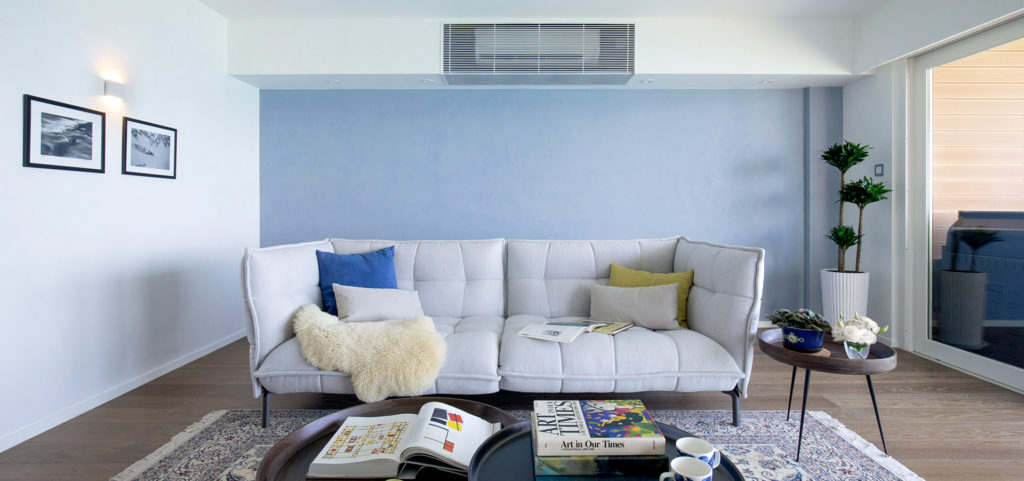 "The Master bedroom is self-sustained, with its own audio and video system and work and dressing area. It is rare to see the combination of Italian and Scandinavian styles, but we mixed these two styles with furniture from B&B Italia, Carl Hansen & Søn and lighting by Louis Poulsen, in order to create luxurious and classic style at the same time."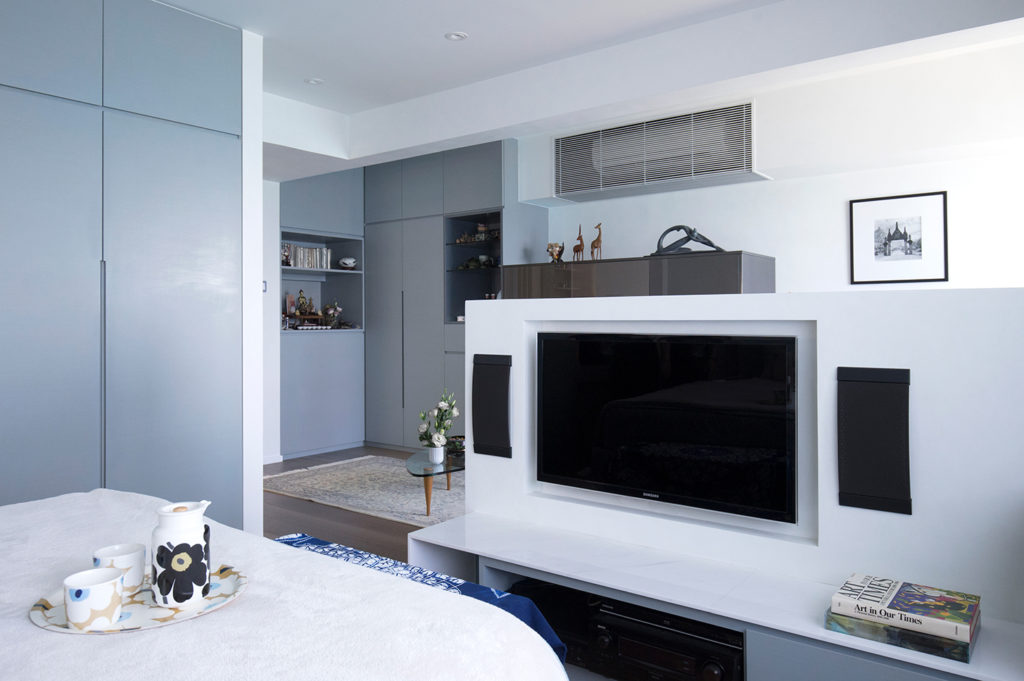 "The client gravitates to shades of blue," explains Chan. "We chose to bring in nature-inspired shades of blue [because the apartment has a stunning infinity sea view], and added some low saturated blue shades to highlight."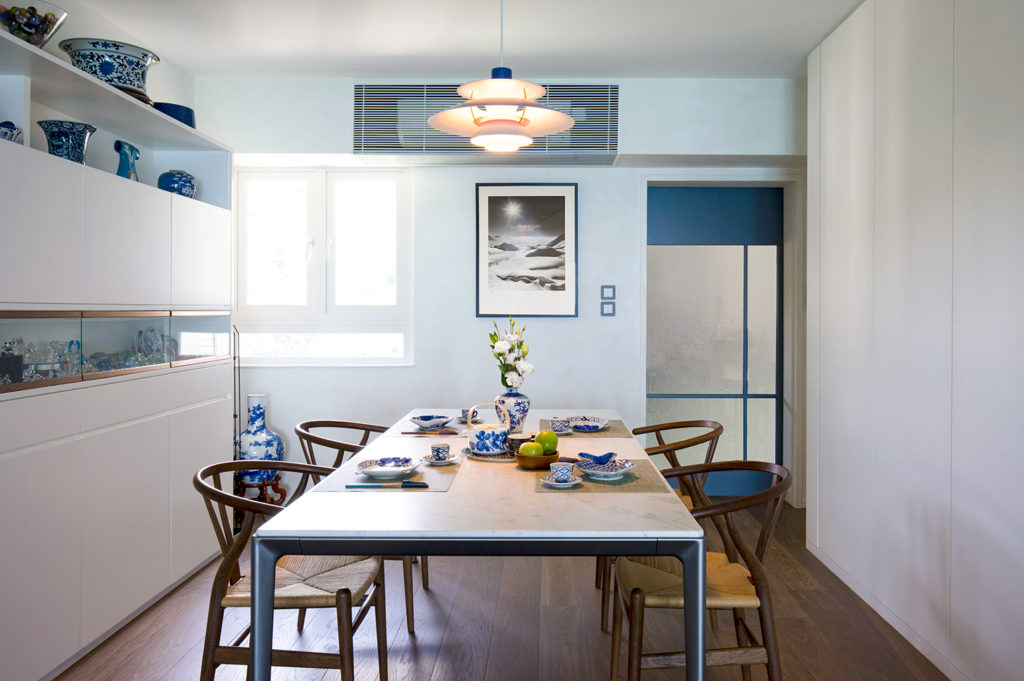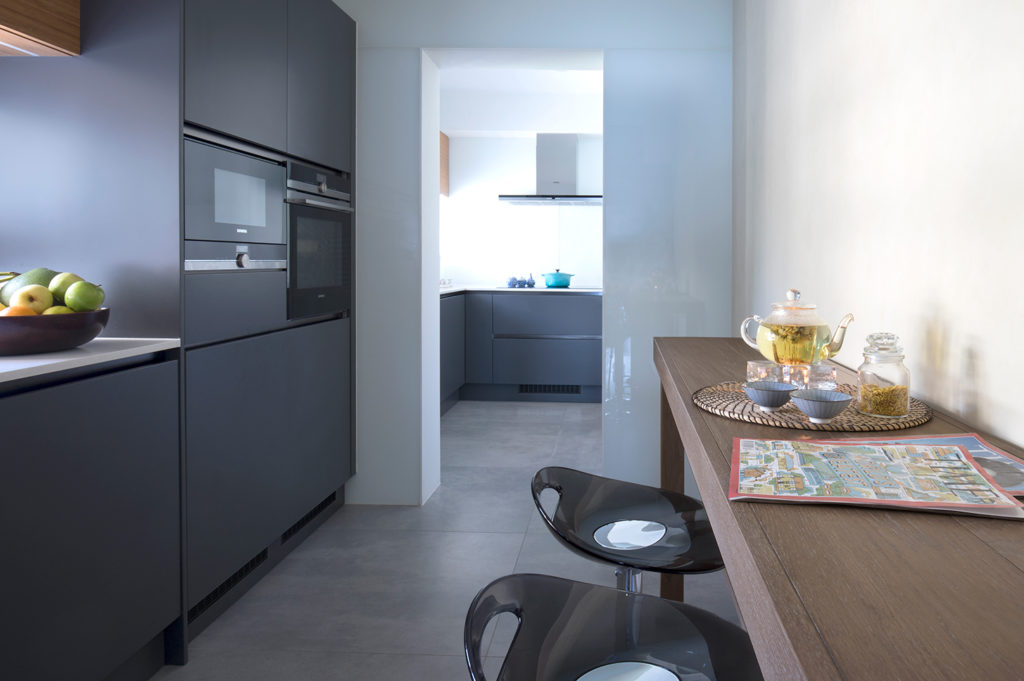 "The client has a vast collection of photography and art pieces, so we also needed to plan carefully before displaying to retain the calm ambiance of the apartment," adds Chan.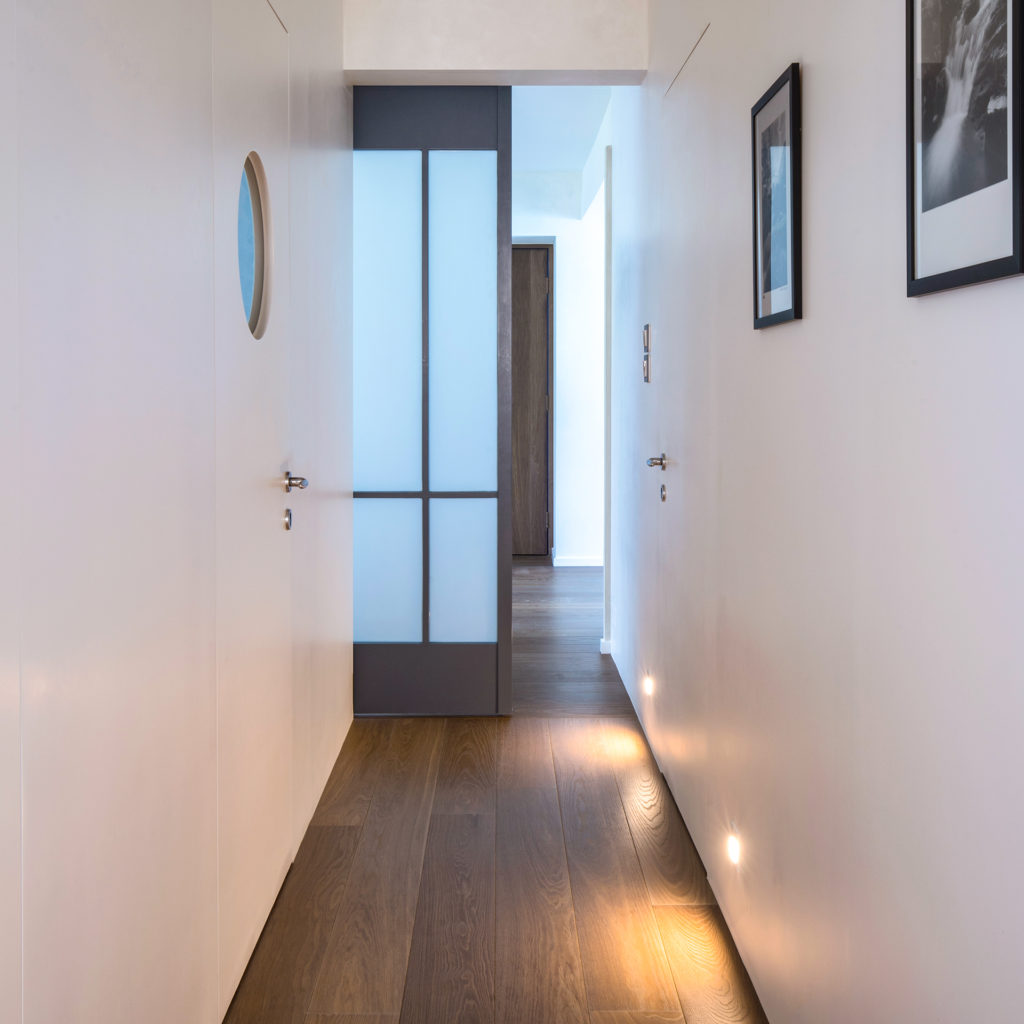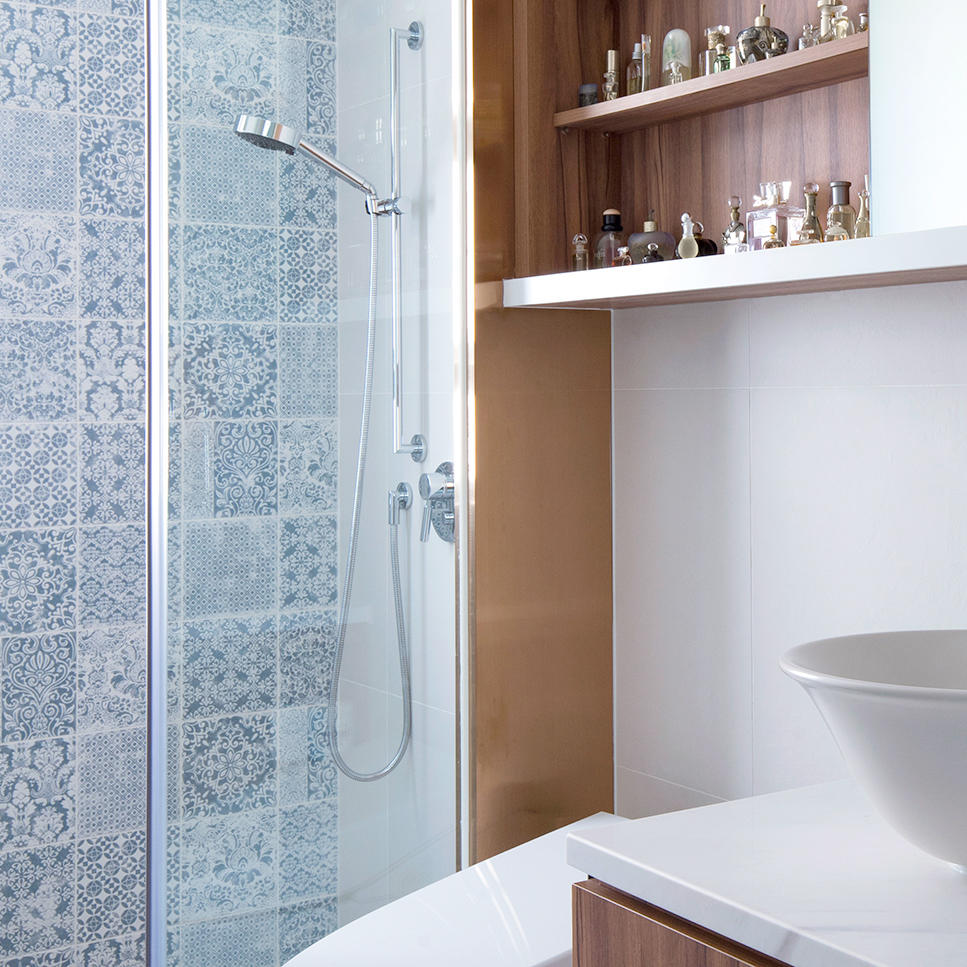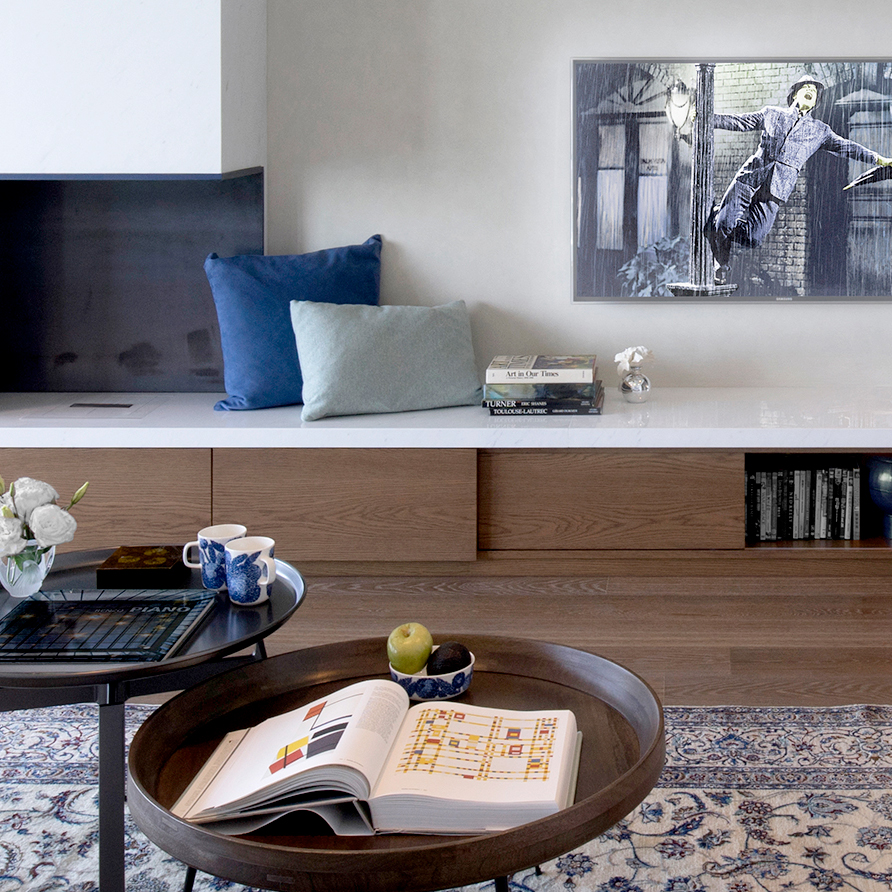 "The flooring is Austrian Oak," says Chan. "They are beautifully smoked and treated to create a special fume effect."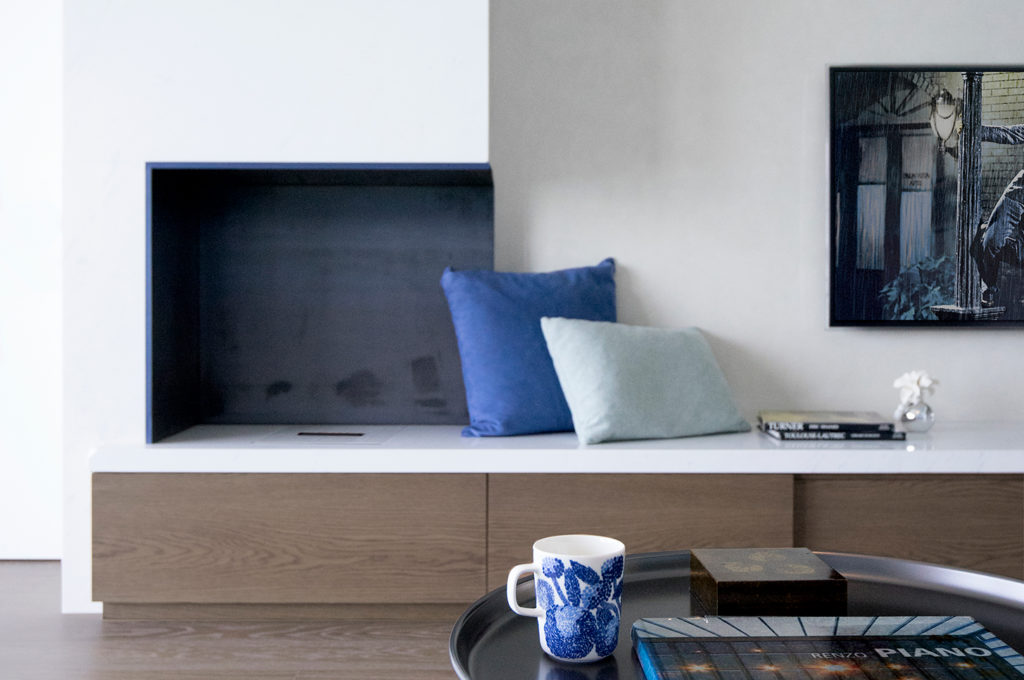 "The owner grew up in Canada, so she wanted to install a fireplace at home to remind her of her childhood," says Chan of the living room with a custom fireplace. "We ordered a clean-burning ethanol fireplace from HK Ecosmart and made a custom case for it."
Multi-Functional: Family home in a high-rise building in Hong Kong's Central District
For a young couple and their baby, Chan layered an apartment in a high-rise building with calming wood elements, and two, custom-designed steel-and-wood pivot doors to add separation and functionality. The space is outfitted with an entertainment area and a tea ceremony platform made of Naguri wood and modernized with wallpaper depicting a Japanese wave motif pattern, Seigaiha.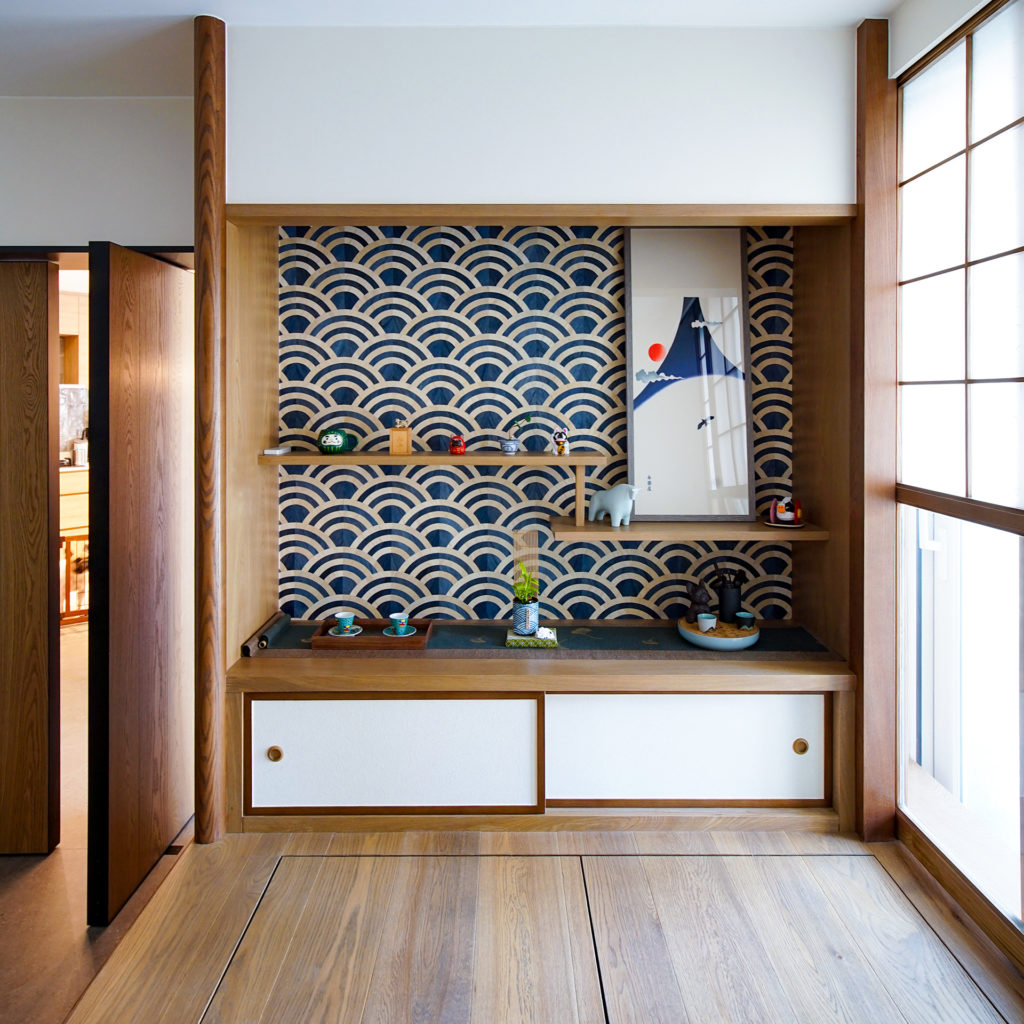 "I like the kitchen area the most," says Chan. "In Hong Kong, we usually have closed kitchens in the typical apartments, and here, we opened up the kitchen to enhance the communication. We used the washed-stone finish for the kitchen/dining room wall, which is also rare in Hong Kong for interior use [here, people tend to like refined and flat material.] The handmade tile is also used for the kitchen backsplash which is not typical. I am happy that our client wanted to try something rare and different. The pendant lamp from Lee Broom and the "Cast Sconce" wall lamp by Menu gives a little luxury touch to the space."