As the days grow shorter and the air turns crisp, nature puts on a spectacular display of changing colors to signal the start of fall. And we're here for it. One way to immerse yourself in all that golden autumn glory: A road trip to see the changing fall leaves. The United States is criss-crossed with scenic routes that give leaf-peepers all the fall foliage views, from the blazing reds of maple trees to the golden hues of birches. Read on for some of the best road trips for viewing the fall leaves—plus 10 tips for finding breathtaking fall foliage.
The Kancamagus Highway, New Hampshire
If you're looking for an enchanting fall road trip, the Kancamagus Highway in New Hampshire's White Mountains should be on your list. This 34.5-mile stretch of road is renowned for its spectacular fall foliage. As you drive through the White Mountain National Forest, you'll encounter a dense canopy of maple, birch, and oak trees ablaze with autumnal colors. The overlooks and hiking trails provide plenty of opportunities to immerse yourself in the scenery.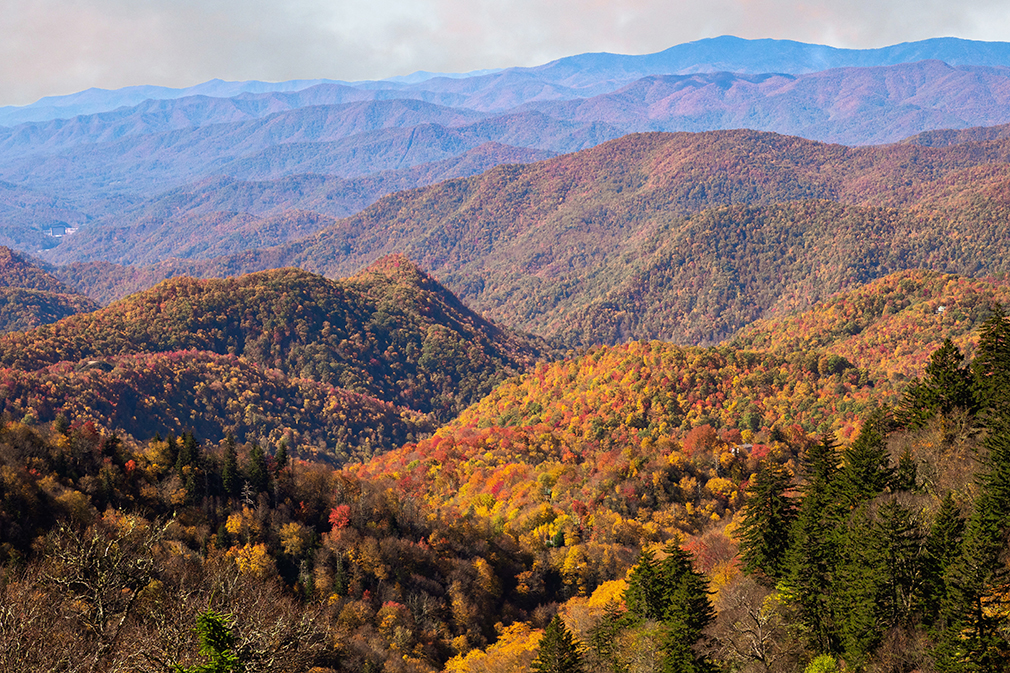 Blue Ridge Parkway, Virginia to North Carolina
Often considered one of the premier leaf-peeping destinations in the United States, the Blue Ridge Parkway stretches over 450 miles through the Appalachian Highlands from Virginia's Shenandoah National Park to North Carolina's Great Smoky Mountains. As you wind through the Blue Ridge Mountains, you'll be treated to a kaleidoscope of colors, including vibrant reds, oranges, and yellows. Be sure to stop at one of the many overlooks along the way to capture stunning vistas of the fall foliage.
The Great River Road, Minnesota to Louisiana
For a road trip that spans several states and showcases the diversity of American landscapes, consider traveling the Great River Road. This scenic byway follows the course of the Mississippi River from northern Minnesota to the Gulf of Mexico in Louisiana. In the fall, you'll witness a wide range of foliage changes as you pass through forests, bluffs, and riverbanks. This journey provides a unique opportunity to experience the beauty of fall in both the northern and southern United States.
The Upper Peninsula, Michigan
Michigan's Upper Peninsula is a hidden gem for fall foliage enthusiasts. The UP, as it's affectionately known, offers a rugged and unspoiled landscape that bursts into color during the autumn months. Take a drive along the shores of Lake Superior on the Lake Superior Circle Tour or explore the forested interior on routes like M-26. The mix of hardwoods and conifers creates a striking contrast of reds, oranges, and evergreen hues.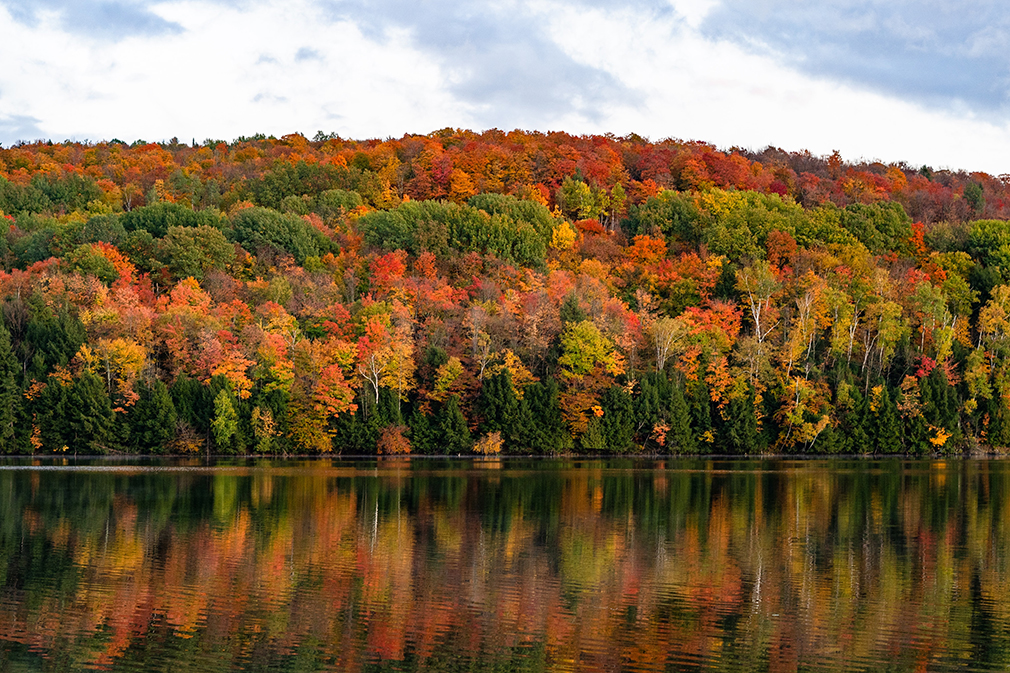 Vermont's Route 100
Vermont, known for its picturesque landscapes and charming small towns, offers a quintessential New England fall experience. Route 100, also known as the Skier's Highway, takes you on a journey through quaint villages and past scenic farms. The road is lined with sugar maples that burst into vibrant shades of red and orange during the fall season. Don't forget to make a stop in Stowe, where you can enjoy a hot apple cider and take in the beauty of Smugglers' Notch State Park.
The Ozark Highlands Scenic Byway, Arkansas
Arkansas may not be the first destination that comes to mind for fall foliage, but the Ozark Highlands Scenic Byway will surprise you with its beauty. This 35-mile stretch of highway winds through the heart of the Ozark National Forest, offering stunning views of the Boston Mountains. The fall foliage here includes vibrant reds, oranges, and deep purples, creating a stunning tapestry of colors. Make sure to hike one of the many trails along the byway for an up-close look at the changing leaves.
10 Tips for Finding Fall Foliage
---
Plan Ahead
Timing is crucial when it comes to experiencing the peak of fall foliage. Research when the leaves typically change in the area you plan to visit, as this can vary from region to region. Typically, the best time for fall foliage is in September and October.
Check Local Resources
Utilize websites, social media, and apps dedicated to tracking fall foliage. Many state tourism departments provide online resources and foliage maps to help you pinpoint the best locations and timing for leaf peeping.
Ask Locals
Local residents often have the inside scoop on the best spots for fall foliage. Strike up conversations with locals at cafes, restaurants, or visitor centers, and don't hesitate to ask for recommendations.
Explore National and State Parks
National and state parks are usually excellent places to view fall foliage. They often have well-marked trails and viewpoints that offer stunning vistas of the changing leaves. Check the park's website for updates on leaf conditions.
Take Scenic Byways
Many regions have designated scenic byways that showcase the best fall colors. These routes are often carefully selected to provide the most breathtaking views and are well-maintained for travelers.
Elevation Matters
Remember that higher elevations tend to experience foliage changes earlier than lower areas. If you're in a mountainous region, consider heading to higher ground for an earlier glimpse of fall colors.
Stay Flexible
Nature can be unpredictable, so it's essential to be flexible with your plans. If you arrive at a location, and the foliage isn't quite at its peak, explore nearby areas or wait a few days for the colors to fully develop.
Photograph during Golden Hours
The warm, soft light during the "golden hours" of early morning and late afternoon enhances the beauty of fall foliage. Plan your photography outings during these times for the best results.
Explore Back Roads
Sometimes the best fall foliage can be found on less-traveled back roads. These routes may lead to hidden gems and provide a quieter, more serene experience.
Respect Nature
While enjoying fall foliage, remember to leave no trace. Respect the environment by staying on designated trails, disposing of trash properly, and refraining from picking leaves or damaging trees.