Summer sun, the open road… the call of a road trip adventure beckons. But before you set off through the scenic landscapes, make sure you've carefully prepared for a smooth journey. We've curated a list of the top 10 essentials that will elevate your road trip experience, whether your itinerary includes mountains, coastlines, or wilderness. From gear to keep you safe to tools that boost your exploration, these must-haves will keep you comfortable, connected, and ready for anything that comes your way.
Navigation Tools
While GPS is convenient, having reliable navigation tools is essential for guiding you through unfamiliar territory. Make sure you have a trusty GPS navigation system (whether device or app) and include backups like a detailed map, a compass, and a guidebook specific to your destination. These tools will help you navigate off-the-grid areas, plan hiking routes, and uncover hidden gems that might not be on digital maps.
First Aid Kit
Safety should always be a top priority, no matter your travel plans. Pack a first aid kit with essentials such as bandages, antiseptic wipes, pain relievers, and any necessary prescription medications. Ideally, you don't need it—but having a kit will give you that priceless peace of mind.
Portable Power Bank
A portable power bank will ensure your devices never run out of battery power, which means you won't have to worry about missing out on capturing those breathtaking moments along the way.
Snacks and Beverages
Road snacks are a must. Pack a variety of healthy and satisfying snacks like granola bars, trail mix, and fresh fruit to keep you energized and save you from unnecessary pit stops. Don't forget to bring a reusable water bottle to stay hydrated throughout your journey. If you have the space, a small insulated cooler can keep drinks cold and food fresh. Bonus points: Consider bringing outdoor cooking essentials such as a portable stove, compact cookware set, and camping utensils so you can prepare some meals on the go (and alongside a stunning outdoor view!).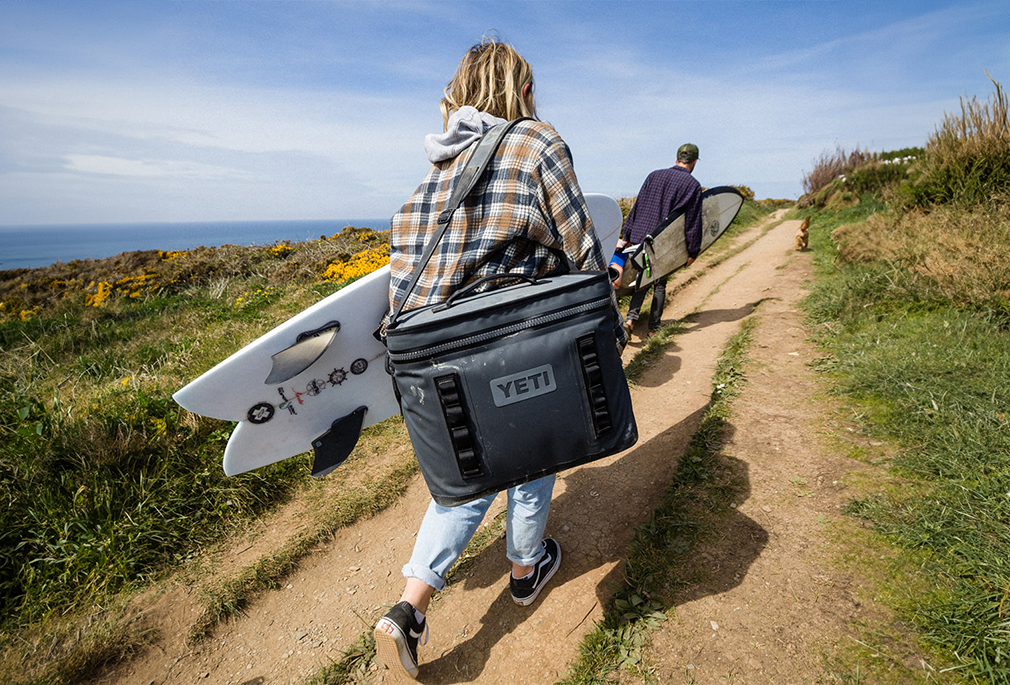 Travel Pillow and Blanket
Long hours on the road can be exhausting. Ward off stiffness and discomfort by investing in a comfortable travel pillow and cozy blanket. You can use them for a good night's sleep during overnight stays or to give some extra comfort during long stretches as a passenger.
Travel Entertainment
To keep boredom at bay on a long highway stretch, plan for a variety of entertainment options. Create a road trip playlist filled with your favorite tunes, audiobooks, or podcasts. If you're traveling with kids, bring games and activities to help pass the time or spark conversation.
Essential Toiletries
Keep up with personal hygiene by packing travel-sized toiletries, including toothpaste, toothbrushes, hand sanitizer, wet wipes, and sunscreen. Don't forget insect repellent to keep bugs at bay when exploring outdoor destinations. Include a pack of extra-large body wipes for an easy refresh on the go.
Roadside Emergency Kit
Prepare for the unexpected by assembling or purchasing a roadside emergency kit. Include jumper cables, a flashlight, a tire repair kit, a reflective triangle, and a basic toolkit—these basics will mean you're well-equipped to handle minor car troubles and stay safe until help arrives.
Comfortable Clothes & Shoes
Choose clothing that will suit both warm and cool weather, as temperatures might vary during your trip. Comfy, versatile clothing, such as lightweight layers and breathable fabrics, will keep you prepared for various climates and outdoor activities. If you plan to hike, include a pair of sturdy, comfortable hiking boots that offer traction, ankle support and durability to keep your feet happy while exploring scenic viewpoints. Include a lightweight backpackwith lots of storage, padded shoulder straps, and water-resistant material so you can explore freely during day hikes and nature walks.
Travel Journal
While our modern tech-driven lifestyles might make you think you can capture your trip via your smartphone—we'd suggest bringing along an old-school travel journal and camera to immortalize your memories. Journaling about your experiences and emotions throughout the journey will allow you to reflect upon your adventures, both in the moment and for years to come.